Boston Bruins: 3 Takeaways from Their 3-2 Shootout Win over Ottawa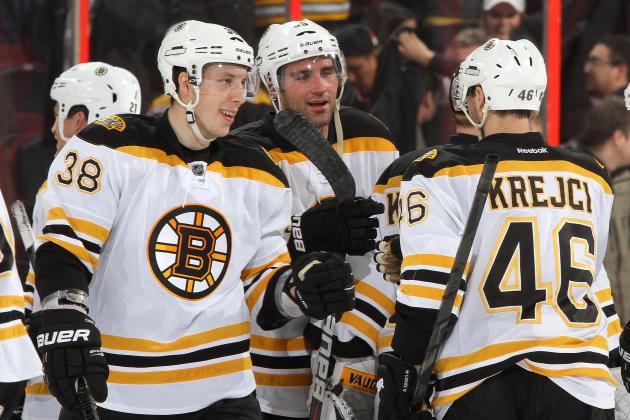 Jana Chytilova/Freestyle Photo/Getty Images

The Boston Bruins were barely visible for the first eight-plus minutes of Monday night's action, except for when the host Ottawa Senators flashed two red lights on them. As a result of not showing up for the full contest, they failed to claim the full purse of points for the second time in as many meetings with their divisional rival.
With that said, they redressed after a well-advised timeout, recompensed the deficit and created a little more distance in the standings from the Sens, who have played three more games, with a 3-2 shootout victory.
The Bruins rallied a second time in the lightning round when Kyle Turris spotted Ottawa a 1-0 lead, only to see Patrice Bergeron and David Krejci beat Robin Lehner, seizing the extra point for the visitors.
For the first eight minutes and 10 seconds of the opening frame, Lehner and the ice in the Ottawa zone both went practically untouched. Boston manage only three blocked attempts over two shifts in the fifth minute and a wide bid by Tyler Seguin at 5:50.
Once they thawed out, though, the Spoked-Bs pulled even before the halfway mark of regulation with a pair of goals from fourth liners. And they pelted Lehner with 35 shots from 15 different skaters, the only exceptions being two defensemen in Andrew Ference and Dougie Hamilton, plus one forward who did not finish the game.
From their slightly late start to the adjustment with the loss of that one forward en route to a regulation tie that set up the decisive one-on-ones, here are the Bruins' top three Monday night storylines.
Begin Slideshow

»
It generally takes two polar opposites to draw a regulation tie and force overtime. Monday night was a clear quintessence of that.
A sugar rush that saw the Senators tally the first nine shots on goal and put two in the goal was ultimately the reason the Bruins doled out a regulation point to Ottawa.
Head coach Claude Julien's subsequent use of his timeout was ultimately a turning point that ensured they took one of their own and had a chance to seize another.
Turris made it 2-0 on the scoreboard and 8-0 in the shooting gallery with only 7:18 gone, at which point Julien sacrificed Boston's break in the action. After Ottawa took one more unanswered shot, the Bruins went on a 16-6 run for the rest of the period and Shawn Thornton cut the deficit in half in the final minute.
Chris Kelly was coming off of a cathartic game Saturday, when he scored his second goal of 2013 against Philadelphia. For what one goal and one game were worth, it was an encouraging collaboration with linemates Rich Peverley and season debutant Jordan Caron.
He started building on that outing and helped Julien's timeout start to pay dividends by drawing the first power play for either team Monday night, absorbing a hit by Zack Smith that warranted a boarding call at 9:21.
He was the only Bruin to win the majority of his faceoffs in this game, raking away five out of six, and also recorded an attempted shot and a takeaway within his first 4:13 of action.
Regrettably for Kelly, that was all the ice time he would see before an encounter with Chris Neil had him leave with a lower-body injury at the 43-second mark of the middle frame. Worse for him and the Bruins in general, the third-line center's availability in the near future is uncertain, meaning more bottom-six adjustments will be a possible necessity.
Daniel Paille deposited the equalizer at 8:53 of the second period, converting a Krejci feed a mere 38 ticks after his primary setup man was released from a slashing sentence.
While Krejci was penalized, though, Boston gave off more of an ideal power-play vibe than anything else throughout its first of two short-handed segments. Ottawa never mustered so much as an attempted shot during that man-advantage while Peverley was denied on a short-handed bid, Zdeno Chara shot one high and wide, Johnny Boychuk took a hit and Bergeron logged a takeaway.
In addition, there were no stoppages of play between the call on Krejci's infraction and Paille's goal.
With that and a successful kill while Hamilton was boxed, the Bruins bumped their NHL-best penalty-killing percentage up to 92.3 (84-of-91) on the year.