The 25 Dumbest Free Agency Moves in NFL History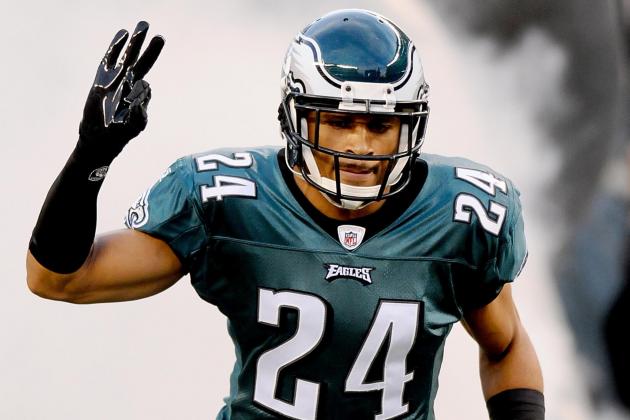 Evan Habeeb-USA TODAY Sports
Nnamdi Asomugha represents one of the worst NFL free-agent signings in history.
The 2013 NFL free agency period is officially here, so while teams are scrambling to sign the biggest names such as Mike Wallace to massive contracts, it would behoove each franchise to look into the past before spending big.
It happens every year—at least one NFL team lands a prized free agent, only to have it end up as one of the worst moves of the offseason; if not all-time.
Teams such as the Washington Redskins, Oakland Raiders and Cleveland Browns are notorious for making mistakes in free agency, and litter the list of the dumbest moves in free agency history.
NFL free agency is here, but let's take a moment to reflect on the 25 dumbest free agent moves in NFL history.
Note: All statistics courtesy of NFL.com.
Begin Slideshow

»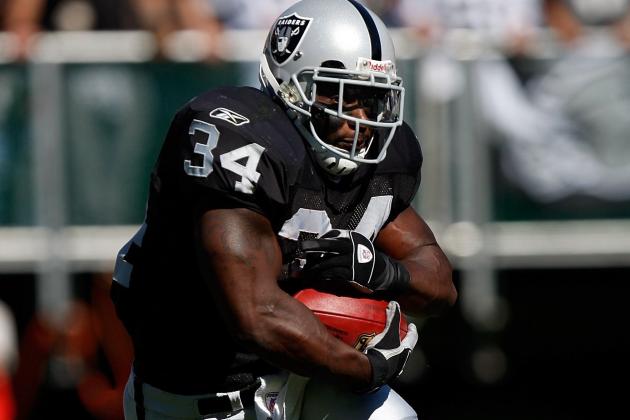 Allen Kee/Getty Images
LaMont Jordan was nothing more than a backup, but the Raiders sure did not pay him like one.
LaMont Jordan never started a game in his first four seasons in the NFL as a member of the New York Jets.
The Oakland Raiders must have seen something it liked, because the front office signed him to a five-year, $27 million contract in 2005.
Jordan would rush for 1,025 yards that season, but then fail to total the yardage number again over the course of the next two seasons as he was reverted to being a backup once more.
Oakland apparently used to enjoy paying backups as starters.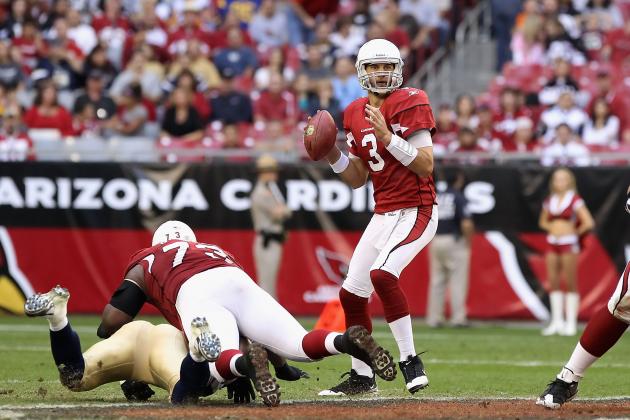 Christian Petersen/Getty Images
Derek Anderson failed to keep his starting job for more than four games in Arizona.
The Arizona Cardinals needed a starting quarterback in 2010 after Kurt Warner retired and looked to one-hit wonder Derek Anderson to fill that role.
Arizona signed Anderson to a two-year contract worth $7.5 million. He would go on to lose the starting job after just four games to an undrafted rookie quarterback by the name of Max Hall.
Anderson is still bouncing around the NFL as a hopeless backup these days, but he lasted just one season in Arizona after his pathetic attempt at playing the quarterback position.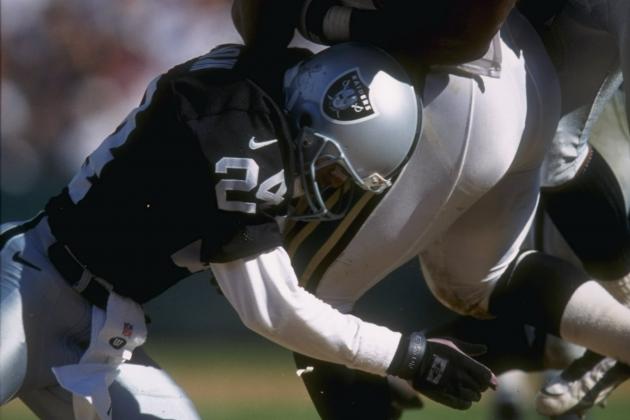 Stephen Dunn/Getty Images
Larry Brown cashed in on a great Super Bowl performance.
Larry Brown made some noise in Super Bowl XXX when he intercepted two passes to help propel the Dallas Cowboys to victory—earning MVP honors in the process.
That was the highlight of his career.
In typical Oakland Raider fashion, Al Davis signed Brown to a big-money deal in 1996 based entirely off that one performance. Brown received a five year deal worth $12.5 million.
Brown would only play two of those five years with the Raiders, appearing in only 12 games. He recorded just one interception and returned to the Cowboys in 1998 before retiring.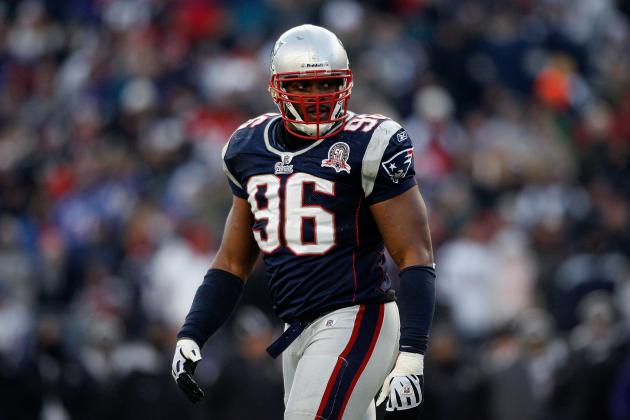 Elsa/Getty Images
Adalius Thomas did not pan out the way the Patriots had hoped.
Adalius Thomas spent seven seasons as a member of the Baltimore Ravens before joining the New England Patriots in 2007 as the team was searching for a premier pass-rusher.
Thomas landed a five-year deal worth $35 million with New England and was part of the squad that almost went undefeated as he racked up just 6.5 sacks.
A combination of declining production, a hefty financial tag and a clash with the coaching staff led to Thomas' release after just three years with the team.
Thomas ended up never producing the way the Patriots paid him to, and for that he is one of the worst decisions in free agency history.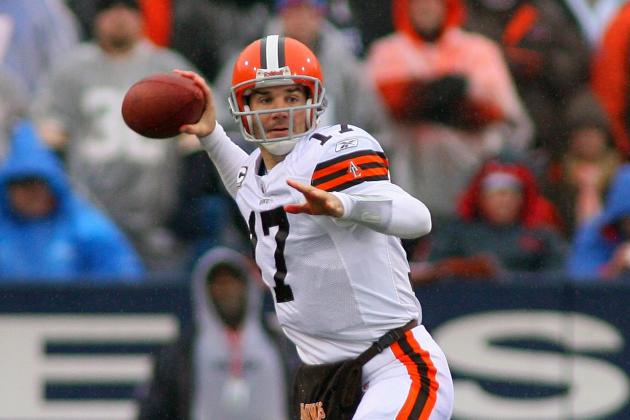 Rick Stewart/Getty Images
Jake Delhomme was simply another free agent quarterback disaster for the Browns.
Jake Delhomme had been in the NFL since 1998 before the Cleveland Browns thought it was a great idea to bring him in before the 2010 season.
To be fair, Delhomme had shined as a member of the Carolina Panthers the preceding seven years, but had thrown eight touchdowns to 18 interceptions before being cut.
Regardless of his horrific numbers, the Browns signed Delhomme to a two-year deal worth about $7 million. He proceeded to throw for a little over 800 yards to go along with his two touchdowns and eight interceptions.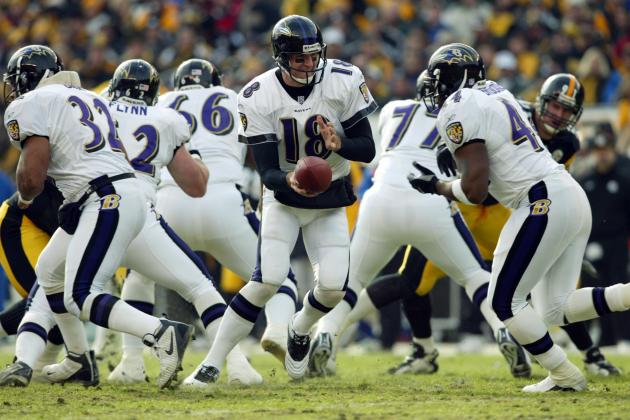 Andy Lyons/Getty Images
Elvis Grbac fizzled fast in Baltimore.
The Baltimore Ravens won the Super Bowl in 2000 with Trent Dilfer at quarterback and decided to get an upgrade during free agency the following offseason.
Said upgrade happened to be Elvis Grbac, who had thrown for over 4,000 yards the year before as a member of the Kansas City Chiefs.
Baltimore signed Grbac to a five-year, $30 million deal in the hopes he could be the franchise quarterback the team was missing and potentially carry it to more championships.
Instead, he appeared in only 14 games and threw 15 touchdowns to 18 interceptions while completing just 56 percent of his passes. The Ravens cut him in the offseason and started its search for a real quarterback over.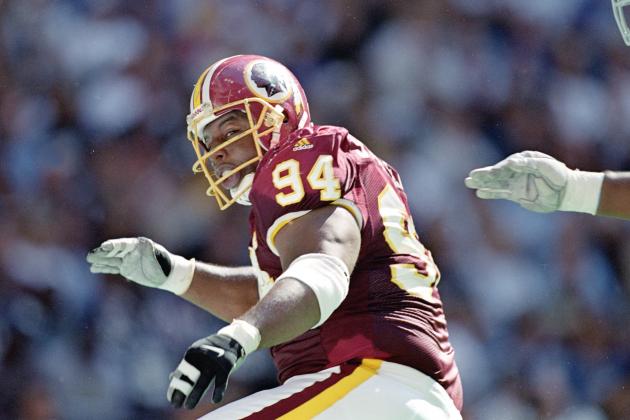 Brian Bahr/Getty Images
Dana Stubblefield never lived up to the expectations in Washington.
Defensive tackle Dana Stubblefield recorded 15 sacks in 1997 as a member of the San Francisco 49ers, which marked just the second time his sack count went past the double digit barrier in five seasons. As a result, he became one of the hottest commodities on the market.
Like clockwork, the Washington Redskins jumped in and threw money at him.
Stubblefield signed a six-year, $36 million contract with the team, but only played out half the contract.
In the process, he only managed to put together seven sacks.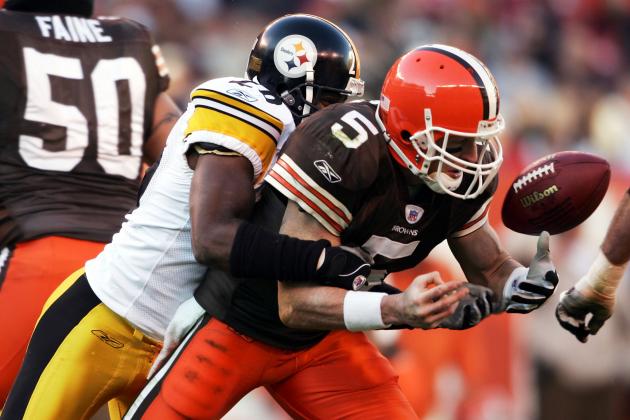 Andy Lyons/Getty Images
Jeff Garcia lasted one year with the Browns while making a lot of money.
Jeff Garcia had a stint in the CFL before playing five seasons with the San Francisco 49ers in which he played well enough to convince teams that his 34-year-old corpse was good enough to be paid like a franchise quarterback.
Unsurprisingly, the Cleveland Browns were the team that fell for it.
Garcia was given $25 million over four years but played just one. He appeared in only 11 games and threw for 1,731 yards with 10 touchdowns and nine interceptions.
Garcia failed to win over fans while bumbling around the field and was cut, which then allowed him to pursue the backup quarterback dream job he had been destined for from the beginning.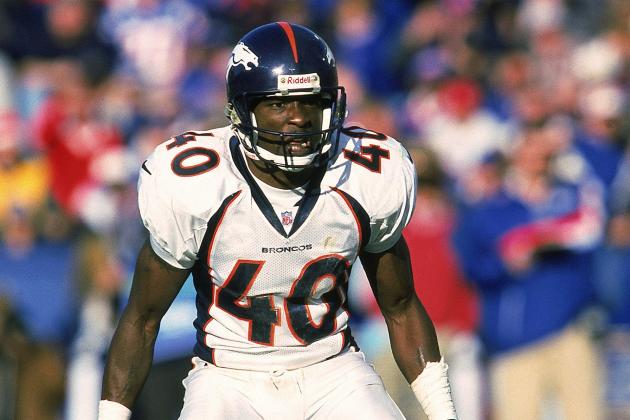 Harry How/Getty Images
Dale Carter blew his chance with the Broncos.
Cornerback Dale Carter spent the first seven years of his NFL career with the Kansas City Chiefs, where he blossomed as one of the better defensive backs in the game.
When he hit the free-agent market, the Denver Broncos thought it would be a good idea to steal him away.
That decision turned out to be a horrible one. Carter was given a four-year contract worth $22 million but spent just two seasons in Denver.
In 1999, his first year with the team, Carter appeared in only 14 games and recorded just two interceptions. He missed the entirety of the 2000 season after being busted for the fourth time for abusing the NFL's substance abuse policy.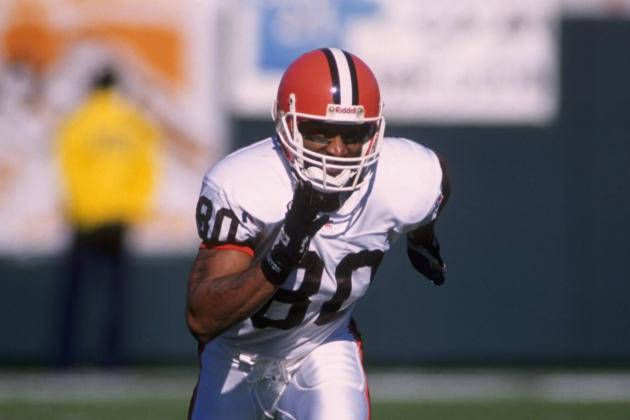 Scott Halleran/Getty Images
The Browns were gullible enough to pay Andre Rison what he wanted.
Andre Rison recorded over 1,000 yards receiving in four of his five seasons with the Atlanta Falcons before being wooed to play for the Cleveland Browns.
Cleveland gave Rison $17 million over five years, but would only play one year with the team.
The writing was on the wall as soon as Rison stepped foot on the field for the Browns. He was sluggish and did not exactly appear to be giving it his all. Rison caught just 47 passes for 701 yards and three touchdowns.
Rison bounced around the league for five more seasons, but his demise began in Cleveland.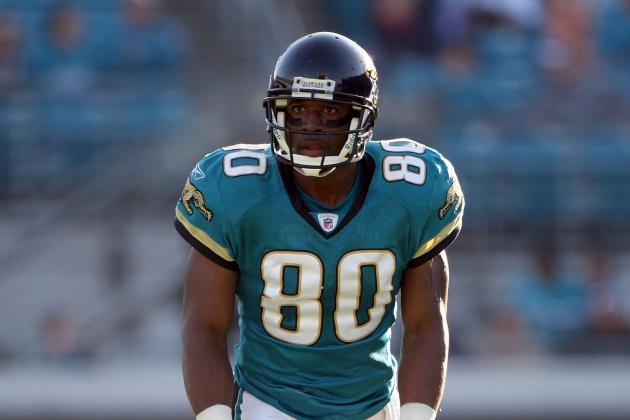 Sam Greenwood/Getty Images
Jerry Porter caught just 11 passes as a member of the Jaguars.
Jerry Porter played eight seasons with the Oakland Raiders before hitting the open market to test his value.
The Jacksonville Jaguars decided he was worthy of a six-year, $30 million deal despite his declining production and speed.
Porter would last just one year out of the six he signed on for, and managed to catch an amazing 11 passes while appearing in 10 games.
He had never went over 1,000 yards in his career so what the Jaguars exactly think they found is hard to determine.
Chalk it up to having a case of Oakland Raider-itus.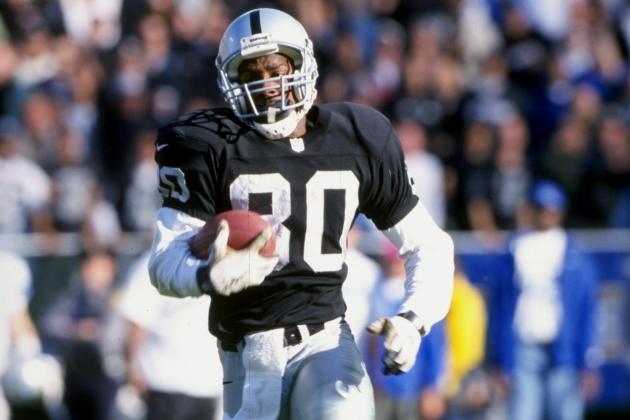 Otto Greule Jr/Getty Images
Desmond Howard was just another Oakland Raiders free agency mistake.
Desmond Howard is one of the most decorated players in NFL history, but he also fell victim to signing with the Oakland Raiders as a free agent.
Howard flipped a Super Bowl MVP performance with the Green Bay Packers in 1996 into a nice contract with Oakland. The Raiders reeled him in for four seasons and $6 million.
Like most Raiders free agent signings, Howard did not even last the duration of the contract he signed. He played in Oakland for just two seasons, having no impact on the field outside of two punt returns for touchdowns.
For Oakland fans it was not exactly a shocking result.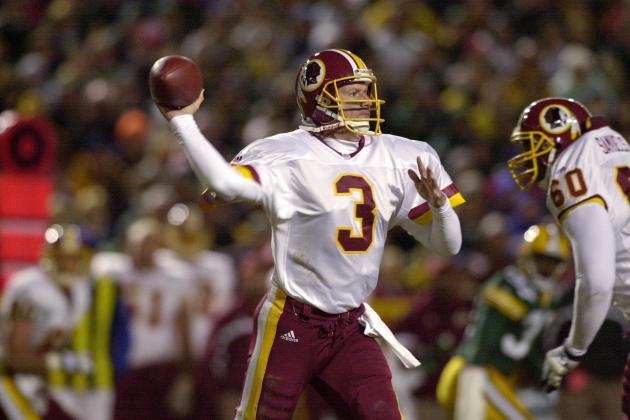 Jonathan Daniel/Getty Images
Jeff George wasted the Redskins' time like he wasted away his immense talent.
Jeff George was the No. 1 overall pick in 1990 NFL draft, but bounced around the league after never being able to live up to expectations.
That sure did not prevent the Washington Redskins from giving him a try.
In 2000, George signed a four-year, $18 million contract with the Redskins. He appeared in six games and threw for just over 1,300 yards and seven touchdowns. The following year he appeared in only two contests and threw three interceptions.
The Redskins moved on, but it is hard to figure out why the front office took the financial gamble in the first place after 10 years of evidence George did not have what it takes to succeed in the NFL.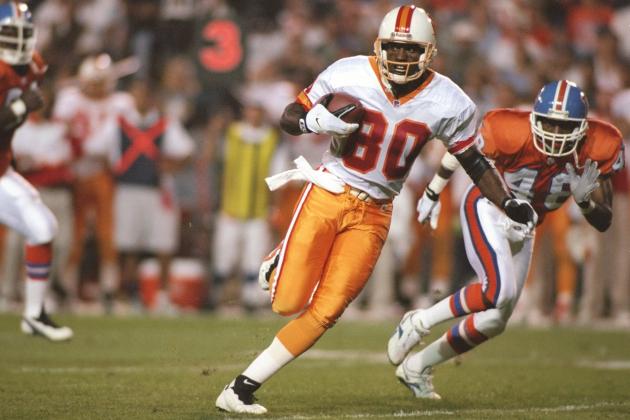 Jed Jacobsohn/Getty Images
Alvin Harper was a product of great players around him before landing with Tampa Bay.
Receiver Alvin Harper played well with the Dallas Cowboys during his first four years in the league before testing the market.
The problem with Harper was simple—he put up big numbers with the team as defenses were focused in on Michael Irvin and Emmitt Smith.
It also does not hurt that Troy Aikman was the one tossing him the pigskin.
Harper was given a four-year, $10.6 million contract by Tampa Bay and spent just two years with the team. He recorded under 1,000 yards total between the two seasons and scored only three touchdowns.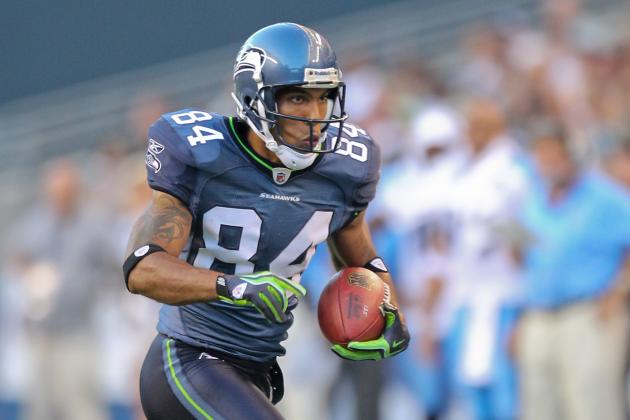 Otto Greule Jr/Getty Images
T.J. Houshmandzadeh left his comfort zone in Cincinnati and the Seahawks paid the price.
T.J. Houshmandzadeh had a good thing going with the Cincinnati Bengals over the course of his first eight seasons in the NFL. He was the beneficiary of playing across from then-elite receiver Chad Johnson.
Houshmandzadeh elected to test the open market in 2009, and the Seattle Seahawks were dumb enough to only analyze the stats rather than watch his film.
Seattle inked Houshmandzadeh to a five-year, $40 million deal.
His first and only year with the team, Seattle realized he was not actually a No. 1 receiver as he only recorded 911 receiving yards and three touchdowns.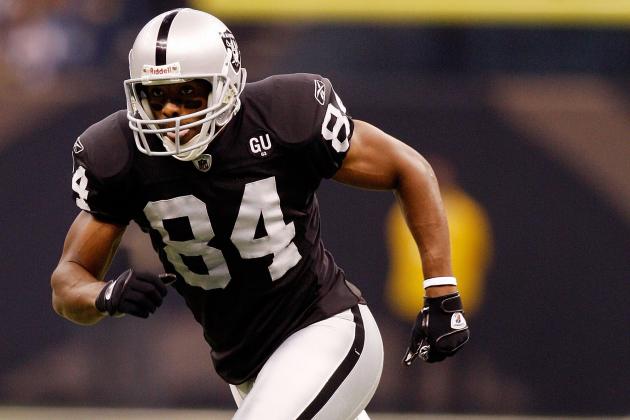 Chris Graythen/Getty Images
Javon Walker did not see the field much for the Oakland Raiders thanks to injuries.
Javon Walker put together a nice career over the course of his first six seasons in the NFL with the Green Bay Packers and then the Denver Broncos.
Like any good franchise, the Oakland Raiders broke the bank in free agency to grab Walker, who had just begun his decline.
Walker was given a six-year, $55 million contract , but played in just 11 games over two seasons before being cut. He caught only 15 passes for 196 yards and one touchdown while severely hampered by injuries.
In the process, Walker made $21 million before being cut. Or Oakland lost $21 million, depending on which way you want to look at it.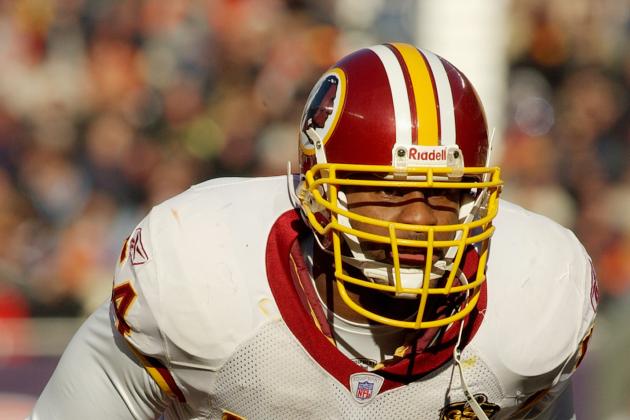 Jonathan Daniel/Getty Images
Jeremiah Trotter disappointed the Redskins given the money he landed by signing.
Jeremiah Trotter was the man in the middle for the Philadelphia Eagles over the course of his first four years in the NFL before testing the waters of free agency.
The Washington Redskins jumped all over Trotter, as the thought of ripping him from a divisional rival must have been too much to handle.
Trotter was given a seven-year, $36 million deal by Washington. He recorded 150 tackles and 1.5 sacks during his two years with the team before being cut.
In a funny turn of events, Trotter then returned to Philadelphia and played even better for the Eagles for three more seasons.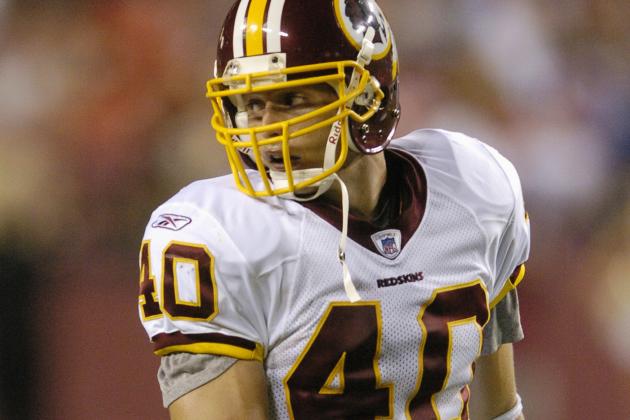 Greg Fiume/Getty Images
Adam Archuleta did not do much to earn the contract Washington ended up giving him.
Safety Adam Archuleta spent the first five years of his NFL career with the St. Louis Rams. He recorded over 100 tackles just once and only intercepted just three passes.
So what did the Washington Redskins do when he hit free agency?
Sign him to a seven-year, $35 million contract of course!
Archuleta appeared in all 16 games with Washington and recorded 49 tackles. They wound up being the only games he played with the team.
To make matters even worse, Washington spent the cash on Archuleta even though they had a promising youngster named Ryan Clark behind him.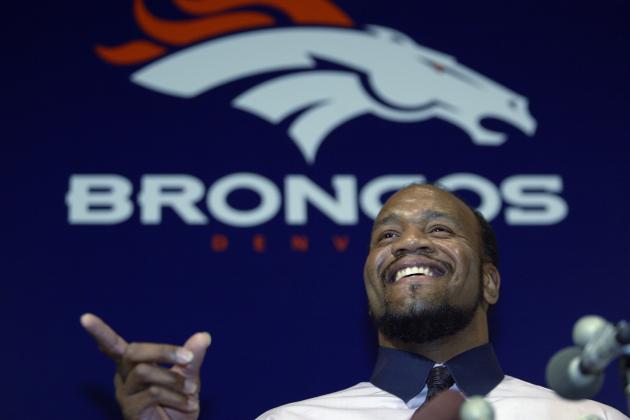 Brian Bahr/Getty Images
The joke was on the Broncos when they signed Daryl Gardener.
Daryl Gardener put together seven solid seasons in the NFL with two different teams before the Denver Broncos decided to sign the pass-rusher to a big deal in 2003.
Gardener landed a seven-year, $34.8 million contract with the team as a result of his above-average work up to that point.
In his one and only year with the team, Gardener notched exactly zero sacks and mustered only eight tackles before being cut and seeing his NFL career go up in smoke.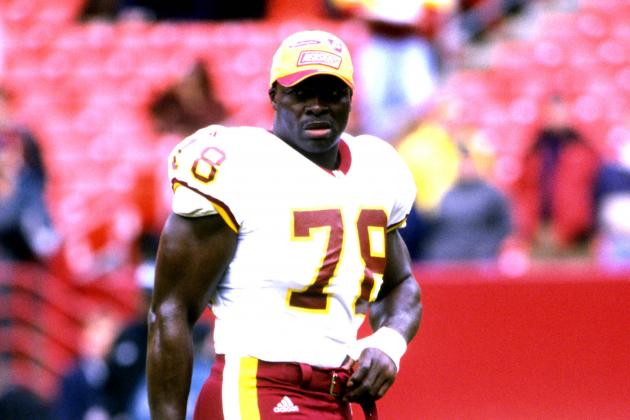 A. Messerschmidt/Getty Images
The Redskins were too blind to see that Bruce Smith wanted to do nothing more than chase a record.
Bruce Smith played 15 seasons with the Buffalo Bills and at the age of 37, wanted nothing more than to break the all-time sack record.
Guess which franchise swooped in and paid him big cash?
If you guessed the Washington Redskins, you are a better owner than any in the team's history.
Washington came calling and hit Smith with a five-year, $23.5 million contract. The result was uninspired play that saw Smith only give effort when he had a chance at the opposing quarterback.
Washington had expected him to play like an every-down player—and paid him like one too.
Smith got his record, as he recorded a measly 29 sacks over four years with the team. He finished with 200 total sacks.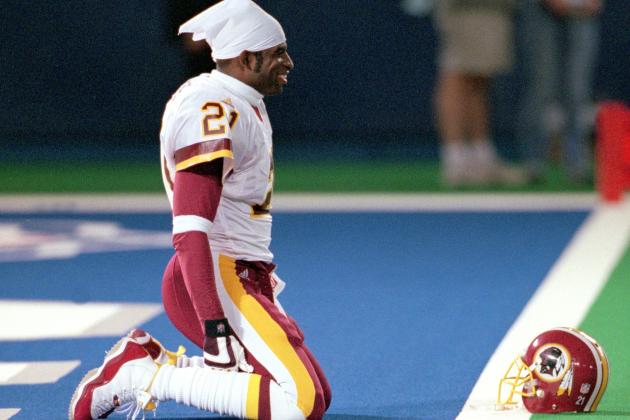 Tom Pidgeon/Getty Images
Deion Sanders saw his career fizzle after receiving boatloads of cash from Washington.
For 11 seasons Deion Sanders wowed the NFL world with his exceptional skills in all phases of the game as a member of three different franchises.
That all came to a screeching halt when the (surprise!) Washington Redskins came calling in 2000.
Washington handed Sanders an absurd seven year, $56 million contract despite his age. Sanders was awful during his one season with the team, although he did manage to nab four interceptions.
Ultimately Sanders retired from the team after one year and had to pay back Washington $2.5 million as he watched his baseball career go down the drain as well.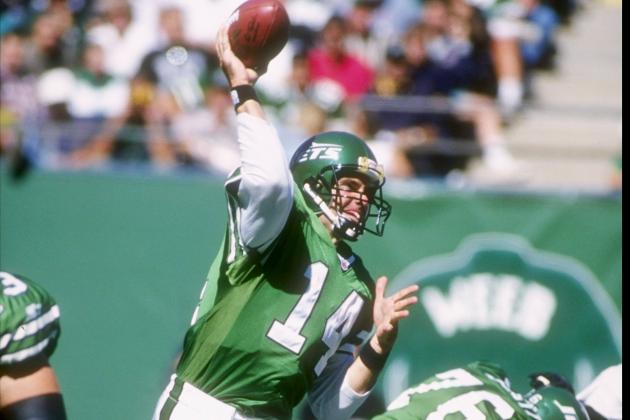 Al Bello/Getty Images
Neil O'Donnell fooled the New York Jets into giving him a big contract.
Apparently the New York Jets did not learn anything from other NFL teams bringing in one-hit wonders from Super Bowl games.
For New York, the man was quarterback Neil O'Donnell, who led the Pittsburgh Steelers to a Super Bowl in 1995.
Like many on this list, that was the apex of his career.
New York signed O'Donnell to a $25 million contract over five years the following offseason. He lasted just two seasons with the team, playing miserable football at best when he was not sidelined with an injury.
Donald Miralle/Getty Images
San Diego traded David Boston one year after signing him because he was such a cancer.
David Boston put together an outstanding first four seasons in the NFL as a member of the Arizona Cardinals. One season even saw him put up over 1,500 yards receiving and eight touchdowns.
As a result, the San Diego Chargers smartly grabbed him on the free agent market to the tune of a seven-year, $47 million contract.
Boston lasted just one year with the team.
He recorded 880 receiving yards and seven touchdowns, but it was the off-field issues that made San Diego trade him away.
A diva in the utmost sense, the Chargers shipped him off to Miami after not wanting to deal with him anymore. He was then busted for using performance-enhancing drugs.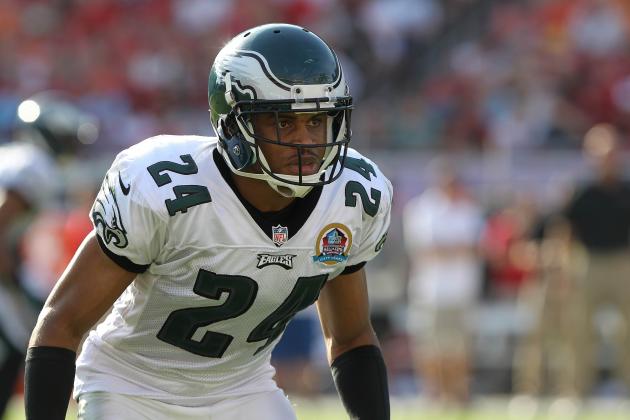 Kim Klement-USA TODAY Sports
Nnamdi Asomugha lasted just two years with the Eagles.
Nnamdi Asomugha was the most feared defensive back in the NFL over the course of his eight seasons with the Oakland Raiders.
As a result, the Philadelphia Eagles signed him to a five-year, $60 million contract in 2011, making him the highest paid corner in the NFL.
Asomugha was cut after the 2012 season (per Adam Schefter on Twitter) for his horrendous play over his two seasons with the team.
The confusing part of the situation comes from the Eagles end.
Why exactly did the front office make Aso the highest paid at his position, knowing full and well he thrived as a man-to-man corner, which happens to be the exact opposite of what the Eagles run defensively?
We may never find out the answer.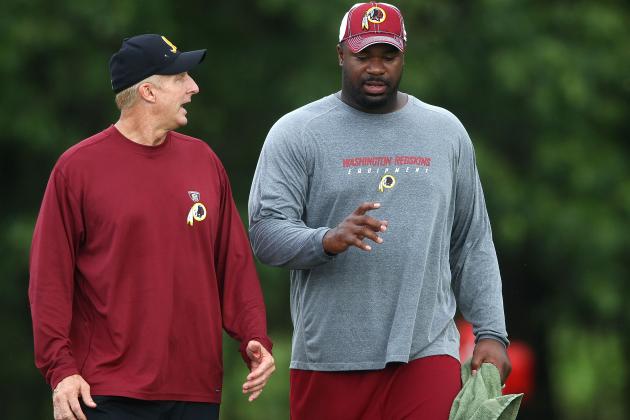 Win McNamee/Getty Images
Albert Haynesworth quit after getting a taste of the money Washington gave him.
Where to begin with Albert Haynesworth?
One of the most dominant forces in football for seven years with the Tennessee Titans, Haynesworth hit the free-agent market in 2009 and cashed-in big time.
The Washington Redskins bit and handed him a seven-year, $100 million contract. Haynesworth appeared in only 20 games with the team over two seasons before being cut.
Haynesworth was lazy on the field and off it after receiving the big contract, hence his being ousted from the league hardly two years after signing the mega-deal.
It was clear Haynesworth did not care to play football anymore and was sluggishly moving along just to receive more guaranteed money.
For that, Haynesworth is the dumbest signing in NFL history.
Follow me on Twitter for more NFL news and analysis.