UFC 158: The 5 Funniest Quotes of GSP's UFC Career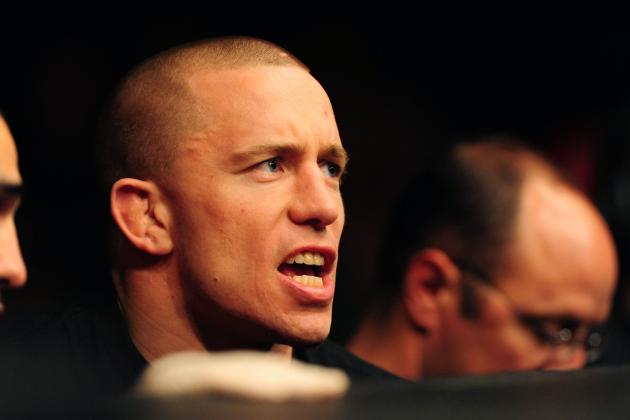 Mark J. Rebilas-USA TODAY Sports

It's UFC 158 fight week, and while the anticipation of the main event between Georges St-Pierre and Nick Diaz continues to grow, sometimes it can be good to sit back and have a good laugh.
This time, we'll have the laugh at the champion's expense. Shh! Don't tell him.
A native of Quebec, Canada, St-Pierre's first language is French, and that has certainly shown from time to time as he has struggled to get a grasp on the English language.
Certainly we have to give him credit as he has come a long way since his first days in the UFC, but many of us will always remember the hilarious comments that he has made throughout the years.
With all of the media surrounding this huge welterweight title fight, we have to assume that there will be more chuckle-worthy moments, but here are five of the funniest quotes GSP has made since coming to the UFC.
Begin Slideshow

»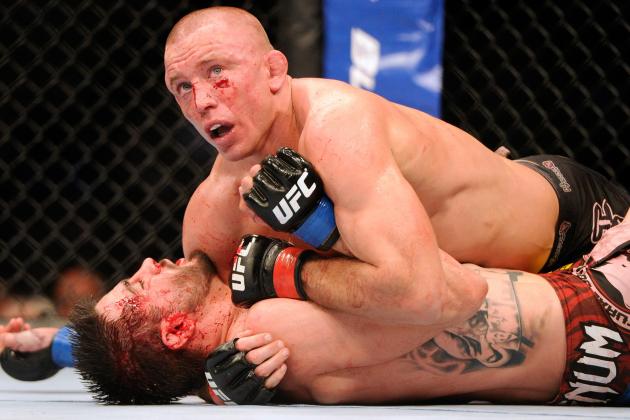 Eric Bolte-USA TODAY Sports

"I am a grown man. I don't need protection. You know?"
The first laugh-worthy comment came during an episode of The Ultimate Fighter from October 2010 when St-Pierre spoke about how he doesn't need a posse or bodyguards following him around.
And he's right. It's been almost five years and 11 months since St-Pierre has walked out of the cage without his hand raised.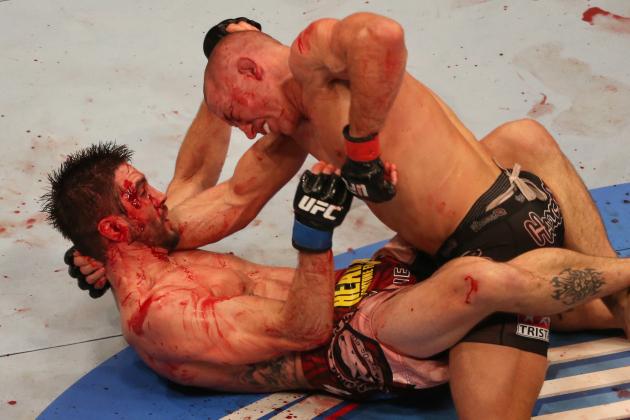 Tom Szczerbowski-USA TODAY Sports

"I knew I hurt him, because when I threw my first elbow... he said 'UUUGGH!'"
After breaking Sean Sherk's nose at UFC 56, St-Pierre recalled the first big strike that he threw in the fight, one which we later found out was likely the blow that broke Sherk's nose.
GSP would earn a TKO victory over "The Muscle Shark" that night in what was the first time in 34 pro fights that Sherk had been finished by an opponent and only his second loss overall.
Jeff Zelevansky/Getty Images

"I fought Hughes the first time, he beat me fair and square... Sorry fairly and squarely."
This one came in the same post-fight interview at UFC 56 when he defeated Sean Sherk.
A pleading St-Pierre had just won his fourth straight bout after losing to Matt Hughes and was begging for another shot at Hughes and the title.
He had the right idea and delivered the comment correctly the first time, but he thought too hard and (in)corrected himself.
Ohhhhhh Georges...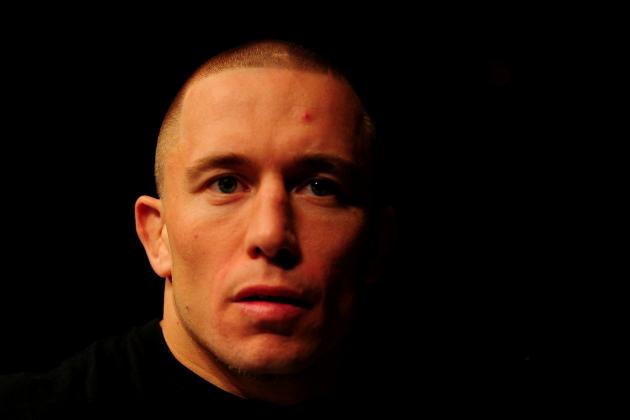 Mark J. Rebilas-USA TODAY Sports

"That's what keeps me going. That's where I go to find my motivation. That's the dark place, that is what gets me to the next level in my career."
It became an instant Twitter meme, but Georges St-Pierre is apparently very serious about accessing his "dark place" to get ready for his UFC 158 bout against Nick Diaz.
St-Pierre is typically such a bright, smiling personality that it's ridiculous to hear him talk about how he has some sort of evil side to him.
We'll have to see how it works out for the champion, but it's hard to believe that he has a darker place inside of him than Diaz, the foul-mouthed challenger from Stockton, does.
"I'm glad you won that fight, Matt, but I'm not impressed by your performance."
What GSP quote list would be complete without the most classic one of them all?
St-Pierre famously entered the cage after Matt Hughes' TKO victory over BJ Penn at UFC 63, already knowing that he was next in line for a title fight.
While most fighters would congratulate their opponent, St-Pierre simply told it like it was.
Many of us thought it was a simply slip of the tongue at first, similar to what we had seen from him in the past, but it turned out that St-Pierre meant exactly what he said. And that made it even funnier.
An oldie but a goodie, here is the YouTube version of this classic compilation of GSP quotes, including the famous "not impressed" line as a chorus.
Enjoy!