Miami Dolphins Mock Draft: Predicting All 7 Rounds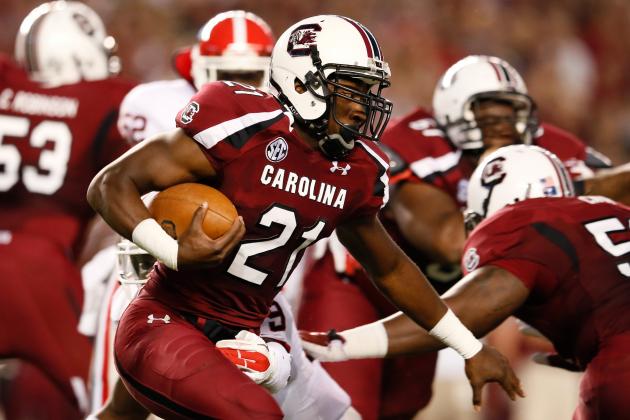 Kevin C. Cox/Getty Images

The Miami Dolphins have been extremely proactive early in free agency. They were able to lure the top wide receiver and rejuvenate the linebacker position. They were also extremely close to signing tight end Jared Cook, but lost the bidding war to the St. Louis Rams.
Wide receiver was a pressing need for the Dolphins, and they were able to address it by re-signing Brian Hartline and bringing in Mike Wallace. The Dolphins should not be done addressing the position—there's still some talent in free agency and in the draft.
By addressing the linebacker position in free agency, Miami was able to bring in some younger bodies that can make an impact while letting go of some leaders with aging bodies. However, linebacker was not a position of need this year.
Miami will need to focus on adding an offensive tackle, a cornerback or two, a seam threat tight end, a pass-rusher and some more depth at wide receiver in the draft. Miami is not yet done in free agency so these needs may change, but as of now, these are the positions of need.
Begin Slideshow

»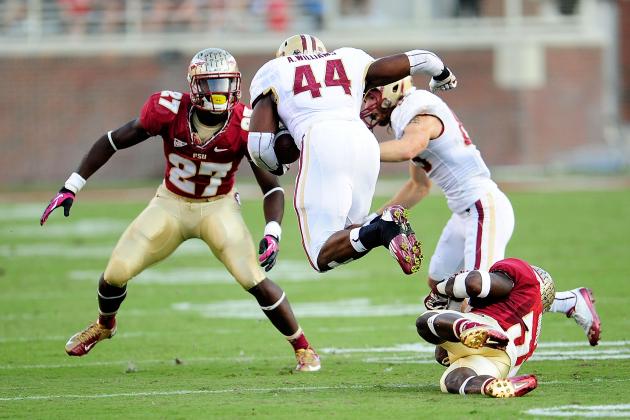 Stacy Revere/Getty Images

Jeff Ireland has not yet addressed the cornerback position in free agency. As of right now, Miami has Richard Marshall, Dimitri Patterson and Nolan Carroll as its starting cornerbacks. I would not feel comfortable about this if I were in Miami's front office.
Patterson and Marshall are taking up a good amount of cap space, so it wouldn't surprise me if Miami were to release one of them. Even if they keep them both, Miami has to address cornerback early in the draft. They need a shutdown cornerback.
With Dee Milliner most likely off the board, the Dolphins will look at the next best prospect. They will probably have the luxury of choosing between Xavier Rhodes and Desmond Trufant as I don't see either being drafted before the Dolphins are on the clock.
Either player would satisfy Miami's need for a shutdown corner that can start from day one, but I like Rhodes just a little bit more.
The Florida State cornerback can play either zone or man coverage and has the length and speed that will allow him to cover guys like Calvin Johnson and Larry Fitzgerald. Rhodes does a great job using his hands at the line of scrimmage to jam receivers and has the ability to run with faster receivers after the jam.
Rhodes played both man and zone coverage at Florida State, allowing him to play under any scheme in the NFL. By adding Rhodes, Miami can breathe a little easier knowing they have someone that can keep up with the opposition's best receiver.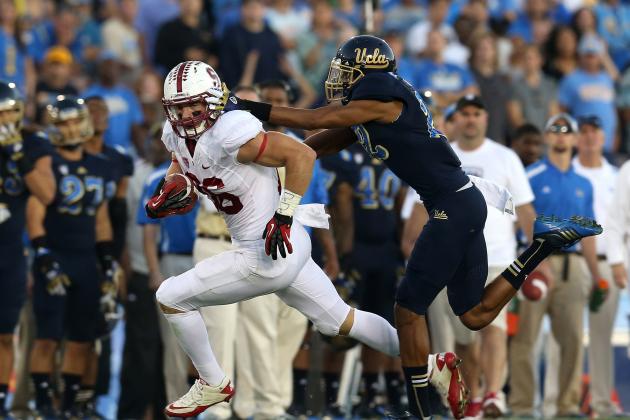 Stephen Dunn/Getty Images

Miami needed a tight end last season. Michael Egnew hasn't panned out yet, and now that Anthony Fasano left for Kansas City, the need for a tight end becomes much more important.
Jared Cook was on Miami's radar when free agency began, but they lost out to the St. Louis Rams. They have also shown interest in former New York Jets tight end Dustin Keller, which as I'm writing this article, has just left Miami without a contract.
If the Dolphins are able to snag a tight end in free agency, the need for another tight end in the draft becomes less pressing. They can focus on other areas before worrying about the position.
As of now, I have Miami taking Stanford tight end Zach Ertz, who is considered by many to be the second-best prospect at the position this year behind Notre Dame's Tyler Eifert.
Ertz had a great season being Stanford's leading receiver. He totaled 69 receptions for 898 yards while scoring six touchdowns. He fits the type of tight end Joe Philbin likes to have in his offense. Ertz is a complete tight end who can be effective in run-blocking and as a seam threat.
By signing Mike Wallace, the Dolphins addressed their need at wide receiver. But Wallace doesn't give Ryan Tannehill a red-zone threat. That's what Ertz brings to the team.
This pick can change if Miami is able to sign Keller, but as of now, this is a logical pick.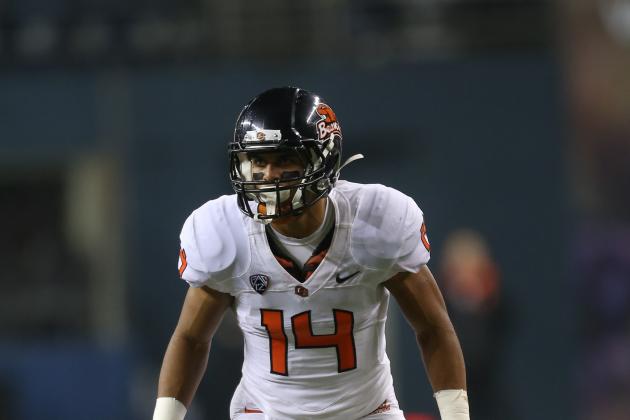 Otto Greule Jr/Getty Images

With the Kansas City Chiefs agreeing to a three-year contract with Sean Smith and Miami still seemingly uninterested in luring in another free-agent cornerback, they should really consider doubling up in the draft. After having drafted Xavier Rhodes in the first round to be their shutdown corner, Jordan Poyer can come in and contribute as the second or even third cornerback on the roster.
Richard Marshall should be back to 100 percent next year and would compete with Poyer for the No. 2 spot if Rhodes takes care of the No. 1 spot.
Poyer is a good athlete who has great coverage skills. He tied for second in the nation with seven interceptions. His ball skills are excellent, which is something the Dolphins have been lacking in the secondary. He has to improve his run defense but can still contribute as a rookie.
He helped himself at the combine, where he ran a 4.46 40-yard dash. He didn't shine in Indianapolis, but solidified himself as one of the top cornerbacks in this class. Poyer has the talent and potential to be drafted anywhere from the late first to early third round.
By adding Rhodes and Poyer to a secondary that already has Reshad Jones, Miami will be a lot better in the passing game.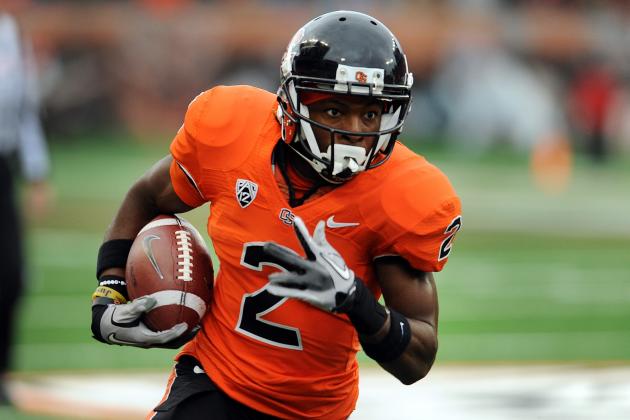 Steve Dykes/Getty Images

In the third round, Miami addresses its need for more depth at wide receiver. They can possibly pull the trigger on a receiver in an earlier round, but there's plenty of talent to go around in the middle rounds.
In Markus Wheaton, Miami is getting a slot receiver that also has the ability to stretch the field and convert a 10-yard catch into an 80-yard touchdown. He has excellent speed, quickness and the ability to separate from defenders out of his break. He has also proven he has strong hands and the willingness to catch passes in traffic before taking a big hit.
The only concern with Wheaton is if he can beat the jam at the line of scrimmage. He may need to add some strength in order to compete against physical cornerbacks. If he's able beat the jam, there are not many cornerbacks that are able to keep up with him.
He may have had one of the best combines regardless of position. Wheaton placed in the top 10 at his position in six out of seven drills, including a 4.45 40-yard dash and a 37 inch vertical jump.
Wheaton participated in the Senior Bowl and was one of the standout players. He showed his speed, quickness and ability to catch in traffic. He would be a great new weapon for Ryan Tannehill and a great complement to Mike Wallace and Brian Hartline.
With Davone Bess' contract expiring next year, Wheaton may become his replacement in 2014.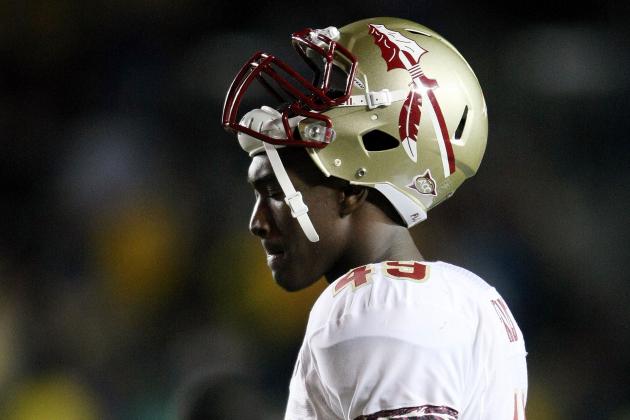 Elsa/Getty Images

The Dolphins are looking to upgrade their pass rush. Cameron Wake is one of the best in the league, but he needs some help. Jeff Ireland was able to bring in Philip Wheeler and Dannell Ellerbe, who are linebackers that excel in blitzing situations.
With Miami unable to lure in Michael Bennett, pass-rusher remains in need of an upgrade. If they are unable to bring someone in through free agency, Ireland needs to focus on bringing someone in through the draft.
Since pass-rusher is not Miami's biggest need, they can wait to select a high-value player in the middle rounds. They might be able to pull the trigger on someone earlier if they feel they are getting value. There are not many can't-miss prospects at the position and it is unlikely Miami will select one in the first round.
After addressing two pressing needs, Miami can now focus on drafting someone to help Wake. Brandon Jenkins is a talented pass-rusher who will experience a free fall because of a season-ending injury. Jenkins broke his foot during the first game of the season, but will be available right away.
Jenkins is a pure pass-rusher with great athleticism who has to improve against the run. He's a speed-edge rusher with a handful of moves that make it difficult for offensive linemen to block him.
The combination of Wake and Jenkins off the edge can be deadly. It's hard enough for teams to block Wake, but incorporating Jenkins' ability will make it even harder.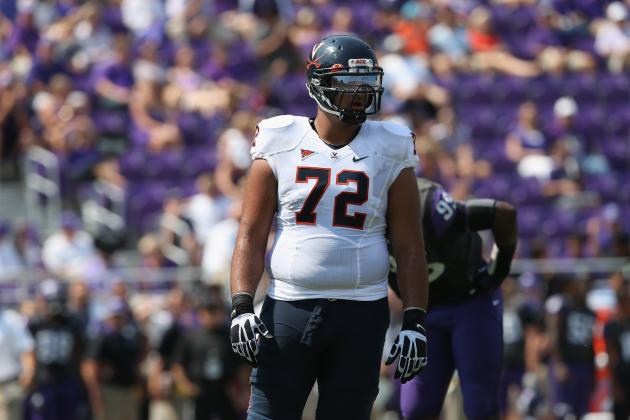 Ronald Martinez/Getty Images

With Jake Long and the St. Louis Rams closing in on a contract agreement, offensive line becomes a big need for Miami. Jonathan Martin will likely step in at left tackle in order to fill in for Long, leaving a hole at right tackle. Miami is still active in free agency and may be able to bring in someone like Eric Winston, but as of now, right tackle is a position of need.
Oday Aboushi will be able to step in right away at right tackle. He is excellent in pass protection while needing to improve his run-blocking. He has quick feet that allow him to keep up with speed rushers off the edge. With his athleticism and movement skills, he fits perfectly in a zone-blocking scheme, which the Dolphins run.
Aboushi didn't play his best at the Senior Bowl, which has caused his stock to take a slight drop. He struggled against the more powerful players, which indicates he could use more strength at the next level.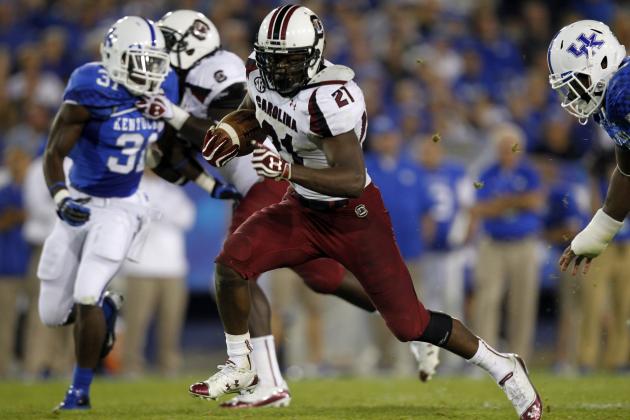 John Sommers II/Getty Images

With Miami is not re-signing Reggie Bush, and Daniel Thomas underperforming during his first two seasons, it may not be out of the question for Miami to draft a running back in the later rounds.
Lamar Miller appears to be in Miami's future plans as a change-of-pace back, but they still need someone to pound it through the middle and score touchdowns in the red zone.
Jonas Gray spent all of last season on the IR after being signed as an undrafted free agent. He's a big back who can give the Dolphins the combination of size and speed when combined with Miller, but we have yet to see him on the field.
Even with Gray on the roster, it wouldn't be a bad idea to bring in Marcus Lattimore with a late-round pick. Lattimore has a lot more upside than Gray and, even though he may spend all of next season on the sidelines, he can be a better complement to the offense.
Considered the best running back in the country before his gruesome season-ending knee injury against Tennessee, Lattimore is a complete back. He has great vision, hits the hole quickly and is able to get to the second level in a hurry. He is very strong, which allows him to break multiple tackles and runs with great pad level. His cutting ability in short spaces allows him to change directions quickly and make people miss. He is not a burner, but he's faster than most people give him credit for.
Not only is Lattimore a great runner, but he's also great at catching the ball out of the backfield. He has great hands and has no problem running short, precise routes.
Also, Lattimore is as deadly as they come in the red zone. He always finds a way to get into the end zone.
If it weren't for his two season-ending injuries, Lattimore would most likely be a first-round pick. Miami is taking a risk with someone that has two repaired knees, but taking him in the fifth round provides incredible value and would be hard to pass up.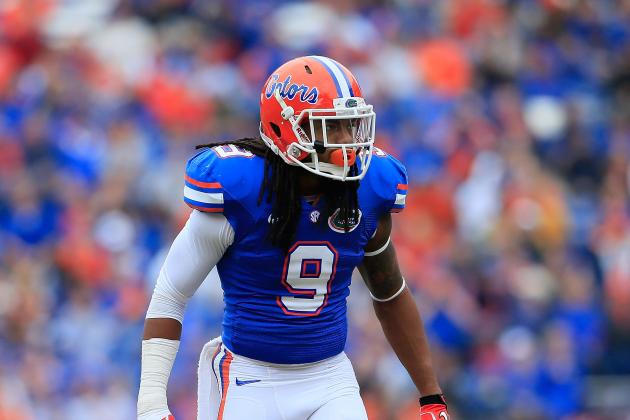 Sam Greenwood/Getty Images

With the re-signing of Chris Clemons, Miami's need at free safety becomes less urgent. With a one-year deal, Jeff Ireland is giving Clemons a chance to prove himself and earn a bigger contract. Miami will be upgrading the safety spot after next season if he fails to impress.
Reshad Jones has turned into one of the best safeties in the league and has formed a formidable duo with Clemons.
But that doesn't mean there isn't someone better than Clemons.
I doubt Miami will focus on drafting a safety in the early rounds (unless someone drastically drops), but a late-round pick on a safety with some upside that won't have to start right away may be a good way to go.
Josh Evans is a safety with a lot of upside who led the Florida Gators in tackles last year. He totaled 83 tackles, three passes broken up, 2.5 sacks and three interceptions. He is solid against the run but excels most against the pass.
He was one of the top safeties at the East-West Shrine game and really improved his draft stock at the combine. Evans ran a 4.58 40-yard dash while leading all safeties in the three-cone drill with a time of 6.64.
Evans may not be able to contribute at safety right away, but he can certainly be ready to step in if Clemons fails to impress coaches this year.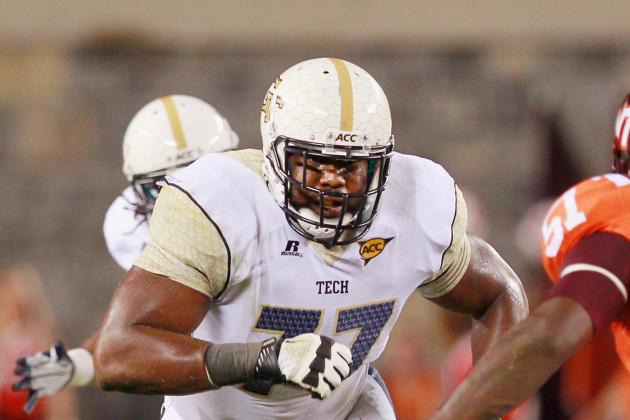 Geoff Burke/Getty Images

John Jerry had a pretty good season at right guard this year, but he hasn't solidified himself as a reliable starter during his time in Miami. Jerry is too big to play guard in Miami's zone-blocking scheme. That may force Miami to look for a possible replacement.
Omoregie Uzzi gives Miami the pulling guard they have been looking for. He has excellent mobility and is perfect for a zone-blocking scheme. He comes off the ball fast and displays athleticism to get to the second level quickly.
His strength by far is in run-blocking, as he struggles with his pass protection. This is something he has to improve if he wants to be a starter in the league.
If Miami can develop him, Uzzi can be a regular starter at guard.