LSU Football: Spring Practice Position Battles Tracker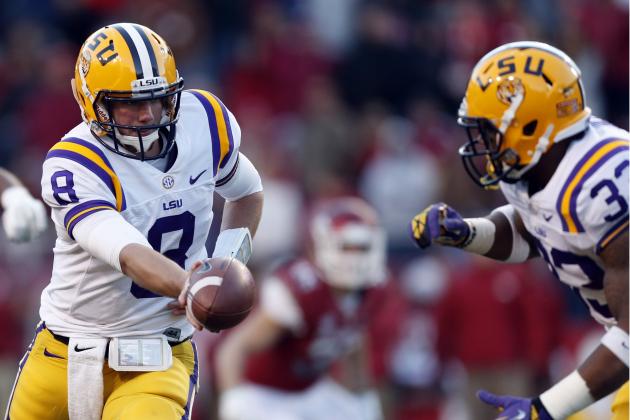 Wesley Hitt/Getty Images

The LSU Tigers are heading into spring training looking to rebuild a program that lost a ton of talent after last season. The Tigers finished the year with 10 wins, but that was not the finish this team was looking for.
Replacing the talent that was lost after 2012 and winning more than 10 games won't be easy for this year's team, but it is possible.
Let's look at key position battles that will help the Tigers reach a championship level this fall, and the latest news out of spring in Baton Rouge.
The spring game is set for Saturday, April 20 at 2 p.m. CT, but before it kicks off, this will be your guide to the news and developments out of the bayou.
Note: This slideshow will be updated with the latest news, position battles, injuries and more.
Begin Slideshow

»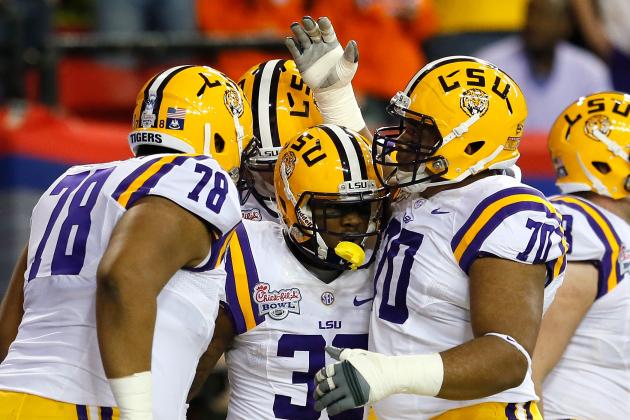 Kevin C. Cox/Getty Images

Update: March 11
The LSU Tigers are making the final preparations before spring practice starts Thursday, March 14.
A number of position battles will be followed closely as the Tigers look to solidify their offensive line, and find replacements for a number of top starters on defense.
The Tigers will also welcome in new offensive coordinator Cam Cameron this spring. Coach Les Miles hired Cameron after he was let go by the Baltimore Ravens. He will step into a program that is loaded with talent that fits his system.
The offense won't look completely different, but it will have more passing and should result in big downfield plays.
Zach Mettenberger should progress exponentially in this offense.
Check back later in the week for more updates out of Baton Rouge.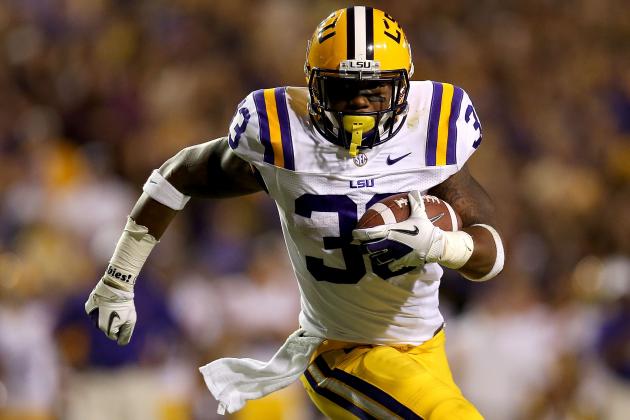 Matthew Stockman/Getty Images

Left Tackle
Jerald Hawkins (Fr.) vs. La'el Collins (Jr.)
The battle for left tackle is one that should bring a lot of attention this spring in Baton Rouge.
The Tigers are looking for a replacement for Chris Faulk after he departed for the NFL this offseason, and starting left guard La'el Collins and redshirt freshman Jerald Hawkins are the leading candidates.
Collins was a starting tackle in high school, and Coach Miles told the media (Nola.com) "We'll look at him initially and see what he's got. We have a good mix (on the offensive line) with some freshmen coming in with an opportunity to play," when asked about him to tackle.
If the Tigers can have a lot of progression from a player like Hawkins this spring, the best scenario would be to leave Collins at guard and plug in a new tackle. At this point, that is what I think happens.
Projected Starter: Jerald Hawkins
Actual Starter: TBD
Running Back
Alfred Blue (Sr.) vs. Jeremy Hill (So.) vs. Kenny Hilliard (Jr.)
The running back position for LSU is not an issue heading into spring, but it is definitely a battle.
LSU is loaded with talent at the position and returns three capable backs to the fold this spring that will battle for the starting position for the Tigers.
Alfred Blue and Kenny Hilliard have both started games over the past three seasons, and Jeremy Hill took over as the starter in 2012. All three have similar traits and the ability to shred SEC-level defenses.
The starter will get the majority of the carries, but all three will be a factor this fall. With that in mind, unless an injury occurs Hill should retain his starting job this spring.
Projected Starter: Jeremy Hill
Actual Starter: TBD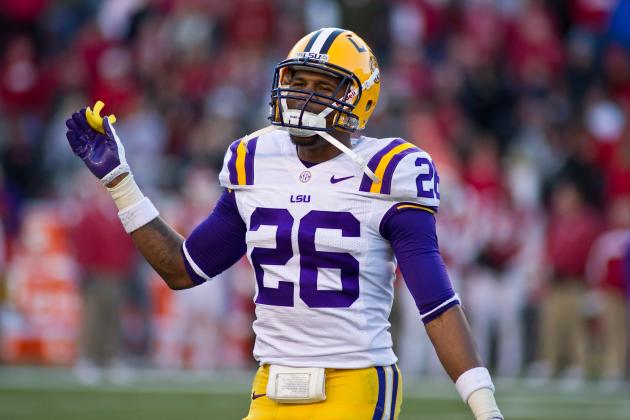 USA TODAY Sports

Defensive End
RE: Jermauria Rasco (Jr.) vs. Justin Maclin (Jr.) LE: Danielle Hunter (So.) vs. Jordan Allen (Jr.)
LSU lost a ton of talent along the defensive line after last season when four linemen departed to the NFL. Three were defensive ends, and all were contributors last fall.
Heading into the spring Jermauria Rasco and Justin Maclin appear to be deadlocked on one side, with Danielle Hunter and Jordan Allen battling on the opposite side of the line.
Incoming freshmen Kendall Beckwith and Frank Herron could be factors this summer and fall at defensive end, but spring should position the practicing veterans for starting positions.
This is a battle the country will be watching.
Projected Starters: RE Jermauria Rasco; LE Jordan Allen
Actual Starters: TBD
Safety
Ronald Martin (So.) vs. Jerqwinick Sandolph (So.) vs. Micah Eugene (So.)
Another position group on defense that needs attention this spring is safety.
The Tigers are losing a number of key players at the position, but they are loaded with returning talent to take over starting duties. Ronald Martin and Micah Eugene have gained experience over the past year, and Jerqwinick Sandolph is earning a shot this spring at playing time.
The competition is likely down to Martin and Eugene before the season begins, with Eugene able to play multiple positions on the field for LSU. Sandolph will get snaps, but primarily as a backup this fall.
Projected Starter: Ronald Martin
Actual Starter: TBD
Middle Linebacker
Lamin Brown (Sr.) vs. Ronnie Feist (So.)
The middle linebacker position is loaded with talent for LSU but there is a lack of experience at the position.
That has brought about whispers of Lamin Brown moving from the outside to middle this season, but Ronnie Feist showed flashes of excellence this past fall, but he has to step up this spring to earn the spot.
The Tigers will put the best three on the field, and the coaches are hoping that two of them are Brown and Feist.
Projected Starter: Ronnie Feist
Actual Starter: TBD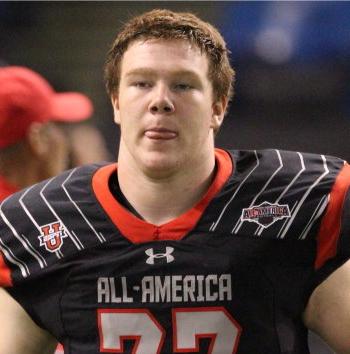 Photo via 247Sports
Ethan Pocic, OT, 6'7", 280 lbs (4-star)
Ethan Pocic is a stud offensive tackle prospect that could work his way into the starting rotation discussion this spring. He has a learning curve entering the collegiate game, but he has the talent to help the line immediately.
If the Tigers shift La'el Collins to left tackle, it may make a shift occur on the right side of the line as well, making an opportunity for Pocic.
Post Spring Grade: TBD
John Diarse, WR, 6'0", 205 lbs (4-star)
Wide receiver is a is a stacked position for the Tigers already, but Diarse is a baller. It will take a lot to get him on the field, but a strong spring could help him earn time this fall. At this point, expect a redshirt season.
Post Spring Grade: TBD
Hayden Rettig, QB, 6'3", 190 lbs (4-star)
Hayden Rettig is heading into spring hoping to learn the LSU system and gain some looks for the future. Rettig knows that Zach Mettenberger is an incumbent starter, but Rettig also notices that Mettenberger is a senior.
Expect a redshirt for Rettig, but for him to step into the 2014 quarterback competition as a strong contender.
Post Spring Grade: TBD
Avery Johnson, WR, 6'2", 180 lbs (4-star)
If there is going to be a breakout player at receiver that isn't already on roster it is Avery Johnson.
Johnson is a prep school transfer that is expected to impact this offense this spring. Despite the crowded position group expect Johnson to become an instant success in the Cam Cameron offense.
Post Spring Grade: TBD
Anthony Jennings, QB, 6'2", 200 lbs (4-star)
Jennings is a talented signal-caller in the same situation as fellow early enrollee Rettig.
Earning quality backup snaps this spring and summer will be the goal as Jennings prepares for the 2014 quarterback competition.
Post Spring Grade: TBD
Christian LaCouture, SDE, 6'5", 265 lbs (4-star)
The defensive end position is looking for playmakers with the massive wave of departures after 2012, and LaCouture could be a name to watch this spring.
He is a young player, but LSU has had a ton of success with young players in the past. At 6'5", 265 pounds he is ready to play and should earn some looks heading into summer from this staff.
Post Spring Grade: TBD
Logan Stokes, TE, 6'3", 240 lbs (3-star)
The tight end race may be the most underrated position battle of the spring for the Bayou Bengals. Logan Stokes is a JUCO transfer that wants to play now.
He will be a part of the discussion this spring for starting snaps, and should head into the summer as a quality option for the Cameron passing offense.
Post Spring Grade: TBD
Fehoko Fanaika, OT, 6'6", 340 lbs (3-star)
The offensive line is looking for new playmakers heading into the spring at tackle, but Fanaika finding playing time early is a longshot.
He is a large and imposing figure on the field, but the talent is thick along the offensive line heading into spring already. Expect a redshirt year for Fanaika.
Post Spring Grade: TBD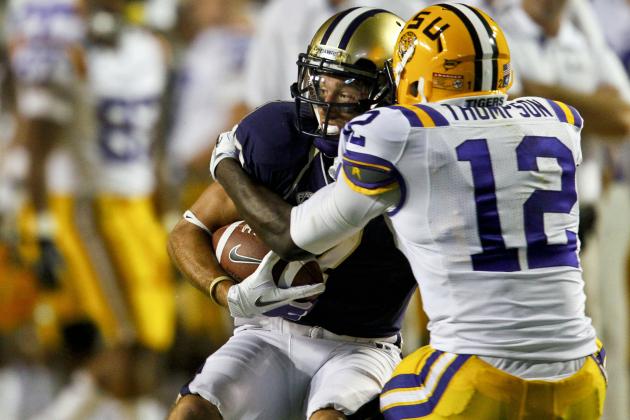 Derick E. Hingle-USA TODAY Sports

Corey Thompson, Strong Safety
The LSU secondary is loaded with talent and is settled at strong safety, but Corey Thompson is a player that will step in this spring and fight hard for playing time.
He earned snaps a year ago, and heads into the new season as a quality backup. By the end of spring he may be a name that is listed as a starter.
Expect Thompson to earn snaps at safety and at the nickel position for the Tigers.
Jerald Hawkins, Offensive Tackle
Redshirt offensive linemen are some of the most forgotten about players on a college football roster.
Heading into the new year not many fans have heard Jerald Hawkins name, but he will be locked into the starting left tackle battle this spring.
Expect Hawkins to step up this spring and secure a starting position along the line, and to become a solid anchor for arguably the best offensive line in the country for 2013.