Why Marouane Fellaini Would Be a Disappointing Signing for Manchester United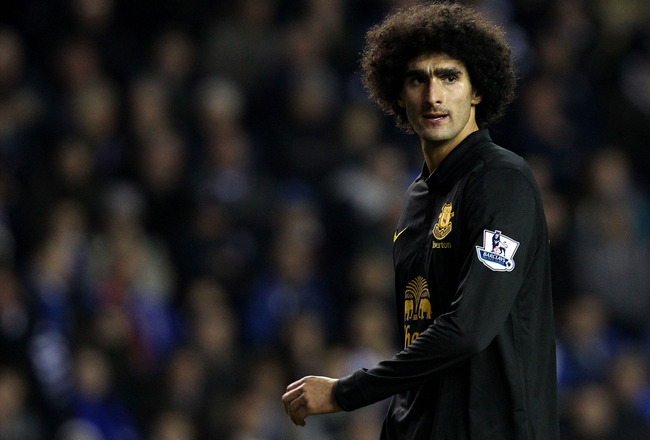 Marouane Fellaini
Jan Kruger/Getty Images
Manchester United fans and the media from time to time wilfully speculate about Sir Alex Ferguson signing Marouane Fellaini this summer.
Despite the manager's constant assertions about the strength and depth of his squad, Sunday's collapse from a winning position showed above all that midfield needs strengthening.
Let's be clear here. Unlike many panic-stricken posters on this website and elsewhere in cyberspace, we are not climbing on the bandwagon of Cleverley not being good enough for United or England.
Nor are we suddenly going to lambast United's midfield and the newly sanctified Michael Carrick simply because it was overrun in the second half against Chelsea.
Frankly, in that period United were awful. And indeed from worryingly early in the first half they started to serve up a salver of misplaced passes, lost possession and general lethargy. They were lucky to escape with a draw.
Sir Alex can make all manner of excuses about full-backs being "knackered" and midfielders "tiring badly" following the Real Madrid debacle.
If anything, Chelsea had more excuse to be tired and demotivated, having travelled back from a disappointing loss in Romania only a couple of days before. While Mata only came on as a late substitute in that match, Chelsea's squad is thinner than United's.
And if Rafael, Evra, Carrick and Cleverley were "knackered," why on Earth did he play them?
From one point of view, there have been a couple of reasons to question Sir Alex's judgement recently. First, he delayed far too long before making a substitution against Real Madrid. Surely the introduction of Jonny Evans and Wayne Rooney should have been immediate to stiffen the midfield?
And with regard to yesterday's match, if Rafael and Evra were likely to struggle, why on Earth didn't he play Smalling and Buttner, both of whom were fresh?
As to the midfield tiring, surely therein lies the prime focus for United's transfer activity this summer?
No, we're not ignoring the delicious possibility of Cristiano Ronaldo returning to Old Trafford. That is a titillating sideshow and frankly a no-brainer at any price.
Nor are we saying Carrick and Cleverley aren't good enough. With Paul Scholes probably retiring this summer and Anderson surely on the way out after a string of inconsistent performances, the two Cs are undoubtedly United's best midfield pairing. They also complement each other.
Sir Alex Ferguson clearly thinks so too. And Nick Powell is waiting in the wings to get his chance after the title is sewn up, following several excellent games in the Under 21s.
There is also the possibility that if Wayne Rooney stays and Robert Lewandowski arrives, the Evertonian will be moved permanently into midfield, where his engine and energy can be optimally applied.
But with Ryan Tunnicliffe not looking like the new Roy Keane anytime soon and Davide Petrucci not in the same class as these names here, surely the Scottish knight must see that at least one midfield signing is paramount this summer.
And that person is not Marouane Fellaini. But it could be Luka Modric, as we mentioned previously.
So What Is the Need?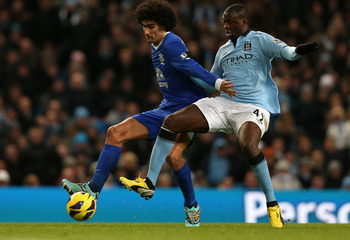 Fellaini and Yaya Toure
Clive Brunskill/Getty Images
These are the two players in the Premier League that, in some supporters' eyes, would be most likely to meet the need.
Yaya Toure is a beast. When Roberto Mancini uses him to his best effect, as a marauding midfielder, he is almost unstoppable. But he's not going to leave Manchester City for United.
Marouane Fellaini mainly came onto the radar of supporters, and even Sir Alex, as a result of Everton's two-goal comeback last season to trigger United's abdication of their title hopes.
He was stifled and ineffective in the same fixture at Old Trafford this year.
We've argued in that previous article that United need one marquee signing in midfield to fill the vacuum left by Paul Scholes and make them a truly great team once again.
There is every possibility that Modric might not be available if he gets more chances for Real Madrid and puts in displays like his cameo last Tuesday.
Even if he is signed, that should not obviate the possibility of another signing in midfield. Michael Carrick may be having his best season. Anderson is not. Tom Cleverley is an excellent prospect and will come good, but he is very different from Modric or Fellaini.
He is a "buzz-saw" of a player—highly energetic, able to break up play with his non-stop running and able to create and finish chances bursting through to the front. For the time being, he is a squad player if United sign something better.
Carrick is 32 in July, and while he is a "Rolls-Royce" player who may run miles but is efficient with his energy, Sunday showed he will sometimes struggle to run midfield in two consecutive tough matches.
Ryan Giggs has been used in midfield a few times this season, but doesn't that really make the argument for at least one signing?
He is not a central midfielder. Of course he can be highly effective against lesser teams with his intelligent runs, passing and breaking up play. But because of his age, he should now only be used on the wing.
So if Anderson is on the way out, there are, for all intents and purposes, only two established midfielders good enough for United in the top matches.
Carrick and Cleverley were fine against Real Madrid until United went down to 10 men, but Modric and then Mata and Ramirez on Sunday exposed the need.
For many people, that need is exemplified in "we've never replaced Roy Keane..."
They don't seem to have noticed that the game has moved on or Sir Alex's categorical rebuttal of the need for a ball-winning player in the modern, "non-contact" game.
Now, despite him saying that, surely he would not turn his nose up at a player who could do all that Carrick does and more and was a consummate ball-winner?
But that player is not Marouane Fellaini.
Why Fellaini Is Not the Answer

Fellaini's Skills

How often does Michael Carrick fail to "turn up"? Or Nemanja Vidic, Ryan Giggs, Rio Ferdinand, Robin van Persie or even Tom Cleverley?
The two question marks about Wayne Rooney this season have been his stuttering form and his inconsistent fitness. Maybe the two are connected?
All his life, Wayne has played like a school kid. He wants to play every minute of every match and he wants the ball the whole time.
But his body shape and advancing years mean he must play smarter. Nobody is denying his value to the team if he is in the opposition penalty box one minute and United's a few seconds later. He plays for the team.
But if you are a striker you play up top, as a defender you play mainly in your own half and in midfield you can roam from box to box, defending and attacking.
Maybe that is the role that would make the most of him for the rest of his career at United?
The players we listed earlier are consummate professionals. They play their hearts out for the team, and they leave every ounce out on the pitch.
The biggest criticism of Fellaini is that he only seems to do that in the big matches, or when he can motivate himself to do so.
He is simply not consistent enough. Jamie Redknapp is clear on that.
That would be no good at United. Only strikers are allowed to get away with staying up the pitch and letting the rest of the team get on with it.
Let's be clear. There is no better header of a ball in the Premier League, and he has a fair degree of skill with his feet also. Like Yaya Toure, once he starts to motor, he is difficult to stop and difficult to mark.
But surely his best position would be at No. 10, not in midfield? United are over-blessed in that position with Rooney, van Persie, Kagawa, Welbeck and even Ashley Young capable of playing there.
Yes Fellaini would bring a set of skills to Old Trafford and, apart possibly from Welbeck, they don't have someone outside the defensive cohort who can head a ball as well.
Watch the video above. Agreed, he can head a ball, and he's strong with ball skill and a shot in either foot.
But where is the tackling, the ball-winning, the "box-to-box" engine, the 50-yard pass, etc.?
He may stand out at Everton, but how many of their players would get in United's squad, let alone their team? He would be a luxury at United, and if he was not starting every game, how long do you think he could remain motivated?
So if he's not the answer, who is?
Who Is the Answer?

Victor Wanyama

Let's be clear here. Luka Modric would be an outstanding signing for Manchester United, succeeding Scholes immediately and Carrick in due course, when he can become the new "pivotal player."
He would perfectly complement Carrick and has the skills and ability to help him out in the way a tired Cleverley was not able to at the end of Sunday's match.
He will also make and score goals.
However, we are not ruling out an additional midfield signing of a very different type.
For those who want a Roy Keane-style ball-winner, Phil Jones is the answer, but you don't need him every match and he will never be the creative player that even Carrick is.
For that matter, Jonny Evans or Rio Ferdinand would do an even better job than Phil Jones, because they are better at distribution.
So having dismissed the claims of Fellaini, we have to be looking at a Yaya Toure type of player. Yes, he is strong and can tackle and break up play. But despite his lumbering physique, he has more skill than that, is a genuine "box-to-box"player and scores goals.
If we are happy with the finesse, calmness and control of Carrick—complemented by the all-around creativity of Modric—then surely we need someone who could play both or either role?
Many of you who read this column know the strong case that has been made for Kevin Strootman. That case remains the same. Brought to Old Trafford and with the technical coaching resources that turned Ronaldo into the best player in the world, Strootman could become a genuine great.
He is definitely a better solution than Fellaini. He can do much of what the Belgian can and a lot more besides.
The other player who has now made an overwhelming case is Victor Wanyama.
Watch the video above showcasing his catalogue of skills. He undoubtedly can do most of what Fellaini can, but he is the nearest thing to Toure that is available in the market.
He can tackle, intercept, spray passes, run all day from one box to the other, make and score goals.
In fact, Wanyama plus Modric could be the dream ticket that set United on course to win the Champions League once again.
Neil Lennon supposedly wants £25 million for him, which is a bit steep for Celtic and a player that cost £900,000 less than two years ago and whose contract runs out in 2015.
Lennon knows there is an optimum time to sell the lad. With his recent exploits against Barcelona fresh in people's minds, that time is this summer.
And with Arsenal interested, the bidding is likely to start at closer to £10 million. Sir Alex has watched him, and the lad is not ruling out a summer move.
So say no to Fellaini this summer, but Wanyama or Strootman would do very nicely instead.
Keep Reading

Manchester United: Like this team?