Syracuse Basketball: Best-Case, Worst-Case Scenarios in Big East Tournament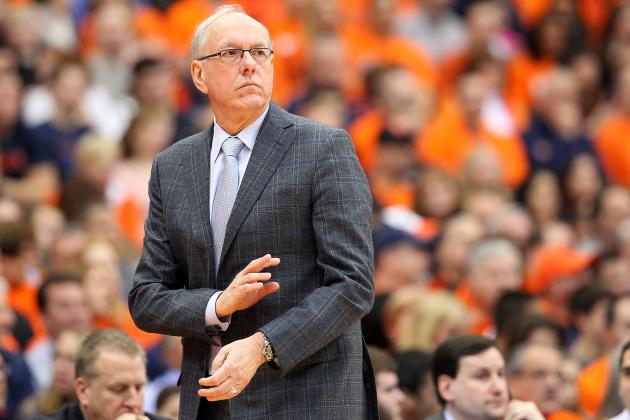 Nate Shron/Getty Images
Not even Jim Boeheim knows what New York will bring.
Call it a spoiler alert if you want, but the best-case scenario for the Orange is not that the bus—carrying those Bulls, Pirates, Panthers, Hoyas or Cardinals—gets lost in Manhattan and never makes it to Madison Square Garden.
No, I am dealing here with the best-case scenario involving what I believe the Orange can do and not what any of us thinks they will do.
What are the chances that they will do what they can do?
That's the beauty of sports, especially with college kids. So much of it depends on whether or not they just had a fight with their girlfriend, struggled with a test, got crushed in a video game or discovered a pimple that morning.
In this case, it depends on the ability of these young men to cope with the voice in their head telling them they can't do something that they've done at a very high level for years.
Play good basketball.
Dr. Phil has a better chance of fixing this than Jim Boeheim. But this can be fixed. If Brandon Triche makes his first two shots, he could go on to shoot eight-of-15 and score 24 points in leading Syracuse.
Seriously.
Begin Slideshow

»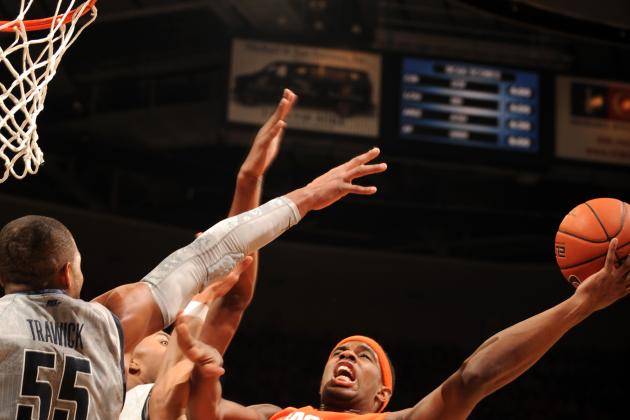 Mitchell Layton/Getty Images
C.J. Fair
Wednesday at 2 p.m. EDT, the Orange play the winner of Tuesday's game between South Florida and Seton Hall.
It doesn't matter who wins.
The psyche fix that I mentioned earlier can wait until Thursday, because the Orange have plenty to win this game regardless. C.J. Fair has been the Orange's best and most consistent player and will be enough to lead them to a win in Round 1.
Not that it wouldn't be nice for that fix to happen sooner as opposed to later. We could all use a break from gripping the chair too tightly and screaming at the television.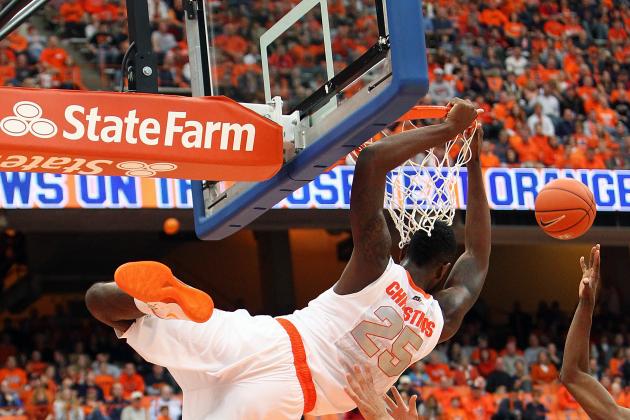 Nate Shron/Getty Images
Rakeem Christmas inside
Pittsburgh beat Syracuse back on February 2, 65-55 at home. Believe it or not, that gave the Panthers a 13-1 record against Top Five teams since the Peterson Events Center opened 10 years ago.
The Orange only had seven scholarship players available that game because James Southerland was suspended and DaJuan Coleman was out with a knee injury. Missing those two hurt the Orange on the boards as Pitt won that battle, 39-24.
Both players are now back, and the Orange have been doing a better job of rebounding the basketball. That helps limit the opposition's shots and triggers the transition game, which is critical since Syracuse has had so much trouble making shots in the half-court offense.
Pitt's guards, led by Tray Woodall, are very aggressive guarding the perimeter. Woodall had three steals that day against Syracuse.
The Orange will have to do a better job of getting the ball inside for shots in the paint. C.J. Fair has been able to do that all year but has needed someone else to help. The one bright spot against Georgetown last week was Rakeem Christmas coming alive inside. He made all three shots he took and scored eight points.
The two keys for the Orange will be rebounding the ball to get the running game going and getting some points inside. That will ease the pressure on making jump shots.
Off to Round 3.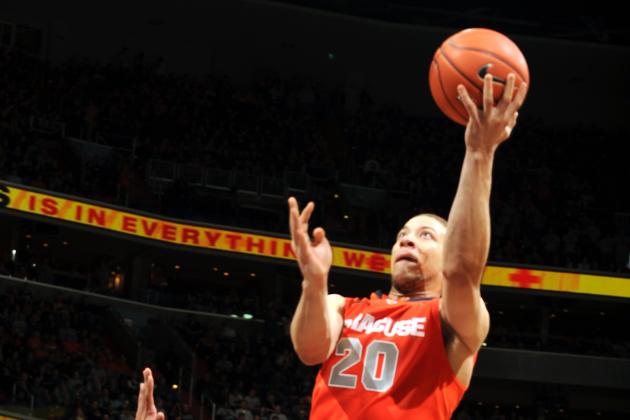 Mitchell Layton/Getty Images
Brandon Triche
We're going with the assumption that the hated Georgetown Hoyas are the opposition for the Orange in Round 3. Don't be scared.
This game comes down to one team imposing their style on the other. In both games this season, the Hoyas have forced the Orange into an ugly, slow, half-court game. They've made the Orange shoot the ball, and that hasn't gone well lately for Syracuse.
The Orange will have to turn up the pressure defensively to force turnovers so they can get out and run. They will have to rebound the ball so they can get out and run.
However, no matter how much better they do that compared to the previous two games, Georgetown will still manage to slow it down a bit, and the Orange will have to make shots.
Enter Brandon Triche.
Triche has continued shooting during his frigid streak because he knows he has to. Syracuse can not win without Brandon contributing. They just can't.
Why has a career 35-percent three-point shooter made only two of his last 20 three-point attempts?
Because he's thinking about it. Triche is a very introspective, self-critical player. Thinking about his shot is causing just the slightest glitch in that perfect form, and the shots clank instead of swish.
Look at me. Well, my words. If Brandon makes his first couple of shots, this could all go away. That will be enough to push those doubting thoughts out of his head and help him get back to making baskets, which he's done his whole life. It's that simple.
Syracuse will also have to do a better job of defending the three against the Hoyas. In the first game, Otto Porter torched the Orange, making five-of-10 from long distance. In the second game, Markel Starks made five-of-nine and D'Vauntes Smith-Rivera made three-of-seven.
Do these things, and it's off to the Finals.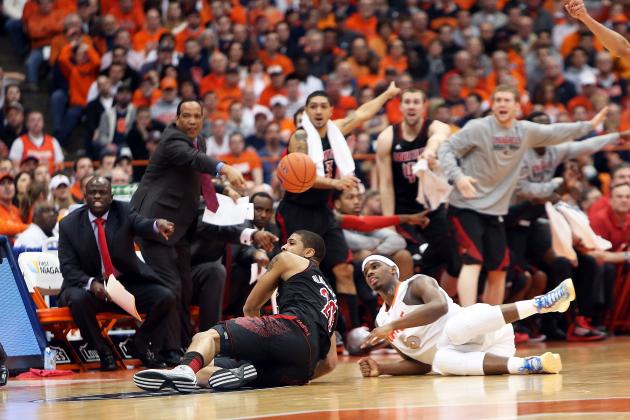 Nate Shron/Getty Images
Syracuse and Louisville battle again
The Orange and Cardinals have split two tough games this season. Unlike Georgetown, these two teams play the same style, and whoever does it better will win.
Syracuse and Louisville want to get out and run and score in transition. The key to the game will be turnovers and rebounds. The team that gets more of those will win.
The Orange will have to make some shots and protect the ball on offense. Even though this game gives them a chance to run, they will still have to hit a few from the outside and get some points in the paint from the half-court offense.
Defensively, they have to rebound the ball and force some turnovers. The Orange also have to prevent the Louisville guards from penetrating. Peyton Siva and Russ Smith are dangerous driving to the basket. Syracuse also has to stop Luke Hancock from killing them from the outside. He made four-of-five threes in the Cardinals' 58-53 win in the Dome.
Do these things, and the Orange end their time in the Big East with a championship.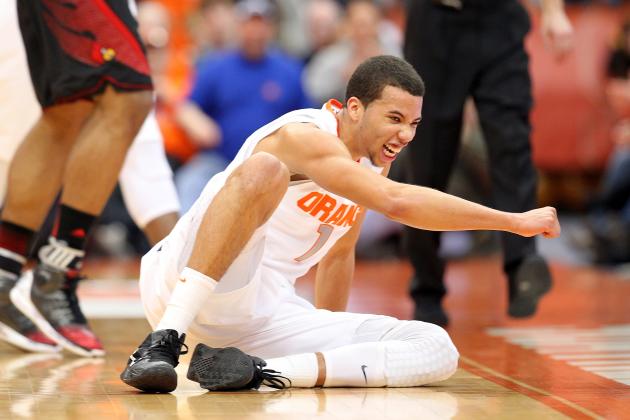 Nate Shron/Getty Images
Michael Carter-Williams has to be in control
It's been suggested that the worst-case scenario somehow involves aliens and players being abducted. No, that would be better than what's in my mind.
It doesn't matter whether it's the South Florida Bulls or Seton Hall Pirates in the first round. If Brandon Triche and James Southerland somehow manage a repeat of their performance last week against Georgetown, the Orange can lose.
How these two combine to shoot one-for-17 and score three points is completely beyond me. Yes, those stats are combined.
I said earlier that I could see Triche making his first couple of shots and pushing those doubting thoughts from his mind. But if he misses his first few?
Those thoughts will become so loud that Brandon won't be able to hit the rim. At that point, Trevor Cooney will be a better choice to be on the court, and the Orange won't win.
Southerland was oh-for-eight against Georgetown. And even though he scored 22 against DePaul, he shot five-for-18 and one-for-10 from three. He does that again, especially if Triche is off, and the Orange won't win.
Yeah, aliens would be better.
Follow me on Twitter @sprtsramblngman