Blue Jays 2013: Top Storylines of the Spring so Far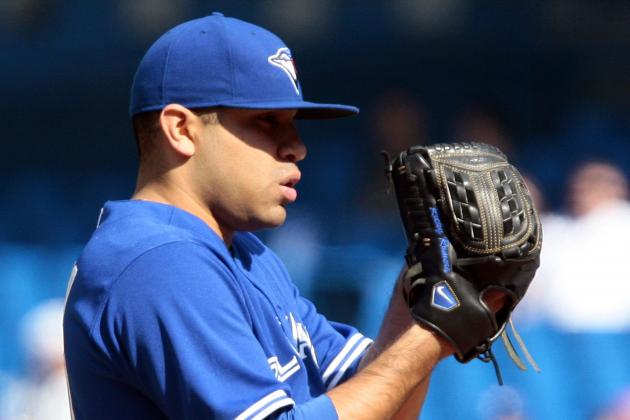 Abelimages/Getty Images

Spring Training is never short of storylines.
The winter is always too long, and writers, analysts and fans are always ready to explode with the buildup of stories from the offseason.
New arrivals, position battles and coaching adjustments dominate the sports pages, and the 2013 Toronto Blue Jays have certainly made their share of headlines this offseason.
In fact, they are the most intriguing team in Major League Baseball. General Manager Alex Anthopoulos shocked every baseball person in North America when he traded for half the Miami Marlins, signed steroid offender Melky Cabrera and added R.A. Dickey.
The Blue Jays head into 2013 with a new shortstop, a new left fielder, a new second baseman and three new starting pitchers. No other team will be so dramatically different in terms of roster turnover.
That has made February and March a particularly fun time for Blue Jays fans.
Add in the World Baseball Classic, allowing fans to see their new and old players play meaningful games, and 2013 has been a great start to what will most definitely be an entertaining season.
Here's a look at the top storylines from Dunedin so far.
Begin Slideshow

»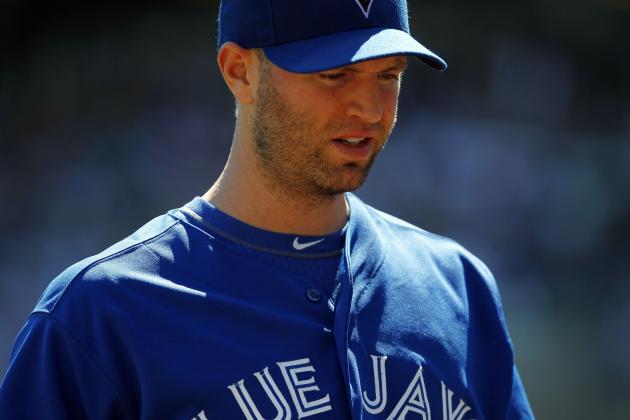 Jeff Zelevansky/Getty Images

Even before spring training opened, it seemed that the Jays' starting rotation was set in concrete.
Who could go wrong with Dickey, Johnson, Morrow, Buehrle and Romero?
Five definitive major-league starters with phenomenal resumes, plus the confidence and professionalism required to be a successful baseball player.
But that's only the case if you ignore Ricky Romero's 2012 season. Many people have many different opinions as to why Romero struggled last season: His elbow required surgery in the offseason; he has significant knee pain; he's simply not good enough.
Whatever you believe about why Romero took a step backward in 2012, the facts say that he walked too many batters, giving up the free pass almost six times per nine innings. What's worrying about Romero is his spring numbers.
He's given up seven walks in only 8.2 innings.
While that's not a large sample size in any way, combining those numbers with his 2012 walk rates makes the trend a major concern for Jays fans. You simply cannot win games when pitchers give up walks.
Which brings us to J.A. Happ, who has been somewhat unfairly dismissed as a potential starter with the 2013 Blue Jays. From management's perspective, it's understandable that they need to place faith in Romero, considering his history with the club, and it's also understandable that they want to hold on to Happ in the case of inevitable injury.
But is this an example of gut feelings triumphing over reason?
Happ hasn't exactly been perfect this spring, posting a 2.77 ERA despite allowing a .321 opponent's batting average. However, Happ's control has amplified Romero's struggles. He has allowed only one walk in 13 innings.
If things continue as they have in March, Jays management will need to have a legitimate debate over which left-hander ought to round out their rotation.
Despite Romero's previous success, there's no reason to keep him in the majors if, at this point, Happ is the better pitcher. The biggest question Jays management and Jays fans will have to ask themselves is: Does Ricky Romero or J.A. Happ give us a better chance to win on April 4?
The next few weeks will certainly help to answer this question, but the decision-makers should not place blind faith in Romero.
A few years ago, four teams tied for the last playoff spots in both the American and National League. Every game is hugely important.
Do the Jays really want to gamble on a pitcher who may cost them a win?
It's not like the team doesn't have any other options. In fact, they are lucky to have a player like Happ available, and they should not be afraid to utilize their assets.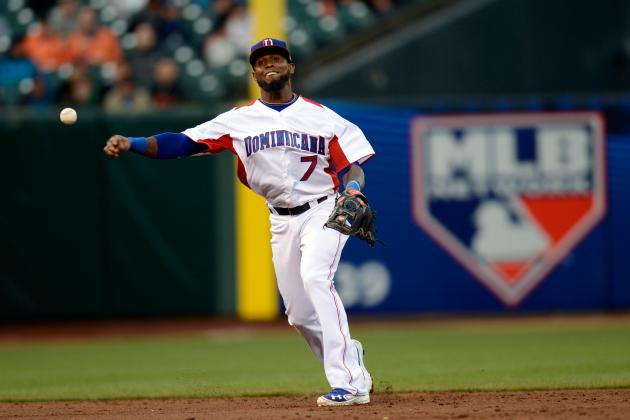 Thearon W. Henderson/Getty Images

If there were any doubts about the Jays' new shortstop, Jose Reyes, he's silenced them this spring.
It hasn't mattered what jersey he's wearing, splitting his time between the Blue Jays and Team Dominican Republic in the WBC—Reyes has looked strong in February and March.
With the Jays, Reyes reached base 10 times in 15 plate appearances, hitting a home run and stealing a base. He has 13 total bases in just five games, which is a great sign for leadoff hitters. As I argued in February, effective leadoff hitters earn bases, and Reyes has looked comfortable, picking up a total of 23 bases in 11 spring games.
Detractors of Reyes and the Blue Jays will be quick to bring up the Rogers Centre turf and explain how he's bound to injure his knee at some point in 2013. The only response to that argument is: Ask Jose. The positivity and energy that he's brought to spring training and the Dominican Republic's dugout has certainly been encouraging.
He looks like a ballplayer. He acts and plays professionally. With the young, star-studded Jays roster, that will be crucial heading into the regular season, when the games start to matter.
The fact that he's hitting very well, despite some slight struggles at the WBC, is just a plus.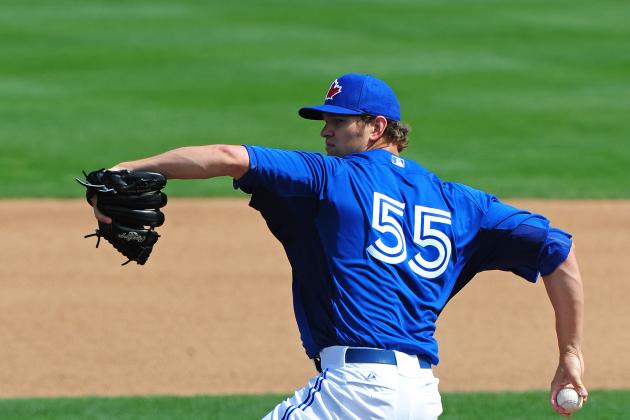 Scott Cunningham/Getty Images

With all the dramatic moves Anthopoulos made this winter, the Jays' starting rotation saw the most significant changes.
R.A. Dickey, Josh Johnson and Mark Buehrle's arrival in Toronto paved the way for careful scrutiny of the Jays' brand new rotation this spring. With the Romero-Happ debate ongoing, the three other starters—especially Dickey—have made news this March.
Buehrle's starts have been mediocre at best, but he has improved with each start. He began the spring with a 1.1 inning, four-hit performance against Baltimore. His next two starts saw him struggle with his control, allowing five walks over four innings of work.
Buehrle's success is hugely dependent on his control, as he's only allowed 2.0 walks per nine innings over his career. Consistency is Buehrle's strength, and so far this spring, the big left-hander looks to be the reliable pro he's been for the last 12 seasons, despite typical spring struggles.
What's more encouraging is the play of Josh Johnson. He's thrown 10.2 innings this spring, allowing only four hits, walking none and striking out 13. Ten innings is a minuscule sample size, but throwing up a WHIP of 0.375 over any period of time is never a bad thing. He could easily end up as the Jays' best pitcher.
R.A. Dickey, on the other hand, has had a few adventures this March. He's made four total starts this spring—two with the Blue Jays and two with Team USA in the World Baseball Classic—and has had one start that could be qualified as "good." That was his second start at the WBC, where he threw five innings and allowed one run.
His other starts have been less than impressive.
As many fans and analysts have pointed out, Dickey's knuckleball clearly does not have its usual movement. Rather than dancing around as it approaches hitters, it simply hangs in the zone, allowing the batter to stay back and drive the ball.
Dickey's curve is going in the right direction as the Jays approach Opening Day, but the alarming thing about the reigning NL Cy Young winner's performance at the WBC is that those games were important—they cannot be explained away by saying "It's just spring training".
Here's hoping that Dickey can find his movement sometime between now and April 2.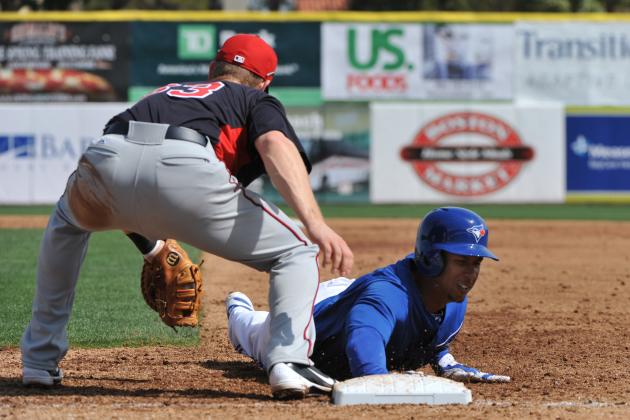 Al Messerschmidt/Getty Images

Colby Rasmus has already been discussed as a tradeable asset.
When midsummer hits, you're sure to hear his name even more.
That's not to say that Rasmus doesn't have a spot or a role on the Blue Jays' roster. Through the first half of 2012, he showed he can hit for power and can cause problems in the bottom half of a lineup.
Any team that has a 20-home-run hitter in the seven- or eight-hole is a strong offensive club, and the Jays may have that in Rasmus.
The key word being "may."
What the Jays do have are two clearly talented outfield prospects in Anthony Gose and Moises Sierra. Sierra has been solid this spring, seeing only 13 plate appearances but getting on base five times. While Sierra's production dipped off in September of 2012, he showed he can be a productive major leaguer.
But most Jays fans wouldn't feel comfortable choosing Sierra over Rasmus. They might think longer about Gose.
Gose's all-around ability has been on display all spring. He's shown he can hit—and hit for power—batting .324 with a double, triple and a home run. He's shown strong plate discipline, walking seven times in 45 plate appearances, and he's also shown that he can steal bases, taking five out of six attempts.
If he and Rasmus had the same level of MLB experience, Gose would be the team's starting centre-fielder on April 2.
Rasmus has struggled this spring, and if Gose continues his strong play in Buffalo, Jays management will be forced to consider trading Rasmus. With the apparent trajectory of Gose's abilities, it appears it won't be long before he's simply a better player than Rasmus.
Actually, that may already be the case.
The situation is somewhat similar to Romero and Happ: If Gose is the better player right now, then why not give him the opportunity? If a team has the luxury of depth, it ought to be utilized.
Either way, Gose and Sierra may end up making Rasmus expendable.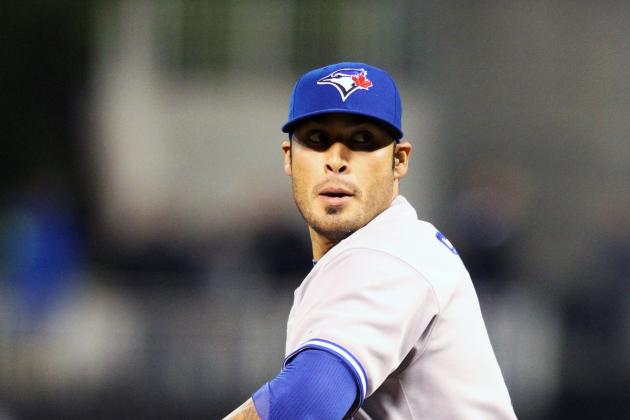 Tim Umphrey/Getty Images

Most fans and analysts had condemned Sergio Santos to a premature departure from the major league's closer ranks.
After a disastrous 2012, where Santos threw only five innings and allowed five runs, he came into spring training as something of an afterthought in the Jays' bullpen.
Sure, he's been penciled in behind Casey Janssen as a potential set-up man, but coming off of season-ending shoulder surgery in April of 2012, there doesn't seem to be a lot of confidence in the 29-year-old.
However, his spring numbers have been very strong.
He's thrown four innings, allowed three hits and struck out three. To put it lightly, he's looked like a closer.
Let's not get too worked up, though. It's four innings of spring training. Casey Janssen is still the Toronto Blue Jays' closer and may be the most underrated pitcher in all of baseball if you ask one Bleacher Report columnist (You cannot argue with a 0.864 WHIP. Ever. But that's another story.)
Santos was and is a major question mark heading into 2013. It still remains to be seen what role he'll play in the bullpen and how he'll recover from his injury. As shown by his spring, Santos still has the ability to get hitters out.
It sounds odd, but relief pitchers are unpredictable. Who can best get batters out can change daily, and a team's success can hinge on this randomness.
Right now, Santos looks like a player who can get batters out, as well as being a nice compliment to Janssen.