Virginia Tech Football: 5 Players with Most to Gain in Spring Practice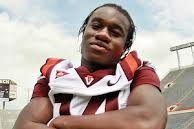 With spring practice just over two weeks away, many position battles will begin at schools all across the country. Attrition happens at every program on an annual basis, giving way to younger players in the program to establish themselves. Everything begins in March.
The Virginia Tech Hokies are in a good position on the defensive side of the ball with nine starters returning. The offense, however, much like in 2012, will have several new starters. Fortunately for the Hokies, senior quarterback Logan Thomas is returning.
Several young players will vie for the opportunity to contribute offensively at the skill positions.
Here are five players that will have the most to gain in spring practice.
Begin Slideshow

»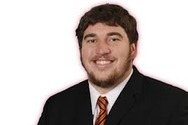 Mark Shuman will be entering his fourth year on campus as a redshirt junior in 2013. At 6'7", 307 pounds, Shuman has the quintessential size for the left tackle position.
A former 4-star recruit, Shuman has found his ascension up the depth chart to be a slow one thus far in his career. The Hokies rotated Nick Becton and Andrew Lanier at left tackle in 2011, while Becton manned the position in 2012. Both are now gone, opening the door for Shuman.
Shuman was solid last spring, but the Hokies chose to go with Becton and his experience. Shuman won't overwhelm anyone with his athletic ability; however, he is surprisingly nimble. He will be given every opportunity to win the starting job at left tackle beginning at spring practice.
Is he ready? New offensive line coach Jeff Grimes won't do Shuman any favors, and he will have to win the position outright.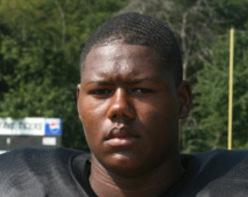 Gibson's situation almost mirrors Shuman's to a T: a former 4-star recruit who is entering his fourth year on campus.
Gibson has outstanding size (6'6", 303 pounds) and is so athletic he could probably play tight end if he lost weight. The Hokies have toyed with Gibson playing guard as well as tackle.
When he arrived on campus in 2010, the Hokies were set at the right tackle position with All-ACC selection Blake DeChristopher. Vinston Painter did an admirable job in 2012, and Gibson is very reminiscent of Painter in terms of size, hype and athletic ability.
Just like Shuman, Gibson will have to work hard to earn a starting position beginning in two weeks. His time on campus will give him an early edge.
Is he physical enough for Grimes' liking? There is no doubt he will be tested early against an excellent defensive line this spring.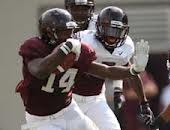 With last week's report that Edmunds ran a 4.37 40-yard dash in offseason conditioning drills, perhaps no player on the Hokies' roster is garnering as much buzz as Edmunds.
One of the Hokies' top recruits in 2012, head coach Frank Beamer decided to redshirt Edmunds just before the season, in part because he didn't know for sure where he would play him. A record-setting running back in high school, Edmunds was also an accomplished linebacker. Many thought he would play defense once he got to Blacksburg, but the coaches became enamored with his offensive potential.
Edmunds, who just turned 18 in December, is now firmly in the mix at tailback. At 6'1", 215 pounds, Edmunds has tremendous size to go with that blazing speed. After last season's struggles running the ball, Edmunds may be the perfect remedy to not only get the short, tough yards, but to also be able to take it the distance.
Fellow second-year player J.C Coleman will be Edmunds' primary competition for carries this spring. Coleman also ran a 4.37 40 and offers a much different style from Edmunds.
Not to put any pressure on Edmunds, but Beamer compared him to former Hokies great Kevin Jones last season.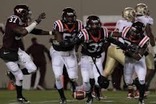 Riley enters his sophomore season with a prime opportunity in the defensive backfield. With Antone Exum's injury keeping him out of spring practice, Riley is truly behind only senior Kyle Fuller at cornerback this spring.
He and fellow sophomore Donaldven Manning both figure to be key contributors this fall. An outstanding freshman class led by Kendall Fuller could step in and play immediately this August, so now is the perfect time for Riley to show the Hokies what he is capable of.
He played in 12 games in 2012 as a true freshman, but mostly on special teams. He did, however, get an interception against Florida State late in the season, showing his ability to be around the football.
At 5'11", 200 pounds, Riley has great size for the cornerback position. He is essentially competing against Manning this spring, and the Hokies hope the competition brings out the best in both players.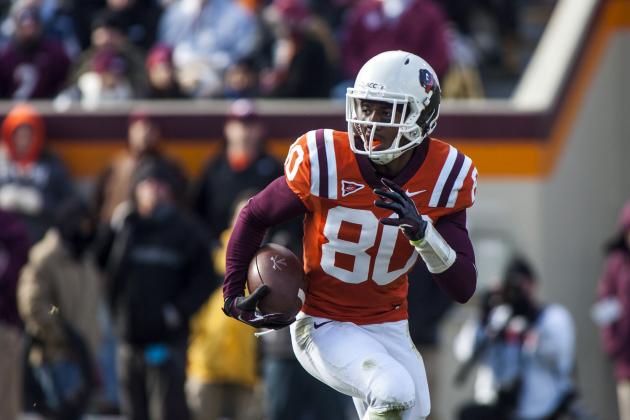 USA TODAY Sports

Demitri Knowles was outstanding as a freshman in 2012 in his somewhat limited opportunities.
He caught 19 passes for 240 yards and a touchdown. His only receiving touchdown came in the season-opening win against Georgia Tech.
Knowles (6'1", 180 lbs.) has solid size and is very fast. He showed the ability last season to get behind the defense and make plays. The Hokies hope his route-running has continued to improve, as they expect big things from him in 2013.
He is expected to start at one wide receiver position opposite of senior D.J. Coles. Coles is a big possession receiver with an injury history.
The Hokies know Knowles is a terrific returner, having averaged 28.3 yards per kick return in 2012, good for 12th overall in the nation.
All eyes will be on Knowles this spring as Logan Thomas will look to develop a rapport with some of his young receivers early on.