Oregon Football: Which Teams Are the Ducks' Biggest Rivals in 2013?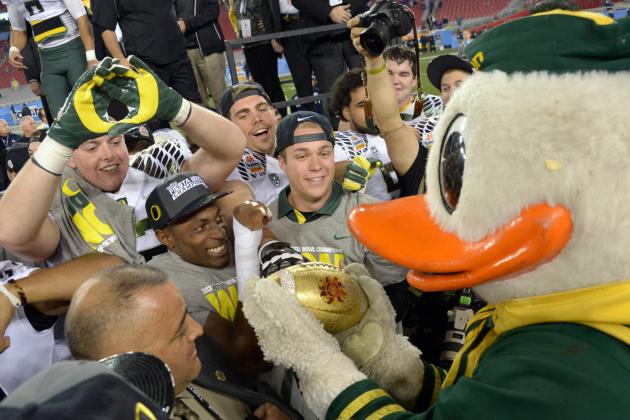 USA TODAY Sports

Rivalries between schools are funny things. Long-time fans of Oregon football will tell you that the Ducks have two major rivals—the Oregon State Beavers and the Washington Huskies. But is that really true in 2013?
There are many factors that cause teams to become rivals over the years, and tradition is just one of those factors. Of course Oregon fans want to win the Civil War every year and stomp the Huskies into submission, but perhaps we should take a look at why this is the case, and which other teams might be working their way into Ducks' rival territory.
Begin Slideshow

»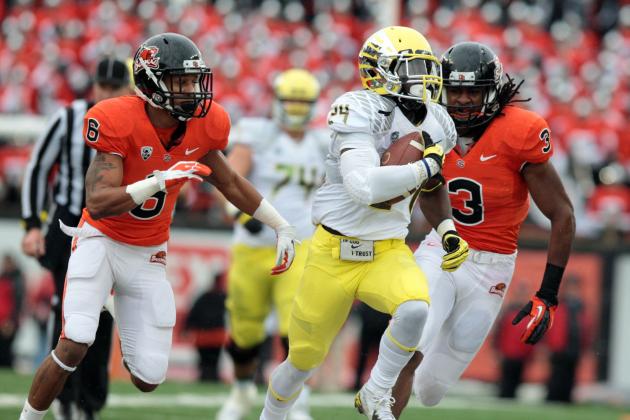 Scott Olmos-USA TODAY Sports

All you need to know whether an Oregonian is a fan of the Oregon State Beavers or the Oregon Ducks is a look at their weekend apparel.
Orange and black tee-shirt—Beaver.
Yellow and green tee-shirt—Duck.
No one, and I mean no one, wears tees from both Oregon and Oregon State. It's just not done. If you asked an adult male fan of the Ducks—say, a guy in his 50s—if he would rather wear a Justin Bieber tee-shirt or a Beavers tee-shirt, he would take Bieber's rather than be seen in orange and black.
The Ducks vs. the Beavers' rivalry goes back over 100 years and has never lost its luster. No matter how good or how bad both teams may be in a given year, it's still the one game you must win for your fans. Friendships, work, even holiday parties become intolerable if your team loses on the last weekend in November.
Do you worry that the young Ducks from California or Texas, who have never lost to the Beavers, don't realize that it's actually possible? That there have been streaks where the Beavers have won as many as seven Civil Wars in a row?
Right now, the Beavers hate the Ducks more than the Ducks hate the Beavers (who could possibly hate Mike Riley?), but it could change in a heartbeat. All it takes is one game.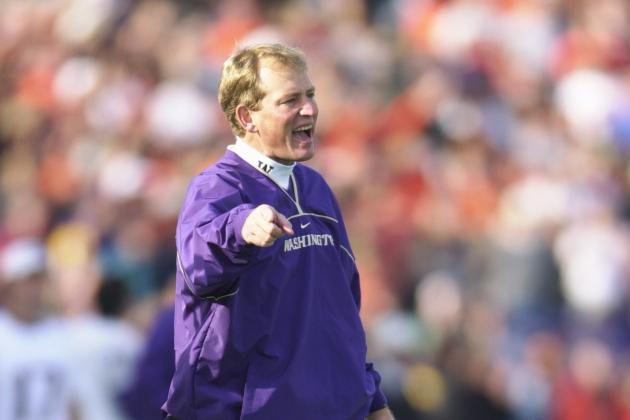 Otto Greule Jr/Getty Images

See, the thing is, as heated as the Civil War can get, it's still almost family. Like at Thanksgiving when Uncle Fred is still talking about what a great president George W. Bush was, and cousin Nicole, who loves President Obama, thinks Uncle Fred is an idiot.
When it's over, we still share a state and we're still family. We may argue and disagree about things, but deep down we don't really hate each other.
On the other hand, with the Washington Huskies, it really is about hate. The Huskies hate the Ducks—quite a lot right now—and the Ducks don't love them back.
For years, this rivalry was simply about who was the best team in the Pacific Northwest.
Then along came Washington head coach Rick Neuheisel, and the rivalry took a serious spike upward. Duck fans despised Neuheisel, and most still call him NeuWeasel, even though he's harmless now on the Pac-12 Network. In fact, most Huskies probably dislike the guy as much now as the Ducks do.
Neuheisel's tactics of running up the score on a lesser team, faking punts with a comfortable lead in hand and constantly whining to the officials in an attempt to intimidate them seemed to fit right in with what Duck fans already thought of the Huskies.
Although Washington coach Steve Sarkisian is not as obnoxious (yet) as Neuheisel, he makes more money than new Oregon coach Mark Helfrich.
Are you going to sit there and take that, Duck fans? Well, are you?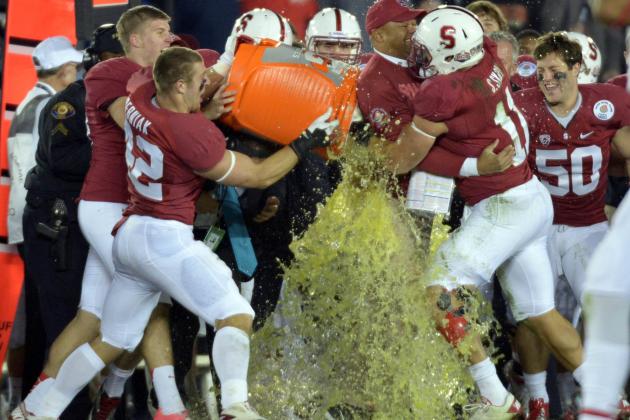 Kirby Lee-USA TODAY Sports

It's difficult to hate the Stanford Cardinal, even though they were the only team to beat your Oregon Ducks in 2012.
Stanford head coach David Shaw is just so darn likable. It was much easier to hate the Cardinal when Jim "What's your deal?" Harbaugh was Stanford's coach. He's a jerk, although he seems less despicable since he had the wisdom to draft LaMichael James for his San Francisco 49ers team.
And the Cardinal play hard, don't showboat excessively and, well, they are smart kids. The Tree is goofy and the Stanford Band is a bunch of geeks and nerds having fun. Can't hate that.
Like them or not, however, Stanford is now the Ducks' rival, in the truest sense of the word. Here's how the dictionary defines rival: "One who attempts to equal or surpass another, or who pursues the same object as another."
If it wasn't clear prior to Nov. 17, 2012, that Stanford is pursuing the same object as the Ducks, it should be crystal clear now. If the Stanford fans who hang around their stadium wearing red cashmere sweaters and drinking chardonnay ever get serious about their team, this could get nasty.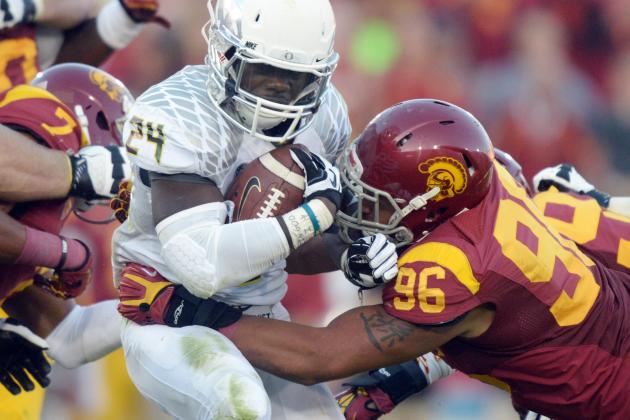 USA TODAY Sports

The Oregon Ducks and the USC Trojans don't play each other in 2013, unless, of course, it's in the Pac-12 Conference Championship game on Dec. 7.
Please don't think that minor detail will stop the respective fans of each school from trying to bash each other's brains out with words for the next year. Quite simply, USC has become the new Washington for many Duck fans, and Oregon the new UCLA for many Trojans.
The Ducks resent that Trojan fans don't respect Oregon's leadership of the conference in recent years. The Trojans resent that Oregon took over when their beloved USC was on NCAA probation, and that the Ducks don't give one shiny hoot about USC's storied tradition.
Oregon fans feel that USC caught the Ducks flat after a big win the previous Saturday over Andrew Luck and Stanford in 2011 and were very lucky that Oregon's kicker missed a key field goal. The Duck faithful also believe that that win by the Trojans propelled USC to an unjustified lofty preseason ranking. As it turned out, that belief was spot-on.
USC desperately wanted to take down the Ducks with Matt Barkley and Co at the Coliseum in 2012, but Surfer Dude could not out-fling the Flyin' Hawaiian and the Ducks got their revenge.
So, the feeling is—here in 2013—that it's a draw between the Trojans and the Ducks. And until this "King of the Conference" thing is settled, the rivalry is on. North vs. South. Bring it on.
Both teams had better hope that Stanford doesn't spoil the fight.
Kay Jennings is a member of the Football Writers Association of America.