NHL Trade Rumors: 4 Reasons the NY Rangers Should Explore Trading Marian Gaborik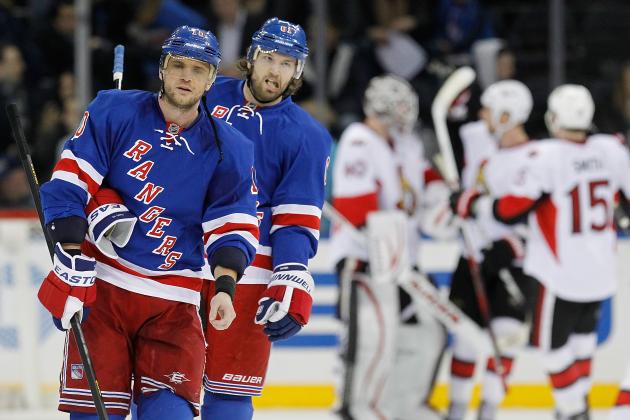 Mike Stobe/Getty Images

Could Marian Gaborik be worth more to the Rangers in a trade than in a blue shirt?
According to the Ottawa Sun, Rangers GM Glen Sather is trying to answer that question by calling around the league to gauge Gaborik's trade value.
Sather thought he had assembled an elite Eastern Conference team heading into this 48-game season. The Rangers have played 24 games and sit in seventh place, which is far from elite.
The trade deadline is April 3, so this rumor will have plenty of time to marinate, but Sather expects a team that can win a Stanley Cup and has shown over the last few seasons that he is a smart and willing participant when it comes to dealing players.
Focusing internally on whether the Rangers could actually thrive without Gaborik, let's look at four reasons why that might be possible:
(Feel free to leave your trade ideas in the comments below)
Begin Slideshow

»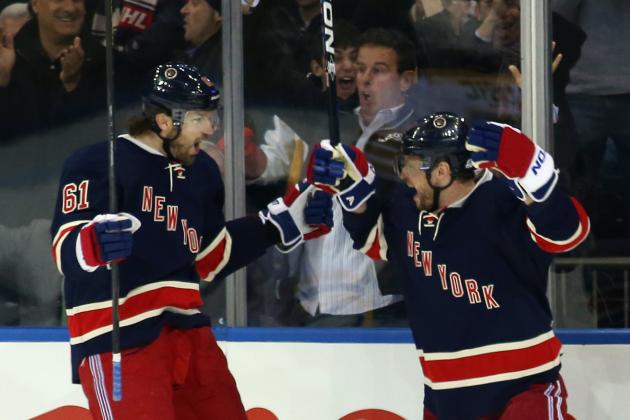 Bruce Bennett/Getty Images

Marian Gaborik has led the Rangers in points and goals in two out of the past three seasons.
He has been the Rangers' greatest talent over the past three years and his goals have been vitally important to the growth and success of the franchise in that time span.
But Gaborik is not the Rangers' greatest talent anymore, he is 31 years old and he is coming off of major shoulder surgery.
While the Rangers have a much more talented overall team than they did two or three years ago, Rick Nash is now the headliner of that talent.
Nash has looked unstoppable recently with 11 points over his last six games. Gaborik is still second on the Rangers with sixteen points, but Nash has clearly taken the torch as the Rangers' top talent.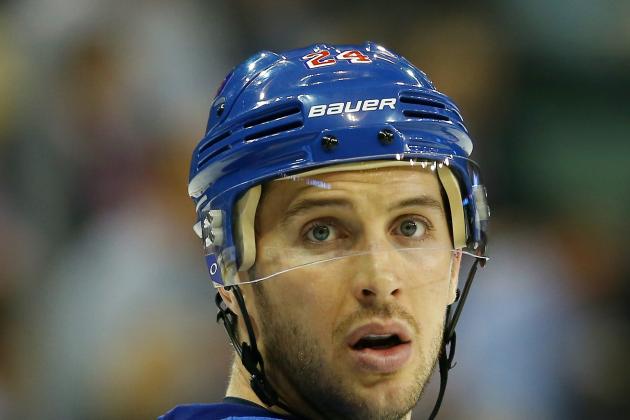 Elsa/Getty Images

Ryan Callahan has been the emotional and physical leader of the Rangers for several seasons now, but the 27-year-old is really starting to show some style this season.
Callahan is still doing the tough little things that got him to the NHL like blocking shots and killing penalties, but he has scored some very nice goals this season, in shootouts and open play.
Callahan has increased his goal total each of the past three seasons (from 19 to 23 to 29 last year). If he can cross into the 30s this year, that will make Gaborik much easier to forget.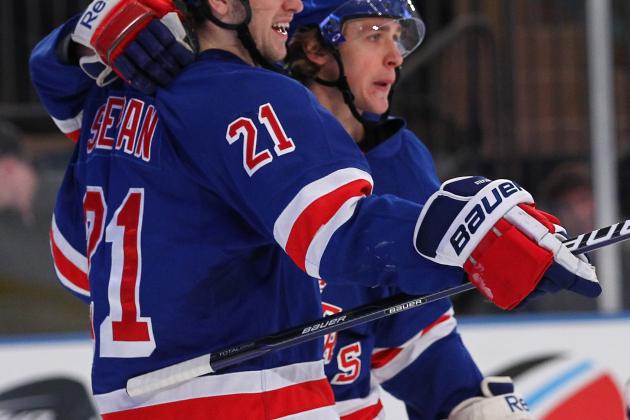 Al Bello/Getty Images

Last season, a lot of people were questioning why Carl Hagelin was so consistently playing on the top line, especially when he produced only three points over 17 games in the playoffs.
Hagelin's speed or motor have never been in question, but this season he is putting both to very efficient use after a slow and familiar start.
Hagelin failed to record a point over the first seven games of the season, but has 15 points over the Rangers last 17 games. Hagelin improved once he found chemistry playing alongside fellow youngster Derek Stepan.
Stepan has registered 16 points so far this season, right behind Gaborik and at 22 years old, is a very exciting prospect for Rangers fans.
If Hagelin and Stepan keep skating and forechecking hard, they will keep creating and converting scoring chances.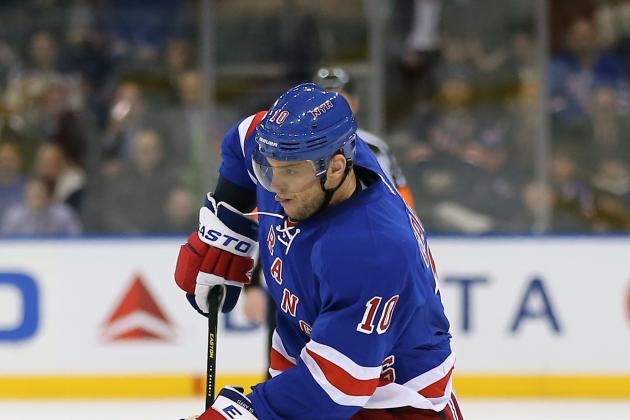 Elsa/Getty Images

Gaborik is still fast and a potent goalscorer.
He does not seem to be showing any lingering effects of shoulder surgery either.
Gaborik can definitely help a team that needs a goal scorer and with one full year left on his contract, he could be an attractive pickup for a team looking to clear future cap space.
The problem is that full year comes at the price of $7.5 million.
Gaborik turned 31 this past Valentine's Day. While there will always be love for what he has achieved as a Ranger, maybe it is the right time for Gabby and the Rangers to break up.