Joakim Noah Is No-Brainer Choice for Defensive Player of the Year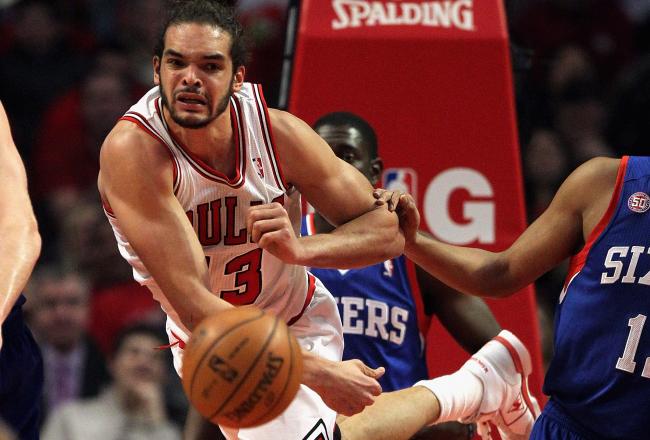 Jonathan Daniel/Getty Images
At this point in the season he should be a no-brainer for Defensive Player of the Year. With apologies to other candidates like Paul George or Tim Duncan, Noah's defensive versatility and success make him an easy selection.
If we look at his defensive numbers alone, there is a surprisingly strong case for Noah. He is averaging 7.4 defensive rebounds, 2.1 blocks, and 1.3 steals while holding a defensive rating of just 97.
Eight of the last nine players to match or exceed those numbers won the award for the best stopper in the Association. The lone exception came when the player formerly known as Ron Artest, then with the Indiana Pacers, interrupted Ben Wallace's string of victories. It's a safe assessment that Wallace may have deserved it that year, but lost out due to voter fatigue.
Noah's numbers certainly do him justice to winning the award. It's not just what Noah is doing; it's where he is doing it, which is basically everywhere. He's all over the court. This was apparent in his most recent triple-double, which made him only the second center since Hakeem Olajuwon to record a triple-double with blocks and a triple double with assists in the same season.
The Chicago Bulls have one of the best defensive teams in the league, as has been the case since defensive guru, Tom Thibodeau arrived in the 2010-11 season. They rank third in defensive points per game and fourth in defensive rating.
A large part of their team success has been because of the system, but a large part of the reason the system works is Joakim Noah and his tremendous defensive versatility.
Noah is the prototype of the new breed of center in the league. Rather than depending on Shaquillian strength and power to hold down the restricted area, the new center uses length, agility, quickness and speed to cover a wide area and keep the ball from entering the paint, and does so without sacrificing the defense of the rim.
For Thibodeau's system to work, it is essential that type of big be in the game. It goes to the core of the philosophy of Thibodeau's system. The perimeter players rotate to the strong side, forcing the pass to the weak side, where an athletic big man is often relied to take on elite ball handlers in isolation situations, or when the bigs are expected to close out and defend the three.
Look at this clip, where the Bulls load up the strong-side, so the Heat kick it over to the weak side to Mario Chalmers, who initially thinks about driving but, with Noah the only thing between him and the basket, gives it a second thought.
Rather than try to move past Noah, he steps back and attempts a three, challenged by Noah, which clanks off the rim.
Noah, per Synergy, has been the primary defender on 61 three-point attempts this season.
In baseball there are statistics such as "Range Factor" and "Zone Rating," which attempt to account not only for the fielding percentage of a player, but the actual area in which he can field. A player like Hall of Famer Ozzie Smith might get assigned errors on balls no other human being would reach, so traditional fielding percentage stats can be deceptive.
The idea is to statistically measure how much of the field is within a player's reach, and by doing so, take into account a more complete picture of what a defensive player does.
In basketball we don't have anything like zone rating, but perhaps it's more needed than in any other sport, as some players, through their sheer omnipresence, seem to have a massive effect on their team's success. The Bulls surrender nearly five more points per 100 possessions while Noah is on the bench, a strong indication of his massive impact.
If there were such a thing, Noah's zone rating would be through the roof, but we only have the eyeball test to go by. Here is an excellent illustration of it, as Noah first helps Kirk Hinrich after he gets picked to come out and stop Greviz Vazquez.
Then Vazquez dumps it off to Darius Miller, who catches Luol Deng out of position so Noah rushes back and cuts off Miller from the drive. Miller then kicks the ball back out Vazquez, but Noah comes out to the three-point line to challenge the shot, which doesn't come close.
In fact, Noah has been the primary defender on isolation plays 116 times, only 14 fewer than George, the leading perimeter defender for the award. His success rate is nearly as good as George's as they have both surrendered just 42 field goals in isolation.
That's not to say that Noah is as good of a perimeter defender as George, he isn't. He gives up .81 points per play in isolation to George's .74. But, bear in mind; we're comparing a center to a small forward here. That they are close is absolutely remarkable.
And Noah does all this ubiquitous defense without abnegating his responsibilities in the post. He remains one of the better defenders in the league both in the post, where he has been the primary defender on 145 plays, yielding just 0.7 points per play, and against the roll man on the pick-and-roll, where has defended 111 plays, yielding just 0.89 points per play.
In terms of numbers of plays, and rate of success, those numbers are vastly superior to Tim Duncan's (.77 on 124 plays on post-up, and 1.26 points per play on 76 plays against the roll man) and slightly better than Roy Hibbert's, (139 at 1.83 on post-up, and 101 at .86 against the roll man) who are also in the conversation.
Watch here as Noah shows his strength as he stops Duncan on the post-up play.
While much has been made of his offensive versatility, his defensive versatility is just as impressive. That Noah is comparable with the perimeter candidates on the perimeter, and at least the equal of the post players in the post, makes him a no-brainer for the Defensive Player of the Year Award.
This article is
What is the duplicate article?
Why is this article offensive?
Where is this article plagiarized from?
Why is this article poorly edited?

Chicago Bulls: Like this team?