Utah Jazz vs. New York Knicks: Live Score, Results and Game Highlights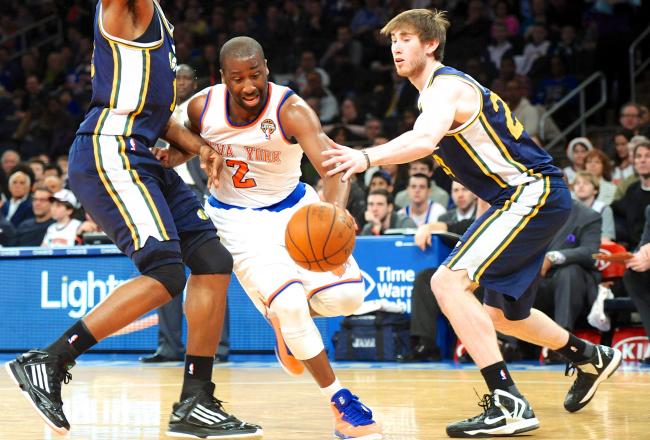 The shorthanded New York Knicks absolutely ripped apart the Utah Jazz on Saturday night, winning by a score of 113-84.
The Knicks learned before the game that they would be without Amar'e Stoudemire for the next six weeks due to a bad knee, and Carmelo Anthony was forced to sit out with a sore knee of his own. That didn't stop Mike Woodson's club from tearing into the Jazz.
J.R. Smith led all scorers with 24 points and Steve Novak dropped 20 as New York built a big first half lead and never looked back.
The Knicks finished with six scorers in double-figures overall.
Alec Burks led Utah in scoring with 14.
For the Jazz, it was their fourth straight loss, and it drops them into a tie with the Los Angeles Lakers for the eighth and final playoff spot in the Western Conference.
Now let's examine just how New York was able to win this contest so easily.
1. Swarming defense
From the get-go, the Knicks' defense was outstanding. In the first quarter, they forced the Jazz into several bad shots late in the shot clock, playing great D for all 24 seconds. Also, whenever Al Jefferson received the ball in the post, New York attacked, double-teaming him and also cutting off his passing lanes most of the time.
The result was the Knicks holding Utah to 39 percent shooting.
2. Aggressiveness on offense
New York took 30 free throws in this one, exhibiting how they were in attack mode all night. Even Novak was taking defenders off the dribble and finishing, and Raymond Felton had a rather easy time of getting into the lane early on.
Kenyon Martin was also a factor, throwing down several dunks and finishing with 10 points off 4-of-6 shooting.
Great ball movement and the usual limited turnovers led to an outstanding offensive performance from the Knicks.
3. Depth
Woodson used 12 players tonight, and Marcus Camby was the only one who did not score.
With Anthony and Stoudemire both out tonight, it was imperative for the reserves to step up, and they did just that. It will continue to be important the rest of the way, as well. With Amar'e out for an extended period of time, New York is missing a crucial bench scorer. That just puts an even bigger onus on guys like Smith and Novak to come in and produce.
Once again, the Knicks easily topped the Jazz tonight. Postgame coverage to come.
KNICKS 113, JAZZ 84 - FINAL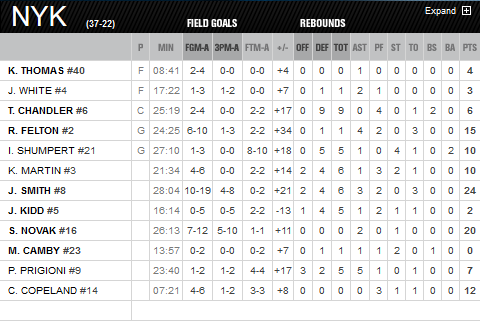 Knicks final box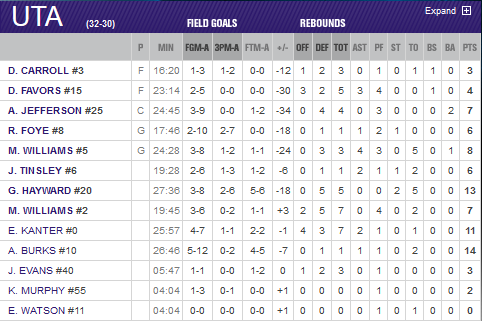 Jazz final box
And that will do it. The Knicks demolish the Jazz by 29.
KNICKS 113, JAZZ 84 - FINAL
Copeland now doing everything offensively. Hits a long two, and then drives the lane and finishes with a little up-and-under move plus the foul.
KNICKS 109, JAZZ 77 - 2:04 REMAINING IN 4TH QUARTER
The Jazz are trailing by 30 points and Marvin Williams has somehow managed +3 rating tonight. #UTAatNYK

— Jody Genessy (@DJJazzyJody) March 10, 2013
Copeland now comes back with a beautiful drop step and finishes at the rim. This kid definitely has some game on the offensive end. I'm a little surprised it's taken all of these injuries for him to get some playing time.
KNICKS 104, JAZZ 74 - 2:55 REMAINING IN 4TH QUARTER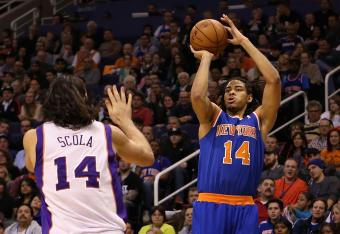 Chris Copeland drains a three to put NY back up 30. Chances are, he will see some minutes on the upcoming west coast trip for the Knicks.
KNICKS 101, JAZZ 71 - 4:04 REMAINING IN 4TH QUARTER
And Smith with a fancy two-handed dunk to essentially put the exclamation point on this one. The MSG crowd is going ballistic.
KNICKS 98, JAZZ 69 - 5:47 REMAINING IN 4TH QUARTER
Now J.R. Smith is adding insult to injury with some long balls. Drains back to back treys.
KNICKS 96, JAZZ 69 - 6:23 REMAINING IN 4TH QUARTER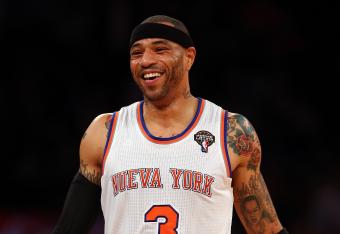 And K-Mart picks up a technical foul. Yup. He has officially arrived.
This is getting boring. Stagnant on both ends. You can tell both teams just want to get out of here.
KNICKS 90, JAZZ 68 - 7:22 REMAINING IN 4TH QUARTER
Novak hits yet another three. His fifth of the night. He now has 20 points.
KNICKS 90, JAZZ 64 - 9:29 REMAINING IN 4TH QUARTER
Knicks now pouring it once again. Smith and Prigioni can a couple of threes and NY is back up 25.
KNICKS 87, JAZZ 62 - 9:56 REMAINING IN 4TH QUARTER
Of the numbers that jump off the stat sheet after 3Q: Felton +34, Al Jefferson -34

— Alan Hahn (@alanhahn) March 10, 2013
Novak just drove the lane and hit a shot off the glass. WOW. Now I've seen it all.
KNICKS 81, JAZZ 62 - 11:00 REMAINING IN 4TH QUARTER
Jazz trimmed into the lead a little there at the end of the quarter. Knicks still up by a very comfortable margin, though.
KNICKS 78, JAZZ 59 - END OF 3RD QUARTER
Wouldn't go this far, as the Jazz are an entirely different team at home (the Knicks play in Utah on March 18th).
Knicks up 78-52 late in third as Jazz can't wait to finish this 4-game road trip. Least we know #Knicks will win at least 1 game out West.

— Marc Berman (@NYPost_Berman) March 10, 2013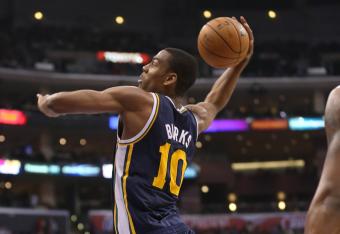 I will say this: if and when Alec Burks develops, the Jazz could have something special. He is the only guard they have who can consistently get to the basket.
Jazz now starting to crash the offensive glass. Probably a little too late.
KNICKS 78, JAZZ 54 - 1:59 REMAINING IN 3RD QUARTER
The Jazz have to go 18-1 the rest of the way to reach my 50-win prediction. Is it too late to change that to 50 losses? #UTAatNYK

— Jody Genessy (@DJJazzyJody) March 10, 2013
Thrilled that the high-top fade is making a comeback. Thanks Iman Shumpert. Jazz players can only manage a late-season fade.

— Bill Oram (@tribjazz) March 10, 2013
Novak hits his fourth three of the night. 14 points in 17 minutes.
KNICKS 78, JAZZ 52 - 2:38 REMAINING IN 3RD QUARTER
Knicks have their second-largest lead of the season. Their biggest? A 50-point edge over Sacramento.
KNICKS 75, JAZZ 45 - 4:04 REMAINING IN 3RD QUARTER
Smith now scoring at will. Knocks down two shots in a row.
KNICKS 73, JAZZ 45 - 4:15 REMAINING IN 3RD QUARTER
This article is
What is the duplicate article?
Why is this article offensive?
Where is this article plagiarized from?
Why is this article poorly edited?

New York Knicks: Like this team?