Georgetown Basketball: 5 Keys to Peaking in March Madness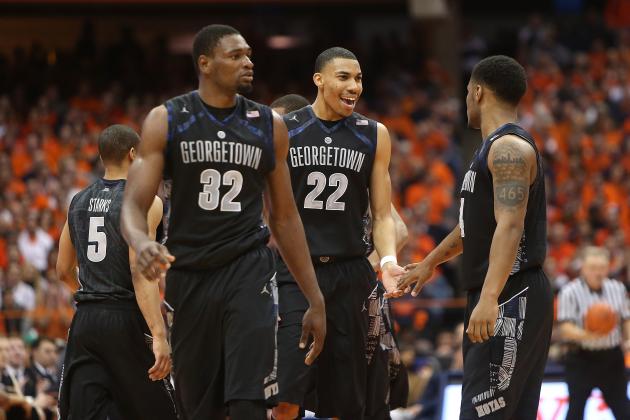 Nate Shron/Getty Images

Georgetown wrapped up a share of the regular-season Big East title in style Saturday afternoon. The Hoyas pounded Syracuse 61-39, providing an exclamation point at the end of a longstanding conference rivalry.
Georgetown, ranked fifth in the nation, embarrassed the Orange as Jim Boeheim and company bid farewell to the final Big East regular season in program history. The Hoyas have won 12 of 13 games and sent Syracuse to its fourth defeat in five games.
Coach John Thompson III's team rolls into the conference tournament with a mighty dose of momentum. The Hoyas have a head full of steam, courtesy of a well-rounded scoring attack and one of the country's premier defenses.
Here's how Georgetown can seal the deal with an excellent postseason journey.
Begin Slideshow

»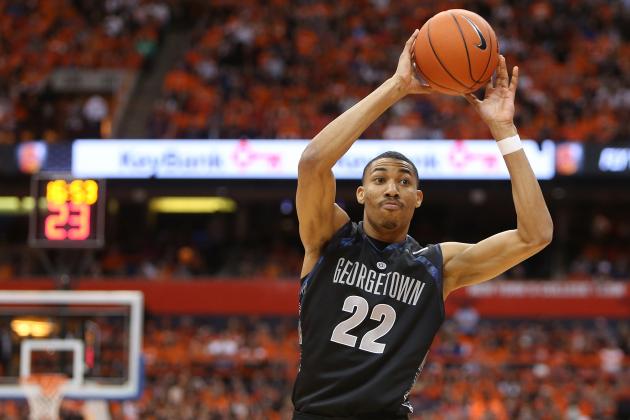 Nate Shron/Getty Images

Porter rose to prominence quickly this season. Although he entered his sophomore season as a slightly underrated player, Porter's consistent performance propelled him into the National Player of the Year conversation.
The 6'8" forward fills the stat sheet on a routine basis. He is among the Big East leaders in scoring (eighth), rebounds (fifth) and steals (fifth). Porter is a special player because he can adapt to what an opposing defense is doing without limiting his impact in Georgetown's game plan.
He is capable of carrying the team, evidenced by a 33-point outburst in Georgetown's first clash with Syracuse. When the Hoyas hosted Syracuse on Saturday, Porter routinely drew double coverage but reacted in impressive fashion.
Porter took just seven shots and scored 10 points. He became a distributor against the Orange, leading the team with seven assists.
Those are the most dimes he's racked up in conference play. Three other Hoyas scored in double digits.
Great players adapt and overcome when facing a defense designed specifically for the purpose of stopping them. Porter is a proven prime-time performer.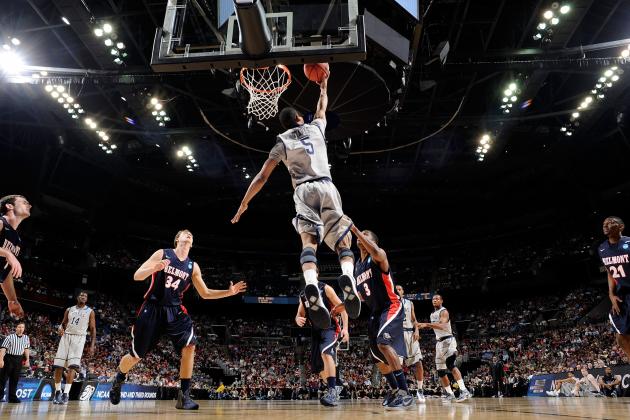 Jamie Sabau/Getty Images

The Hoyas are hardly a one-man show. Georgetown surrounds Porter with plenty of offensive options. The team's ability to improvise its offensive approach and share the load is among the key factors currently leading it toward a top seed in the NCAA tournament.
Porter was the team's third-leading scorer in the regular-season finale beatdown of Syracuse. Guard Markel Starks connected on 7-of-13 shots from the floor for a game-high 19 points.
Starks, a junior, has scored at least 16 points in 10 of 18 Big East performances and should receive more credit. Freshman D'Vauntes Smith-Rivera appears ready to take the next step in his collegiate hoops progression.
The 6'3" sharpshooter is 10-of-20 from three-point territory in Georgetown's last four games. Sophomores Jabril Trawick and Mikael Hopkins have each helped the Hoyas in crucial stretches of the season.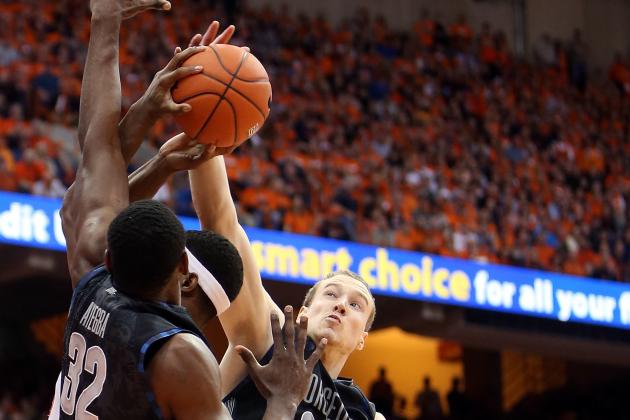 Nate Shron/Getty Images

Georgetown brings a downright nasty defensive approach into each game. The Hoyas have a knack for physically wearing down teams defensively throughout the contest before surging to victory with a late push.
Georgetown has limited 10 opponents to 56 points or fewer since January and stymied Syracuse for the second time this season on Saturday. The Hoyas held the Orange to 39 points and a 32 percent shooting performance from the floor that included a 1-of-11 display from beyond the three-point arc.
This same defensive physicality upended an explosive Louisville offense when the teams met earlier this season. The Cardinals managed to shoot just 35 percent from the floor and tallied a season-low point total (51).
For all his accolades as an offensive playmaker, Porter is a lockdown defender that Thompson III can match against opposing star forwards during the postseason.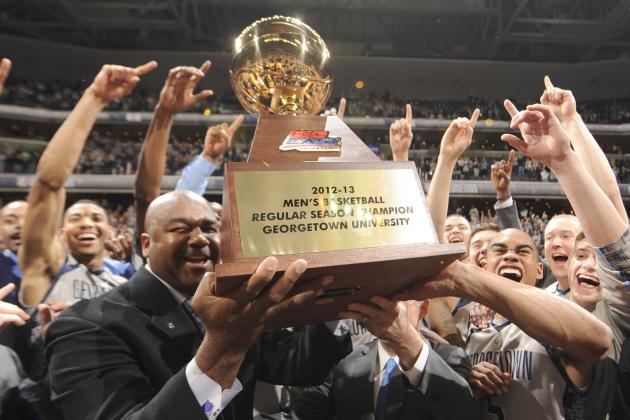 Mitchell Layton/Getty Images

Georgetown stumbled slightly in March with a loss to Villanova, but that's the only blemish on an otherwise scintillating final stretch of the regular season. The Hoyas are 14-2 since Jan. 8 and haven't flinched in adverse situations.
The team is 6-1 against ranked opponents. Its only loss among the seven showdowns occurred in overtime against Indiana, then ranked No. 1 in the country.
Georgetown snapped Syracuse's nation-best 38-game home win streak and held off a hungry UConn Huskies squad in the ensuing contest. The Hoyas prevailed in double overtime, earning a victory that has helped define this team during the latter stages of conference play.
Georgetown has a share of the Big East regular-season title in its back pocket, but the Hoyas are certainly capable of earning more trophies this spring. Few teams advance into the postseason with this much wind behind their backs.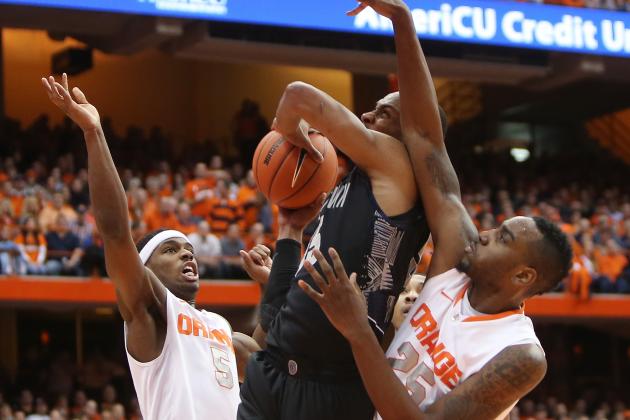 Nate Shron/Getty Images

Rebounding has been a slight issue for the Hoyas at times this season. Georgetown struggled to contend down low during its losses.
During a surprise upset loss at South Florida, the Hoyas were out-rebounded 30-21. Pittsburgh pulled down seven more rebounds than Georgetown during a Jan. 8 victory and Marquette bullied Georgetown on the glass (34-25) in the team's only other Big East loss.
The longer the Hoyas last in tournament play, the more likely this team will take on a premier post player. Georgetown was out-rebounded in a loss to Cody Zeller and the Indiana Hoosiers.
The Hoyas do a tremendous job of forcing misses. The team is playing its best ball when its also securing those missed shots inside.