10 MMA Walkout Songs We Never Want to Hear Again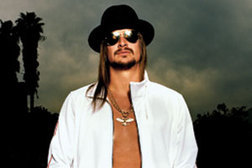 Photo credit: Last.fm
MMA fighters are the keepers of certain societal goods. They preserve our connection to the primal, our rapidly deteriorating relationship with our ancestors. They provide a certain purity of competition—victory and defeat delivered in the most unequivocal terms—that is increasingly difficult to find in our cubicle-ized, demasculinated society.
They also keep a lot of bad songs alive. Fighters seem to have designated themselves the protectors of super garbage-y music—and more power to them. But being a person who, you know, enjoys good music, I feel some of these songs have hit their limit.
These are the 10 biggest culprits that I want to go away. How did I choose them? Well, they're either bad songs, overdone songs, completely inappropriate for an entrance song songs, or some combination of the preceding.
Song videos provided for each slide. Gratitude accepted in cash payments only.
Begin Slideshow

»
Perpetrator: Bryan Caraway, UFC on Fuel TV 8
It's a nice, twinkly dance number, but not exactly great fodder for an MMA walkout. It's especially true if you're making said walkout with a girlfriend people already joke is the trousers wearer in the family.
Perpetrator: Shane Carwin, UFC 116
I get that it's appropriate for combat and all, what with the hitting of the floor with the bodies and so on. But how do I put this: It's just not a grown man's song. Or as Carwin might put it, this is not a song that would seem to be committed to Excellence.
Perpetrator: Jon Jones, UFC 140
Jones needs an entrance song advisor. "Beautiful People" only scratches the surface. "Empire State of Mind" and the highly unfortunate choice of Poe's "Angry Jonny" also dot his resume. Ugh.
I'm choosing Brown to represent Jones in this capacity because the song, which sounds like a machine wrote it, simply has nothing to do with MMA. Plus, Chris Brown isn't exactly a great role model. Maybe you heard something about that.
Perpetrator: Rafael Natal, UFC 133
Rafael Natal may have a great body, a great girlfriend and a great life. Taste in music? Not great.
Perpetrator: Carlos Newton, UFC 34
Given that Newton is now 36, hasn't fought in almost three years and is probably the only fighter who would ever use this song, I think we're pretty safe here. But that doesn't mean we should forget. We should never forget.
Perpetrators: Rousimar Palhares, Mark Bocek, Steve Cantwell
I hate to cast an aspersion of any kind on Paul Harris. What if he kills me?
Still, I don't know what to tell people who still enjoy this song. It's stale like week-old french fries.
Or ever enjoyed it, for that matter. I guess I'm just glad you finally found a mosh pit your speed.
Perpetrator: Julio Paulino, UFC 119
I just want to know why. Was it a work? It sure looked like a shoot to me. Why, Julio Paulino? You wiped out any chance of earning respect before you ever set foot in the cage.
Perpetrators: Tito Ortiz, Jamie Varner, Mark Bocek, Eliot Marshall, Joe Brammer
The Eminem curse is very, very real. Few have defeated it in modern times. Just take a look at the list of those who have walked out to Eminem's most hackneyed single. I mean, if you're going to knowingly take a curse into the cage, at least use one of his better songs. Don't use the same one they use in the minivan commercials.
Perpetrators: Demian Maia, Takeya Mizugaki, Paul Kelly, Dong Hyun Kim
Another one that's just stale beyond belief, at least here in the states. Maybe it's bigger overseas. Nevertheless, there's no excuse for liking or perpetuating Linkin Park, even if they were the best band of the Durst Metal era.
In any case, this song is over. Please let it go, you 17,000 fighters who use it. Good God. Turn over the iTunes collection already.
And by the way, if you ever thought you saw me in a bar singing along to "In the End" at the top of my lungs with a bunch of scallywags, you thought wrong. Wasn't me.
Perpetrators: Donald Cerrone, Tim Boetsch, Houston Alexander
I think there are others, but these are the most high-profile offenders.
Kid Rock is not even a real musician. I'm not going to get too far into it because I'll just ramble on and make myself angry. But come on. Kid Rock sucks. He sucks. Embrace this fact. Rip him out of your life, fighters.
We've all heard the songs a million times, even if we do like him in our misguidedness. So it's not like you're telling us much about yourself anyway. There are a million songs about cowboys, Donald Cerrone. You're a great fighter. You can do better. We all can do better.
I'm glad we had this talk.
For more hardcore entrance song analysis, find Scott Harris on Twitter.