Philadelphia Phillies: 6 Players Who Will Disappoint the Team's Fans in 2013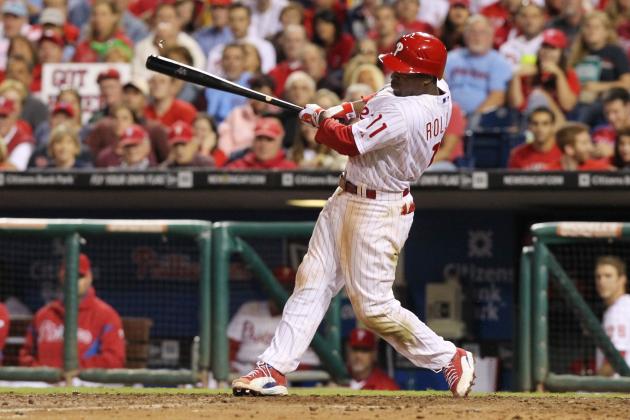 Hunter Martin/Getty Images

As a new baseball season begins, no player on the Philadelphia Phillies roster is in spring training, thinking or expecting, to disappoint the fans when the 2013 Opening Day rolls around.
Unfortunately however, the fact of the matter is not every guy on the 25-man roster is going to have an All-Star worthy season. Some guys will inevitably have disappointing years, whether they like it or not.
For the Phillies, 2013 has the potential to be a make-or-break season, both for the team and for individuals when it comes to on-the-field performance.
According to contract status information listed on Phillies.scout.com, the team will have decisions to make regarding Chase Utley, Carlos Ruiz and Kyle Kendrick as the three are set to become free agents following this season. Roy Halladay could also be a free agent if he fails to meet the 225 IP vesting option in his contract.
The same website lists that John Mayberry will be eligible for first-year arbitration following the 2013 season as well. In addition, Ryan Howard will be playing to show he is recovered from his Achilles injury, Cliff Lee for redemption of last year's 6-9 record and Cole Hamels, in validation of his 6-year, $144 million contract received last year.
Despite all of the players out to prove something, realistic expectations have to be made and in doing so, it is fair to say that some players just won't measure up to the high standards held by rousing Philly fans.
That said, in a list that includes a fan-favorite veteran, a guy with seemingly nine lives, and a former first-round pick, here are the top seven candidates that are sure to disappoint fans in 2013.
* All stats provided by Espn.go.com *
Begin Slideshow

»
Al Messerschmidt/Getty Images
Third base is just one of several positions in which the Phillies are sacrificing defense for offense.
When the Phillies went on a tear in the NL East, winning five consecutive division crowns, defensive prowess was one of the major reasons why. Not surprisingly, the Phillies never fell out of the top 10 in all of baseball during this stretch, never worse than top five in the National League and finished first in the NL in 2011.
2012 was a different story.
Not only did the Phillies miss the playoffs for the first team since 2006, but they also fell out of the top 10 for the first time as well, finishing just 17th in the majors with 101 total errors.
With Shane Victorino, one of the best defensive center fielders in the game (.993 FP), and high-level defender, third baseman Placido Polanco (.983 FP) having departed prior to this season, the defense looks to continue to spiral downward, especially at the corner outfield and third base positions.
Domonic Brown, the leading candidate to start in left field, has never been a great defender. Although he has come a long way from once being considered a liability, Jim Salisbury, CSN Phillies Insider, said it best:
"Defense, particularly reads and routes, and sometimes simply making smooth catches, remains his biggest deficiency." - Jim Salisbury, BaseballAmerica.com
Brown will be joined in the outfield by John Mayberry, who is another guy who has defensive shortcomings and Delmon Young, who the Phillies certainly did not acquire for his glove. Another unknown variable is Darin Ruf, who is in his first major league spring training, doing so in the process of making the transition from first base to left field.
And then there is third base.
Polanco on a good day was a .300 hitter and an above average defender. His replacement, Michael Young, is also a .300 hitter, but nowhere near the defender Polanco is. In fact, Young's WAR of -2.4 in 2012 meant that he actually cost the Texas Rangers wins. His bat was not to blame, it was his glove and the Phillies are certainly sacrificing defense for offense by putting him at the hot corner.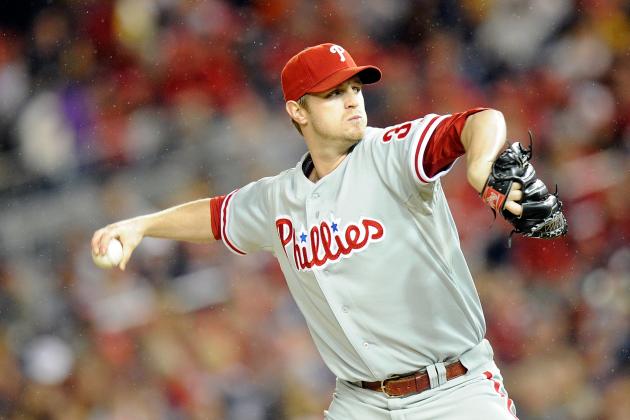 Greg Fiume/Getty Images
Kyle Kendrick's job security could actually lead to a lackluster season for the now veteran pitcher.
In 2007, a 22-year-old rookie named Kyle Kendrick joined the Phillies' starting staff. He started 20 games for the team, pitched 121 innings, won 10 games and had a career-high WAR of 2.1.
Since his rookie year, Kendrick really has not been that guy, however, and has found out, like so many rookie pitchers, that it is not as easy as the first year.
Although Kendrick managed to win 11 games in 30 starts in 2008, his ERA was a career-worst 5.49 and was not chosen to make any postseason starts. In 2009, he was demoted to the bullpen before rejoining the starting staff in 2010, making a career-high 31 starts.
In 2011, however, when the Phillies united Roy Halladay, Cliff Lee, Roy Oswalt and Cole Hamels, Kendrick was once again the odd man out. He did start 15 games, stepping in when injuries to the starting five occurred, but mostly he was the long man out of the bullpen.
While Kendrick has been simply an average No. 4 or 5 guy in a starting rotation, he has actually performed well in the bullpen. For example, in 2009, when he made just two starts in nine appearances, his ERA was 3.42. When he was primarily a relief pitcher, making 19 appearances from the pen in 2011, Kendrick pitched to his career-best 3.22 ERA and 1.22 WHIP.
The problem in 2013 is that Kendrick will be in the starting staff and for the first time in a few years, has job security, as the team needs him more in the rotation than it does in the pen. He has not excelled in the past in high-pressure situations, however, and 2013 could tell more of the same story.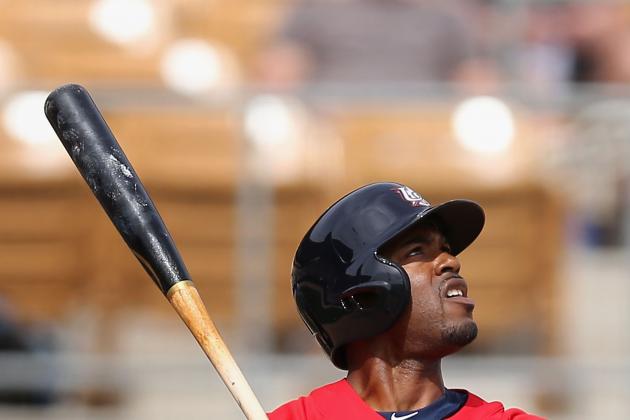 Christian Petersen/Getty Images
Jimmy Rollins, a member of Team USA, could see another season in which his stats decline.
It is a classic image depicted in the above photo:
Hands firmly wrapped around the bat. Stationary in the batter's box. Head pointed in the air and eyes watching as the ball travels a few feet and then lands in the infielder's glove.
Ah yes, the classic Jimmy Rollins pop-up look, one that Phillies fans have seen too much of over the past few seasons.
Since 2007, the year that Rollins was crowned the NL MVP, his offensive stats have slowly dipped and so has his career batting average. Down to .270 over the course of 11 seasons, Rollins hit just .250 in 2012 in 156 games played.
He did manage to blast 23 home runs, his third-highest single-season mark as well as score 102 runs and hit 33 doubles. At the same time, however, Rollins struck out 96 times and had a frighteningly low on-base percentage for a leadoff hitter at .316, the third lowest in his career.
The 34-year-old shortstop still provides the Phillies with great defense in the field and a pretty strong right-handed bat as well. The problem, however, is that as a leadoff hitter, Rollins will not succeed in the way fans want him to.
He doesn't take pitches, averaging less than four per plate appearance in each of his 11 seasons and walks an inordinately low amount for a leadoff hitter.
Rollins' power is not necessarily a problem, but overall he is still a speed guy. He stole 30 bases in 2012 and hit five triples as well. If he focused on keeping the ball on the ground, he'd likely hit for a better average and OBP as well.
The Phillies' loyal following always expects big things from the man they affectionately dubbed J-Roll but in 2013, unless he is moved from the leadoff spot or suddenly starts taking more pitches, he is going to have a down year in fans' eyes.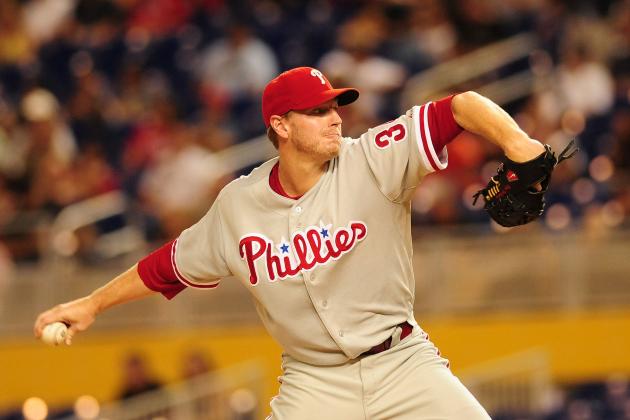 Jason Arnold/Getty Images
If Roy Halladay even has an average season, fans are going to be disappointed.
Prediction time:
Roy Halladay will have a bounce-back, mostly healthy 2013 season.
Roy Halladay will win in the neighborhood of 14-18 games.
Roy Halladay will help get the team to the playoffs.
And yet in the end, Roy Halladay will disappoint Phillies fans.
To say that Halladay, easily one of the league's best pitchers over the past five or so years, is going to disappoint Phillies fans might seem like a stretch, but it really isn't. The thing is, Phillies fans, whether they choose to admit it or not, still have expectations of Halladay.
And this is rightfully so. After all, in his first season pitching in front of Phillies fans, Halladay won 21 games in 33 starts, was the NL Cy Young, threw a perfect game and pitched a no-hitter in his first ever playoff start. If that wasn't enough, he followed that season up by going 19-6, hitting a career-high 220 strikeouts and a career best 2.35 ERA
Whether it is realistic or not, if Halladay doesn't win at least 16 games, possibly more, depending on who you talk to, fans are going to be disappointed. Their expectations and their ideas of what this guy can still do are so high. And they don't want to hear the words, "decline" or "career-ending" when it comes to the ace.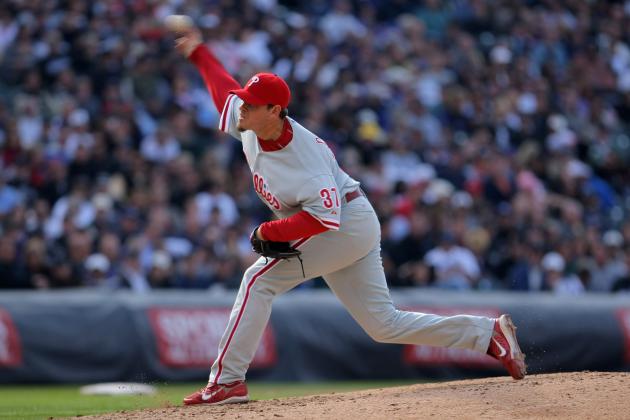 Doug Pensinger/Getty Images
Chad Durbin's return may not turn out to be as happy as fans are hoping.
In 2008, Chad Durbin was a part of a Phillies' bullpen that pitched so well, MLB Network decided to give them a show the following year. It was the same bullpen that played an integral part in the Phillies winning the World Series that year.
Durbin pitched his best career season in 2008. He held opponents to an ERA of just 2.87, recorded 17 holds, 63 strikeouts and pitched 87.2 innings, the most he has pitched in a single season as a relief pitcher.
It is because of these numbers and the fact that he was on the World Series winning team, that fans might be experiencing some pleasant nostalgia in welcoming Durbin back with excitement and anticipation. The problem, however, is that if fans expect the 2008 Durbin, they should think twice. He hasn't been even close to this guy in the four seasons since.
His ERA in 2009 was high at 4.39, and his overall success took a dip from the previous season. In 2010, Durbin improved his ERA to 3.80 but continued to struggle with command. In his final two seasons with the team, Durbin walked 74 in a little under 140 innings.
In 2012 with the Atlanta Braves, Durbin pitched well, to the tune of a 3.10 ERA and 15 holds in 61 innings, improving upon his previous season's numbers with the Cleveland Indians.
In Philadelphia, however, it is the 2008 season and the fact that the Phillies managed just one hit off of him in seven games last year, that is going to resonate with fans. That said, if he doesn't pitch to the same level of success, fans are probably going to be somewhat disappointed about him not being the guy they remember.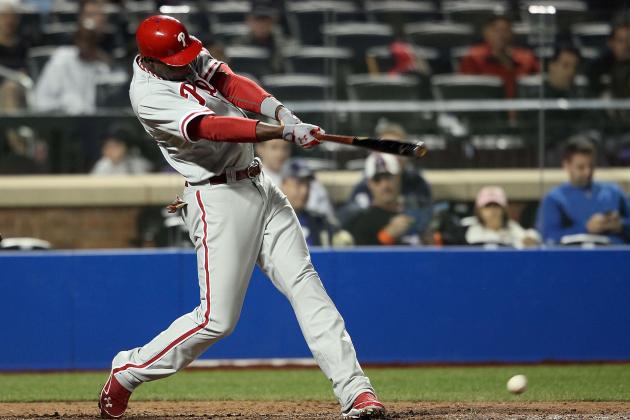 Alex Trautwig/Getty Images
John Mayberry hasn't been able to put up great offensive numbers since his rookie year.
After his first full season in 2011, John Mayberry played well enough to earn himself a starting spot in the 2012 outfield as the everyday left fielder.
Unfortunately for the then-28-year-old, Mayberry could not keep up the torrid pace he had the previous season. He received nearly 200 more at-bats and did improve in most offensive categories, albeit even if just barely. That said, Mayberry's biggest problem was two-fold:
1. He hit just 14 home runs compared to 111 strikeouts. The previous season he had 15 home runs and much less at-bats.
2. He kept the ball on the ground over 50 percent of the time, which is high for a power hitter.
Plus, he really can't hit righties to save his life.
And as a result of these things, Mayberry went from everyday left fielder to sharing a platoon with Laynce Nix in 2012 and now having to fight for a spot on the team in 2013.
Mayberry's spring stats have not been promising, but luckily enough for him neither have Darin Ruf's. Because of this, Mayberry could find himself platooning with Nix yet again as Domonic Brown starts off the season in right.
Even if Mayberry does make the team, it is unlikely he will be able to put up the numbers he did in 2011. If he doesn't, and because of various other outfield turmoil instances that are bound to exist, fans could quickly turn on the Kansas City product with the big bat potential.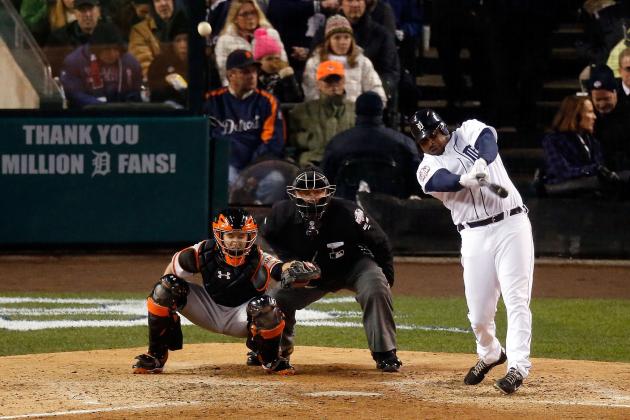 Leon Halip/Getty Images
Delmon Young is not the guy fans wanted to see as the everyday right fielder.
John F. Kennedy, the 35th president of the United States, was quoted as saying: "To those whom much is given, much is expected."
Knowing that, the inverse should be true as well. And essentially this means that with just a $750,000 contract, much is not expected of the former first overall pick, Delmon Young, who was signed to be the Phillies' everyday right fielder in 2013.
Young has not held down the position of everyday outfielder since 2007 and spent the last season as the DH for the Detroit Tigers as his defense simply made him a liability in the field. Even then, Young's best offensive season came two years ago in 2010 when he hit .298 with 21 home runs. Since then, he hasn't hit over .270 and has a paltry career on-base percentage of .317.
And of course, the loyal Phillies fandom and online following took to social media and the comments section expressing their displeasure and confusion in the Young signing. With that already against him, anything short of perfection is probably going to leave the fans disappointed.
Maybe they won't be disappointed in Young since, after all, he won't be expected to bring much to the table, but the fans certainly have reason to be disappointed in Ruben Amaro for his signing in the first place.
Luckily enough, fans won't have to be disappointed until at the earliest, mid-April, as Young is slated to start the season on the DL with an ankle injury.