Manchester City: Is Sergio Aguero Underperforming for City?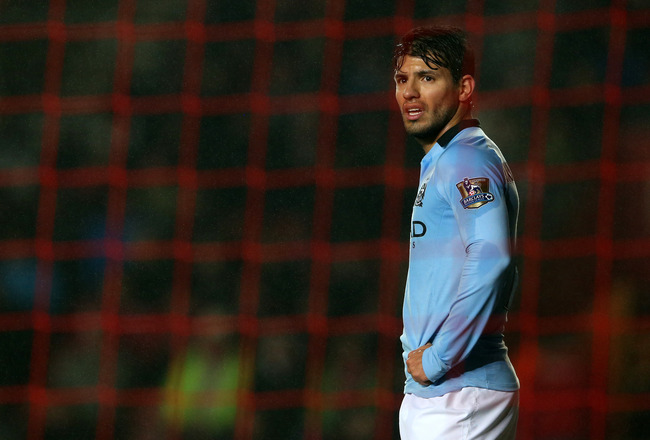 Scott Heavey/Getty Images
Is Manchester City's Argentine international Sergio Agüero underperforming for City?
Yes.
It has been almost 10 months since the "AGUEROOOOO" goal; however, instead of going upwards Sergio has regressed at Eastlands.
This article will establish his decline this season and point to possible reasons for his lack of productivity.
His Form Drop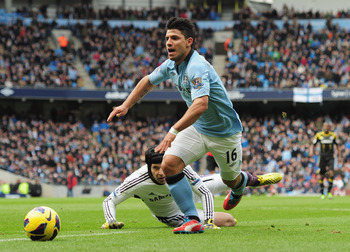 Shaun Botterill/Getty Images
Last season, Sergio Agüero was tied for 12th place in the European Golden Shoe rankings.
Fast forward to the present and there are 59 footballers in Europe's elite leagues who've scored more league goals than Agüero's nine.
The Manchester City striker is one goal behind Reading's Adam Le Fondre, despite playing 422 minutes more than the Englishman—whose club could end up getting relegated.
In 13 of Sergio's 23 Premier League games, he has shot two times or more and remained goalless.
Agüero's clear-cut chance conversion (29 percent) is also 30 percent lower than teammate Edin Džeko.
Agüero's stats are even more shocking when you realize that he has started in 18 games, which is seven more than Džeko.
How does that work out?
| | | | | | |
| --- | --- | --- | --- | --- | --- |
| League Only | SPG | GPG | C-C CC% | SCPG | F3PC% |
| Sergio Agüero 2012-13 | 7.89 | 0.41 | 29 | 1.35 | 76 |
| Sergio Agüero 2011-12 | 5.65 | 0.68 | 45 | 1.67 | 82 |
SPG = shots per goal; GPG = goal/s per game; C-C CC% = clear-cut chance conversion percentage; SCPG = shots created per game; F3PC% = final third passing completion percentage.
These numbers show how ineffective the Argentine has been in the final third as a finisher and as a creator.
His productivity is progressively getting worse.
Explaining His Disappointing Season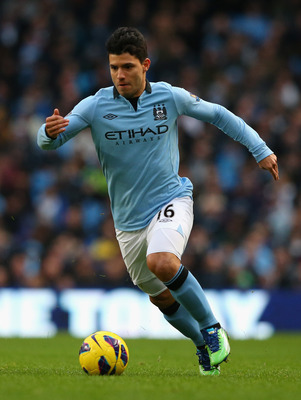 Alex Livesey/Getty Images
1. Family Turmoil
You can't use statistics to understand Sergio Agüero's heartache following his split from wife Giannina Maradona, who's the mother of his son Benjamín (from Olé per The Telegraph):
In these last few months I've been trying to adapt myself to a new stage of my life following my separation.

It's not easy after so many intense years living together and so many experiences with Gianni.

This is what is hardest for me, because Ben is in Buenos Aires and I, for obvious reasons, am in Manchester.

To be so far away from your child is not easy. It's impossible not to miss Ben.
Football right now is understandably not his main priority.
Though, it's a reoccurring theme with Argentine footballers.
(From Neil Warnock at The Independent):
It doesn't seem so long ago Javier Mascherano was kissing the Liverpool shirt, now he doesn't want to wear it.

I see his friend Lionel Messi being quoted defending him, saying, "Let him go because his wife is not happy, they have no friends and don't want to raise their children in England."
(Via Brian McNally at The Mirror):
Coloccini told ­Newcastle he wanted to leave for ­"personal reasons" after his wife Natalia left their luxury home in Jesmond to return to Argentina.

It prompted San ­Lorenzo, one of his former clubs, to try and sign him, despite having no cash for a deal.
Is Agüero next in line to force a move away from the Premier League because of family?
2. Lack of Incisive Support
Samir Nasri averages 39.5 passes per league game but only has three assists.
So, whenever he touches the ball, he is denying Sergio a chance to score because the Frenchman makes the easy pass rather than the through-ball.
In the UEFA Champions League, Samir accumulated 240 passes in six starts, and didn't register an assist.
Yaya Touré shoots more times than he creates—51 shots to 38 shots created for his teammates.
3. Injury Issues
(Per Mark Ogden at The Telegraph; August 20, 2012):
Agüero, last season's top scorer at the Etihad Stadium, was taken to the hospital last night for scans and is set to find out the full extent of the damage to his right knee today after being injured following a challenge by Southampton defender Nathaniel Clyne seven minutes into the game.
(By Jimmy Nsubuga at The Metro; January 6, 2013):
Manchester City could have suffered a severe blow to their Premier League title ambitions after star striker Sergio Aguero confirmed he had torn a hamstring muscle.
I felt a crick in my right knee during last training so I won't make it against Aston Villa today

— Sergio Aguero (@aguerosergiokun) March 4, 2013
You can check on my website how's the recovery treatment going along for the injury on my right knee sergioaguero.com/EN/noticias.ph…

— Sergio Aguero (@aguerosergiokun) March 7, 2013
Will He Leave?
Sergio Agüero has always conducted himself with class at Manchester City.
He has a smile on his face during interviews and he's well-mannered—unlike Carlos Tévez, who is into trouble... again (via Daniel Taylor at The Guardian):
Carlos Tevez has been arrested for allegedly driving while disqualified and is now waiting to hear whether he could face a charge that could bring a possible prison sentence of up to six months.

Tevez, banned from driving in January, was taken to Macclesfield police station on Thursday evening after being stopped in a high-powered car, thought to be a white Porsche Cayenne, on the edge of the town as a result of "information provided".
Edin Džeko may want the vacant No. 9 role at Borussia Dortmund with Robert Lewandowski announcing his decision to play out his contract (per The Telegraph).
Roberto Mancini's admission that Edin could leave (from BBC Sport) speaks volumes about the Bosnia striker's mindset.
Tévez says things like (by Tim Rich at The Independent):
Boca's president has said the door is always open for me to rejoin them and I'm dying to pull their shirt on once more. I want to end my career there. It is my dream and that of my family. I'd love to be playing for them against River Plate. It would be better than playing against Fulham.
Contrast this with Agüero (via Jamie Jackson at The Guardian):
I'm very happy at City and I feel very appreciated here which means a lot to me.

I keep a symbiotic relationship with the fans that always remind me of our title and that goal against QPR.

How could I forget that?

More to the point, why would I want to forget that?

Hopefully for City, Agüero can bounce back next season, but there's no way the club will sell him anytime soon with Carlitos and Džeko set to leave in the summer.
Connect with +allanjiang
Statistics courtesy of WhoScored.com, EPLIndex.com and Squawka.com.
Keep Reading

Manchester City: Like this team?