Why the NY Rangers Should Sign Mats Zuccarello for the Stretch Run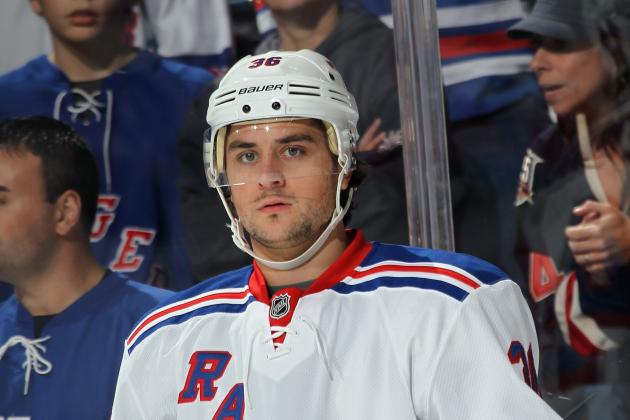 Bruce Bennett/Getty Images

Late last month it was being reported that New York Rangers general manager Glen Sather was interested in re-signing restricted free agent Mats Zuccarello once his KHL season had wrapped up.
Well, on Tuesday, Zuccarello's club, Metallurg Magnitogorsk, was eliminated from the KHL playoffs in their first-round series, falling to Salavat Yulaev Ufa in seven games.
With that, Zuccarello's agent, Don Meehan, has claimed that he and Sather have had informal discussion regarding Zuccarello's return to New York.
His contract with Metallurg is for two seasons, but it does include an out clause if Zuccarello decides to head back to the NHL, therefore, there would be no contractual foul play if he did decide to re-sign with the Rangers.
All signs point to this signing being a no-brainer for the Rangers, but as Larry Brooks suggested on Thursday, the addition of Roman Hamrlik on Wednesday may complicate things with Zuccarello.
With Hamrlik joining the organization, the Rangers now have 49 professional contracts between the big club and its minor league affiliates. The league maximum is 50, and if the Rangers want to sign Zuccarello and possibly make a move at the trade deadline, things could get tricky.
Regardless of that, Zuccarello can be an asset to this team and his re-signing is an option Sather should seriously consider, and here's why.
Begin Slideshow

»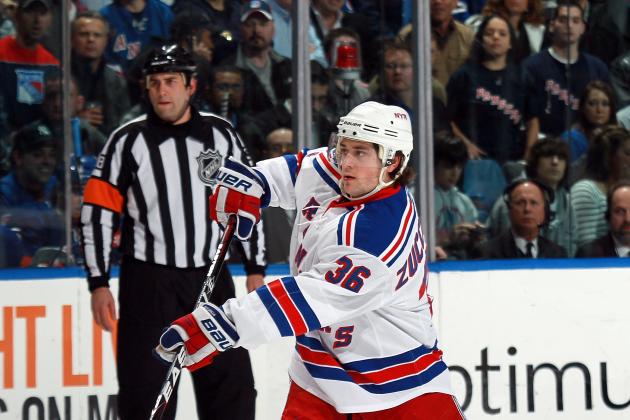 Bruce Bennett/Getty Images

The Rangers power play has finally began to make strides over the last few games.
They've scored on the man advantage in their last four games and have improved from last in the league to 24th.
Rick Nash has finally picked up a few PPG, while Ryan Callahan continues to be the team's best option on special teams.
But it's only been four games, and despite significant improvement, the team still has the tendency to revert back to its old, stale ways.
Zuccarello would most definitely help this team's consistency on the man advantage. He's proved it already in the past, and in this league, you can never have too many options on the power play.
When he played 42 games during the 201-11 season, Zuccarello tallied nine power-play assists—a pretty significant statistic when you consider he had 17 assists in total.
Last season he only played 10 games for the Rangers and sporadically saw time on the power play, but two of his three points were power-play points.
What makes Zuc such an asset on the power play is his ability to create plays from the boards. He is somewhat reminiscent of Jaromir Jagr in the sense that he can receive a pass with his back to the boards, make a nice feed and cut either to the net or behind it.
His ability to make quality passes and then find open space is something we all know the Rangers currently don't feature. Their regularly stagnant power-play unit has frustrated fans on a nightly basis.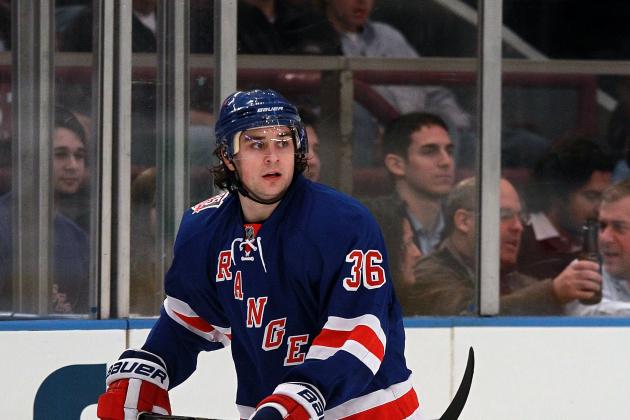 Bruce Bennett/Getty Images

In 2009-10, Zuccarello tallied 64 points in 55 games for Modo of the Swedish Elitserien. For this performance he was awarded the league's MVP trophy as voted by the players.
It was his success during that season that had so many NHL teams courting him during the summer of 2010.
The Rangers were lucky to get him, with teams like the Detroit Red Wings reportedly being interested. But over the course of his two-year deal with the Rangers he only saw action in 52 NHL games. The rest of his time was spent in Connecticut with the Rangers' AHL affiliate.
He and fans alike were disappointed, but he may not have been given a fair shot with the big club. It's no secret Rangers' coach John Tortorella has little patience for players who are not as proficient in the defensive zone as they are in the offensive zone.
And because of that, the Rangers have found themselves short on goals in nearly every season Tortorella has been behind the bench for. He's got to be more patient with players who are going to create more offense. Just look at what Chris Kreider was able to do when he wasn't forced into playing such a defensively obsessed system.
Now I'm not saying I think the Rangers should change their system to accomodate Zuccarello, but what I am saying is that Tortorella needs to welcome players of Zuccarello's pedigree into the team and allow them the freedom to be creative players.
Zuccarello would be the perfect option for this team to bolster its offensive depth. He's familiar with the team, players and city and he's free, in the sense that he won't cost the team any assets.
For most of the season we've seen Taylor Pyatt in the team's top six. Don't get me wrong, Pyatt has been a great addition, but he's a grind-it-out third-line guy. Zuccarello would be a much better option on the second line. He's got a very deep skill set and will make things happen in the offensive zone.
He's proved it time and time again overseas.
He may even have the ability to make players around him better. His passing and creativity could be what gets Marian Gaborik out of his scoring funk. Who knows? But what we do know is that he can be a very exciting and dangerous player and you can never have too many of those.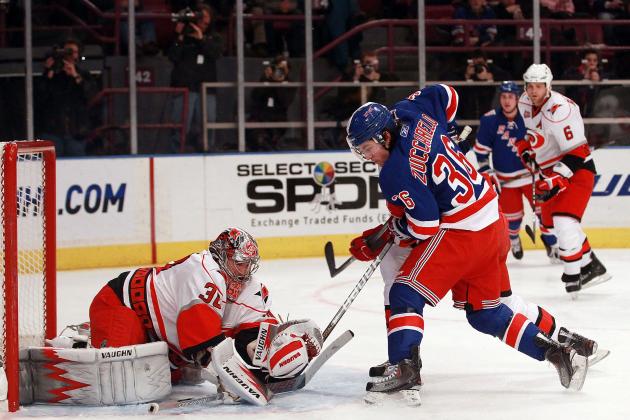 Bruce Bennett/Getty Images

It's no secret that the combination of the league's lowering of the salary cap and the Rangers' acquisition of several large contracts (Nash, Richards, Gaborik) will put the team in somewhat of an economic bind for the next few seasons.
And I'm here to say that Zuccarello may be an answer to their problems. Here's why.
It's widely believed that the Rangers may be forced to use one of their compliance buyouts on either Brad Richards or Marian Gaborik if they continue their poor play for the remainder of the season and playoffs. If that is the case, and Sather is forced to indeed use that buyout or possibly trade one of the two, then Zuccarello could be a cheap option to try and fill the void.
It's true Gaborik had 42 goals last season, and no, I don't think Zuccarello has the ability to reach that number, but things are going to get tricky for the Rangers with the cap, and if they choose to move or buyout Gaborik because he is over 30 and has only one year remaining on his contract, Zuccarello could be a candidate to step up.
Becuase, if we're honest, the Rangers aren't really playing with Gaborik right now. Sure, he's out there, be he isn't doing much. He's got three goals in 17 games, with only eight total points over that period of time.
For over $7 million a year, he's got to be better. And no, tonight's game-winner doesn't change much of anything. The Islanders seem to be the only team he can score against consistently.
Which is why I think that if he continues to play like this for the rest of the 2013 season, the team should look to remove that contract from their books. With that money they could afford Zuccarello, who's more than six years younger and way cheaper, and an additional offensive player.
The Rangers' youth and depth is what should be most important, and if Sather has to choose between keeping one of his over 30-year-old regressing forwards or a couple of rising stars under the age of 25, I think he's going to go with the latter.
Rick Nash's ability to be the game-breaker that the Rangers have needed since Jagr left leaves a guy like Gaborik vulnerable, because he's not a game-breaker. He'll score a ton of goals in a season if he feels like it, but he doesn't have the ability to take over the game.
He doesn't justify his contract and his production can be filled by a couple of cheaper, younger players, and Zuccarello is the perfect candidate.