David Ortiz is in jeopardy of missing Opening Day.
Ortiz was limited to just 90 games with the Boston Red Sox a year ago, dealing with a strained Achilles tendon. He injured it in mid-July and after resting for a little more than a month, he gave it another shot—only to miss the remainder of the season after one game.
The 37-year-old designated hitter rested throughout the offseason, but it was clear that he wasn't going to be 100 percent by the time spring training came around. Through the first couple of weeks of camp, Ortiz has definitely been limited.
Ortiz has yet to play in a game this spring and it could be a while before he takes the field. Right now, Ortiz has been working on his running, trying to get back in the rhythm of running at full speed again. Unfortunately, the way he feels after each attempt doesn't sound promising.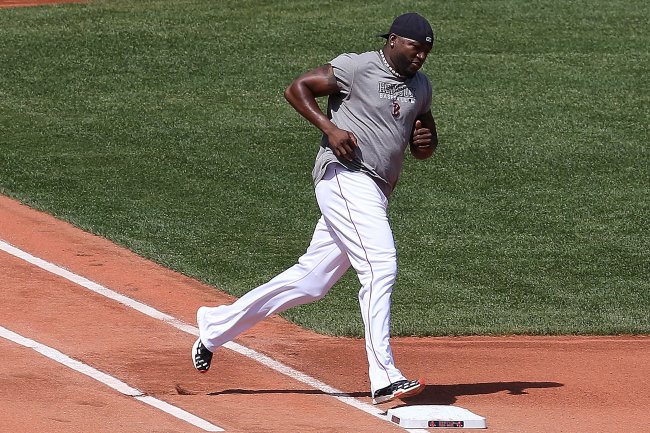 Jim Rogash/Getty Images
Ortiz ran a successful exercise on March 4, according to Michael Silverman of the Boston Herald, and he felt that he could live with the little bit of soreness that he had after the workout.
"The main goal right now is to make sure I get to play down here—if I play down here, that means I'm good to go, you know what I'm talking about?" said Ortiz. "I did it all today and nothing gave me a hard time."
But on Thursday, Ortiz wasn't able to run as aggressively as he was supposed to due to soreness in both of his legs, according to Peter Abraham of The Boston Globe.
"It's more general soreness. It's not the Achilles. It's in both lower leg areas. It's not localized to the injury," said manager John Farrell. "It's tendons down back of the ankles and in that area."
Farrell mentioned in his comments that the soreness is probably due to the increased volume and the fact that Ortiz is getting back into shape now. He again repeated that Ortiz's inability to run aggressively wasn't due to the Achilles.
In an earlier post, Abraham wrote that "it's fair to say that Ortiz is no better than 50-50 for Opening Day at this point."
But is Ortiz 50-50 at best right now? I'm not so sure.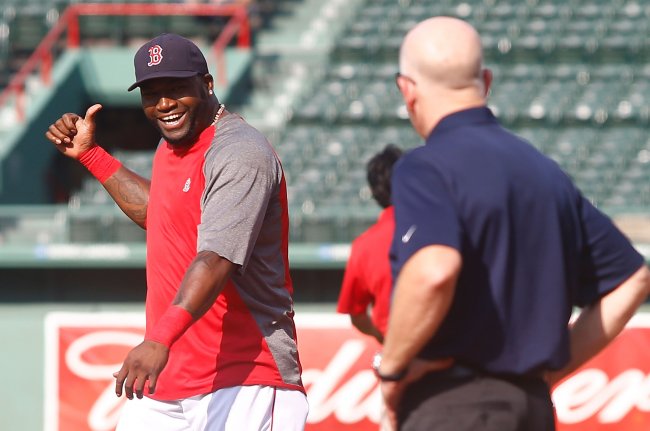 Jared Wickerham/Getty Images
It seems that this Ortiz situation has dragged on forever. We heard about it for the second half of last season, all throughout the offseason and now a couple of weeks into spring training.
Ortiz may be running, but it's definitely taking a long time to get back in the swing of things, which has me wondering if he'll be on the field April 1 against the New York Yankees.
When are we going to get a week of reports saying that Ortiz was able to run at full speed consistently—or will we at all? It could come down to the fact that Ortiz can play through the pain and the Red Sox will allow him to do so.
Who will be the starting DH on April 1?
But it all depends on how Ortiz feels. As of now, every day is a new chapter and it's impossible to tell whether he's going to be fine after running, or if he'll need a couple of days off before giving it another shot.
The Red Sox undoubtedly need Ortiz's bat in the middle of the lineup. There are plenty of players projected to start that can hit with power or hit with consistency, but Ortiz is one of the few that can do both. Over the last two seasons—despite only playing in 90 games last year—he's hit over .300 and slugged at least 23 home runs in each campaign.
When healthy, Ortiz can be one of the most dangerous hitters in baseball. The problem is that he can't stay healthy, and maybe it's because he's fairly old for an everyday baseball player and the rigor of the game is starting to take a toll on his body. If that's the case, the Red Sox are somewhat prepared.
There are a couple of options should Ortiz have to start the season on the disabled list. Boston could use Johnny Gomes as the designated hitter and play either Daniel Nava or Ryan Sweeney in the outfield. The Red Sox could also use whoever isn't scheduled to catch: Jarrod Saltalamacchia or David Ross. Backup first baseman Mike Carp is certainly an option as well.
If Ortiz around 80 percent in the next week or so—assuming he's around 60 percent now—I don't see how he plays on Opening Day. So will No. 34 be in the lineup when the Red Sox open the season at Yankee Stadium? Eh, would be my answer at this point.
Odds of David Ortiz Playing on Opening Day: 40 Percent