5 Role Players Who Have Greatly Impacted Chicago Blackhawks' Record Point Streak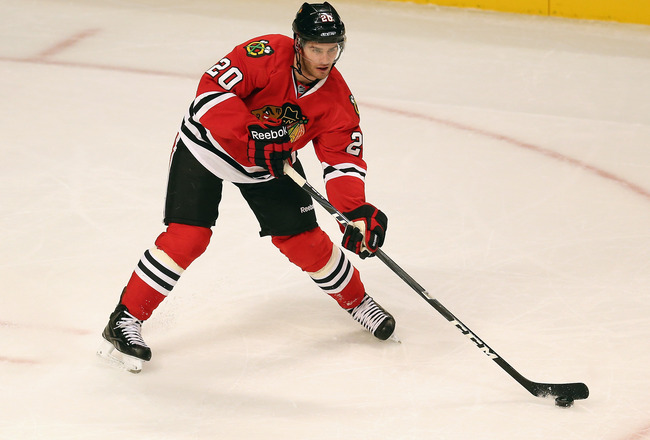 Jonathan Daniel/Getty Images
The Chicago Blackhawks earned another comeback victory on Wednesday night when they defeated the Colorado Avalanche 3-2 at the United Center.
The Blackhawks are on an 11-game winning streak (a franchise record), and they have now gone 30 straight games (including last season) without losing in regulation. The record for the most consecutive games without a loss in regulation is 35, which was set by the Philadelphia Flyers during the 1979-80 season.
The team's stars have played their part in Chicago's record-setting start to the season, but this Blackhawks streak would not be alive without the brilliant performances of several role players.
Let's look at five role players who have exceeded expectations this season, and whose contributions have been massively important to the success that the Blackhawks have enjoyed thus far.
Brandon Saad, Left Wing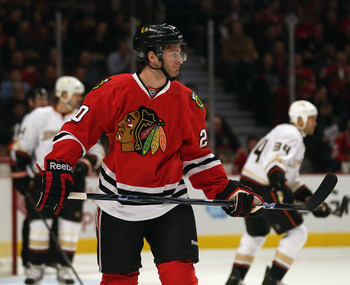 Jonathan Daniel/Getty Images
Brandon Saad's impressive two-way play this season is making it harder to figure out why so many teams passed on him in the first round of the 2011 NHL Draft. Saad fell to pick No. 43 in the second round, and he has proven to be one of Blackhawks general manager Stan Bowman's finest draft choices.
The 20-year-old American has scored four goals with five assists and a plus-6 rating through 23 games this season.
It may be too late for Saad to enter the Calder Trophy race, but he's well on his way to becoming the NHL's best rookie for the month of March. He has seven points (two goals, five assists) in his last eight games, which is also earning him more ice time, including some shifts on the top line alongside captain Jonathan Toews.
After Tuesday's victory over the Minnesota Wild, Toews gave an interesting description of his teammate (via Mark Lazerus of the Chicago Sun-Times):
#Blackhawks' Jonathan Toews on rookie Brandon Saad: "He's the man-child. That's what we call him. He's an absolute beast out there."

— Mark Lazerus (@MarkLazerus) March 6, 2013
Saad had a slow start to the season with zero points in his first eight games, but since then, he has tallied nine points in his last 15 games.
Even though he wasn't scoring a lot early in the year, he was battling hard in front of the net, playing well defensively and doing the little things that coaches expect from young players.
In addition to his rapidly-improving offensive skills, Saad has enough size and strength (6'1" and 202 pounds) needed to be one of the league's premier power forwards in a few years.
Marcus Kruger, Center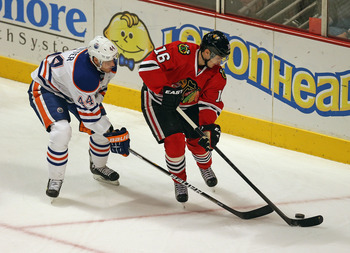 Jonathan Daniel/Getty Images
Marcus Kruger has been one of the Blackhawks' most impressive two-way players this season, and he is giving head coach Joel Quenneville a center that can provide some scoring on the fourth line and also be responsible defensively.
The 22-year-old forward from Sweden has scored three goals with six assists in 22 games, and he ranks second on the team in faceoff percentage (45.2).
From a defensive standpoint, Kruger has been excellent this season. His 16 blocked shots are the most among Blackhawks forwards and he also has 12 takeaways.
Kruger has also been an important contributor to the Blackhawks' penalty kill, which ranks second-best in the NHL. He ranks second among Chicago forwards with 2:48 of shorthanded time on ice per game.
Every championship team needs a quality bottom-six center like Kruger who provides the team with scoring depth, toughness and impressive special teams play.
Bryan Bickell, Left Wing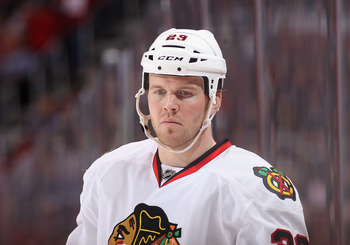 Christian Petersen/Getty Images
Bryan Bickell is halfway to matching his scoring total from last season, and the Blackhawks have only played 24 games this year.
The veteran left winger has scored five goals with seven assists this season. His two-goal performance against the Minnesota Wild on Tuesday played a huge part in helping Chicago keep its point-streak alive.
Bickell has been a pleasant surprise this season, and his scoring has been a bonus since his primary job is to add some defensive skill and grit to the bottom-six forward group. He also does a great job of being physical without taking penalties.
Bickell leads the Blackhawks with 56 hits and also has 15 takeaways. Without his consistently strong performances at both ends of the ice, coach Quenneville would not be able to use four lines every night.
Niklas Hjalmarsson, Defenseman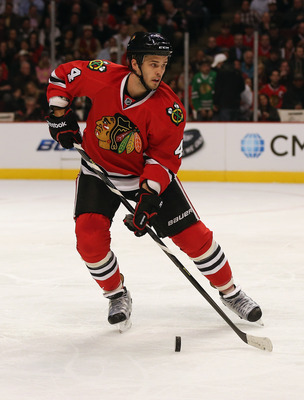 Jonathan Daniel/Getty Images
Niklas Hjalmarsson has been one of the Blackhawks' most consistent players this season. He only has five points (one goal, four assists) in 24 games, but he's been fantastic defensively and on the penalty kill.
He has the third-best plus/minus on the team (10) and leads all Chicago players with 2:57 of shorthanded time on ice per game.
Hjalmarsson also ranks second on the team in blocked shots (55), and also has 14 takeaways and 11 hits.
One of the main reasons why the Blackhawks rank first in goals against is because Hjalmarsson has really improved defensively since last season. He's winning puck battles, blocking shots, impacting games physically and playing a major role on the penalty kill.
Hjalmarsson is playing the best hockey of his career right now.
Michal Rozsival, Defenseman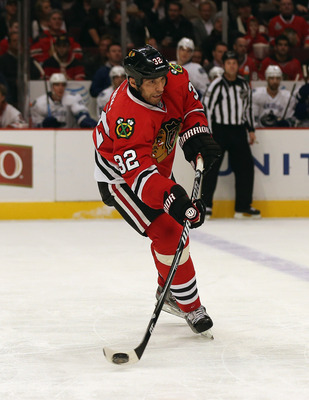 Jonathan Daniel/Getty Images
The Blackhawks didn't make any major signings in the offseason, and decided to just fill some of the holes in their roster with veteran players.
One of those signings was 34-year-old defenseman Michal Rozsival, who was part of the Phoenix Coyotes team that reached the Western Conference Finals and knocked the Blackhawks out of the playoffs in the first round last season.
Rozsival has exceeded expectations in 2013 by giving the Blackhawks a reliable third-pairing defenseman who excels in his own zone with a high hockey IQ, physical play and a willingness to block shots.
He also has seven points in 13 games this season, which is impressive since he tallied just 13 points in 53 games for the Coyotes last year. Rozsival also ranks second on the Blackhawks with a plus/minus of 11.
Thus far, Rozsival has been one of the most underrated signings of the 2012 free agency period.
Nicholas Goss is an NHL Lead Writer at Bleacher Report. Follow him on Twitter. He was a credentialed reporter at the 2011 Stanley Cup Final and 2012 NHL playoffs.
Keep Reading

Chicago Blackhawks: Like this team?