San Diego Padres: 5 Players Who Will Disappoint Padres' Fans in 2013
Norm Hall/Getty Images

Okay Padres fans, I know I may have written a string of pessimistic articles lately; I'm just lowering everyone's expectations after the over-hype comparing them to the 2012 Orioles and A's.
Or maybe I'm lowering the expectations so the Padres can exceed them, right?
Either way, as Padres fans we shouldn't expect a playoff berth this year. We have tons of young talent and have an optimistic future; however, barring a miracle Padres players will be watching the playoffs on TV this year.
All statistics taken from Baseball Reference
Begin Slideshow

»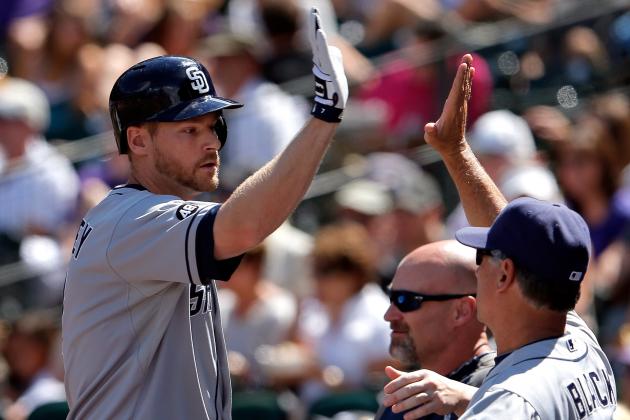 Doug Pensinger/Getty Images

Ok, ok, I'm not a Chase Headley hater; I actually support him and have been adamant about the Padres extending his contract.
This disappointment has to do with his torrid play in 2012. In case you were living under a rock, Headley led the NL in RBI with 115, to go along with his 31 home runs. His play, and his bat, earned him the fifth spot in NL MVP voting.
However, it's hard to think he will continue his hot second half to the 2013 season, despite extremely high expectations. He's likely to regress closer to his career average of 16 home runs and 75 RBI. Before 2012, his career high was 12 home runs in 2009.
Sorry, fellow fans, don't expect another 30/100 season.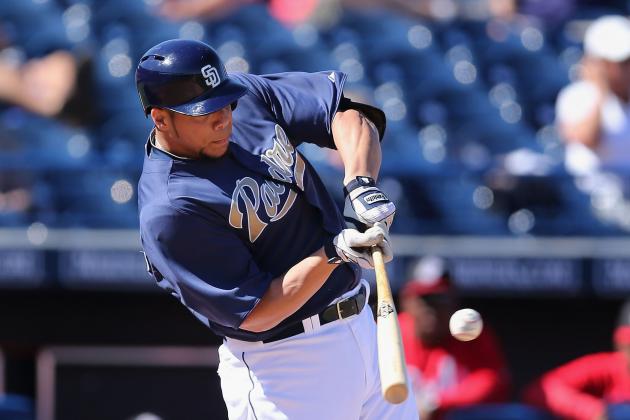 Christian Petersen/Getty Images

This "disappointment" simply has to do with his inflated hype going into the 2013 season.
In four seasons, Blanks has yet to play more than 55 games—mostly due to injuries and lack of acceptable play. When extrapolated to a career 162-game average though, Blanks would crush 22 home runs and 70 RBI. However, his batting average would still hover around the Mendoza line at .219.
So if Blanks can stay healthy and keep belting balls as he has done his entire career, he can be a great player. Don't expect 30-plus home runs and an All-Star bid though.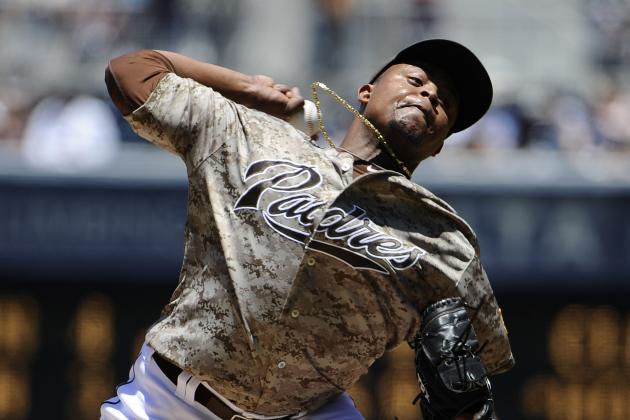 Denis Poroy/Getty Images

Edinson Volquez is likely to be the Padres' Opening Day starting pitcher, which inherently comes with high expectations.
However, the Padres starting rotation is so underwhelming that there are several candidates who could potentially start the first game. Volquez just will likely become the default No. 1.
In 2012, Volquez garnered an 11-11 record with a 4.14 ERA and 1.45 WHIP. As subpar as those stats are, they are still miraculously better than his career averages (could be the drastic change from hitter to pitcher parks though). Like Headley, he's likely to repeat stats closer to his average and regress.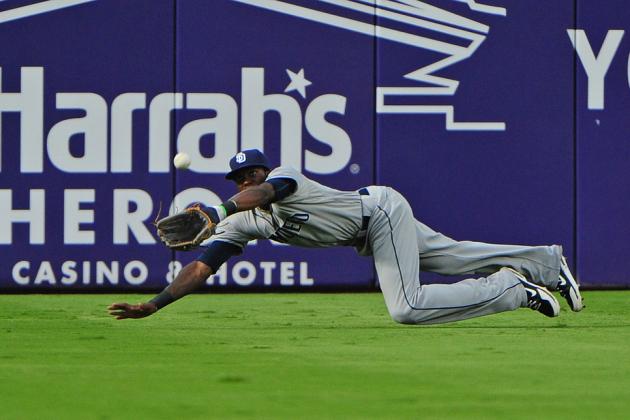 Scott Cunningham/Getty Images

Has Cameron Maybin ever lived up to his early hype?
As an avid fantasy baseball player, I remember scouting him when he was with Florida and getting pretty excited when he came to San Diego. It also seems each year people predict Maybin will finally break out, to no avail.
A solid fielder and maybe an average hitter at best, many thought he would be a franchise player and a perennial All-Star. The Padres certainly thought so, extending him a $25M contract.
If 2013 isn't a career year for Maybin, don't expect the hype to continue.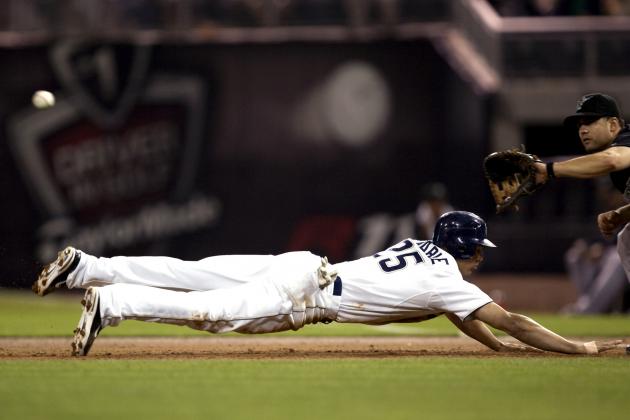 Kent Horner/Getty Images

Another player who never really made a name for himself, Will Venable will likely have another disappointing season. He's never been as hyped as Maybin, yet I don't think he's played well enough to earn an everyday starting job.
After five seasons in the MLB, the only statistic Venable has excelled at has been stealing bases. I was a big advocate of the Padres making a big offseason splash and landing a more suitable outfielder. Unfortunately, the Padres' front office was all talk, and the biggest move was giving Jason Marquis another one-year deal.