Michigan Basketball: 5 Biggest Questions Wolverines Face as March Heats Up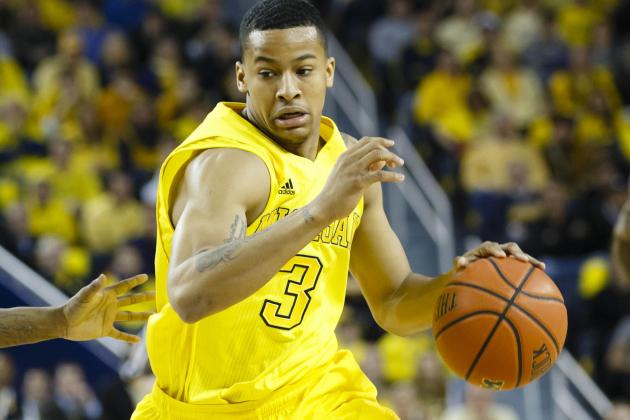 Rick Osentoski-USA TODAY Sports
Is Michigan asking too much of Trey Burke right now?
Even though the No. 7 Michigan Wolverines are 25-5 this season, can clinch a share of the Big Ten Conference title with a victory on Sunday and have enough talent to make a run to the Final Four, there are still plenty of questions this team needs to answer.
There are five in particular that stand out above the rest. Some deal with Michigan's key players, while others raise some concerns about the Wolverines' style of play.
All of the questions will be answered by Michigan throughout the postseason, but will the Maize and Blue faithful like all of the answers?
Click ahead to find out the five biggest questions Michigan is facing heading into the Big Ten and NCAA tournament!
Begin Slideshow

»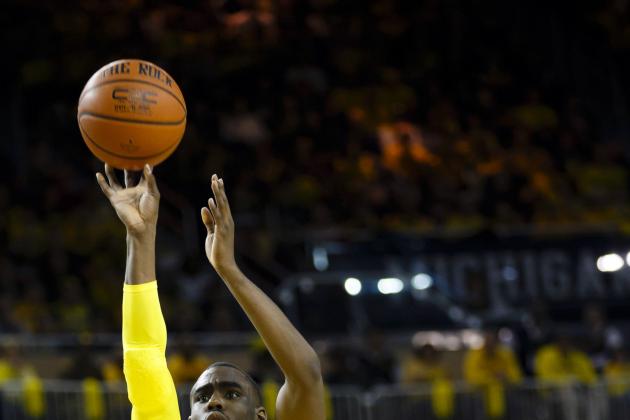 Rick Osentoski-USA TODAY Sports
Can Tim Hardaway Jr. find his shooting stroke again in time for Michigan make a Final Four run?
One of the most disturbing trends for the Michigan Wolverines over the past month has been the downward spiral of Tim Hardaway Jr.'s field-goal percentage.
The junior shooting guard opened Big Ten Conference play on a tear before hitting a brick wall in mid-February. Hardaway knocked down better than 47 percent of his shots in eight of Michigan's first 11 league games.
In the Wolverines' last five games, however, Hardaway has nailed just 25 of 75 field-goal attempts (33 percent).
The longer Hardaway continues to struggle, the more pressure sophomore point guard Trey Burke and the rest of Michigan's young backcourt will be under for the next month.
If Michigan is going to have any chance of winning the conference tournament, or make a run to the Final Four, Hardaway has to start hitting shots again.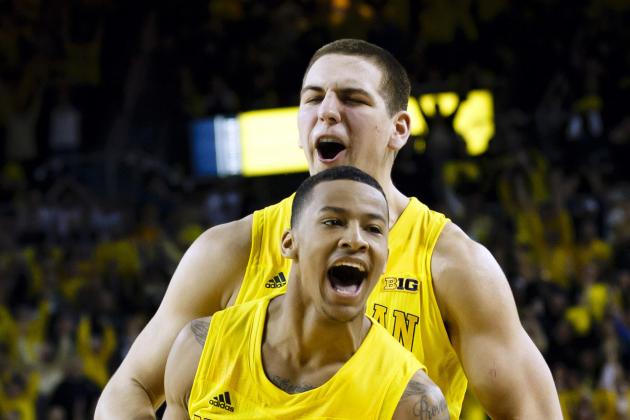 Rick Osentoski-USA TODAY Sports
Trey Burke has been the most consistent player on Michigan's roster this season.
Without Trey Burke, the Michigan Wolverines would not even be in contention for a Big Ten title, let alone a No. 1 seed in the NCAA tournament and a national championship.
Burke is averaging 18.9 points and 6.9 assists per game, which has him firmly in the conversation to take home the Wooden Award come season's end.
The Columbus, Ohio native has only been held below 15 points twice this season, and no league opponent has been able to accomplish that feat defensively. The 6'0", 190-pounder has been remarkably efficient as well and has knocked down 49.5 percent of his shots during the 2012-13 campaign.
There is no questioning how important Burke's production has been to the Wolverines, but can he continue to play at this high of a level in the postseason?
Last year, Burke dropped off significantly after Michigan's victory in the quarterfinals of the league tournament. Burke knocked down just six of 26 attempts in the Wolverines' semifinal loss to the Ohio State Buckeyes, and their loss to the Ohio Bobcats in the opening round of the Big Dance.
Will Burke's stat line plummet again when Michigan needs him the most, or can he carry the Maize and Blue to their first Final Four since 1993? Everyone is waiting to find out.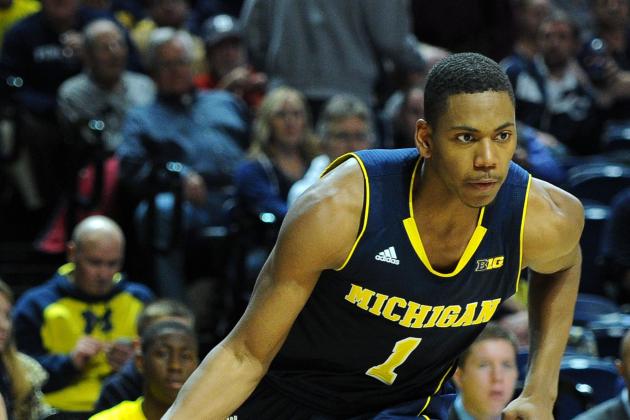 Rich Barnes-USA TODAY Sports
Will Glenn Robinson III and the rest of Michigan's freshmen hold up in the postseason?
The Michigan Wolverines were unable to win their two most important games in postseason play a year ago once Trey Burke's production fell off. This season's team faces a similar concern when it comes to the play of their talented freshmen.
Head coach John Beilein should have no worries about playing Caris LeVert and Spike Albrecht for extended minutes in the postseason. The two have only played 12.2 and 7.2 minutes per game, respectively.
Power forward Mitch McGary has seen an increase in playing time since the beginning of Big Ten play, but he has only seen more than 21 minutes of action four times this season. There should not be a whole lot of concern about McGary being overworked come tournament time.
The aforementioned numbers are a far cry from the 32.9 and 30.4 minutes per game Glenn Robinson III and Nik Stauskas have racked up for the Wolverines.
Michigan will need Stauskas to be fresh in order to bolster its perimeter shooting. Stauskas is shooting 45 percent from beyond the arc, and the Wolverines cannot afford to have his offensive production drop off.
The main concern, however, is Robinson, because of how directly correlated his production is to Michigan's success. In games when Robinson is held below eight points, the Wolverines are just 2-3.
If Robinson's offensive efforts start to drop off as a result of fatigue in the postseason, Michigan will be making an early exit in the NCAA tournament.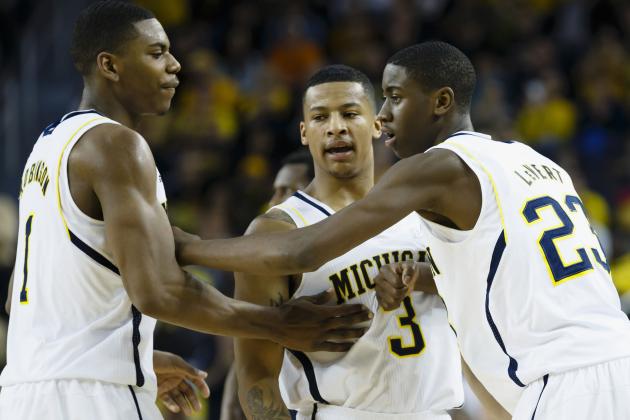 Rick Osentoski-USA TODAY Sports
Will Michigan's defense cost itself a shot at a national title?
The most encouraging sign from the Michigan Wolverines' victory over the Michigan State Spartans last Sunday was their improvement at the defensive end of the floor.
Michigan managed to hold its in-state rival to just 35 percent shooting overall, and an abysmal 27 percent from three-point range. The Wolverines also forced 18 turnovers, including two in the closing 30 seconds of the game.
Freshman shooting guard Caris LeVert played excellent defense in 30 minutes against the Spartans. LeVert will likely see an increase in playing time to help Michigan offset its defensive struggles.
The outstanding defensive effort came only one game after Michigan allowed the last-place Penn State Nittany Lions to score 84 points in a shocking upset. The Nittany Lions also knocked down 10 of 20 shots from beyond the arc in the win.
The Maize and Blue can beat just about anybody in the country, because they put up 75.4 points per game. If the Wolverines cannot consistently come up with stops on defense, though, they can also be beaten by anyone.
The Wolverines defense will rightfully be subject to much criticism and skepticism over the next couple of weeks.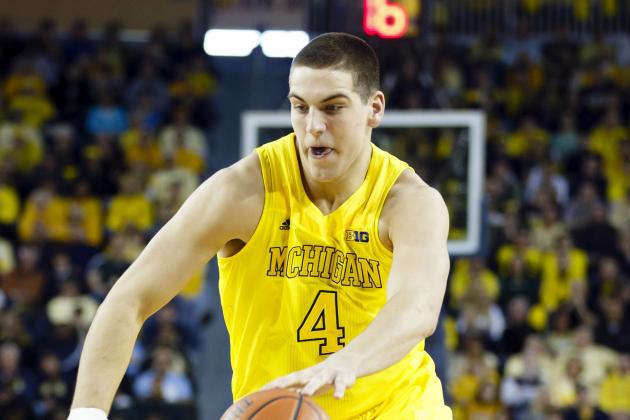 Rick Osentoski-USA TODAY Sports
Will Mitch McGary become the dominant force in the paint Michigan has been missing all season?
It has been no secret during the 2012-13 season that the Michigan Wolverines have been without a dominant big man. John Beilein tends to construct his teams from the outside in rather than the other way around, which at times has forced Michigan to rely too much on perimeter shooting.
Yes, the Wolverines did manage to beat the Michigan State Spartans without hitting a single three-pointer. This looks more like an anomaly than a precedent, though.
In Michigan's six victories over teams currently ranked in the Top 25, the Wolverines needed nine or more three-pointers to win half of those games.
Additionally, in all five of their losses this season, the Wolverines have shot worse than 31 percent from distance.
Basically, if jump shots are not falling, Michigan does not have a whole lot of other ways to score points. Defense and rebounding has also been a problem for the Wolverines inside.
Although Mitch McGary has developed into a legitimate offensive threat in the paint with six double-digit scoring efforts this season, his defense still needs work.
Redshirt junior forward Jordan Morgan is just the opposite. Morgan does not do a whole lot of damage offensively, but the Detroit product plays outstanding defense, despite being undersized at 6'8".
Until either Morgan or McGary emerges as a consistent threat at both ends of the floor, the Wolverines' lack of a go-to big man will be a major question mark.