Michigan Basketball: 5 Keys to Beating Purdue in B1G Game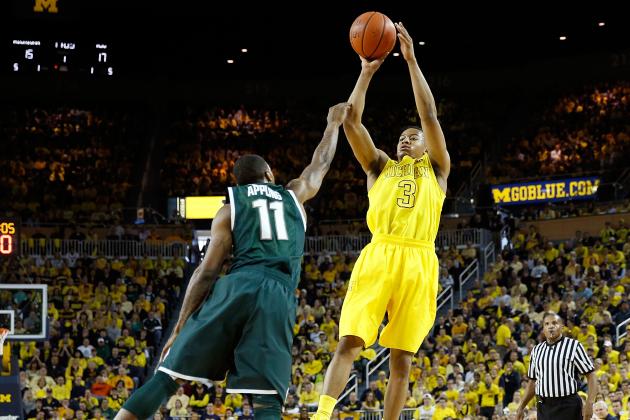 Gregory Shamus/Getty Images

Michigan will look to continue its bounce back from a shocking loss to Penn State last week—against Purdue on Wednesday night.
While the Boilermakers are just 14-15 this season, they are coming off an impressive road win over Wisconsin.
Mackey Arena is never an easy place to win, and the fans are bound to be excited for a chance to knock off a top-ranked foe such as the Wolverines.
If Michigan wants any chance of catching Indiana for the Big Ten championship in their showdown on Sunday, it must first take care of the pesky Boilermakers.
Begin Slideshow

»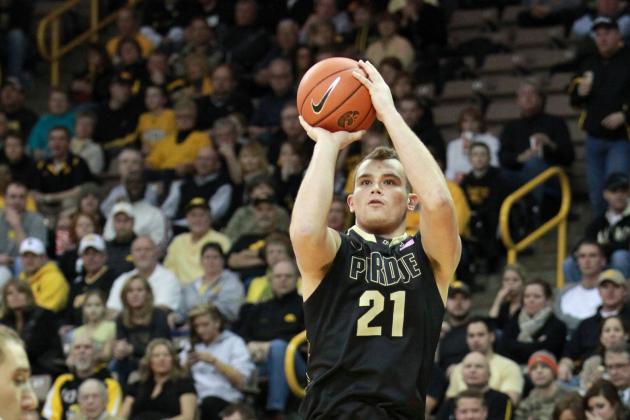 USA TODAY Sports

Terone Johnson and D.J. Byrd are the focal points of Purdue's offense.
The two combine for an average of 22.9 points per game, which is about 36 percent of Purdue's total offense.
Johnson and Byrd's combined scoring prowess was on display in Purdue's recent win over Wisconsin.
While Byrd led the way with 22 points, Johnson was just behind with 16 points. What is scariest for the Wolverines is the different ways that these two players can score.
Michigan will look to keep Johnson—who is a tremendous slasher—out of the lane.
While keeping the pressure on Byrd, a 36.8 percent three-point shooter, from repeating a six three-pointer performance like he had against the Badgers.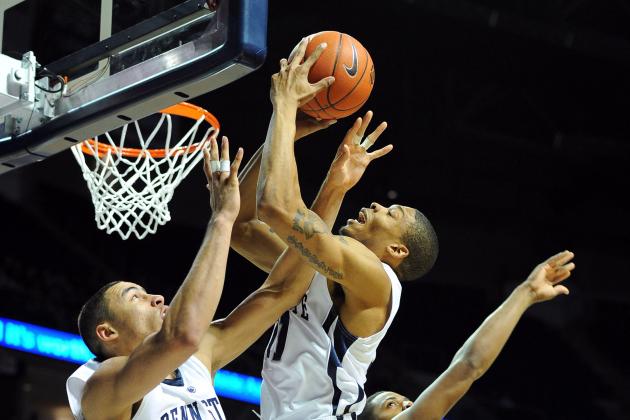 Rich Barnes-USA TODAY Sports

There are not a lot of things that Purdue does well.
They rank in the 200s in most categories, but one thing that this team does exceptionally, is rebound the basketball.
Purdue ranks 14th in the country in rebounds per game with 39.6.
Contrast that with Michigan's 35.3 rebounds per game , and it is easy to see why this task might be more difficult than it sounds.
The Wolverines have been a team that has struggled to rebound the ball all season.
However, the ability to rebound the basketball can be the difference between winning and losing.
In the Penn State loss, Michigan was out rebounded 33-23, and even worse, the Wolverines gave up nine offensive rebounds to the Nittany Lions.
Michigan was again out rebounded in the Michigan State game, 41-28, including 17 offensive boards for the Spartans.
The Wolverines must make rebounding a priority. Not only will this become an important factor at Purdue, but it will also become a problem in March if it has not yet been remedied.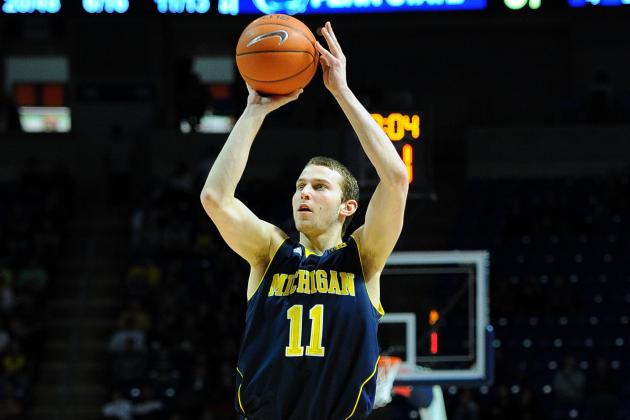 Rich Barnes-USA TODAY Sports

Wisconsin was able to find good shots against Purdue's defense. They just didn't do a very good job of making them.
Ryan Evans was the only Badger to have an average shooting night.
Ben Brust, on the other hand, shot just 2-8 from the three-point line. This is uncharacteristic of Brust, who normally shoots 39.3 percent from downtown.
The Badgers as a team shot 28 three-pointers, but only made six of them.
Michigan will look to step up where Wisconsin faltered.
The Wolverines boast four players (Trey Burke, Tim Hardaway Jr., Nik Stauskas and Glenn Robinson III) that shoot over 35 percent from the three-point line.
Stauskas in particular, must utilize his ability as a sharpshooter to punish Purdue's defense.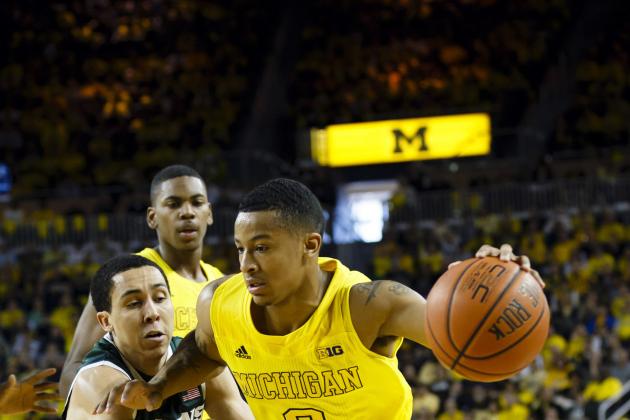 Rick Osentoski-USA TODAY Sports

Purdue simply does not have the firepower to keep up with Michigan, if the Wolverines run the floor the way they are capable of.
Michigan puts up an average of 25.4 points on the break, and is at its best when it can keep the score closer to the 70s or 80s.
Purdue's wins normally come when they can control the pace of the game.
In their win over Wisconsin, the Boilermakers were most successful once they gained the momentum. Purdue was able to slow the game down and find the shots they wanted around Wisconsin's defense.
If Michigan is smart about their game plan, they will not allow Purdue to slow the tempo down as they did against Wisconsin.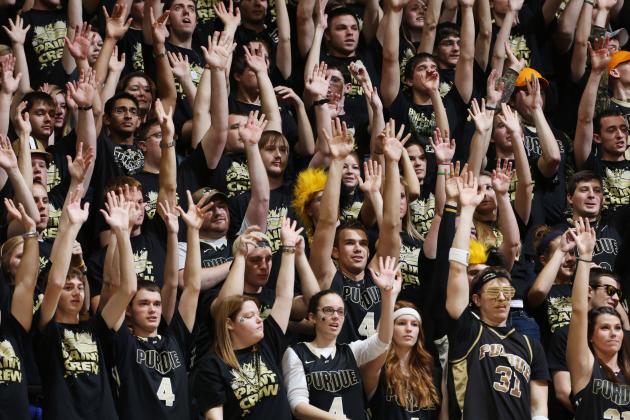 Brian Spurlock-USA TODAY Sports

The "Paint Crew" will be out and loud for the Michigan game.
With the momentum that the Boilermakers got from its win over a top Big Ten team such as Wisconsin, the students at Purdue have got to be smelling a potential upset at home.
It will be imperative for Michigan to come out and quiet the crowd before the 12-minute mark in the first half.
Crowds tend to lose excitement by this point, and if Michigan can put up a double digit lead, it will have a much easier time keeping Purdue at an arms reach.