Real Madrid Beats Manchester United: Red Card Was Justifiable (Update)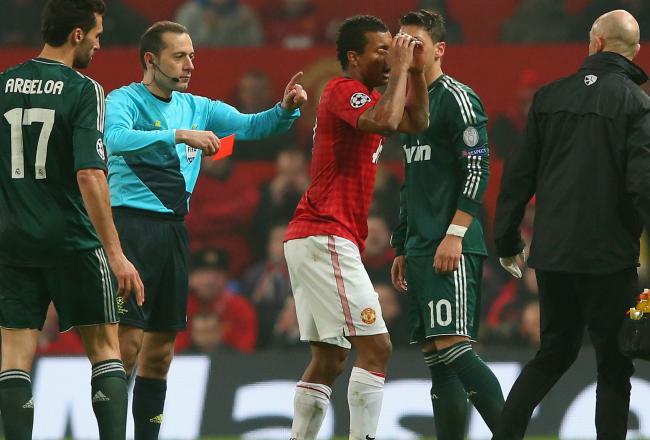 Alex Livesey/Getty Images
Real Madrid beat Manchester United in their Round of 16 round match, knocking out the Premier League runaways with a 2-1 win at Old Trafford.
The Red Devils were ahead 1-0, 2-1 on aggregate with a road-goal in their pocket, when Turkish referee Cuneyt Cakir sent off ManU's Nani just before the hour mark.
The transgression immediately conjured up memories of the 2010 World Cup Final when Dutch destroyer Nigel de Jong raised his boot to a similar level and planted it firmly in the chest of Xabi Alonso.
My recollection of that event is that everyone, right down to the dodge-ball loving PE teacher who hates soccer, thought de Jong committed an aggravated assault and deserved to watch the rest of the World Cup Final from the bench in front of his locker.
Sure, Nani's tackle was not identical to de Jong's. For one thing, de Jong ran straight into Alonso while Nani made contact from the side as Real Madrid defender Álvaro Arbeloa came from Nani's blind side.
But there is no need to compare the severity of these two offenses because both of them fall under the same rule, Law XII-Fouls and Misconduct:
A player who intentionally commits any of the following...offenses: (a) kicks or attempts to kick an opponent; (c) jumps at an opponent; (d) charges an opponent in a violent or dangerous manner;

A player shall be sent off the field of play and shown the red card, if, in the opinion of the referee, he: (n) is guilty of violent conduct; (o) is guilty of serious foul play
Obviously this language leaves a lot of room for interpretation. When is a jump "violent or dangerous?" When does the infringement rise to the level of "violent conduct" or "serious foul play?"
And that's the point.
These are judgment calls and in our human reality this means that people may not agree on the proffered judgment. That doesn't make the judgment any less valid, the Laws of the Game specifically require a judgment by the referee.
Some times others will agree with the judgment, some times they will not.
Most people thought de Jong's karate kick was a clear red card offense, while Nani's offense looked tame by comparison.
Maybe both referees were wrong in their judgment.
Maybe.
Forget the maybes. In both cases, the offending player violated the Laws of the Game and raised the possibility that the referee would judge the offense to be "violent" or "serious" and thus were deserving of a player disqualification.
In the 2010 World Cup, the referee elected not to make a decision that would impact the game in the first half. In the Champions League game at Old Trafford, the official followed UEFA guidance and bravely made a decision that would impact the game.
Like I tell my players, don't put yourself in a position where the referee must make a call. As soon as you do that, anything can happen...and usually does.
Update (4/6)
Red Devil alumnus Roy Keane apparently agrees with me:
Any time I got sent off in my career, I always thought, 'Did I give the referee a chance to send me off?' If the answer is yes, then it is out of your hands. Everyone is upset about it and United are slightly unlucky to go out, but it's dangerous play. Whether he meant it or not is irrelevant. It was dangerous play, red card.

Whether the referee was brave or not, it was the right decision. Let's not forget that Nani is quick to go down, he is not always the bravest boy.
This article is
What is the duplicate article?
Why is this article offensive?
Where is this article plagiarized from?
Why is this article poorly edited?

United States (National Football): Like this team?