Manchester United vs. Real Madrid: 6 Things We Learned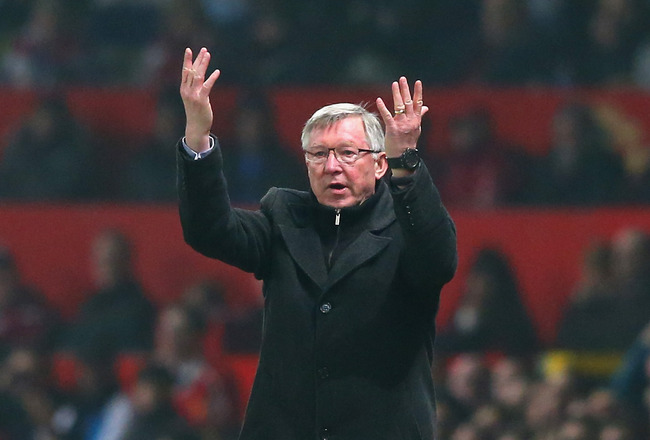 Sir Alex Ferguson
Alex Livesey/Getty Images
Even Jose Mourinho said the "world would stop" to watch Manchester United play Real Madrid, as quoted in The Independent. These are arguably two of the three biggest football clubs in the world. They also have a tradition going back 80 years or more of playing football the way purists love to see it played.
However, this article will be one of the most difficult I shall ever have to write. Even the neutrals and the unbiased would surely claim that this greatest of football matches was ruined by one crass and unnecessary decision.
The Referee Destroyed a Match, Yet Again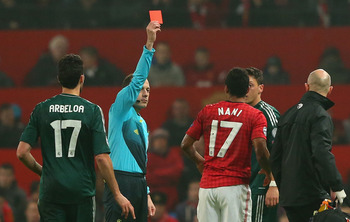 Cuneyt Cakir red cards Nani.
Alex Livesey/Getty Images
There are some referees who think they are big enough to make big decisions. You hope that, like professional footballers, they are also blessed with common sense.
Of course, players as well as referees make mistakes that change matches. There was an instant in the Aston Villa vs. Manchester City match on Monday.
Ciaran Clark dwelled disastrously on the ball, but Edin Dzeko kicked him in winning it from him. Mike Dean put his whistle to his mouth, thought long and hard and let play go on. Tevez scored. Match over.
Who could forget Tom Henning Ovrebo's disastrous performance in the Chelsea vs. Barcelona tie in 2009? He may have since admitted that he got things wrong, but history is written. Barcelona won the Champions League and Chelsea lost a lot of potential income.
But Tuesday night was different. While Alvaro Arbeloa writhed disgracefully on the ground in a manner reminiscent of Rivaldo in the 2002 World Cup, referee Cuneyt Cakir had at least a minute to consider his decision.
Common sense would ask whether there was any element of doubt. If there was, it would say, "Do I need to send him off, and what are the consequences if I do?"
Furthermore, during that passage of time, surely he could consult with his fourth official?
Replays over and over have shown that not only did Nani never take his eyes off the ball and therefore accidentally caught Arbeloa, but also that the Spanish player was scuffed on his arm, not battered in his ribs.
What made it even more of an injustice was that in the first half the same, Arbeloa lunged into the top of Patrice Evra's thigh with his studs up and only got a yellow card.
Let's be clear: Nani is not, and has no record of being, a dirty player. Even allowing for his past histrionics, he is more done to than doer.
But should we really be surprised at the Turkish referee's decision? He may be one of UEFA's elite, but he has now sent off no less than five players from English teams in the last four years.
While ITV's summariser Roy Keane is unlikely to get an invite to Old Trafford for the rest of his life after agreeing with the referee's decision, former senior referee Dermot Gallagher believes it was completely wrong.
At the time, Manchester United were leading 1-0 and therefore winning the tie. The decision completely changed the destiny of the match, broke 70,000 hearts and left neutrals puzzled and dismayed as to why the match could be destroyed like that.
No doubt there will be Chelsea and Manchester City fans that will gloat at the decision, but most decent-minded football fans will still wake up tomorrow shocked.
And Sir Alex was too distraught to even attend the mandatory press conference afterwards, locked in the dressing room with his players who were probably beyond despair.
One of the last poignant shots of this great manager, who had arguably suffered the greatest injustice of his long and honourable career, was of him standing on the touchline, his eyes brimming with tears.
At least Jose Mourinho sought to comfort him and believed that the better team lost.
Sir Alex Sometimes Gets Things Wrong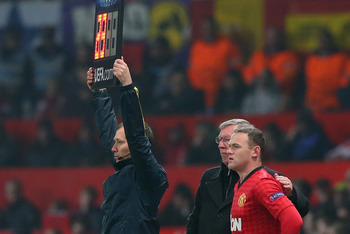 Wayne Rooney
Alex Livesey/Getty Images
There couldn't have been a single Manchester United supporter inside Old Trafford who wasn't staggered when Wayne Rooney was named among the substitutes.
He may have had an indifferent season by his own standards, with his fitness levels not always up to par, but this is United's highest-paid and one of their most senior players.
Even though Nani had one of his more effective games, Rooney has been far more a match-winner than the Portuguese has.
What is more, Rooney could have played in exactly the same position. Nani has no defensive qualities whatsoever aside from making himself a nuisance occasionally, whereas Rooney harries, tackles and runs himself ragged in big matches.
He is also a serious goal threat.
Sir Alex seems to like confounding us with his team selections, and even Jose Mourinho couldn't have planned for this one, but surely this was a mistake of equivalent proportions to the 2009 Champions League Final.
The thing is that United, as Sir Alex had conceded, needed to score goals. While they were the better team on the night for 56 minutes, they managed only one goal.
Having excluded Rooney at the start, Sir Alex compounded the error with his substitutions.
Mourinho summed up the situation quickly and two minutes after Nani's dismissal sent on Luka Modric, who transformed Real Madrid's prospects and scored one of the goals with a stunning strike.
But it took Sir Alex until the 73rd minute to adapt to the situation. United held out until the 64th minute, but surely they could have had a chance of holding on if Jonny Evans had been brought on for Robin van Persie as soon as Nani departed?
But Sir Alex Got His Tactics Right Until Nani Was Sent Off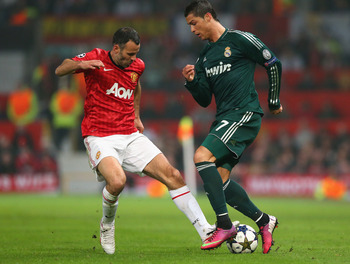 Giggs and Ronaldo
Alex Livesey/Getty Images
Some might have thought that Sir Alex was being a sentimentalist by selecting Ryan Giggs to start, but his decision was vindicated almost from the off.
Deprived of Phil Jones, who had marshaled Cristiano Ronaldo so well in Madrid, he could have put Jonny Evans in central midfield. But Giggs was a masterstroke. He helped contain Ronaldo once again, but was a key part of United's creative spark for the entire match.
Not only that, but even after Rafael had to be withdrawn from the same flank with exhaustion, Giggs was still purring across the pitch at 90 miles per hour.
Remarkable.
The flexible 4-2-3-1 turning into 4-4-2 as needed was brilliantly executed, and for almost 70 minutes, Madrid struggled to break United down while the latter had more chances on goal.
The possession statistics do not tell the story because Real Madrid had plenty of it for sure, but United's running and covering left them wondering what on earth to do with it.
Ronaldo Would Be Welcomed Back at Manchester United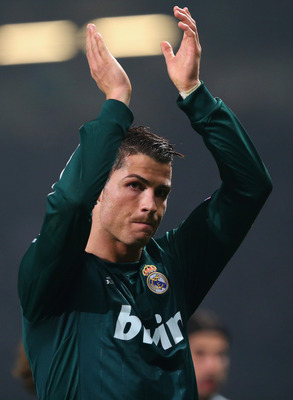 CR7 comes home.
Alex Livesey/Getty Images
His humble lack of celebration for his winning goal was not the only sign that Cristiano Ronaldo was deeply moved by the welcome the Old Trafford crowd gave to its returning hero.
Not since his namesake destroyed United with a hat-trick for Real Madrid has there been anything approaching the tribute given to the world's greatest footballer.
If the Portuguese star was in any doubt as to whether he should return to Manchester United this summer or before his contract runs out, then surely his mind should be made up by the stunning tribute of the faithful.
Whatever the sad circumstances of United's demise, Sir Alex Ferguson asked in his programme notes and the Old Trafford crowd delivered—the most noise and best support in many a year.
Starting with the waving of 18,000 flags and the passing of two massive tribute flags at each end of the ground, and finishing with singing to the very end, the crowd deserved better than the rough justice it got.
The manager's fiery determination, the response of his gutted players and the magnificent crowd will surely drive United to a Double that should have been a Treble.
And who knows, some time soon the Treble may be on again when their prodigal son returns.
The Young Players Show That United Have a Bright Future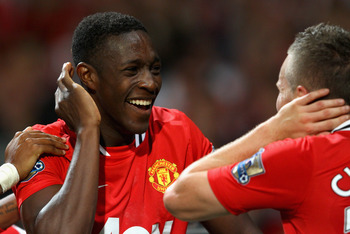 Danny Welbeck and Tom Cleverley
Alex Livesey/Getty Images
Danny Welbeck, Tom Cleverley and Rafael once again rewarded their manager's massive trust and belief with strong performances.
From the moment he stopped diving into tackles in the first leg and for the rest of the tie, Rafael has come of age to the extent that he will surely become one of the world's great wing-backs?
Anderson has been preferred to Cleverley recently, but surely that will stop after this performance? Some of us could see that Carrick-Cleverley is the partnership to take United's midfield forward, from early in the season. Hopefully Sir Alex gets the point now and will pair them up on Sunday?
And as for Danny Welbeck. If he could only add more goals, he would be some talent, for United and England, for many years to come.
Never overfaced throughout the tie, he led the line so well that he put the disappointing van Persie in the shade in both matches.
If Sir Alex can develop young talents like Adnan Januzaj, Nick Powell and Angelo Henriquez in the same way, United have a very bright future indeed.
Luka Modric Can Be the Next Paul Scholes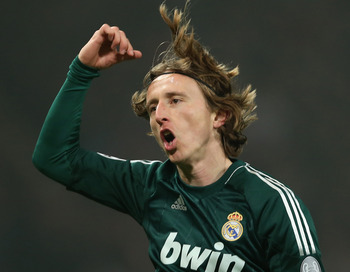 Luka Modric
Jasper Juinen/Getty Images
In a bittersweet irony, the player that Sir Alex praised and coveted for so long transformed the match and delivered the stake to United's heart.
Wouldn't it be the ultimate twist if Luka Modric came to United via Real Madrid after Daniel Levy had steadfastly refused to sell him to Spurs' rivals?
Especially as Zeki Fryers signed for Spurs via Standard Liege, much to Sir Alex's fury.
And as to Modric being the new Paul Scholes, watch this space later in the week...
Keep Reading

Manchester United: Like this team?