PGA Tour's Hottest and Coldest Golfers Heading into Week of March 5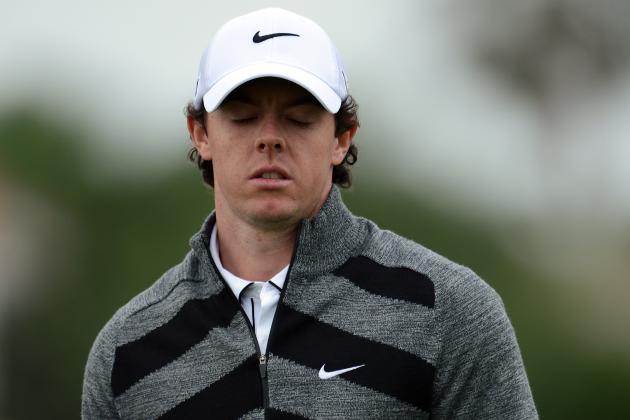 Stuart Franklin/Getty Images

Michael Thompson picked up his first win on the PGA last week at the Honda Classic, but he still isn't one of the Tour's hottest golfers.
It takes more than one solid performance to make this list, and in Thompson's last event before the Honda, The Northern Trust Open, he finished dead last.
Also not on this list but worthy of consideration are the Golf Boys, who dropped a hot new single titled 2.Oh.
Read on to find out who made this cut, whose games are going in the right direction and whose swings are failing them.
Begin Slideshow

»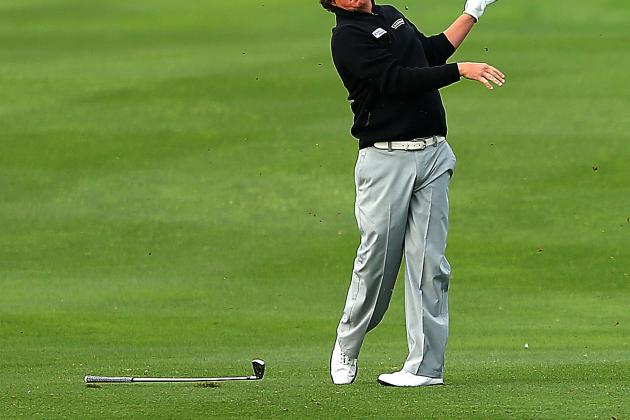 Mike Ehrmann/Getty Images

Jason Dufner propelled himself up the world golf rankings with an amazingly consistent 2012, only failing to crack the top 30 in five tournaments.
Things have been in a bit of a decline, however. Dufner has finished outside of the top 30 in each of his last three events. He was 51st last week and was eliminated in the first round at the Accenture Match Play Championships, and he didn't make the cut in Phoenix.
While Dufner remains incredibly accurate off the tee, his approach game has slipped just a little, and his putting has been off.
Dufner is currently 110th in strokes gained putting. The good news for Dufner is that if he can fix his putting stroke, he should be just fine. The bad news is that he has to fix his putting stroke.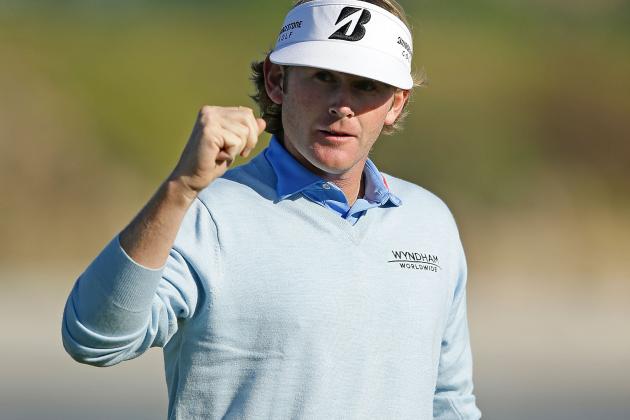 Ezra Shaw/Getty Images

We haven't forgotten about you, Brandt...but we're close.
Snedeker hasn't been seen on the course since Feb. 10, when he won the Pebble Beach Pro-Am. That was his first win of the season. In his other four starts, all he did was capture two seconds, a third and a 23rd-place finish.
However, that hot hand is cooling off while Snedeker rests his aching ribs, and he has already pulled out of this week's Cadillac Championship.
In the above-linked article, Snedeker makes it sound like he is close to returning, and his next scheduled event is the Arnold Palmer Invitational on March 21.
That will leave Snedeker with over a month layoff, which isn't that far out of the ordinary for this early in the season, and he will still have three weeks to get ready for the Masters.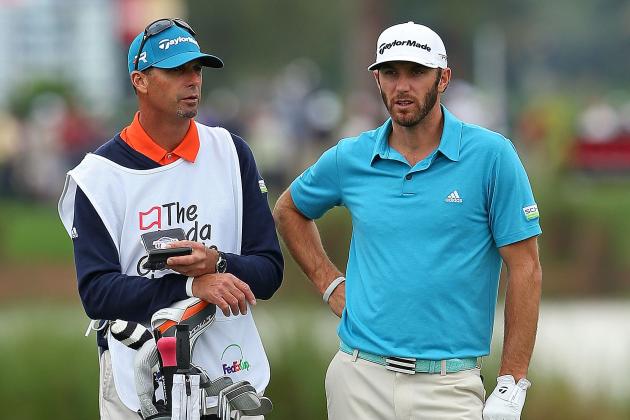 Mike Ehrmann/Getty Images

No, Dustin Johnson, you aren't supposed to be here! You opened up at the Honda with a solid 66, and you were ready to put the slump behind you.
Unfortunately, Johnson's return to form was quite temporary. Johnson got worse with each passing day, as he fired a 71, 74 and then closed with a 75 to finish the tourney in 46th.
The 66 to start the tourney was certainly a great sign. In his four events leading up to the Honda, Johnson had missed two cuts, finished 51st and was bounced from the first round at the Accenture with four holes to go.
During this slump, Johnson has been striking the ball well; it just isn't always straight. When he has been errant, it is typically a pull to the left.
Johnson looked much better this past weekend, as he is starting to readjust his swing, but he clearly still has to gain some consistency.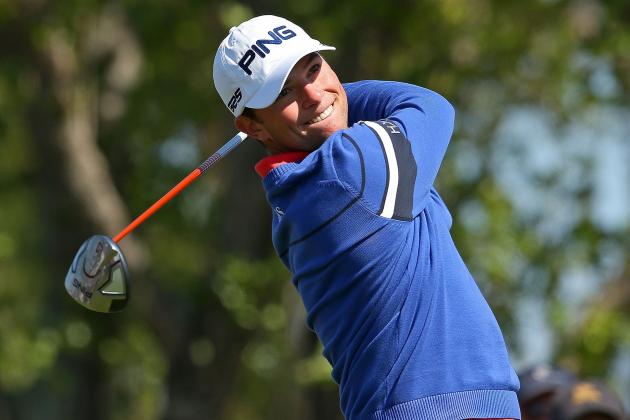 Mike Ehrmann/Getty Images

Being a PGA Tour rookie is far harder than Luke Guthrie is making it look.
Guthrie finished third this past weekend to move himself to 25th on the money list. He had played in six events leading up to the Honda, where he missed the cut in two and finished in the 20s in the other four.
I'm stunned by his success, but maybe I shouldn't be.
Guthrie played in three PGA events last year to make his PGA debut, and he finished in the top three in all three. He then finished off the year on the Web.com Tour and wound up second on the money list while securing his PGA Tour card for this year.
It will be interesting to see if he can parlay this great start into an excellent career. There is nothing about his game that jumps out. He is just solid all around, and so far his play has drawn comparisons, in my mind, to Matt Kuchar.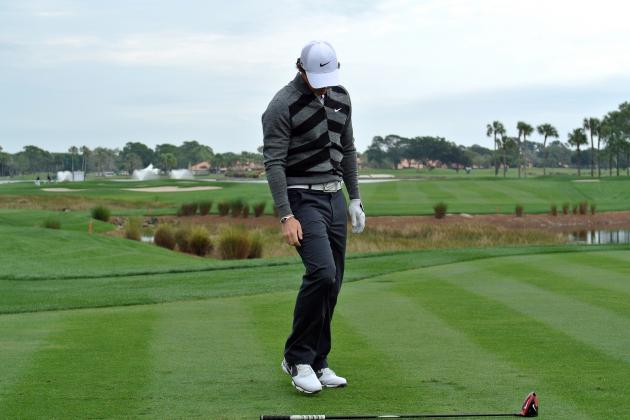 Stuart Franklin/Getty Images

It's funny how pain is a lot more painful in the midst of a terrible round of golf.
This past Friday, McIlroy was seven over through eight holes for his second round in Palm Beach, Fla., when he hit a ball into the water and walked off the course. The official reason for his departure was wisdom tooth pain.
However, his sinking play was likely causing him even more grief.
In his limited appearances this season, Rory has missed the cut at Abu Dhabi, was bounced in the first round at the Accenture and exit early from the Honda.
It has been a disastrous start for the world No. 1 as he adjusts to his Nike clubs.
To his credit, in an interview with Sports Illustrated via Bob Harig on ESPN, McIlroy admits withdrawing was a mistake, and I'm certainly willing to give the 23-year-old a pass on this one.
He has been gracious with his time in the past and hasn't been one to run from tough questions. However, I am worried about what this says about his game.
Rory is completely lost. While it is natural to attach his problem to his switch to Nike clubs, Rory isn't going to do that. Harig also passed along this quote from McIlroy:
The driver and the ball took some time to get used to, but I had weeks at Nike before the start of the year, and I feel comfortable with all the equipment. The problem is, I'm bringing the club too upright on the backswing then dropping it in too much on the downswing.
So, other then his back and downswing, his stroke is in great shape.
This is not going to be an overnight fix. Rory has some serious work to get his game right. Let's just hope he doesn't walk away from the challenge.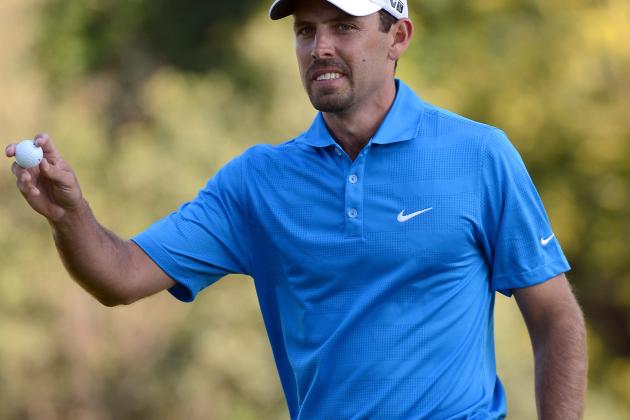 Harry How/Getty Images

Force me to name the 2013 Masters champ right now, and I'm going with 2011 champ Charl Schwartzel.
The guy is on fire. I thought he might be coming back down to earth after he was bounced in the first round of the Accenture. Schwartzel had different plans.
He finished in ninth place at the Honda. While that result is below the standards he had been setting for himself, it was a strong performance in a wild tournament.
As for the standards Schwartzel had been setting, they are lofty. In his six events (including his European stops) leading up to the Accenture, he had not finished outside of the top five, and that included two wins and two second-place finishes.
Schwartzel is in a groove right now, and while a lot can change in a hurry in one's golf game, he has all the looks of a golfer ready for a huge year.