Indiana vs. Michigan: The 5 Best Subplots in B1G Showdown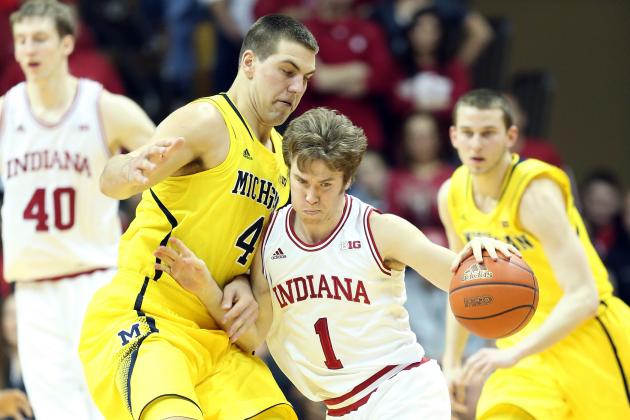 Andy Lyons/Getty Images

In the wake of Indiana's Tuesday night loss to Ohio State, Sunday's regular-season finale at Michigan takes on a new importance.
IU missed the chance to sew up the Big Ten title outright with a win at home. The defeat cast a pall over Senior Night festivities, including the honoring of guard Jordan Hulls (pictured, with ball).
Michigan hasn't missed any such opportunities all season, carrying a 17-0 home record into the game.
The storylines are thick and heavy as the season winds down, and this game is no exception. Check out some of the angles surrounding the Hoosiers and Wolverines this weekend.
Begin Slideshow

»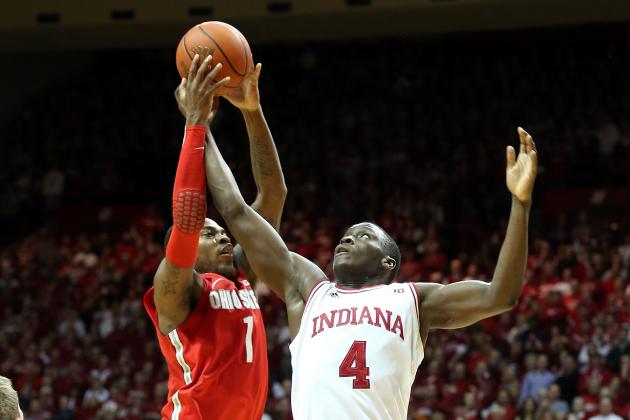 Andy Lyons/Getty Images

Ohio State didn't just keep itself alive for a piece of the Big Ten title, which would be its fourth in a row.
Michigan State, Wisconsin and Michigan all remained within striking distance thanks to Indiana's loss. While the Badgers and Spartans face an elimination bout on Thursday, Michigan controls its own destiny. What's more, all five potential contenders play their season finales on Sunday.
If no one slips up on Sunday, a Michigan victory would cause a four-way tie atop the conference. The four teams would all receive first-round byes at the Big Ten tournament, and the largely ceremonial top seed could be the main element up for grabs in Ann Arbor.
The conference's primary tiebreaker is head-to-head winning percentage, and the Wisconsin Badgers are the only team that could top Indiana.
Each contender's current record against the other four:
Wisconsin 3-1
Indiana 4-2
Ohio State 4-4
Michigan 2-4
Michigan State 2-4
Michigan State's win over Wisconsin is not included, since one will no longer be a contender after Thursday, forced into a first-round game in Chicago.
Of course, Indiana can make it all a moot point with a victory. The Hoosiers are still in control for their first outright Big Ten title since 1993.
The crowded top of the Big Ten table underscores the brutal difficulty of this conference race. In a chaotic season, it's only appropriate that the nation's best league take its race down to the final day.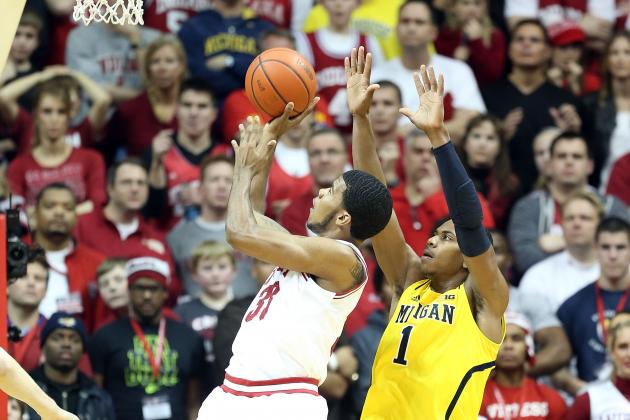 Andy Lyons/Getty Images

While neither Indiana nor Michigan has a chance of missing the NCAA tournament altogether, both teams will still be anxious observers on Selection Sunday.
Indiana remains in the running for the tournament's top overall seed and hopes to position itself for a run through the Indianapolis regional. Michigan also would love a chance to play its way through Indy, potentially as a top seed.
Both teams' top-seed credentials were analyzed here.
The Wolverines desperately need the victory over the Hoosiers to keep any valid claim on a No. 1 line. In addition, the Maize and Blue could run into IU in the Big Ten tournament, and two victories could place Michigan firmly in the No. 1 discussion.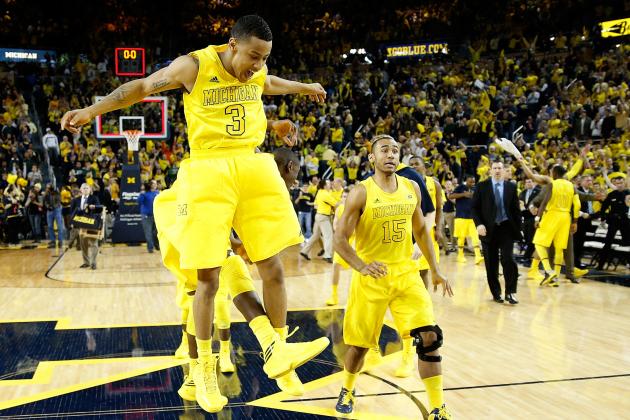 Gregory Shamus/Getty Images

A Michigan victory on Sunday would put the cap on a once-in-a-generation accomplishment, improving the Wolverines' home record to 18-0 this season.
No Wolverine team has achieved a perfect home record since the 1976-77 squad finished 14-0 at home and 26-4 overall.
That team, coached by Johnny Orr and led on the court by future pros Rickey Green and Phil Hubbard, eventually fell to UNC-Charlotte in the Elite Eight.
The teams from 1947-48, 1964-65 and 1973-74 are the only other Michigan teams to sweep the home schedule. Each at least made a regional semifinal, with the 64-65 team losing to UCLA in the national title game.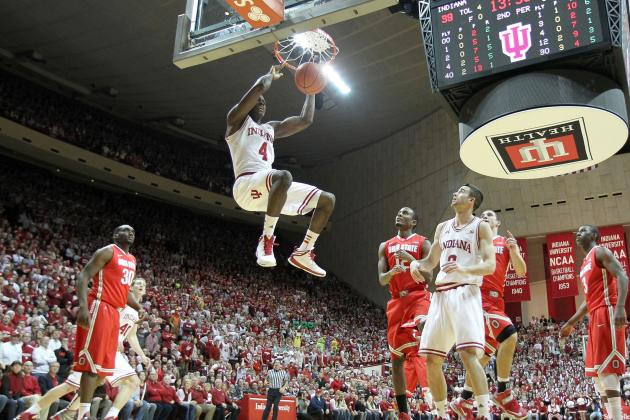 Andy Lyons/Getty Images

Michigan's Trey Burke was one of the preseason favorites for Big Ten Player of the Year. Indiana's Victor Oladipo, not so much.
As the season's worn on, Oladipo's portfolio of SportsCenter highlights, his suffocating defensive abilities and his absurd scoring efficiency (70.2 true shooting percentage, third-highest in America) had media and fans all but engraving his name on the trophy.
Then he struggled against Ohio State, scoring only seven points before fouling out. He did, however, keep making defensive plays, smacking two impressive blocks.
Meanwhile, Burke remains second in the Big Ten in scoring and leads the league in assists and assist-turnover ratio. He has yet to score less than 15 points in any Big Ten game. Michigan's losses to Ohio State and Penn State are the only nights Burke has had more than three turnovers.
With the Wolverines on the ropes Wednesday night at Purdue, Burke poured in 21 points in the final 12 minutes to rally Michigan from a 12-point deficit. Without those heroics, UM would be out of the title hunt completely.
Oladipo helped hold Burke to 9-of-24 shooting when the Wolverines lost to IU in Bloomington last month. He may need to make Burke's life similarly miserable Sunday to come away with the award.
For Burke, a big game and a Michigan victory could result in a third windfall, one with hardware attached.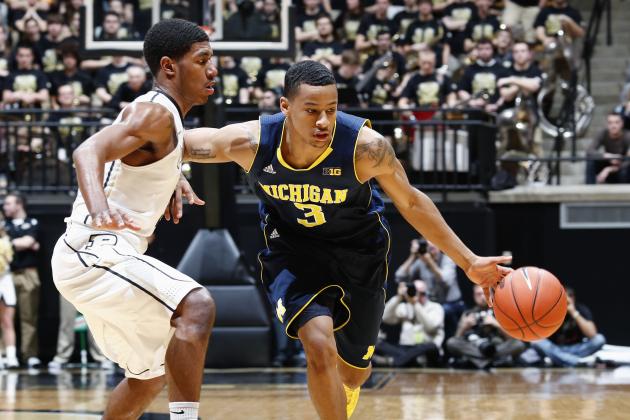 Joe Robbins/Getty Images

The annual exodus of talent keeps college basketball fresh and exciting, but at the same time, certain players leave major voids when they depart. Indiana has several such players on this year's roster, and Michigan has one as well.
After his freshman season, Trey Burke flirted with the NBA, going so far as to declare without hiring an agent. His play this year has only helped his professional stock, and Wolverine fans should be inwardly preparing to watch him for the final time at Crisler Center.
Indiana fans likewise may not like the feeling that they've seen the last of Cody Zeller and Victor Oladipo at Assembly Hall, but it's a distinct possibility. Considering Burke's dalliance last year, the odds of him turning pro for keeps should be considered even greater than those of the IU stars.
Zeller and Oladipo are both rated as lottery prospects by NBADraft.net and DraftExpress.com, but Burke flies just under that threshold. A deep NCAA tournament run could only raise his draft standing.
For more from Scott on college basketball, including this week's players to watch at every conference tournament, check out The Back Iron.