Lukas Podolski: Assessing His Contribution for Arsenal so Far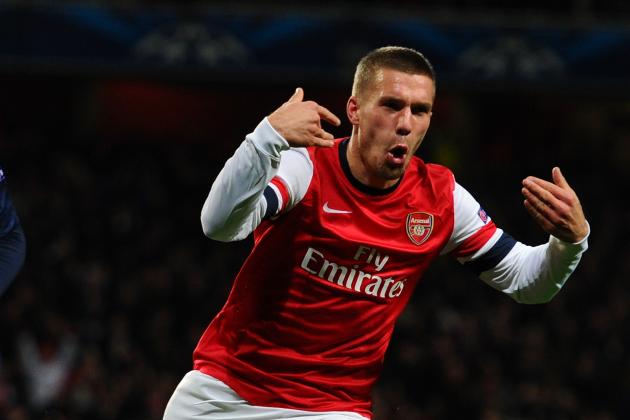 Mike Hewitt/Getty Images

When Lukas Podolski signed for Arsenal it was generally hailed as an astute purchase.
Here was an internationally-renowned striker with over 100 caps for Germany, snared for a reported £10.9m. At 26, he seemed set to give Arsenal the best years of his career.
It started well, too. Podolski hammered home Arsenal's first goal of the season against Liverpool and immediately showed a ruthless streak in front of goal.
However, since then he has been regularly relegated to the substitutes' bench.
Over the next few slides we assess Podolski's impact at Arsenal thus far.
Begin Slideshow

»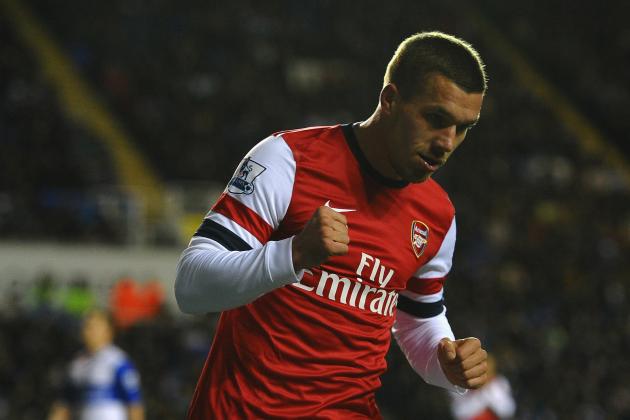 Laurence Griffiths/Getty Images

Lukas Podolski is the best finisher at Arsenal football club.
Theo Walcott's devastating form has seen him emerge as a genuine rival for the title, but there is no-one the Arsenal fans would rather see a chance fall to than the German.
Like Robin van Persie before him, there is something beautifully efficient about the German's shooting: he doesn't over-complicate it. When required, he simply puts his put through it, often with spectacular effect. His goals against Montpellier and West Ham are among the best Arsenal have scored this season.
Podolski's 29 starts have brought 13 goals. For a player who has played almost all his football from a relatively disciplined position on the left flank, it's a remarkable record. He has made a big contribution to the Arsenal forward line as they attempt to cope with the loss of Van Persie.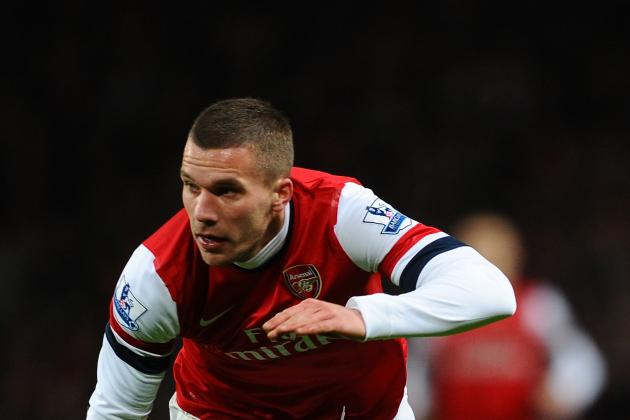 Laurence Griffiths/Getty Images

One aspect of Lukas Podolski's game that is occasionally overlooked is his ability to create goals.
He is no Santi Cazorla or Jack Wilshere. He is unlikely to split the defence with an expertly-threaded pass. However, give him the ball in wide areas and his delivery tends to be spot-on. Like his shooting, it is effective and clinical.
He has had particular success in supplying Olivier Giroud. Indeed, Giroud's first Premier League goal was the consequence of an outstanding Podolski cross at Upton Park.
Podolski has 10 assists this season: the highest figure in the entire Arsenal squad.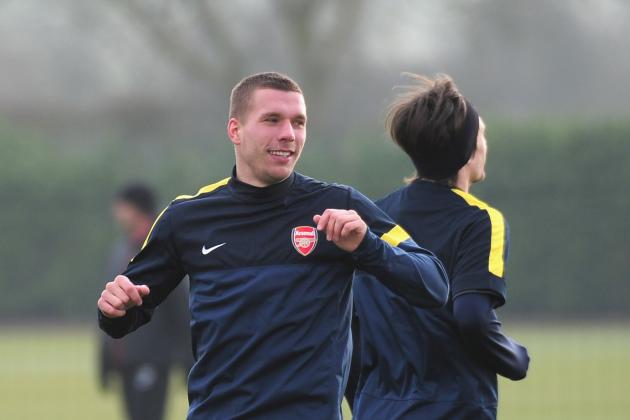 Shaun Botterill/Getty Images

Despite his remarkable statistics, Lukas Podolski seems to have fallen slightly out of favour at Arsenal.
The warning signs were there earlier on in the season: even when he started, Podolski was constantly removed from the action around the 70th minute. Rumours circulated that he was carrying an injury problem, but the club have not been forthcoming on any health issue.
Since Christmas, the situation has worsened. As Arsene Wenger seeks to shore up a porous Arsenal defence, Podolski has been sacrificed to allow the manager to include an extra midfielder.
In Arsenal's last six games, Podolski has made just one start.
Perhaps the problem is that Arsene Wenger doesn't know what to do with him. When he signed Podolski, he talked about playing him through the middle, although that plan was abandoned after one ineffective performance on the opening day against Sunderland.
Now it seems Wenger considers Podolski too cavalier to occupy the left-flank.
Arsenal fans and Podolski alike will be wondering where the German goes from here. At a time when the Gunners need goals to drag them back into the top four, surely a recall is imminent?