Reasons the New York Yankees Are Still the AL East Team to Beat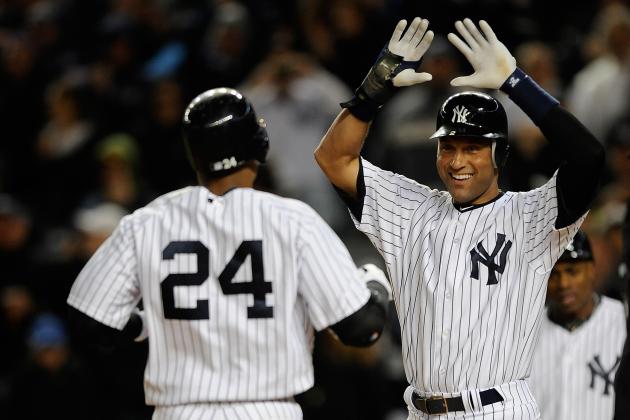 Patrick McDermott/Getty Images

The past six months have been rough for the New York Yankees.
After Derek Jeter went down in Game 1 of the ALCS last season, the Yankees went on to subsequently get swept by the Detroit Tigers in that same series. Once the offseason hit, things went from bad to worse as New York lost Nick Swisher, Rafael Soriano, Russell Martin, Eric Chavez and Raul Ibanez to free agency.
Many Yankee fans took solace in the fact that spring training was around the corner. But after being riddled with more controversy because of Alex Rodriguez and a rash of injuries, Yankee fans began to ponder the team's chances this upcoming season.
With the Blue Jays making headlines after their influx of talent this offseason, the AL East picture became even more crowded than it previously was. Tampa Bay traded away their No. 2 starter but still remains dangerous, and Boston brought in a few pieces after cleaning out the cobwebs last season.
The Orioles remain much intact, but have been touted by some as prime candidates for regression.
Even so, the AL East is crowded with contenders and will be a gauntlet for every team in the division. The Yankees are, surprisingly, the team on the back burner this season. But even after losing key contributors from last year's team and having their superstars go down early with injuries, they still remain the team to beat in the AL East.
Begin Slideshow

»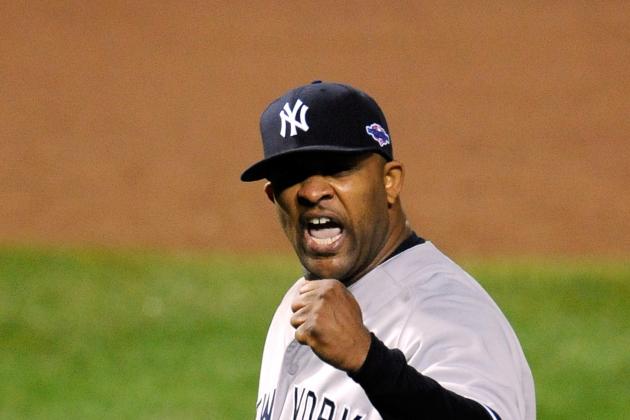 Patrick McDermott/Getty Images

While the term "best" is subjective, the fact remains the Yankees have the deepest, most proven rotation in the division.
The Blue Jays made a splash this offseason by acquiring R.A. Dickey and Josh Johnson, but both are unproven in the American League. The last time Dickey pitched in the American League he was serving up gopher balls out of the bullpen in Minnesota and Johnson has gradually regressed in the past few years.
Whether Johnson and Dickey can pitch well in the hitter-friendly parks of the AL East remains to be seen.
Mark Buehrle is a quality No. 3 starter and Brandon Morrow has potential to be a top starter, but it is a question of if they can stay healthy. Ricky Romero was shelled start in and start out last year, and there is no indication that it was simply a bad year.
Everyone in the Yankees' rotation, though, has proven their ability to pitch in the division. One could argue the Rays rotation is better, but losing James Shields is a significant blow. David Price is coming off a Cy Young Award-winning year, but the staff is young behind him. Matt Moore will enter only his second full season and Jeremy Hellickson is good but not spectacular. Their rotation is top heavy, as their fourth and fifth starters are Jeff Niemann and Alex Cobb.
The Red Sox still have Jon Lester, who will definitely improve after his disastrous 2012, but lack any consistent starter behind him. Clay Buchholz is not a No. 2 starter and Ryan Dempster struggled after being traded from Chicago to Texas mid-season last year. Felix Doubront is nothing to write home about and John Lackey has been a complete bust in Boston.
Baltimore's rotation is average, as Wei-Yin Chen, Jason Hammel, Miguel Gonzalez, Chris Tillman and Jair Jurrgens are a compilation of No. 3-5 starters. Last year's success was mainly based on good luck and the fact opposing hitters had no idea who these guys were.
After a year in the league and a drawer full of tape on them, the Orioles' rotation will likely resemble their rotations of old.
That leaves the Yankees.
They have a defined ace, C.C. Sabathia, a quality No. 2 starter, Hiroki Kuroda, a wily old veteran, Andy Pettitte, and two wild cards filling out their fourth and fifth spots. Phil Hughes struggles at times, but the fact he is the fifth starter in the Yankees rotation alleviates any pressure put on him.
The unknown is Ivan Nova.
Nova has looked like an All-Star at times, but a Triple AAA pitcher at other times. If the Yankees can get consistent production out of Nova, they could not only have the best rotation in the AL East, but the whole American League.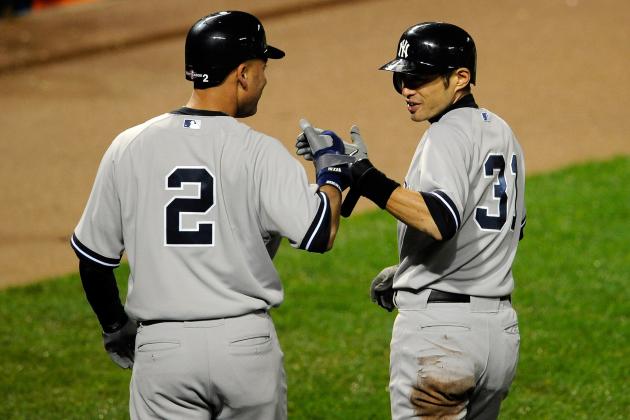 Patrick McDermott/Getty Images

The most important quality many of the other teams in the AL East lack is veteran leadership.
The Red Sox are the team most comparable to the Yankees in this category, but even they do not have the veteran presence of the Yankees. While the age of the Yankees is a detriment in the long run, in terms of helping them this season it is a positive.
Already the Yankees have undergone adversity, losing Curtis Granderson for 10 weeks and Alex Rodriguez for half the season, at best. The veterans on the roster will help guide the team through these types of rough patches, though. Derek Jeter's status for opening day may be up in the air, but what Yankee fan doesn't expect to see him on the field when the season begins?
At every position, except catcher, the Yankees have experience. Kevin Youkilis certainly lacks no experience and should be able to handle the hole left vacant by A-Rod's injury. Ichiro will shift to his natural position in right and has over a decade of MLB service under his belt.
While the Jays, Rays and Orioles are all youthful, they all lack experience. Baltimore and Toronto both lack defined leaders, and most of their players haven't experienced sustained success like that of the Yankees. The Rays have Evan Longoria and Ben Zobrist, but the other players are a revolving door of underpriced utility men.
The fact that the Yankees have so many leaders and veterans will separate them during the grinding stretches of the season.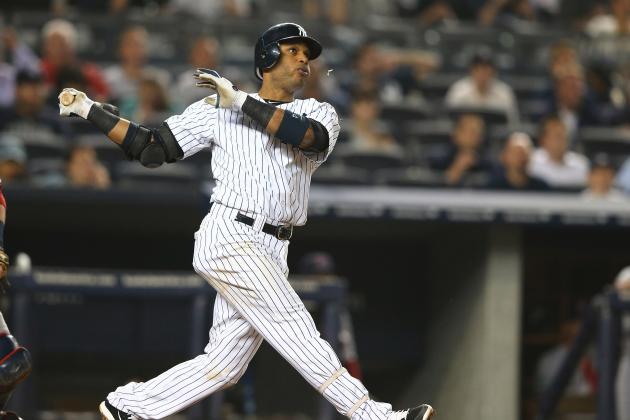 Al Bello/Getty Images

I originally titled this slide "second best lineup," but after looking at all the lineups in the AL East I changed my mind. The Yankees have the best lineup.
Sure, the Yankees have holes at catcher and at center, until Curtis Granderson comes back, but outside of that they are actually solid. When Granderson comes back, which will only be a month into the season, the Yankees will have a dangerous hitter up in nearly every spot. Plus, they have the best hitter in the division, Robinson Cano, and will have a nice balance of power and speed with Brett Gardner back.
Ichiro looked like a different player when he played for a contender last year, and Jeter proved he can still hit at in his advanced age. The Yankees' signing of Travis Hafner in the offseason could prove to be invaluable for this team. Pop flies to right are home runs in Yankee Stadium, so the power-hitting lefty should provide big numbers this year.
The team I originally thought had the best lineup was the Blue Jays. But after comparing the two, and thinking of what I wrote about them last month, I realized they have just as many holes and question marks.
Can Melky Cabrera sustain his success off the juice? Will Edwin Encarnacion repeat his big numbers from last year? Will this be Brett Lawrie's breakout season?
No one knows the answers to those questions.
The Orioles are solid throughout, but is there one hitter in that lineup you'd be afraid to face with the game on the line? Adam Jones is close to that type of player, but there were too many games down the stretch last season when Jones failed to come through in the clutch. Early in the season he was clutch, but towards the end he faded.
Boston's lineup, too, is solid, but they have holes and questions, much like the Yankees. David Ortiz hasn't been able to stay healthy and no one knows if Shane Victorino can get back to being a league average player.
They still have Dustin Pedroia and Jacoby Ellsbury, so they will definitely remain dangerous. This Boston team will surprise people, though, and don't be shocked if they make it back to the playoffs.
I would mention Tampa Bay's offense, but what's there to say besides Evan Longoria is a superstar surrounded by complementary players and Ben Zobrist.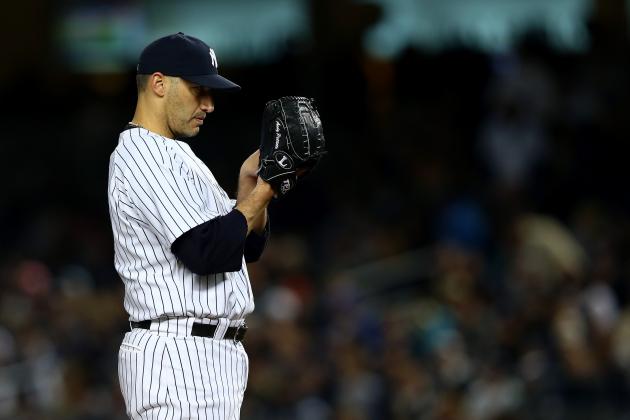 Elsa/Getty Images

As obvious as it sounds, the Yankees are still the Yankees. As long as they keep putting on pinstripes, I, and every other Yankee fan out there, will keep believing they will continue to win games.
There is no science behind it, it's just a fact. The Yankees will win games because they are the Yankees.
Opposing teams fear the Yankees, immortalizing them and admiring them from afar. Likewise, opposing players will not admit it, but they are intimidated by the Yankees. Whether it be Derek Jeter running out to take his position at short, Andy Pettitte staring hitters down over the brim of his glove or Mariano Rivera coming in to "Enter Sandman," the Yankees have the "it" factor other teams don't have.
It seems hard to believe, but the fact that the Yankees are the Yankees is worth a few wins every year.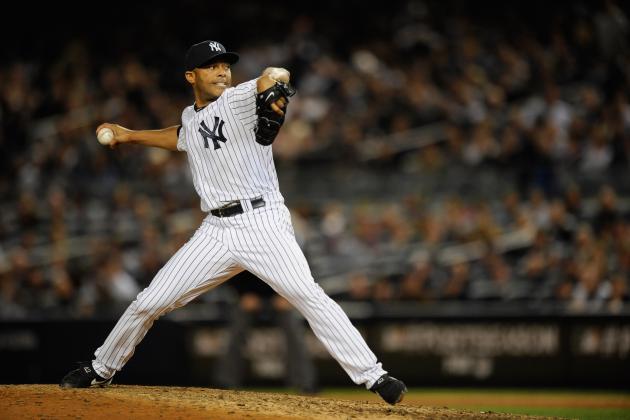 Patrick McDermott/Getty Images

It is only fitting to have Mariano Rivera close things out (how corny was I for doing that?).
Rafael Soriano filled in well during his absence, but Rivera will be back after missing the majority of last season with a torn ACL. Given the will and determination of Rivera, no one expects him to be lesser of a player than he was pre-injury.
While he may have to work off the rust early in the season, indication out of Yankees camp is that Rivera is already looking "treacherous as ever." Rivera will anchor a bullpen that lost Soriano, but returns many of the other key guys from last year.
David Robertson, Boone Logan and Joba Chamberlin will all be back. As will lefty specialist Clay Rapada and bizzaro right-handed specialist Cody Eppley. Both struggle against hitters of the opposite hand but they each handled their respective roles exceptionally.
Despite struggling as a closer, Robertson is one of the best setup men in the game. He has a propensity to work himself into jams, but has, luckily, been able to work himself out of them. Yankee fans would surely appreciate him becoming more consistent, so they wouldn't have to pull their hair out every eighth inning.
The Yankees had one of the best bullpens in the league last year. With Rivera coming back this year, it only will get that much better.