Chelsea Owner Roman Abramovich's Interview List for the Club's Next Manager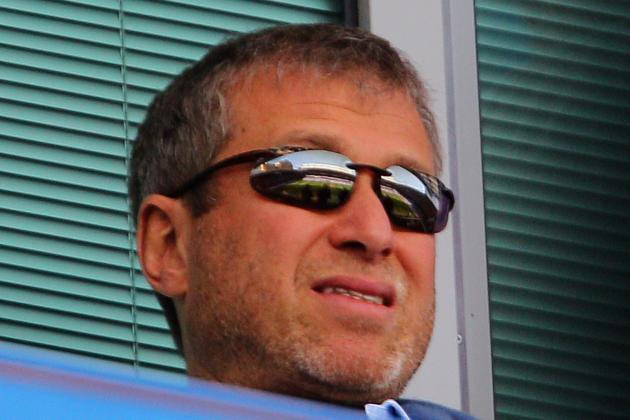 Clive Rose/Getty Images

Roman Abramovich does things his way. And his way includes a managerial merry-go-round unlike any other in the Premier League. It spins fast, and it tosses off the biggest names in the business. Mourinho, Scolari, Ancelotti—they are just three of the 10 men to manage the Blues since Abramovich bought the club in 2003.
But it's an approach that has delivered a period of success unparalleled in Chelsea's history.
Abramovich is the boss, and as his inner circle is responsible for player transactions, it falls to the manager to simply coach. And if the results don't follow, the coach is replaced and Abramovich tries a different coach. About every other manager he appoints takes home at least one major honour.
"We do it our way; the other clubs do it their way. And it seems to work so far, so long may it continue," goalkeeper Petr Cech told the Daily Mail when asked about the ever-present uncertainty regarding the Chelsea manager, whomever he may be. "You can argue with a lot of things, but in the same period of time we have won more or less the same number of trophies as Manchester United."
Actually, Chelsea have won one more piece of silverware than the Red Devils during the Abramovich era, so don't expect the manager who replaces Rafael Benitez in the summer to stay on any longer than his predecessors. It's not the Abramovich way.
Still, he has to appoint someone, and whomever that manager ends up being he'll be tasked with guiding an incredibly talented but mostly inexperienced group of players to maturity.
The new, young core of David Luiz, Ramires, Oscar, Eden Hazard and Romelu Lukaku could do with some stability as they come of age together at Stamford Bridge, but don't count on it happening. There are too many tantalizing managerial options out there, and over time Abramovich will be tempted by almost every one of them.
Following are the managers—each currently employed elsewhere—that could well be approached by the Russian over the summer. It's an interview list in ascending order, from the least likely to the most. And not to give anything away, but a familiar face awaits at the end.
Begin Slideshow

»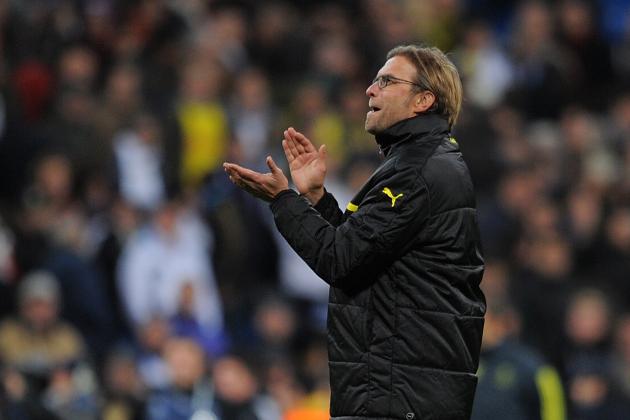 Denis Doyle/Getty Images

About a month ago Klopp, the current Borussia Dortmund boss, told the Evening Standard he would "definitely stay" at the Westfalenstadion until his contract expired in 2016.
"Everybody thinks I say it, that if a club like Chelsea or Real Madrid come in for me I will go," he said. "This is something I can't change, but they will see."
Of course, all his comments did was acknowledge Chelsea in name, and as he cannot control his own destiny at Dortmund he may find himself entertaining offers, anyway.
That said, Klopp is an icon at his current club, with which he has delivered back-to-back Bundesliga titles. But this season's shelf on the trophy cabinet will likely remain bare, and one can never tell what the next few months will bring in professional football.
Klopp has managed talented, up-and-coming players his whole career, but he has also enjoyed stability wherever he has been. The lack of it at Stamford Bridge could well be a deterrent.
Sky Bet odds: 25/1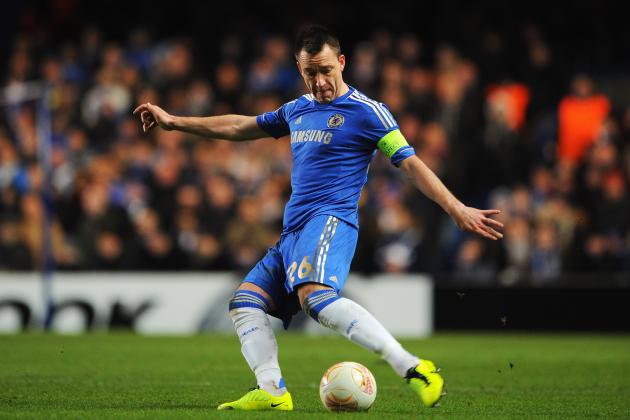 Michael Regan/Getty Images

Don't laugh. He is one of the bookies' favourites, and Sky Bet, for example, has him as high as 16/1 to replace Benitez. Those are better odds than they're giving the likes of Roberto Martinez, Guus Hiddink or even Klopp.
Of course, the current Chelsea skipper would have to retire from professional football first, and at 32 years of age you'd think he'd have a bit more left in the tank. But niggling injuries have limited him to just seven Premier League starts so far this season, and with his England career already behind him he might not be that far away from his next challenge.
What we know is that Terry is a company man—Chelsea through and through. He might not manage the team next season, but his time will almost certainly come.
Sky Bet odds: 16/1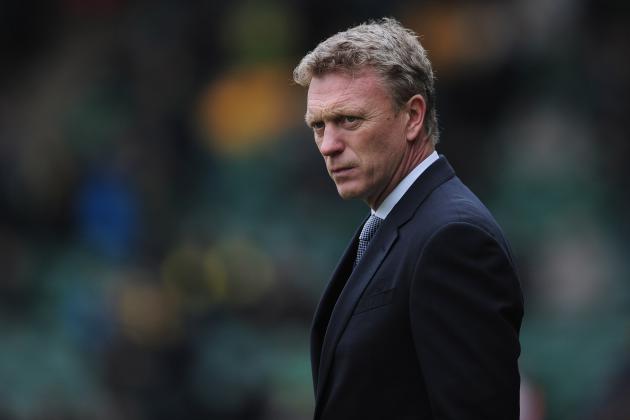 Jamie McDonald/Getty Images

Later this month, David Moyes will celebrate 11 years in charge at Everton—a decade and a bit that, while not yielding a single trophy, has widely been held up as a success given the competitive consistency of his teams despite a lack of resources.
The Toffees have punched above their weight for years, and Moyes—the highest-paid employee at Goodison Park—is the major reason why.
But even he has conceded it may be time to move on.
His contract expires at the end of the season and he has refused to enter negotiations for an extension until after the final ball has been kicked.
"I've spoken with the chairman...I want to see how the team do," he told the Independent. "I want to see how we do in the cups; I want to see how we do in the league, and it's more than likely I won't make a decision until the end of the season."
He will have no shortage of suitors, and Chelsea will almost certainly be one of them. But they won't be the only one.
If Arsenal were to dismiss Arsene Wenger, the opening at Emirates Stadium would likely seem rather more appealing to Moyes than the one at Stamford Bridge. The 49-year-old is used to being the man at Everton—something he certainly wouldn't be at Abramovich-centric Chelsea—and he would likely require assurances that his position would be secure, at least for a while.
Although, we know how flimsy promises tend to be in this business.
Sky Bet odds: 6/1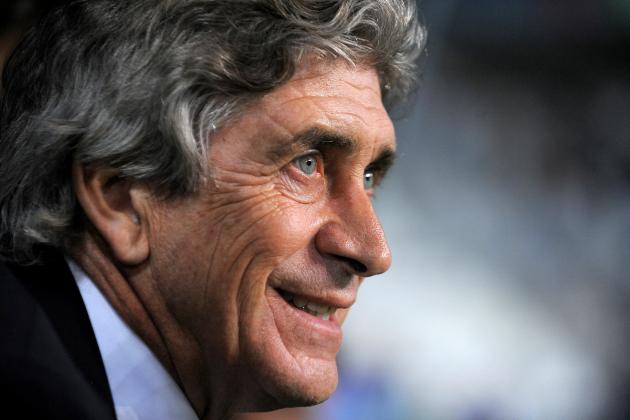 Denis Doyle/Getty Images

This appointment would be typical Abramovich, which is why it's been gaining so much traction in both the English and Spanish press.
Manuel Pellegrini, who against all financial odds has taken Malaga into the last 16 of the Champions League, managed Real Madrid for a year before moving south to Andalusia. Despite winning 75 percent of his 48 games in charge he was sacked three years ago this spring to make room for Jose Mourinho.
A worldly manager who could nevertheless be consigned to the scrap heap if he didn't work out, Pellegrini seems a perfect fit for the instability at Chelsea. Goodness knows he's already put up with plenty of it over his career.
Sky Bet odds: 6/1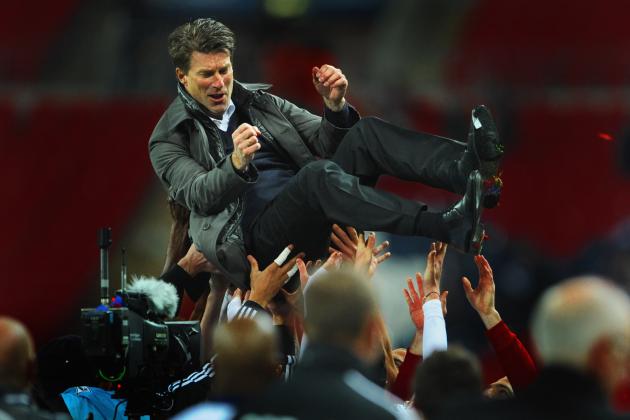 Michael Regan/Getty Images

That managerial factory they've got going in south Wales looks to have churned out another beauty. Since 2009 Swansea have graduated two managers to other Premier League clubs (Roberto Martinez to Wigan; Brendan Rodgers to Liverpool), and present bench boss Michael Laudrup could be beating a similar path to England a few months from now.
Laudrup, 48, instills in his teams the same qualities of elegance and grace that defined his career as a player with clubs such as Juventus, Barcelona and Real Madrid. Last month he guided free-flowing Swansea to League Cup glory at Wembley, and his combination of success and attractive football will no doubt have his name in the minds of several club chairmen over the summer.
Abramovich has always wanted Chelsea to be loved. It has obsessed him. And while Mourinho delivered trophies during his spell in charge he did it playing a practical, even pragmatic, style of football that hardly endeared the club to the legions of fans the Russian was hoping to attract.
Laudrup's appointment would be a step toward achieving that dream. In Eden Hazard, Oscar, Juan Mata and Romelu Lukaku, Chelsea already have the sort of exciting young players who could win over a new generation of supporters. They only need someone to bring it all together.
Sky Bet odds: 7/1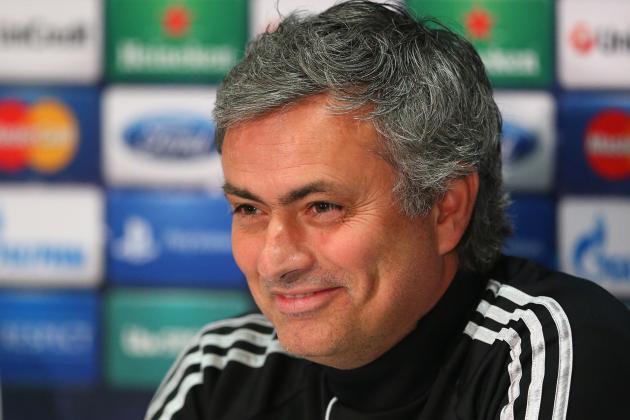 Alex Livesey/Getty Images

He is the overwhelming favourite, and for a very simple reason: Only he can tear down what he himself built.
The shadow of Jose Mourinho has loomed large over Stamford Bridge since his sudden exit in September 2007. The core of the team that won the Champions League last May—Cech, Terry, Lampard, Drogba—was the core he installed at the club.
With uncertainty surrounding Lampard's future and Terry refusing to cooperate with anyone else, it may fall to the Portuguese to usher in a new era at Chelsea, nine years after his first appointment signalled the beginning of the London club's most successful period.
Mourinho's name is still sung by the Stamford Bridge faithful; every manager who has come after him has tried, and failed, to live up to both his record of success and larger-than-life personality.
The 50-year-old has also never made a secret about his desire to return to English football one day. And while there has been speculation that he is first in line to succeed Sir Alex Ferguson at Manchester United, he'd surely like to finish what he started at Chelsea all those years ago—that is, oversee the exits of Cech, Terry and Lampard and win back the title with their successors.
Sky Bet odds: 1/1