5 Reasons Why Zeb Colter Cuts the Best Promos in WWE Right Now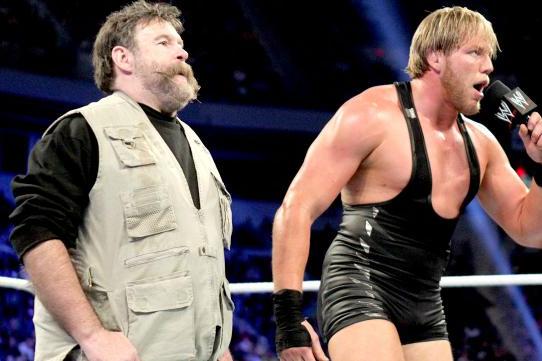 Photo from WWE.com
For the moment, Zeb Colter's sermon-like speeches are the hottest thing in the WWE.
CM Punk is the better overall orator and The Rock is more entertaining, but Colter's momentum has him thriving in the spotlight, which has suddenly focused on him and Jack Swagger.
Brought in to add a dimension to Swagger's revamped character, Colter has gone beyond that, becoming the vital partner in their pairing.
There are several reasons that Colter is WWE's most interesting character right now, beginning with his capacity for controversy.
Begin Slideshow

»
As Eric Bischoff famously said, "Controversy creates cash."
WWE superstars insult the crowd, abuse announcers and attack their opponents after the bell in order to earn fans' ire. The kind of heat Zeb Colter is generating is far beyond those tactics.
It jabs at a raw nerve. Colter's xenophobic rants provide a stark contrast to the mostly politically correct world.
Suddenly Jack Swagger is getting talked about almost as much as John Cena and The Rock.
That's Coutler's doing no doubt. Glenn Beck and Alex Jones wouldn't be chiming in on the angle if it weren't for Colter. Media outlets like New York Post and International Business Times wouldn't be covering the World title match if it weren't for Colter's promos stirring folks up.
If Jack Swagger were delivering Zeb Colter's message, doling out the same lines, it wouldn't have the same effect.
A good number of WWE superstars deliver lines robotically. They are more athlete than actor in the pro wrestler equation.
Colter sounds like he's truly speaking his mind, a snake charmer, a cult leader, a man sure of himself.
He has seemed to become one with his character. He is smooth and natural when he talks, allowing the audience to focus on the content.
Colter is no Daniel Day Lewis (Who is?) but his acting skills put him a cut above most of his WWE peers.
Zeb Colter is not the type of character that will be able to sustain a long life. He is, though, a spark of originality, a welcome novelty.
WWE's bad guys often have the same motivations: to hurt people, to get revenge, to win a title. With all the sadists, sociopaths and monsters WWE has to offer, Colter's character stands out.
Colter's attempt to reclaim America for "real America" is a fresh narrative. It has begun a story that fans want to see play out, to see where this strange tale goes.
Eventually, the newness will wane, but for now, Colter's speeches are hot.
The way Sgt. Slaughter dug at America's heart as an Iraqi sympathizer in the middle of the Gulf War, Zeb Colter is drawing from a timely issue.
Immigration is one of the biggest hot-button issues in politics and in general society.
Random controversial comments have some effect, but topics like this jab at our collective nerves. With such a large percentage of the WWE roster being from other countries, with the Hispanic demographic becoming an increasingly important part of WWE's audience, a xenophobic zealot is the perfect character for this moment.
Zeb Colter's promos are so compelling right now in large part because no one saw them coming.
WWE fans are sometimes hard to please as they can grow numb to violence and dramatic storylines. Colter has woken up any fans in a trance.
There is no fence to sit on here. One is either intrigued or disgusted by Colter. Surprises are rare in a world where rumors are dissected on the web, where everyone is a critic.
The unexpected journey Colter has taken us on has been one of 2013's highlights so far.