Gareth Bale: 6 Best Reasons to Stay at Spurs Next Season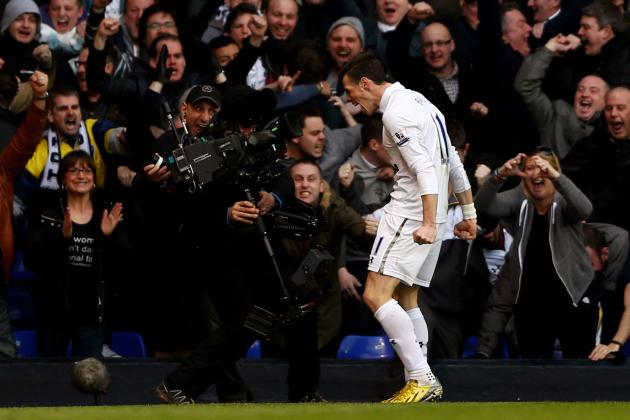 Paul Gilham/Getty Images
Are the adoring White Hart Lane faithful a reason Gareth Bale should stay at Tottenham Hotspur?
For Tottenham Hotspur fans and staff, the downside of Gareth Bale's great form is that it has resulted in ever-increasing speculation about a future outside of north London.
Some of Europe's biggest clubs, including Real Madrid and Bayern Munich, are said to be interested. Yet while some would believe it is inevitable Bale will be packing his bags for pastures new this summer, that might not be the case.
There are genuine reasons as to why the Welshman might want to, and perhaps should, stay at Tottenham. From the club's potential to the individual's own ego, here is why Bale should stay where he is.
Begin Slideshow

»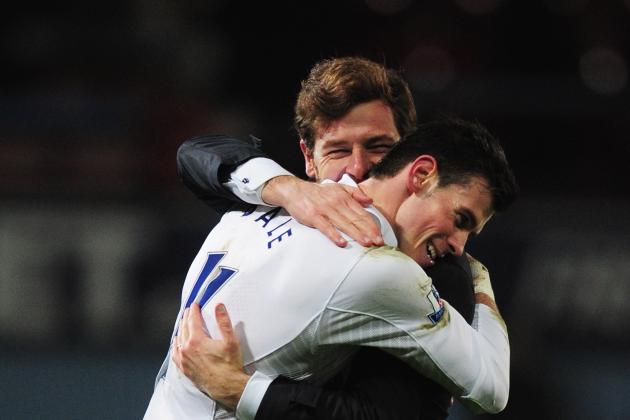 Jamie McDonald/Getty Images

Tottenham have plenty to do before they can claim this season to be a success. Yet, if they can fulfill their ambition of finishing in the top four and earning a return to the Champions League (winning the Europa League is still on the agenda too), it leaves them in a good position to progress further.
Becoming a legitimate Premier League title challenger and a genuine competitor in Europe will not be easy. Encouragingly for both Bale and Spurs though, it is not beyond the realms of possibility they can reach these levels.
Bale is part of a squad that already possess considerable talent. Given the promise of Champions League football, Andre Villas-Boas will relish the chance to attract the kind of players that can really take them up a level.
Villas-Boas has got off to a strong start as Spurs manager, appearing more like the hotshot who succeeded at Porto than he did in his unhappy time as Chelsea boss.
As is the case with his team, Villas-Boas has some way to go to fulfilling his potential. The odds for him in this respect are looking increasingly positive. He is someone whom Bale might want to hitch his own prospects to, fully in the knowledge that this is a coach who understands him and maybe around for some time to come.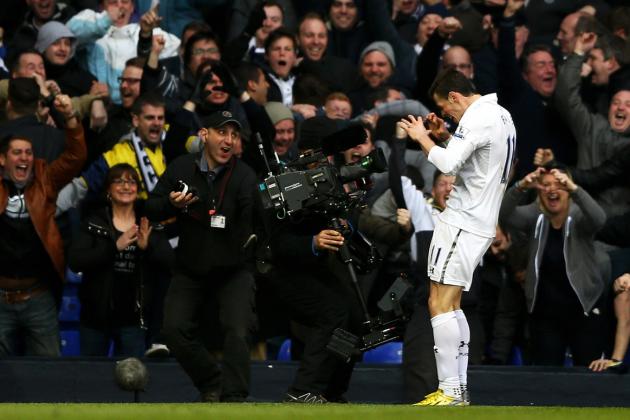 Paul Gilham/Getty Images

It probably will not rank as high as other reasons as to why he should stay, but the love of the Spurs fans is something for Bale to consider.
His often scintillating performances are seeing the adulation directed his way rising to even greater levels. The White Hart Lane faithful know how fortunate they are to be watching such an exciting player and are happy to tell him so.
Bale would prove popular wherever he went, so long as he played well. But there is a specialness and familiarity about a relationship with a fanbase who have seen him grow from a player with potential to a genuine star. That cannot be replicated easily.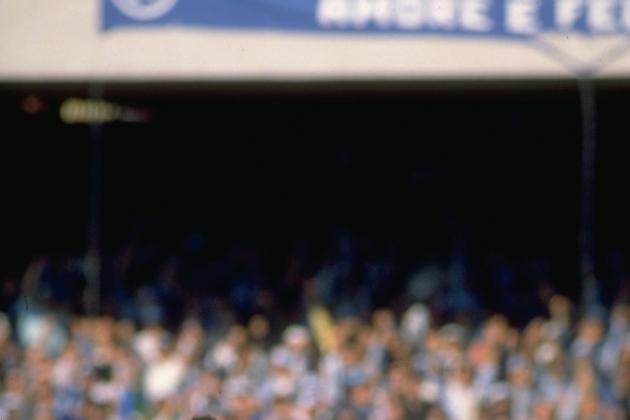 Getty Images/Getty Images
Diego Maradona transformed Napoli.
A significant reason why Diego Maradona is one of the true legends of world football lies in his time at Napoli. There, he took a club who had two Coppa Italias and a Serie B title to their name and, at least for a short while, transformed them into one of the best club sides in Europe.
During his stay Maradona would lead the Naples club to victory in two Scudetti, the UEFA Cup and the Coppa Italia. Others like Antonio Careca and Bruno Giordano played their part, but the Argentine forward was the catalyst for this heady period of success.
Maradona was handsomely compensated for his efforts, so to claim his sole intention was to lead Napoli to success would be wide of the mark. However, his achievement there ranks highly among the greats for the sheer scale of it. This was an era when Serie A boasted the world's best talent and several great teams.
Bale is not Maradona, but he is a player of such singular talent he might well prove capable of leading Spurs to comparative success.
To achieve so highly with Spurs would mean so much more than doing so with an established power like Real Madrid or Bayern Munich. The consistent achievements of such clubs are to be respected, but it is expected of them.
Spurs have not won a league title since 1961, and only three major trophies since their last sustained period of success in the 1980s. For Bale to play a prominent part in transforming the North Londoners in a way akin to how Maradona did Napoli would be nothing short of sensational. It is something not many players can claim to have done.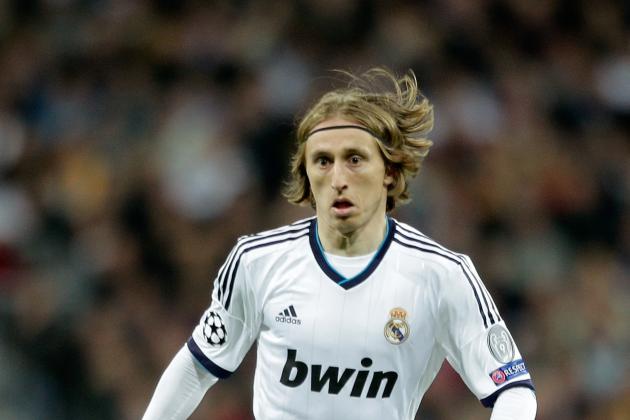 Gonzalo Arroyo Moreno/Getty Images
Luka Modric has not had it easy adjusting to life in Spain.
Luka Modric's difficulties settling in at Real Madrid and in La Liga are a reminder that the grass isn't always greener on the other side.
To be fair to the Croatian, he has still found a way to contribute when he can (including an assist in last Saturday's El Clasico). Bale is a top player and would have every right to believe he could succeed in a different league.
A move would undeniably come with challenges, foreseen and otherwise. It is not just a case of familiarizing yourself with a new culture and language, it is something a player's family has to do too. For Bale, a new parent, it would be something he has to give serious thought too.
Getting to grips with a new country extends to the football side of things too. Adjustments need to be made to new playing styles and different interpretations of rules. Getting to know new teammates and coaches (on and off the field) is challenging when not speaking the same lingo, at least to begin with.
If the rumors about a club like Real Madrid are accurate, then Bale would have to be prepared for an environment that is not as settled as Spurs is right now. Question marks remain about who will be in charge there come next season.
If it is not Jose Mourinho, whoever follows him will not have an easy job living up to the standards set by the "Special One".
Clive Mason/Getty Images
Bale in action against Manchester United.
The Bundesliga, La Liga and Serie A are all top leagues where Bale would find plenty to keep his competitive juices flowing.
For all the quality currently on offer in Spain in particular, the Premier League still has considerable appeal for a player like Bale.
It is a competition that is becoming increasingly competitive (albeit one which Manchester United are running away with this year), where rarely a week goes by that top teams do not face each other. The football is fast-paced and action-packed, blending the thrilling with the splendid.
All in all its a mix that can be hard to give up for a player. Bale would find a lot to like elsewhere, but he would have to decide if it would be more enjoyable for him than playing in England is.
Some might suggest he could still get this fix with a move to one of the Premier League's big clubs, Man United or Manchester City perhaps. As was the case with Modric and Chelsea, Spurs are unlikely to sell one of their top players to a domestic rival.
For that to happen, the kind of fee City were reportedly offering AC Milan for Kaka in 2009 would have to be on the table.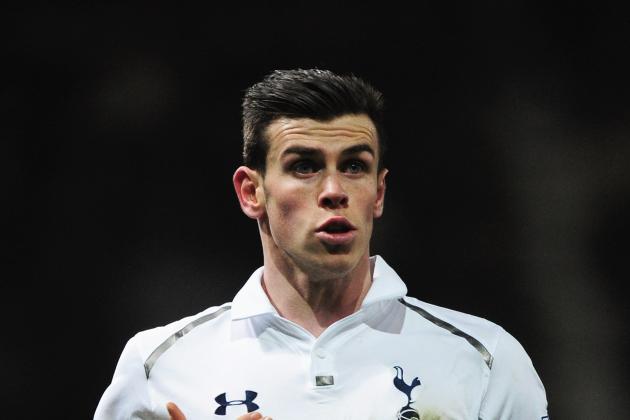 Jamie McDonald/Getty Images

The way Bale has been playing of late you might think that he is the complete package already as a player. He is certainly not far off, but he is not quite there yet.
The 23-year-old is only now being deployed from a central position from the start, rather than just as a variation tactic in-game. Bale has shown his value there, his speed in either running behind defenders or at them is even more dangerous centrally. As shown in his recent run of goals.
It is still a position Bale is familiarizing himself with though. Against Arsenal on Sunday he was great in short periods, but at other times he was denied the time and space to influence the game as much as he would have liked.
That is something a player like Bale will always have to contend with. As will be opposition sides double-teaming him on the flank and defenders looking to get stuck into him whenever they can.
But if Bale is already good, how much better might be be in a year's time? Especially without the distractions and challenges of a new club and possibly a new country.
So long as Spurs achieve their aims this season, they remain a club where Bale is unlikely to harm his prospects staying another year.
By staying he would get an additional season to work on his game in a familiar environment. At the end of that period he would know whether Spurs are genuinely a club where he can fulfill his own ambitions, or if he has to move on.