Picking a Real Madrid Lineup to Include Cristiano Ronaldo and Gareth Bale
Paul Gilham/Getty Images
First it was Cristiano Ronaldo to Real Madrid, then Cesc Fabregas to Barcelona and last summer it was Luka Modric to Madrid.
Three transfer sagas which in the end bored the hell out of us with their constant speculation and inevitable predictability.
2013 seems to be the year of Gareth Bale and Neymar, the former constantly linked with a move to Los Blancos and the latter to La Blaugrana.
In the English press, former Madrid owner Ramon Calderon told The Sun that the $90 million asking price would not act as a deterrent: "It's true we have spent a lot of money in the last three or four years but I think we are in a position to pay the money they are going to ask for."
The Mail, The Mirror, The Guardian and The Star all repeatedly run stories on Real's interest in the Welshman, too. Meanwhile, in Spain, only recent Clasicos have lessened the column inches Marca have been designating to Bale.
Some of the speculation, such as this article in the Daily Mail, suggests that Bale would be the heir to Ronaldo's throne. If he isn't, and if they are both to play together, how would he fit into Mourinho's current lineup?
On the Left?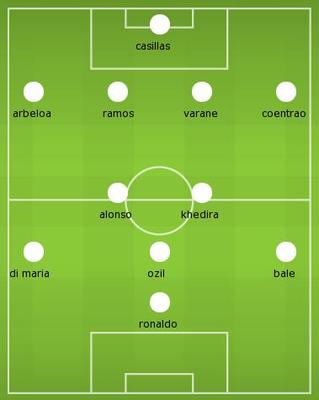 created using http://footballformation.co.uk/
Gareth Bale started out as a left-back at Southampton, but endured a disappointing start to his Tottenham career in that position. In fact, he was nearly offloaded to Birmingham (via the Daily Mail).
He has since, as everyone knows, prospered as a more attacking player. His hat-trick in the Champions League against Inter Milan in 2010 seemed to kick-start his upward trajectory, and his current form is scintillating.
If we look at Real Madrid with the same back seven they have used in Pepe's absence—plus Iker Casillas—note how Bale could fit in on the left.
Even though it's possibly his most natural position, it seems unlikely Madrid would use him there with Cristiano Ronaldo favored in that role.
With that being said, Ronaldo could in theory move up to play the No. 9 role, Mesut Ozil could occupy the middle and Angel Di Maria the right side of the attacking triumvirate.
In the Middle?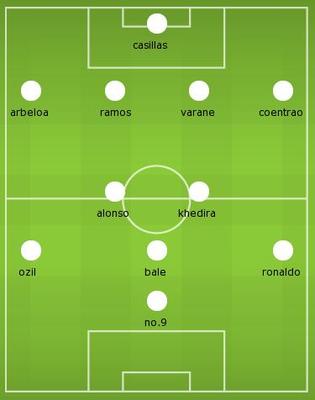 created using http://footballformation.co.uk/
More recently, Gareth Bale has produced some of his best performances playing centrally, just behind Jermain Defoe or Emmanuel Adebayor.
It is a position the Welshman told The Mirror in 2011 that he would like to play, after he was at times triple-marked on the left wing.
If he were to play centrally for Real Madrid, it would allow Cristiano Ronaldo to continue his dazzling performances on the left.
However, it would probably force Mesut Ozil out of position on the right side of the midfield, favored ahead of Angel Di Maria who has been linked with a move to England (via The Mirror).
On the Right?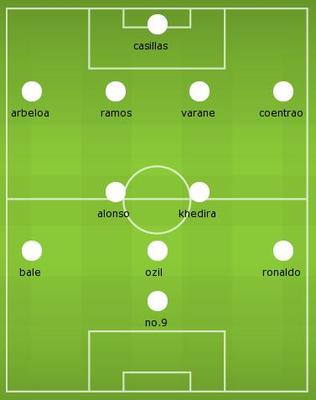 created using http://footballformation.co.uk/
Possibly the most logical solution to combining Cristiano Ronaldo and Gareth Bale in the same 11 would be to have the Spurs man on the right.
Ronaldo started his Manchester United career as a right winger. However, since moving to the Bernabeu, he has been used to devastating effect on the left.
Bale could be used for those same effects on the right. The 23-year-old could cut in on his left foot, a la Ronaldo on the other flank, to form an attacking partnership to destroy the sleep patterns of La Liga defenders.
It would leave Mesut Ozil free to roam centrally, with the three rounded off with either Karim Benzema, Gonzalo Higuain or a new striker just ahead of them.
Where would you like to see Gareth Bale fit into Los Blancos's lineup should he sign?
All formation pictures have been created using FootballFormation.co.uk.
Keep Reading

Real Madrid: Like this team?