Tottenham 2-1 Arsenal: 3 Key Lessons Learned from the North London Derby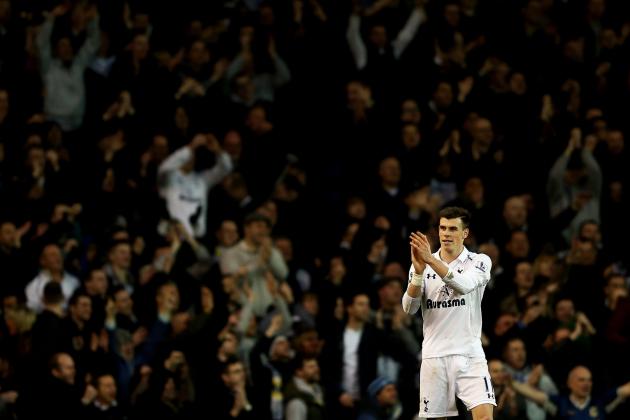 Paul Gilham/Getty Images

This wasn't the Monday I'd envisaged following Sunday's crunch encounter between Arsenal and the old enemy, Tottenham Hotspur.
Both teams featured their "strongest" lineups with Gareth Bale dominating pre-match proceedings. He was singled out as a player who would be a threat to the Gunners and, of course, he delivered.
An inch-perfect pass from Gyifl Sigurdsson tore through Arsenal's defense like a hot knife through butter, and when Bale was one-on-one with Wojciech Szczesny, I already knew the outcome. With a stroke of genius from Bale, the Pole's net was rattled as the home side went ahead.
While Tottenham were still basking in the euphoria of going ahead, the fans went into raptures when Aaron Lennon was clean through on goal, before skipping past the hapless Szczesny to put the home side two goals to the good.
Per Mertesacker did the double over Tottenham with a headed effort that went past Hugo Lloris—his second goal in as many games against Spurs, but at the sound of the ref's final whistle, reality dawned on every Gunner that they are currently seven points behind Tottenham and are running out of games.
This stinging defeat to Tottenham has taught me a lot of things, but here's my take on three key lessons I've learned from Sunday's North London derby.
Begin Slideshow

»
Shaun Botterill/Getty Images

I know that this headline sounds very cliche, but for a player who was renowned to be a defensive lynchpin in his playing days, Steve Bould is not doing enough on the training pitch with his fellow defensive coaches at Arsenal.
Besides Bacary Sagna, Arsenal fielded what was more or less their strongest defensive line, but their collective defending was shameful to say the least. Despite knowing fully that they couldn't match Tottenham's attack for pace, they inexplicably chose to play with a very high line and were exposed with both goals conceded.
Prior to the quick-fire goals from Tottenham, there was a moment when Gareth Bale was clean through on goal from a through-ball, but his technique let him down. Even after going two goals up, Bale had a golden chance to make it three from a Beniot Assou-Ekoto drilled cross, but he lashed his effort over the bar.
Watching both goals conceded gets really annoying with each replay. Nacho Monreal was ball-watching for the first goal as Sigurdsson's through-ball was not intercepted by Thomas Vermaelen. Before the Gunner's defense could even blink, Bale was on hand to smash the ball into the net with Szczesny rooted to the spot.
Vermaelen decided to take over from Monreal in the ball-watching department as Scott Parker's through-ball found Aaron Lennon with consummate ease, and the winger wasted no time in guiding the ball past Szczesny before tapping into an unguarded net.
Whether it's the personnel or the tactics, something—I repeat—something has to be done about Arsenal's defense.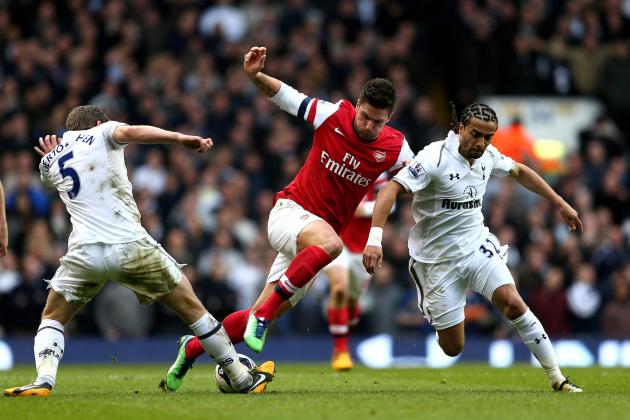 Paul Gilham/Getty Images
Giroud needs some stiff competition at Arsenal
Let me introduce you to Arsenal's attacking triumvirate that started against Tottenham.
Olivier Giroud, Arsenal's purple-patch striker with 14 goals to his name. Responsible for scoring against Coventry, West Ham (thrice), Reading, Schalke 04 (twice), Fulham (twice), Tottenham, Newcastle (twice), Brighton (twice) and Liverpool.
The French forward was supported on the right by Arsenal's leading goalscorer, Theo Walcott, who has banged 18 goals past Southampton, Coventry (twice), West Ham (twice), Reading (four times), Schalke 04, Tottenham, Everton, Newcastle (thrice), Chelsea, Brighton and Liverpool.
On the left-hand side, Lukas Podolski was replaced by Santi Cazorla, the Spanish magician who has had his fair share of goals as well against the likes of Liverpool, West Ham (twice), Manchester United, Tottenham, Reading (thrice), Sunderland and Aston Villa (twice).
On paper, the attack seems really formidable, but when the going gets really tough in hostile grounds like White Hart Lane, they get really subdued.
Arsenal's attack was also nowhere to be found in grounds like Old Trafford and Stamford Bridge, not because the opposition defenses were super, but because the forward line failed to utilize the half chances they got.
Take the game against Chelsea for instance, Giroud had a clear-cut chance early on but fired his effort wide of the mark. Moments later, Juan Mata had a chance in a more difficult situation with Sagna breathing down his neck, but he still managed to get the ball under control before curling it past Szczesny in goal.
Against Tottenham on Sunday, Santi Cazorla threaded a sumptuous diagonal ball to Giroud in behind the defense and the Frenchman chose to have a couple of touches before the danger was averted by Michael Dawson. If that ball had fallen to the Radamel Falcaos, Robert Lewandowskis, Sergio Agueros and Karim Benzemas of football, the keeper would have been forced to make a save at least.
Many Gunners have been rightly patient with Giroud with him arriving from another footballing culture, but games are won with goals, and we can see that he and his counterparts fell short in a game they were needed to stand up and be counted.
I would have traded Walcott's hat-tricks against Newcastle and Reading for one goal against Tottenham, but it was not to be.
I really hope that they get their acts right in the remaining Premier League games the Gunners have because we have to make do with what we have till the summer at least.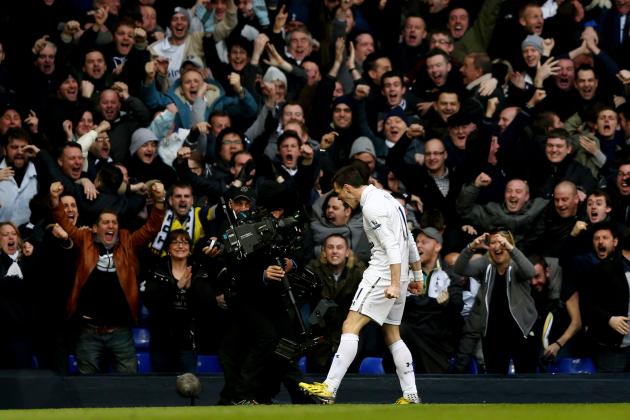 Paul Gilham/Getty Images
Has the balance shifted to the white end of North London?
After so many years of dominance in North London, the balance is shifting to the white end, as the results and performances on the field of play have proven that Tottenham is a much better side than Arsenal.
Looking at both sides on paper, the Gunners seem to be more than a match for their North London neighbors, but games are judged on results; the seven-point gap between both teams has painted the picture vividly for everyone to see that if the Gunners don't get their act right, St. Totteringham's day might not arrive this season.
The scary part of the entire situation is that they are not only seven points behind Tottenham, but they are also five points behind Chelsea in fourth place—not good for their Champions League ambitions.
Even if the Gunners go on to win every game to the end of the season, they'll have to rely on results elsewhere like last season, but it's really disheartening to know that I can't even rely on Arsenal to win all their games till end of the season.