Wisconsin Basketball: 5 Biggest Questions Badgers Face as March Heats Up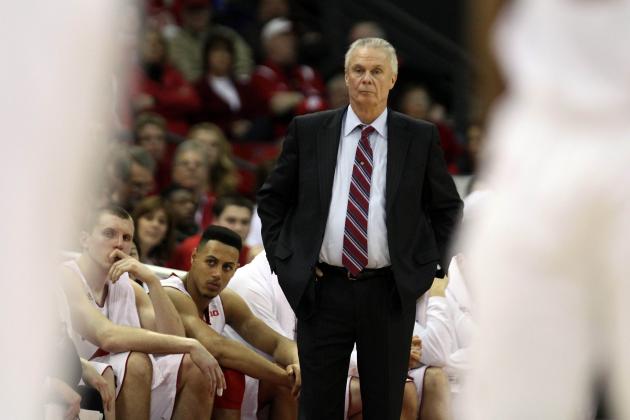 Mary Langenfeld-USA TODAY Sports

Senior Day for the Wisconsin Badgers didn't exactly go according to plan. Against a very beatable opponent in the Purdue Boilermakers, the Badgers lost touch with the basket over the final 25 minutes and lost their final game of the season at the Kohl Center.
Wisconsin is a team that when at the top of its game can play with anybody in the country, but there are also the nights where all of its flaws are on display. That's exactly what happened on the afternoon of March 3, but these games happen, especially in the college ranks—especially this season.
This loss is by no means the end of the world, but the Badgers can't allow themselves to be out-hustled and out-played by inferior competition, or in other words, play down to the level of their opponents.
Throughout the season, five questions have developed and currently prod at the Badgers' side, so let's diagnose these inquiries as March begins to heat up.
Begin Slideshow

»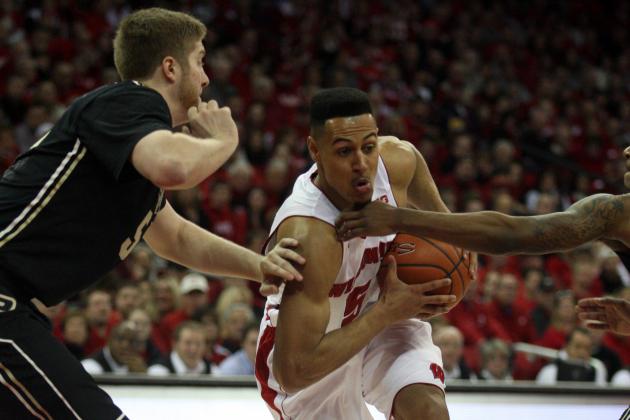 Mary Langenfeld-USA TODAY Sports

This issue was at maximum display on Sunday afternoon when the Badgers didn't make a field goal over a span of six-and-a-half minutes of action. In all, Wisconsin only managed 20 points in the final 24:20, allowing Purdue to crawl back into the game and eventually take control.
The Badgers have had this issue before in close losses against teams like Minnesota, Iowa and Michigan State. If just a few players went cold for a long period of time, that would be understandable, but for the entire team to experience droughts that last between five and 10 minutes of actual game play is extremely costly.
What's even more amazing is how the Badgers have managed to win a few games when they enter these all too common dry spells thanks to their premier defense. If Bo Ryan's team wasn't able to clamp down on the other end of the court, Wisconsin could very well be a bubble team when it comes to the NCAA tournament.
Wisconsin needs to work the ball inside more often rather than settle for threes when the shooting touch betrays the Badgers, because come tourney time, long scoring droughts are just about impossible to survive.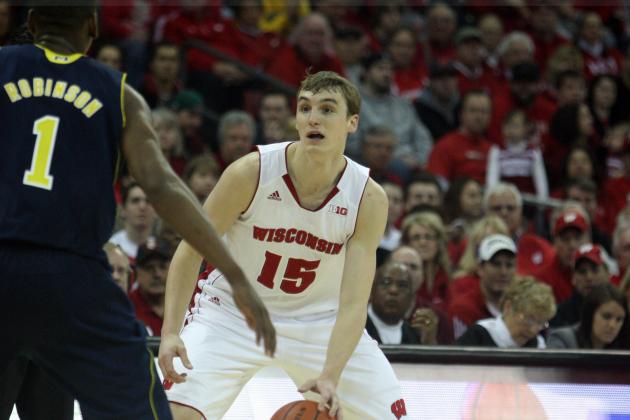 USA TODAY Sports

Of course, what can help a team avoid scoring droughts is a player who has the ability to score every time they touch the rock, and for the Badgers, that player is freshman forward Sam Dekker.
As the season has progressed, Dekker has seen his minutes slowly increase, but even after playing 26 minutes off the bench against Purdue, he was unable to get Wisconsin out of its scoring funk. There's a good reason for that.
During Wisconsin's six-plus minute scoring shortage on Sunday, Dekker only shot the ball one time—a forced field-goal attempt near the end of the first half that was blocked. It's not as if Dekker didn't play well—he shot 50 percent from the field. But Jared Berggren and Ben Brust each struggled mightily from the field, and both had more shot attempts than Dekker.
Berggren and Brust are far more experienced than Dekker, but they need to understand when their shot simply isn't falling and get the ball into the hands of the team's best player. Bo Ryan also needs to realize when to get Dekker into a game when his starters are failing to put the ball in the basket.
Even though he is only a freshman—under Ryan at Wisconsin, no less—Dekker is the Badgers' most potent threat on offense and he should be taking the most shots night-in and night-out.
Are Berggren, Brust and Mike Bruesewitz consistently going to combine to shoot 28 percent? No, but even still, Dekker needs to be involved even more offensively, so now it's just a matter of if Wisconsin makes this happen.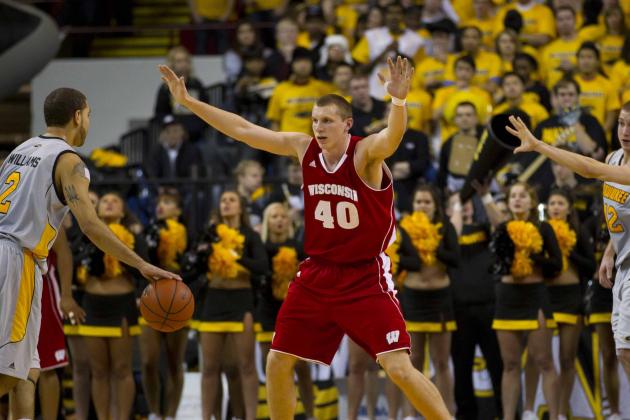 Jeff Hanisch-USA TODAY Sports

This question doesn't arise simply because Purdue sharpshooter D.J. Byrd went 6-of-9 from three against Wisconsin, but it did help bring it to the forefront.
There are only three Big Ten teams—Indiana, Michigan and Ohio State—that crack the top 140 of Division I men's basketball in three-point field-goal percentage. A lot of that has to do with the great defenses that play in the conference, but it also has to do with the lack of efficient shooters from outside in the Big Ten.
The Badgers are one of those great defenses, but where they are truly dominant is around the basket because of the shot-blocking ability of Berggren, the athleticism and strength of Ryan Evans and the hustle of Mike Bruesewitz. But at the perimeter, there is Brust (6'1") and Traevon Jackson (6'2"), the weakest part of the Wisconsin defense.
With these players typically defending near the arc, the Badgers are more susceptible to giving up the three-point shot. When they get beat, Berggren's length covers for them around the rim, but he can't help them much outside.
To their credit, Brust and Jackson have improved dramatically on defense, but allowing teams to get hot from three could be detrimental for the Badgers in the tournament, especially because Wisconsin can't counter, only shooting 34.2 percent from three on the season.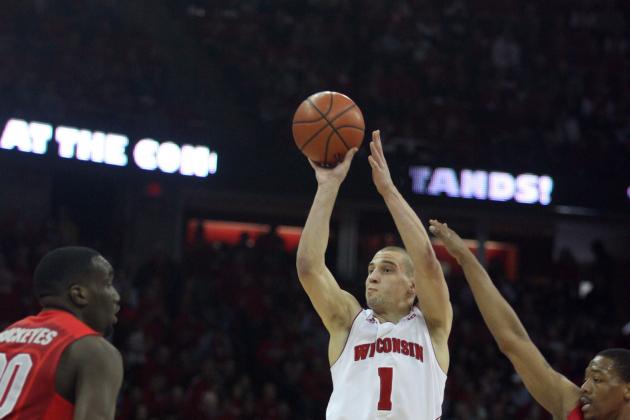 Mary Langenfeld-USA TODAY Sports

As we just mentioned, Wisconsin doesn't exactly light it up from outside—its 34.2 percent mark from beyond the arc puts the Badgers at No. 156 in Division I men's basketball.
It's pretty average in retrospect, and Wisconsin does have guys like Brust and Dekker who can stroke it from deep, but those long scoring droughts are often caused by Brust cooling off from three and Dekker failing to be more assertive on offense.
The three-point shooting of Berggren and Evans is noticeably worse than from a season ago, especially in Berggren's case because he still puts up 2.4 three-point shot attempts per game. He's only shooting 26.8 percent from three this year as opposed to 37.2 percent during the 2011-12 season, and while he's very effective down low, his sudden struggles from outside have hindered the Badgers' offense.
For how much Wisconsin relies on the three—the Badgers are No. 33 in three-point attempts in the country—it isn't nearly as effective as it needs to be from long range.
Over half of the shots Dekker and Brust take are from beyond the arc, so if both go cold in the tournament, then it's essentially lights out for the Badgers with an early exit from both the Big Ten tournament and NCAA tournament almost a foregone conclusion.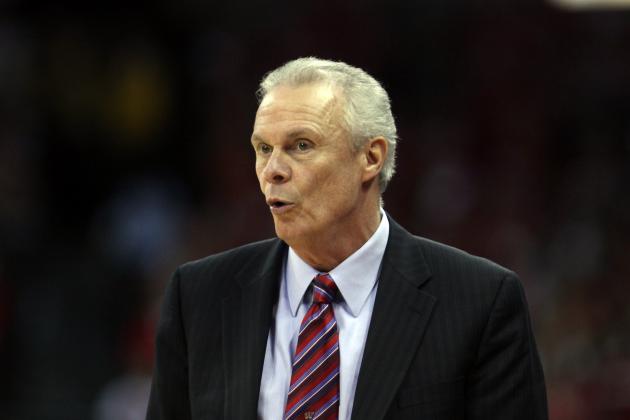 Mary Langenfeld-USA TODAY Sports

Entering play on March 4, the Badgers stand at 20-9 with an 11-5 conference record. They are ranked No. 22 in the AP Top 25 and No. 21 in the USA Today Coaches Poll while finding themselves tied for 42nd in the RPI rankings.
That's a surprisingly low number for Wisconsin in RPI, a tool the selection committee utilizes when figuring out not only where teams will be seeded in the NCAA tournament, but who will make it period. What the Badgers do have going for them is several quality wins and nine victories against the RPI top 100.
Before we get to the season-ending tournament, however, Wisconsin is focused on where it ends up in the Big Ten race. There are currently four teams tied for second in the Big Ten with 11-5 conference records while Indiana has all but wrapped up the regular-season title.
That's what makes the Purdue defeat so harmful. Now, it almost all comes down to the March 7 showdown in East Lansing with Michigan State, another team with an 11-5 conference record. Both Ohio State and Michigan still must play the Hoosiers, so crucial games remain on the slate for the top teams in the conference.
With two regular season games remaining for the Badgers, Wisconsin could earn anywhere between a No. 3 seed and a No. 6 seed for the NCAA tournament, as well as anywhere between a No. 2 seed and a No. 5 seed for the Big Ten tournament.
Fasten your seat belts, because March is just getting started.