Coyotes Week Ahead Critical Towards Playoff Hopes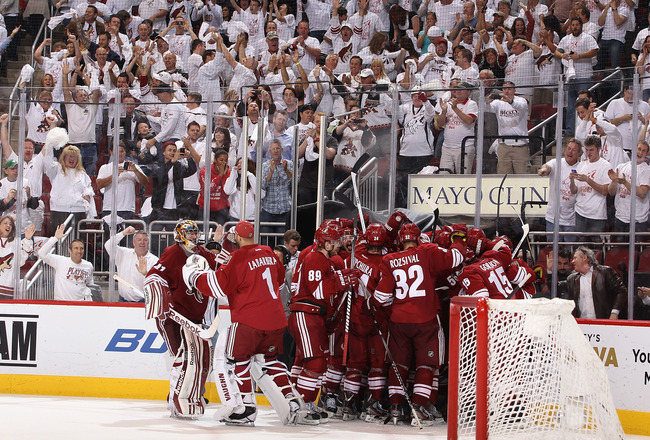 The Phoenix Coyotes look to have more of these occasions if they take care of business this week
Christian Petersen/Getty Images
The Phoenix Coyotes play four important games this week as they look to continue their rise up the Western Conference standings.
With an important shootout win over the Anaheim Ducks on Saturday night by a score of 5-4, the Coyotes have built some momentum heading into this busy week on the ice. As of the writing of this article, the Coyotes sit in the final position for playoff qualification, eighth in the West at 23 points. They are 6-3-1 in their last 10 games and look to continue their impressive play this week.
With two more tilts against the Ducks followed by two home games against the St. Louis Blues and the Dallas Stars, the Coyotes could further solidify their playoff position in the Western Conference race and truly damage the hopes of two teams while chasing down the high-flying Ducks of Anaheim.
This article will take a look at why these games this week are important and what fans can expect to look for.
Anaheim- Monday (Home), Wednesday (Road)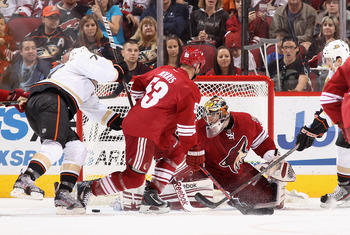 The Ducks finish playing the Coyotes three times in a row this week as both teams look to push forward their playoff hopes
Christian Petersen/Getty Images
The Anaheim Ducks will lace them up for the second time at Jobing.com Arena in three days on Monday as the two teams play the middle game of a mini three game series inside the season schedule.
The Coyotes took game one on Monday night as both teams played a physical and entertaining encounter featuring eight goals in regulation and a shootout in which Mike Smith played the hero leading the 'Yotes to a 5-4 victory. Ten different Coyotes registered points in that game, and it is going to take an all-out effort by the whole roster to compete with a team as hot as the Ducks are.
The Ducks sit in second place in the Western Conference, nine points ahead of the Coyotes. They are playing amazing hockey (15-3-2 this season), and if not for the incredible run of the Chicago Blackhawks early this season, would definitely be garnering a ton of attention. They are 8-1-1 in their last 10 games and offensively are clicking on all cylinders. Ryan Getzlaf, Saku Koivu, Teemu Selanne, Bobby Ryan and Corey Perry give them five ultra-talented forwards that are all scoring at the moment.
Securing at least a point at home on Monday would be huge for Phoenix. Taking two in regulation would be even better, but as the Ducks proved on Saturday, that will be a huge task for the Desert Dogs.
Securing a point on Wednesday would be even bigger. Anything that the Coyotes can do to slow down this Anaheim freight train that is running away with this division would be huge. If the Coyotes hope to repeat as Pacific Division champs, taking at least four out of six points in this three game stand is a must.
To do this, the Coyotes are going to have to find a way to solve Ducks' goalie Viktor Fasth. He is 9-1-1 on the season with a minuscule 2.08 goals against average. Scoring four goals on him the other night took a herculean effort, and more of the same will be necessary for the Coyotes to obtain the four points they truly need to begin to close the door on their Pacific Division rivals.
St. Louis- Thursday (Home)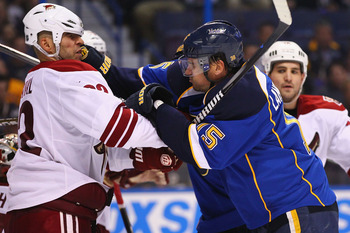 The St. Louis Blues will bring their gritty style of play into Phoenix on Thursday for a big Western Conference matchup
Dilip Vishwanat/Getty Images
On Thursday, the St. Louis Blues come to Glendale for the first meeting of the season between these Western Conference foes. The Blues will try to put some distance between themselves and the Coyotes in the standings. As of tonight, the Blues sit in fifth place in the Western Conference, only one point better than the Coyotes in the standings. The Blues are 11-8-2 for the season and 5-4-1 in their last 10 games.
The Blues bring a balanced offensive attack led by Alex Steen and Kevin Shattenkirk with 16 points, but have 10 players already registering double digit point totals. They also play with a physical, in-your-face style that is very difficult to deal with.
Look for Jaroslav Halak to be in net as he looks to continue his solid play this season. The Blues have used three different goalies this season, but Halak is their best and should be in net for this big Western Conference meeting.
For the Coyotes, look for Jason LaBarbera to potentially be in net as this is a back-to-back game situation for Phoenix, and Mike Smith has started 14 games in a row and may be due for a rest.
The 'Yotes catch the Blues on the third game of a five game West Coast road trip and cannot afford to allow the Blues to leave with both points from the Den. Fatigue may be a factor for the Blues late in this game, and it is up to the Coyotes to take advantage of that.
Dallas- Saturday (Home)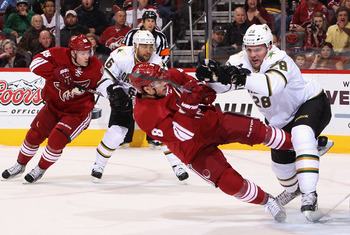 The Dallas Stars come to Jobing.com Arena on Saturday in a matchup of Pacific Division foes
Christian Petersen/Getty Images
The Dallas Stars arrive in Glendale on Saturday for the fourth meeting between these Pacific Division foes this season. The Coyotes have a 1-1-1 record against the Stars this season and will look to make up points on a team that also sits one point ahead of them in the standings. The Stars are 11-9-2 this season and 5-4-1 in their last 10 games. They currently sit sixth in the Western Conference standings.
Jaromir Jagr has been a thorn in the Phoenix Coyotes' side this season, and controlling their top line is paramount to success against a Stars team that has been reborn this year. Loui Eriksson and Jamie Benn are supremely talented forwards, and their goaltending is always solid with Kari Lehtonen between the pipes.
The Coyotes need to start creating some distance between themselves and those in their division at this point in the season. A win at home on Saturday, after hopefully piling up some points earlier in the week, will allow them to begin to drift away from the Stars in the standings.
Phoenix would like to have its two leading scorers back in the lineup for this game as Martin Hanzal and Radim Vrbata have played very well against the Stars this season. Neither has played recently, and both are on injured reserve.
Mike Smith will have to be at his very best, and he will be geared up to play his old team. The last time out, he pitched a shutout against Dallas and will look to replicate that performance on Saturday.
Keep Reading

Phoenix Coyotes: Like this team?