Through 12 spring training games this year, the San Diego Padres (6-6) still have a lot of question marks.
For this particular article, I'm going to focus on three areas of performance this spring: starting pitching, the infield and the outfield. I'm leaving out relief pitching as there are so many arms throwing this spring and it's not only too early to truly analyze the results, but this article would be so long it might bore you to tears.
First on that list would be starting pitching. What three pitchers will fill out the bottom half of the rotation?
With so many arms in camp, it will be definitely be interesting to see who will break with the team and who will be sent packing for Triple-A Tucson.
Starters Off to a Hot Start
Sean O'Sullivan
1-0, 1.80 ERA, 5.0 IP, 0.80 WHIP, 2 GS
Though it was always a long shot for O'Sullivan to make the rotation out of camp, he's currently pitching the best out of all of the Padres' starters so far this spring.
Having only allowed two hits and one earned run over five innings, he's certainly making a good case for himself. The questions: Will he be able to keep up these numbers on a consistent basis? Not just in spring, but during the regular season?
Unfortunately, I think the outlook is pretty doubtful.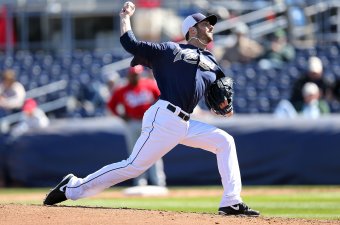 Christian Petersen/Getty Images
Anthony Bass
0-0, 0.00 ERA, 4 IP, 0.50 WHIP, 1 GS
Bass comes in second on this list since he has only started one game this spring, but has pitched in two.
Over four innings, he's only surrendered two hits and has struck out three. He's also held hitters to a .167 batting average.
Will Bass finally be healthy enough to pitch every day? I sure hope he is, because when this kid is on, he can pitch and deserves a spot in the rotation.
Honorable Mentions
Jason Marquis
0-0, 0.00 ERA, 2 IP, 1 H, 1 K, 0.50 WHIP
Clayton Richard
1-0, 0.00 ERA, 2 IP, 0 H, 2 K, 1.00 WHIP
Starters Not Doing So Hot
Freddy Garcia
0-1, 17.18 ERA, 3.2 IP, 9 H, 7 ER, 3.00 WHIP, 2 GS
Bottom line: Freddy Garcia does not look good at all this spring. In fact, his current results just plain stink. Hitters are teeing up off of him right now to the tune of a .450 batting average. If he keeps up these numbers, Garcia could see himself released faster than he was signed.
Is the Padres starting rotation in trouble?
Edinson Volquez
1-0, 13.50 ERA, 4 IP, 10 H, 6 ER, 3.00 WHIP, 2 GS
Though Volquez's first outing of the spring was very good (two hits, one walk, four strikeouts in two innings pitched), his second start was horrific at best, giving up eight hits and six earned runs over two innings pitched.
Sure this is just spring training and pitchers are still working on mechanics and strength, but I'm curious to see how Volquez performs over the rest of the spring. If he can focus on control and keeping the ball down, hopefully his high walk rate will plummet and he'll keep more balls in the park.
Overall, I like his stuff and am glad that the Padres have him, but I'm still not totally sold on Volquez.
Also Off to a Shaky Start
Tyson Ross
0-2, 9.00 ERA, 5 IP, 7 H, 5 ER, 1.80 WHIP
Eric Stults
0-1, 36.00 ERA, 1 IP, 4 H, 4 ER, 6.00 WHIP
Starting Pitching Summary
So far, it's really a coin toss.
It's too small of a sample size to make any definitive judgements for the rest of spring, but hopefully the struggling pitchers will improve and the guys who are doing well will continue to do so. Let's just see if it translates into the regular season.
Infielders Off to a Hot Start
Chase Headley
.500/.500/.667
Headley is already off to a lightning start this spring with six hits, two doubles and three RBI in 12 at-bats. Did you expect anything less?
Though he may not reach the numbers he put up last season, Headley is looking to follow up with a vengeance. Keep your fingers crossed that he won't be traded and produce for another club.
Nick Hundley
.471/.471/.706
Hundley has more to prove than any Padres player in the lineup this year.
After agreeing to a three-year extension last May, Hundley suffered the worst year of his career, hitting .157/.219/.245 in 204 at-bats. His poor production got him sent down to the minors and gave prospect Yasmani Grandal the green light at the starting catcher position. Now with Grandal out for 50 games due to a positive PED test, Hundley will again get the opportunity to prove himself as an every-day catcher.
So far this spring, he's showing that he could have what it takes with eight hits and four doubles in 17 at-bats. Let's hope this trend keeps up, because the catcher position is looking sketchy at best heading into 2013
Who will win the starting second base job?
Jonathan Galvez
.385/.429/.615
Is Jonathan Galvez making a case to become the backup second baseman in the Padres' lineup? His spring numbers would say that he is.
Galvez has five hits, three runs scored, a double and a triple in 13 at-bats this spring. Not bad for a guy that wasn't expected to make a lot of noise. Will he break camp with the team? If he keeps up this current play, anything is possible.
Logan Forsythe
.294/.333/.529
Forsythe will definitely break camp with the Padres this spring, but will it be as the starting second baseman?
He's off to a solid start, but if he's going to win the starting job, he needs to punch it up just a bit to lock it in. He does have two triples out of his five spring hits (17 at-bats) and has also knocked in four RBI. If he keeps this production up, second base could be a coin toss heading into the season.
Jedd Gyorko
.286/.318/.810
You thought I forgot, didn't you? I've made it very clear for quite some time now that I think Gyorko should win the starting second base job out of camp.
His current production proves he may just win the gig. Gyorko has three home runs, two doubles, nine RBI, four runs scored and six hits in 21 at-bats this spring. Unless he has a major setback or all of a sudden stops being productive, I think manager Bud Black owes it to fans to let Gyorko start the season as the starting second baseman.
Honorable Mentions
Eddy Rodriguez
.600/.600/1.400
Yasmani Grandal (Serving 50-game suspension)
.571/.700/.571
Infielders Off to a Shaky Start
Alexi Amarista
.240/.286/.320
If Amarista is going to be the backup middle-infielder for the Padres, he needs to hit for better average—even though he has a fantastic glove.
In 25 at-bats this spring, Amarista has only six hits, but has still knocked in seven runs. Though his play so far in spring is nowhere close to horrific, he still needs to prove that he can hit consistently and get on-base more regularly.
Everth Cabrera
.222/.391/.278
For a guy who will potentially be the starting shortstop and leadoff hitter for the Padres in 2013, Cabrera still needs to prove that he can hit and not just steal bases.
Granted he still has a .391 OBP this spring partially due to the five walks he has drawn, his bat has always been a question mark for the Padres and is the part of the game he needs to improve on the most. Don't get me wrong, I think 2013 could finally be the year he becomes the Padres' every-day shortstop. Unfortunately for Cabrera, if he struggles to improve his average, the Padres will be platooning at the leadoff spot once again.
John Baker
.133/.133/.133
Baker is one guy I was hoping would have an exceptional spring. As the Padres' backup catcher to Nick Hundley (with Grandal out), Baker will definitely get his fair share of starts this season.
Baker's never been known for his defense, but has always had a decent bat playing part-time. Once again, it's still too early to make assumptions, but I sure hope he finds his swing before the start of the season.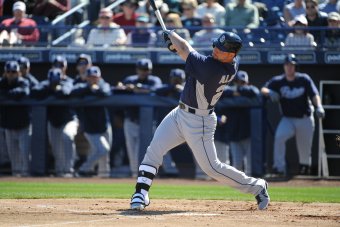 Rich Pilling/Getty Images
Yonder Alonso
.111/.111/.111
The Padres' starting first baseman is off to a very slow start this spring. He's guaranteed to open the season the season at first, but I hope that guarantee doesn't include the way he's currently swinging the bat.
Though he has only two hits in 18 at-bats this spring, I still expect him to have a breakout year this season. Let's just hope he finds his swing soon and brings it with him to opening day.
Infield Summary
So far, so good.
Liking the defense and what I'm seeing with our infield bats. Still a bit of a question with the middle infield, but if Gyorko wins second base and produces the way he did in the minors, and Cabrera can hit with a bit more consistency, the Padres infield this year could be a big surprise to many people who follow the game.
Outfielders Off to a Hot Start
Mark Kotsay
.667/.714/.750
Good ol' Mark Kotsay.
Love that the veteran is off to such a hot start this spring. Don't expect him to win any starting job out of camp, but when a veteran player comes out in spring hitting as hot as Kotsay is, don't be surprised to see a shakeup in the lineup if some other players either get injured or don't produce.
With eight hits in 12 spring at-bats, Kotsay could turn out to be a fantastic addition to the Padres' bench, that is if he doesn't unseat any starters early on in the season.
Kyle Blanks
.476/.536/.762
I know Kyle Blanks isn't entirely an outfielder, but with resilient Yonder Alonso securely set at first base, Blanks will probably find himself platooning in the outfield and playing the occasional first base to give Alonso a rest.
However, if there was one guy coming to camp this year that I was hoping would produce the way he currently is, it's Blanks. With 10 hits in 21 at-bats this spring, it looks like Blanks is back from injury and ready to compete. Keep in mind that while he's always played well in spring, when he's made the jump to the regular season the results aren't quite the same.
Let's hope that 2013 will be the year that all turns around.
Chris Denorfia
.375/.474/.438
When the Padres first picked him up, I was never completely sold on Denorfia. But the guy is consistent and has proven year-to-year that he can contribute to the Padres' lineup.
Deno is 6-for-14 this spring and is getting the job done—once again. Will he be the starting right fielder on opening day? Well, the way Will Venable is currently playing in spring, my guess would be yes.
Who will be the starting right fielder opening day?
Travis Buck
.364/.391/.455
Surprise, surprise, the one player I expected nothing out of is currently hitting like a stud this year in camp.
Buck is 8-for-22 and, along with Kotsay, has been the surprise veteran acquisitions so far this spring.
Will he break camp with the team? It's too early to tell at this point. My guess is that he'll start the year in Triple-A Tucson. But if the outfield or bench suffers from lack of production or injury, it won't be out of the question to see him in the lineup from time to time this season.
Cameron Maybin
.357/.400/.429
Excuse me as I pop a bottle of champagne.
I couldn't be happier with Maybin's performance so far this spring. The guy, like many other Padres, has always had issues with hitting consistently. Will his current performance in camp translate during the regular season? I sure hope it does, because ever since Maybin broke into the majors, I've expected big things out of him.
I'll say it now, Maybin is my pick for Padres offensive player of the year. Any takers?
Jesus Guzman
.313/.476/.375
You won't see Guzman starting at the beginning of the season, but he will break camp with the team and be both a backup outfielder and first baseman off the bench.
I've always been a fan of his bat, because when he connects, the ball soars. If given the chance to play everyday, I'm sure he can be a huge offensive contributor, but will that opportunity present itself at some point this season?
Outfielders Off to a Shaky Start
Will Venable
.211/.286/.368
I know it's only spring training, but will you please step it up already, Venable, and become the player Padres fans hope you can be one day?
This is definitely a make-or-break year for Venable. If he continues to prove that he can't consistently hit for average, it's about time the Padres open the door to younger, more deserving players and give them a shot.
Though the fences being brought in will likely improve his numbers during the regular season, if his batting average still hovers around the .260 mark, I say give some of our guys in the minors a chance and see what they can do with an opportunity.
James Darnell
.200/.200/.200
The converted third baseman had so much promise when he was drafted by the Padres in 2008.
I was hoping that he would be a starter by now, but like many other Padres farmhands, his production in the minors didn't quite translate into the majors. With only two hits in 10 at-bats this spring, it's too early to tell how the month will play out, but hopefully he starts connecting and making a case for himself to play off of the bench in 2013.
Jaff Decker
.192/.241/.385
Decker is another Padres minor leaguer that I was hoping would have a good spring.
With only five hits in 26 at-bats, it looks to be another season starting at Triple-A Tucson. Though his minor league numbers have dropped significantly over the past three years, I'm still hoping that the first-round pick can find his stroke and eventually make it into the Padres' lineup.
Outfield Summary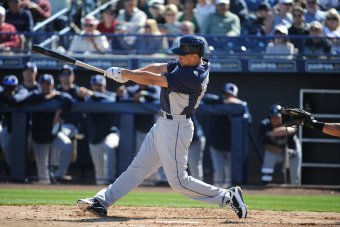 Rich Pilling/Getty Images
Like the infield, I'm currently liking what I'm seeing this year in camp.
With the exception of Will Venable, the current group of players that will start the season with the Padres is off to a nice start.
Though there is still a question mark as to who will be the Padres' regular right fielder this year, I hope some of the performances this spring will give a much clearer picture once opening day arrives.
Overall Spring Summary
I'm optimistic, but still see many areas that need improvement. This season is going to be such a head scratcher for Padres fans that no matter what results have come out of spring so far, I'm still totally confused and uncertain as to how this team will play during the regular season.
I can't wait to see some of our young guys get a chance, but I also hope that the front office and Bud Black doesn't invest so much time into players that have already proven to be mediocre.
If they come out struggling, we will certainly see a lot of youngsters in the lineup this year. But if this current team can produce the way that they did in the second half of last season, 2013 could be a fun year for the Padres.