Penn State Football: Why the Nittany Lions Can Win 9 Games in 2013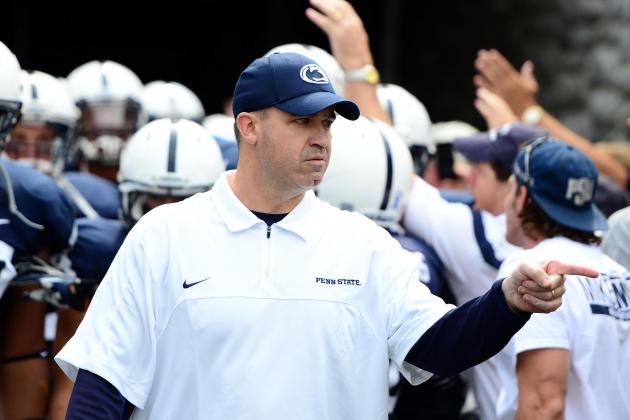 Andrew Weber-USA TODAY Sports

Many predicted that Penn State football would struggle to break even last year, as national college football pundits like Lee Corso tabbed the Nittany Lions as a three-win team.
While that seemed preposterous for a team that went 9-3 the season before, the general consensus was that the Lions would be in the dumps for quite some time.
The team, led by the 2012 senior class, proved a lot of people wrong last year by going 8-4, but can they do it again? Even more, can they do better?
Sure, it may not sound sane, but it's possible.
Let's see how.
Begin Slideshow

»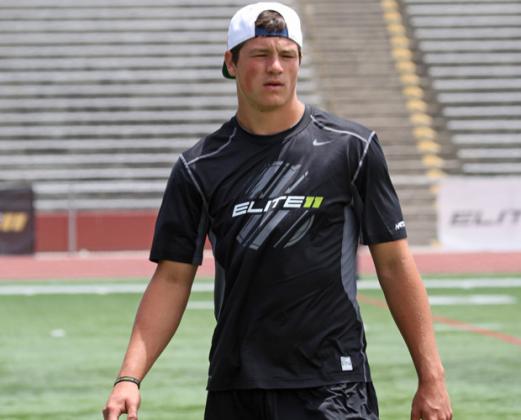 When looking at the quarterback situation in Happy Valley, it can be viewed in a negative or optimistic light.
In the former, it can be said that the team has a huge void to fill under center as Matthew McGloin, the former walk-on who became a new and improved quarterback under Bill O'Brien, graduated.
That considered, the team won't have an experienced signal-caller next season, but instead a guy who will likely be learning the ropes as the season progresses.
However, the situation could also be looked at from the other end of spectrum with the focus of potential.
Even though they haven't played a game at the Division I level yet, the Lions' three primary quarterbacks heading into the season have a lot of upside.
Last year's backup, Steven Bench, showed he could play in his brief time filling in for McGloin at Virginia, JUCO transfer Tyler Ferguson has great physical tools and the things possessed by heralded 2013 commit Christian Hackenberg are well-documented.
Once the Lions weed through spring and fall practice and a quarterback emerges, it should be a good one.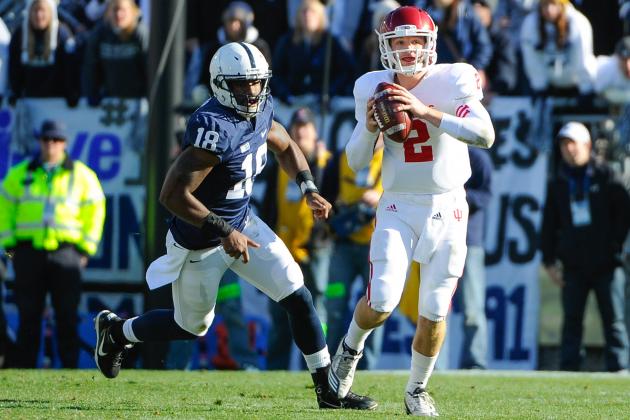 Rich Barnes-USA TODAY Sports

Going off the same premise as the last slide, the Lions defense shouldn't be as effective in 2013 compared to 2012 when considering the losses it will endure.
Consistent presences like Michael Mauti, Jordan Hill and Gerald Hodges aren't easily replaceable.
However, what can be taken from last year is that quite a few young defensive players with bright futures are coming into this season with playing time under their belts.
Whether it's end Deion Barnes or cornerback Adrian Amos, Penn State defensive coordinator John Butler has a handful of youthful playmakers to work with in 2013.
And contrary to the quarterback issue, these players have more than just potential—they have experience.
Rich Barnes-USA TODAY Sports

While O'Brien's tight end-heavy offense and the transformation of McGloin stole headlines last year, the Lions quietly had one of the best rushing attacks in the conference.
Bill Belton got the nod from the get-go, but the starter's role was flip-flopping until Zach Zwinak stepped up as the season went on.
After recording just two rushing yards throughout the first three games of the year, Zwinak, a former fullback who finished 2012 with exactly 1,000 rushing yards and six touchdowns, broke out of his shell.
In his final four games of the season, the Maryland native had performances of 134, 141, 135 and 179 rushing yards.
Also, the team returns Belton and redshirt freshman Akeel Lynch to provide alternative presences in the backfield.
While the college game is rapidly developing, a traditional ground-and-pound mentality still wins games, and the ability to lean on Zwinak and others is only going to help Penn State pick up victories.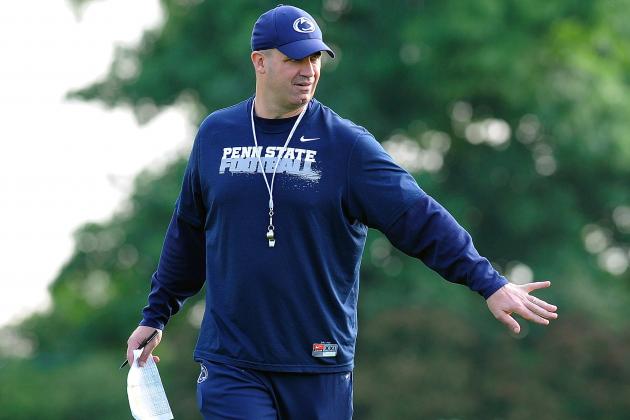 Rich Barnes-USA TODAY Sports

After scoring just 30 points combined in the team's first two games last year, it was obvious that the Lions hadn't fully adapted to O'Brien's offense.
However, throughout the year, the offense grew and finished the year with seven games in which Penn State scored 34 or more points.
If Penn State played Ohio and Virginia at the end of the season, it's a completely different game.
Sure, a new quarterback among other shoes being filled may slow things down.
But the team looked comfortable with the new scheme last year, and that can only mean good things to come.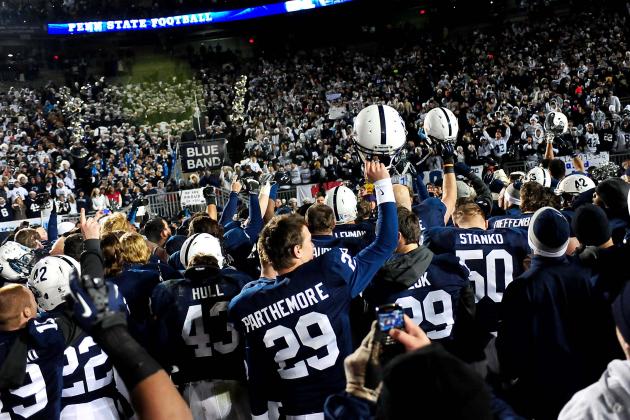 Evan Habeeb-USA TODAY Sports

While the focus has primarily been on the Lions, the biggest reason why this team can win nine games is who will be standing across the field from them.
With exception to Michigan, Ohio State and Nebraska, the 2013 schedule doesn't muster up too many insanely difficult games.
There's a few trap games or teams that fans and players alike may have overlooked, like Minnesota for example. However, there's not many games on the schedule that scream, "Loss!"
An easy non-conference slate should provide a springboard for the team early in the season.
While Central Florida and Kent State could be tricky, the Lions catch Syracuse the year after it loses an NFL draft pick quarterback. Also, Eastern Michigan was simply awful in 2012.
To boot, the Lions' conference gauntlet isn't too intimidating, minus a trip to Columbus. Penn State plays two of its hardest opponents (Michigan and Nebraska) at home, which certainly helps its cause.
Bottom line, the schedule Penn State faces in 2013 just isn't that daunting, making nine wins a true possibility for this team.