Oakland A's: 3 International Players at the WBC Team Should Watch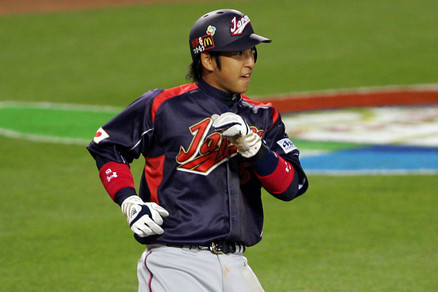 The A's need look no further than Nakajima as proof the WBC has international talent
The 2013 World Baseball Classic (WBC) is in full swing as 15 teams seek to take the international title from Japan, which has won the first two events. Participation from major league players has been solid, with 45 former or current All-Stars on various rosters including R.A. Dickey, Gio Gonzalez, Ryan Braun and Joe Mauer for the United States.
However, there is also plenty of international talent available for teams to get a good look at. The Oakland A's have been no strangers to finding players from the event, signing Yoenis Cespedes (played for Cuba in 2009) and Hiroyuki Nakajima (played for champion Japan in 2009).
To that end, this event is a boon for American fans of the game who get to see talents that they otherwise would not be able to watch in the U.S. It also gives MLB scouts the chance to see if some players have the potential or the current ability to play at the major league level.
For the A's, there are three players I think they would be well suited to take a good look at.
Begin Slideshow

»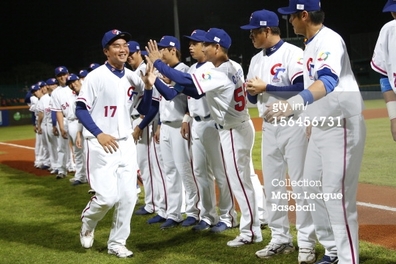 Tseng is a very young prospect that can be developed
The first player is Jen-Ho Tseng, a pitching prospect from Chinese Taipei. Still in high school, the 6'1", 200-pound teen wants to sign with an MLB team before June to help transition from academics to baseball full time.
The upside for Tseng is tremendous. He is of a good size with room to grow and has a variety of pitches (slider, sinker, changeup and knuckle curve). Tseng has a fastball that consistently clocks in the low 90s and tops out at 95 miles per hour.
As is the case with other Asian pitchers, Tseng throws from a three-quarter delivery and works deliberately on the mound. The school of thought is that his fastball could top out at 97 as he finishes growing, but regardless, it is a solid pitch. There would obviously be some development needed, but initial offerings look promising.
For example, in the 2012 World Junior Championship, an international competition for amateur players under 18, Tseng was dominant. In three starts he went 3-0 with a 0.84 ERA, 22 strikeouts, two walks and 12 hits in 21.1 innings.
Oakland is always interested in pitching. The chance to negotiate with Tseng could be based on the new collective bargaining agreement, which states that international players can be signed from July 2 to June 15 with a break in between cycles in the early summer. If Tseng puts himself in position to be signed, the window and competition could be fierce depending on his performance in this tournament.
That said, the upside is tremendous and the chance to sign a prospect for less than it would take to draft a pitcher of similar ability could entice Billy Beane later this year.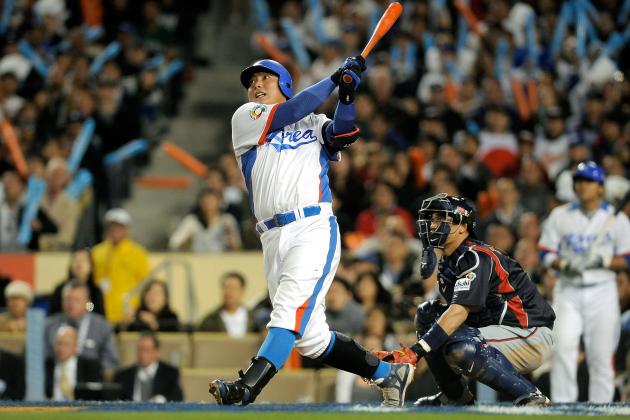 Kevork Djansezian/Getty Images
Kim is a proven power bat in international play
A member of the silver- and bronze-winning Korean WBC teams from 2006 and 2009 respectively, Tae-Kyun Kim is No. 2 on this list. The veteran first baseman has seen a little bit of a dip in his production, but still has the capacity to be a Hideki Matsui-type hitter from the right side of the plate in the U.S.
Oakland still lacks right-handed power beyond Yoenis Cespedes and could use a stop-gap at first base in the event Brandon Moss does not duplicate his 2012 numbers. Kim is a player who has performed in the Korea Baseball Organization (KBO) as well as the WBC.
In 2009, Kim performed magnificently for Korea in the WBC, hitting .345 (10-for-29) with three home runs, 11 RBI, scoring nine runs and walking eight times. For the A's, who have shown no aversion to taking chances on international talent for the short term, a player like Kim could be a nice replacement component for 2014 and 2015.
The No. 1 player on the list will sound eerily similar to perhaps the No. 1 player currently on the A's roster. A Cuban slugger who mashed over 30 home runs in a limited season (just 212 at-bats in this case), has immense talent and athletic ability, and projects to be a more than solid MLB player if he was to defect and make the transition.
As to whether or not Jose Abreu is the first base version of Yoenis Cespedes, or even better, remains to be seen. What does not is the tremendous buzz Abreu has generated. Is Abreu the Cuban Barry Bonds? The numbers suggest Barry Bonds might've been the American Jose Abreu.
Yes, that was hyperbole, but so were the numbers Abreu generated in the last three years. In 2010-11, he hit an astounding .453 with 33 home runs and a 1.583 OPS. Last year, Abreu hit .394 with 35 home runs, 99 RBI and a 1.379 OPS.
Similar in stature to current American League MVP and Triple Crown winner Miguel Cabrera, the 6'2", 255-pound Abreu has the rare combination of prodigious power and plate discipline. If he was to hit the international free-agent market, the bidding would be magma hot. However, his cost would still not be expected to be as much as say, Prince Fielder's as an MLB free agent.
A player this good at a relatively affordable cost would be right in Billy Beane's wheelhouse, especially as the outline for a move to San Jose slowly takes shape for the A's. Abreu is without question the best non-MLB prospect at this event and the one who could make the most immediate impact offensively.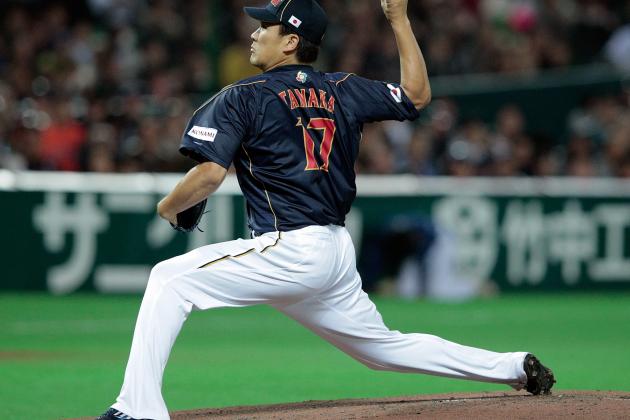 Adam Pretty/Getty Images
Tanaka deserves mention, but would likely cost too much for the A's
There are actually prospects/players who would rank higher than Tseng and Kim, but I have to admit, my rationale for fitting them on this list is more of need and fit than ability. The A's would have a much easier time signing a player like Tseng than Masahiro Tanaka, the best international starter in the WBC.
In other words, the possibility to actually acquire a player in a real-world setting matters just as much. That is why a player like Cuba's Frederich Cepeda is not on this list. He is unlikely to defect from Cuba. So there is as much a degree of who the A's can actually get, being a small-market team, as there is talent considered in this list.
In this case, the best of the bunch is still in play for Oakland. That much was proven last year when the A's signed Yoenis Cespedes.