UFC on Fuel 8: 3 Reasons Mark Hunt vs. Roy Nelson Is the Fight to Make
fightday.com
After scoring a brutal KO over Stefan Struve at UFC on Fuel 8, Mark Hunt isn't going to have to wait very long to find out who his next opponent should be, and if the gods are fair and just, said opponent will be Roy Nelson.
When Mark Hunt came into the UFC, he didn't make such a good first impression. That happens when you lose to Sean McCorkle, a man who seems equal parts fighter and court jester.
But since then, Hunt has racked up four straight wins (three by KO/TKO), and given the current state of the division, it's time to see if he's got what it takes to really be a legitimate contender.
And the perfect test for him would be Roy "Big Country" Nelson.
Nelson is slated to face Cheick Kongo at UFC 159 and if wins and is in relative good health, a bout against Hunt would not only be entertaining as hell, but good for all the real reasons why fights should "make sense."
Here are three reasons why.
Begin Slideshow

»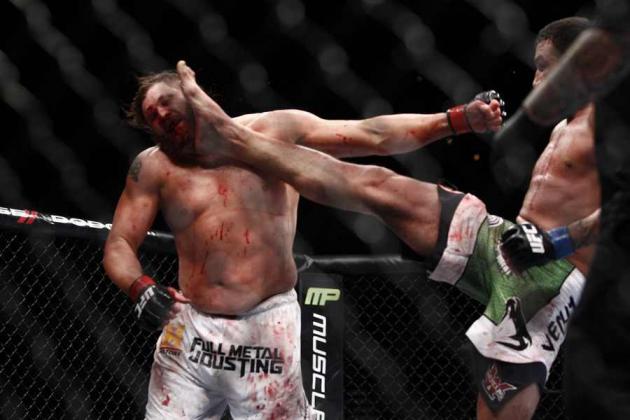 couchfighter.com
No matter what anyone says, the heavyweight division really isn't all that deep right now, and proof of that can be found in the fact that Bigfoot Silva is getting a rematch against Cain Velasquez.
If that wasn't enough, the new No. 1 contender will probably be decided when Junior dos Santos fights Alistair Overeem.
A bout between Hunt and Nelson will propel one man back into the mix in the top five and drop the other down near the bottom of the top 10—which honestly needs to happen if we are to get any kind of perspective on the division and who the next crop of truly worthy contenders are.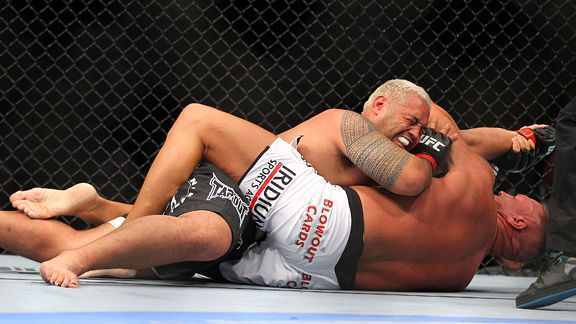 espn.go.com
If Hunt is ever going to have a chance at the belt, then he's going to have to be a far better ground fighter than Sean McCorkle encountered back at UFC 119.
Unless Junior dos Santos wins back the title, Hunt is going to have to be able to deal with an aggressive and accomplished ground attack—and a fight with Nelson would show if he's ready or if he's just treading water.
Conventional wisdom says this is really Nelson's fight to lose. If he's getting outgunned in the striking department, he should have the skills needed to take Hunt down and submit him in short order.
If Hunt can defend against the submissions (and ideally stop the takedowns) then we'll have some idea of how much he's improved.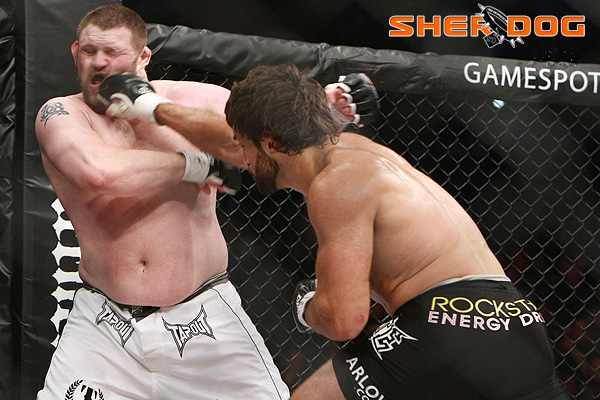 sherdog.com
When it comes to discussions of strong chins and brutal KO power, Roy Nelson and Mark Hunt have been spoken of so often that you would think they'd never been knocked out before—but they have.
Nelson got starched by Andrei Arlovski and Hunt was flattened by Melvin Manhoef.
It's rare when two men of such acclaim are in the same organization and actually have a schedule that sees them fighting at nearly the same times—but when it happens, it shouldn't be ignored.
A fight between these two men would answer many questions about the power and chins of both—especially if Nelson decides to throw caution to the wind and slug it out with Hunt.
If both men are about "bragging rights," this could be the Fight of the Year for as long as it remains upright.
Both men have earned their reputations the hard way, and this has all the makings of an epic saga that, should Nelson go for broke, will probably see Hunt withstanding the best Nelson can throw and Nelson eventually suffering the second KO/TKO loss on his record.
Granted, Nelson is a gritty, savvy fighter who's taken the best that dos Santos and others have thrown at him, but he's never really dealt with the kind of blunt force trauma that Hunt can deliver.
If Nelson proves that he can, we could have the kind of three-round slugfest fight fans dream of.