WWE WrestleMania 29: Who Deserves the Title "Mr. WrestleMania"?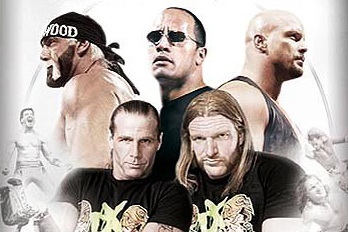 Image retrieved from InsidePulse.com (from "WWE Legendary Moments")
Around this time of year, people start referring to Shawn Michaels as "Mr. WrestleMania." But is it a distinction he truly deserves?
Sure, Shawn Michaels has had several marquee matches. But Steve Austin has never lost a title match at WrestleMania. The Rock has defeated icons from three separate generations. Hulk Hogan was a part of the main event for the first nine years. The Undertaker is 20-0.
Considering every competitor and every match from the original WrestleMania through WrestleMania 28, I determine who truly deserves the moniker "Mr. WrestleMania." There was a lot of competition and a lot of names to consider, so I've compiled a list of the Top 9 Contenders.
Few professional wrestling subjects could be more debatable.
Few professional wrestling accomplishments could be greater than being named the true "Mr. WrestleMania."
Begin Slideshow

»
After the build-up, execution, and fall-out of the main event at WrestleMania 3, Vince's pay-per-view extravaganza really started to take shape. From that day forward, the main event of WrestleMania had to be epic. And that's in large part due to Andre the Giant.
Hogan had teamed with Mr. T to defeat two of the nastiest heels at the inaugural event, and defended his title in a cage against an absolute monster at the sequel. But neither match came close to Hogan's confrontation with Andre the Giant.
Many people genuinely believed it would be the end of Hulkamania.
Sure, Andre lost that match. But it will go down as one of the most important matches of all time.
On top of that, he defeated Big John Studd in a Body Slam Challenge at WrestleMania 1, and won a 20-man Battle Royal at WrestleMania 2 that included the Hart Foundation, Pedro Morales, Tony Atlas, The Iron Shiek, Hillbilly Jim, Bruno Sammortino and NFL star William "The Refrigerator" Perry.
He may not have made it to the finals at WrestleMania 4, but from a storyline perspective, his only objective was to make sure Ted DiBiase won the title. He managed to eliminate Hogan from the tournament and helped advance the Million Dollar Man to the WWF Championship Match.
In the late-80's, his WrestleMania 4 match against Hulk Hogan was one of the most anticipated rematches of all time.
But he didn't accomplish much else, and so couldn't be ranked any higher than No. 9. He lost to Jake Roberts by disqualification at WrestleMania 5, and ran from the ring when Damien was let out of the bag. This was clearly his WrestleMania low-point.
Although he lost the WWF Tag Team Championship when he and Haku failed to successfully defend against Demolition, he saved face by breaking ties with heel manager Bobby Heenan, allowing him to end his career as a lovable giant.
As we'll see when we get to Shawn Michaels, making a huge and memorable impact on the history of WrestleMania is as much about putting on a show as it is about winning matches.
Roddy Piper's WrestleMania record is 2-4-1.
But every time Roddy Piper was involved in WrestleMania, he put on quite a show.
Piper headlined the first WrestleMania as one of the most despised heels in the game. Although his team lost, he managed to leave the match without getting pinned and took out Pat Patterson along the way. He set the bar high for WrestleMania from the very beginning.
The following year, he squared off against Mr. T in a boxing match that was thrown out when Piper threw his corner stool at the television star.
At WrestleMania 3, with a card dominated by the main event and the match of the evening going to Savage and Steamboat, Piper managed to put on a very entertaining match against Adrian Adonis, shaving the effeminate wrestler's golden curls afterwards.
Piper wouldn't be seen again until his epic match against Bad News Brown at WrestleMania 6. He shocked everyone by showing up painted half-black. Then they put on a clinic in regards to brawling in a professional wrestling ring.
At WrestleMania 8, he defended and lost the Intercontinental Championship to Bret Hart in a hard-fought, emotional contest.
At WrestleMania 10, Piper served as a guest referee for the WWF Championship rematch between Bret Hart and Yokozuna, probably his least significant role among all of his appearances at the Grandaddy of Them All.
One of the most memorable matches of WrestleMania 12 had to be Piper's Hollywood Backlot Brawl against Goldust. Who doesn't remember the ridiculous footage they used from the O.J. Simpson trial, or the way they drew the match out throughout most of the pay-per-view?
He made one more appearance at WrestleMania 25, teaming up with Ricky Steamboat and Jimmy Snuka (with Ric Flair in their corner) in a loss to Chris Jericho.
He may not have a record that looks anything like the Undertaker's, but any time Piper is involved with the April pay-per-view, you can expect something special.
Were it not for his failure to win between 2007 and 2010, and a career shortened by injury, Edge may have ranked higher on the list.
His overall record at WrestleMania was 6-3. That included five title matches and two Money in the Bank matches. He won the Tag Team Title twice, the first-ever Money in the Bank match, successfully defended the World Heavyweight Championship in the last match of his career at WrestleMania 27 and had arguably the best hardcore match in WrestleMania history against Mick Foley at WrestleMania 22.
All three of his losses came in big matches. He failed to win his second Money in the Bank Match and lost two World Heavyweight Championship matches, one of them a Triple Threat Match.
Along with his match against Foley, Edge and Christian took extreme tag team action to a completely new level when they won Tag Team Championship matches against the Dudley Boyz and the Hardy Boyz two years in a row.
His WrestleMania resume includes matches with Booker T, Chris Jericho, Mick Foley, John Cena, The Big Show and Alberto Del Rio. Counting Money in the Bank matches, you can add Chris Benoit, Kane, CM Punk and Randy Orton to the list.
Unquestionably, Edge has put together a string of impressive matches at WrestleMania. But there are six WWE Superstars that I feel have been even more impressive.
Randy Savage had his fair share of losses at WrestleMania. But he also had his fair share of memorable WrestleMania moments.
His overall record is 7-4. He was involved in five title matches. At WrestleMania 4, he won four matches in one evening. He's had matches against Ricky Steamboat, Hulk Hogan, Dusty Rhodes and the Ultimate Warrior, as well as victories over George "The Animal" Steele, Ted DiBiase and Ric Flair.
He successfully defended his Intercontinental Championship against the crazed George Steele at WrestleMania 2, and dropped the title to Ricky "The Dragon" Steamboat the following year in what is generally considered one of the greatest matches in WrestleMania history.
At WrestleMania 4, he defeated Butch Reed, Greg Valentine, One Man Gang and Ted DiBiase to capture his first WWF Championship.
Once he turned heel, it would be a while before he won again. He dropped the WWF Championship to Hulk Hogan at WrestleMania 5 after one of the most dramatic break-ups in wrestling history at that time.
His match against the Ultimate Warrior at WrestleMania 7 is memorable, as the aftermath resulted in the reunion of Savage and Elizabeth. It was a reunion that ushered in the Macho Man's return to his role as a face.
Although he defeated Crush at WrestleMania 10 in a Falls Count Anywhere Match, his last really big win at WrestleMania was when he took the WWF Championship from Ric Flair at WrestleMania 8.
Savage often gets left off of lists like this, which I think is unfortunate. But he didn't even break my Top 5.
Sure, he's only batting .500 at WrestleMania. Sure, he's never won a World Championship at WrestleMania. But The Rock is still one of the biggest names in the history of WWE's biggest annual event.
He entered and left WrestleMania 13 and 14 as the Intercontinental Champion. He's been in three WWF Title Matches.
But most importantly, he's defeated arguably the three biggest stars of three different generations.
Unquestionably, no one was bigger than Hulk Hogan in the late-80's and early-90's. At WrestleMania 18 ("X8"), Hogan fell victim to The Rock.
It's hard to imagine someone arguing that there was a bigger name in professional wrestling during the Attitude Era than "Stone Cold" Steve Austin. Although The Rock lost to the Texas Rattlesnake at WrestleMania 15 and 17, he finally conquered the Bionic Redneck at WrestleMania 19.
Then, at WrestleMania 28, he surprised everyone when he defeated the biggest star of the modern era, John Cena.
Three of his four WrestleMania losses came in the main event, always with the biggest prize in the game at stake.
He even did a good job of hosting WrestleMania 27, getting involved in the main event and helping The Miz shock the world by retaining the WWE Championship in a match against John Cena.
If that's not impressive enough for you, chew on this: he's defeated Hulk Hogan, Steve Austin and John Cena on the Grandest Stage of them All. Both The Undertaker and Shawn Michaels lack victories over any of those stars at WrestleMania.
He's 4-0 when it comes to title matches at WrestleMania, three of those victories being for the WWF Championship. He's defeated such greats as Shawn Michaels, The Rock (twice) and Scott Hall, and put on an unforgettable match with Bret Hart that served as a turning point in his career.
His only other loss came at the hands of The Rock, without any gold on the line, after Austin had already defeated The Rock twice at WrestleMania, both victories coming when the WWF Championship was up for grabs.
His WWF Championship victory at WrestleMania 14 ushered in Austin's supreme reign during the Attitude Era.
Even when he's not in shape to compete, he finds a way to make an impact at WrestleMania: as a referee. His involvement in the Battle of the Billionaires isn't nearly as memorable as his first refereeing assignment. He officiated the match between Bill Goldberg and Brock Lesnar, receiving the biggest pop of the match when he delivered Stone Cold Stunners to both competitors.
He's never lost a title match at WrestleMania. The images from his match against Bret Hart will forever be etched in most WWE fans' memories.
Would the execution of the always-rumored WrestleMania match against CM Punk rank him higher than the #4 spot?
At No. 3 we have the man who coined the phrase "Mr. WrestleMania." If his record at the Big Dance was more impressive, he might have earned the runner-up spot, if not top billing.
Having participated in sixteen matches, his record is just 6-10. It looks even worse when you consider title matches: 1-6.
To his credit, he's been in the ring with such greats as Razor Ramon, Diesel, Steve Austin, Triple H, Chris Benoit, Kurt Angle, John Cena and the Undertaker. He has WrestleMania victories over such big names as Tito Santana, Vince McMahon, Chris Jericho, Bret Hart and Ric Flair.
He's competed in singles matches and tag matches. He's fought for both the Intercontinental and WWF Championships. He's found himself in a Ladder Match, Iron Man Match, Triple Threat Match, No Holds Barred Match, No Disqualification Match, two matches with a career on the line, and even guest refereed a Hell in a Cell Match.
Many of his WrestleMania matches were arguably the Match of the Year, including the Iron Man Match against Bret Hart, his Ladder Match with Razor Ramon, both of his matches against the Undertaker, and even the match he refereed between the Dead Man and Triple H.
His main-event match against Steve Austin at WrestleMania 14 set the tone for the Attitude Era. The match that sent Ric Flair into "retirement" was one of the most emotional WrestleMania matches of all time.
His WrestleMania resume can't be ignored. But neither can those of the guys I ranked No. 1 and No. 2.
There are those who think Hulk Hogan owes his success to Vince McMahon, and those who think Vince McMahon owes his success to Hulk Hogan. It is, perhaps, the oldest debate in sports entertainment.
I'll raise the same question about WrestleMania. Would WrestleMania have been successful without Hulk Hogan? Would Hulk Hogan have risen to the heights he did without WrestleMania?
Hogan left six WrestleManias as the WWF Champion.
Of the first nine WrestleManias, Hogan headlined seven of them. Of the two he didn't technically headline, he was still the biggest draw and made it possible for his friend to leave as the champ at one (WrestleMania 4) and won an impromptu title match at the other (WrestleMania 9).
His record at WrestleMania is 8-3. He has victories over Roddy Piper, Paul Ordorf, King Kong Bundy, Andre the Giant, Randy Savage, Sgt. Slaughter, Sid Justice, Yokozuna and Vince McMahon. He also had huge matches with the Ultimate Warrior and The Rock.
And who is to say that he won't make another appearance or two before it's all said and done?
Regarding at least ten different WrestleManias, Hogan was arguably the biggest draw on the card, or at least involved in the match that had the biggest draw.
Hogan never put on a clinic at Mania the way Bret Hart or Shawn Michaels could. Nothing he was involved in would ever be nominated for Technical Match of the Year. But the ripple effect of his presence at the first nine events can be felt even as we approach WrestleMania two decades later.
Was Hogan's career boosted by WrestleMania? Of course. But would WrestleMania have ever truly gotten off the ground in the early years without a healthy dose of Hulkamania? I'll let you answer that for yourself.
Was there ever any doubt? Do I even have to justify the decision?
He's 20-0 at WrestleMania. That's the sports entertainment equivalent of a pitcher going 20-0 during their career at the World Series. To my knowledge (and please, correct me if I'm wrong) no other superstar has even competed at WrestleMania that many times. With the exception of the McMahon family, has anyone else even been present at that many Manias?
His list of victims include such greats at Jimmy Snuka, Jake Roberts, King Kong Bundy, Diesel, Sycho Sid, Kane, Triple H (three times), Shawn Michaels (two times), Ric Flair, The Big Show, Randy Orton, Mark Henry, Batista and Edge. You can add CM Punk to that list in a few weeks.
If anyone ever beats Calloway at WrestleMania, it will almost certainly be the biggest accomplishment of their career.
He's been involved in a No Holds Barred Match, three No Disqualification Matches, two Hell in a Cells, a Handicap Match, a Casket Match and ended HBK's career.
The post-match image of the Dead Man with the WWF Championship after his victory at WrestleMania 13, with the ominous purple glow, will go down as one of the most memorable sights in WrestleMania history. But even that may be surpassed by any of his four epic matches with Triple H and Shawn Michaels.
It is highly unlikely that anyone will ever have a WrestleMania resume that even comes close to approaching that of the Undertaker. And even if it ever did happen, it wouldn't be until some time around WrestleMania 50.
If you think anyone else will ever deserve the title of "Mr. WrestleMania" more than the Undertaker... well, get back at me in twenty years.
You can follow Dustin on Twitter, check out his blog or listen to his podcast.