The Biggest MMA Losers from the Month of February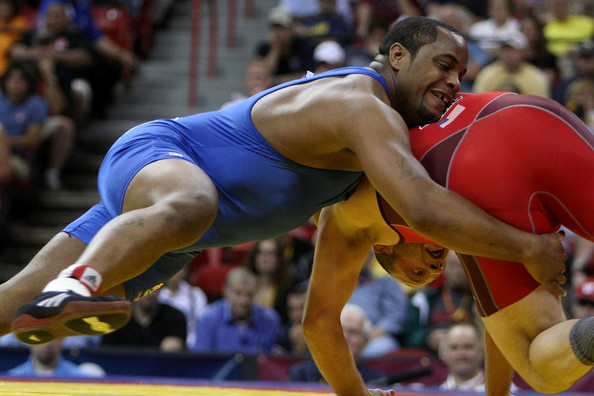 Photo credit: Zimbio
When I sat down to write this slideshow, there was an aspect to the concept that I didn't immediately appreciate. And that was the depth—the sheer richness—of the losing that went on last month in the world of mixed martial arts.
Maybe it's because February is the worst month of the year, and as such lends itself to general suckitude in much the same way that a full moon affects obstetrical trends. Or, eh, something. Regardless, from monstrous upsets to humiliating knockouts to gut-wrenching cuts, this is a list of those who lost out loud in the month of February.
Begin Slideshow

»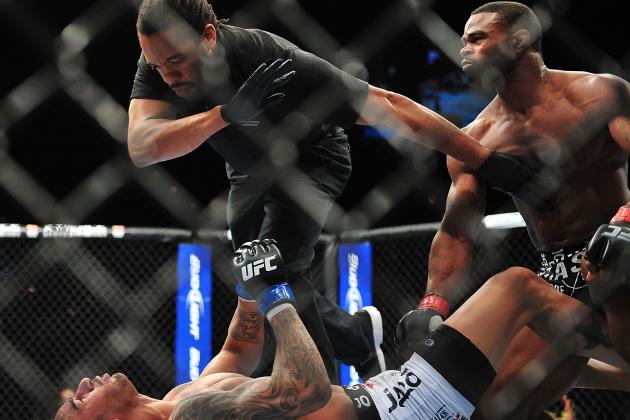 Gary A. Vasquez-USA TODAY Sports

Jay Hieron didn't go out with a whimper. He went out with a bang.
First Tyron Woodley, making his UFC debut, knocked Hieron cold in 36 seconds at UFC 156. A couple weeks later, Hieron was, again, released from the UFC. At 36 years old (hey, one for every second!), it's likely his UFC career is over with a disappointing 0-4 record.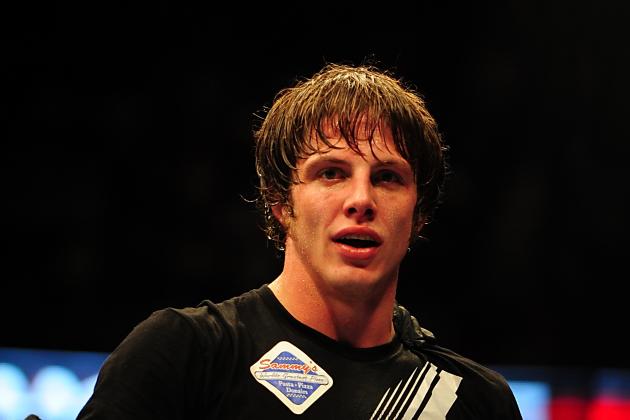 Anne-Marie Sorvin-USA TODAY Sports

Matt Riddle's 18-month-long unbeaten streak wasn't enough to save him from the executioner's axe following his second positive test for marijuana.
A conversation around the rules governing marijuana—and the seemingly uneven manner in which those rules are applied to different fighters—might be a good thing to have. In the meantime, though, rules are rules. Riddle played with fire and got burned. No pun.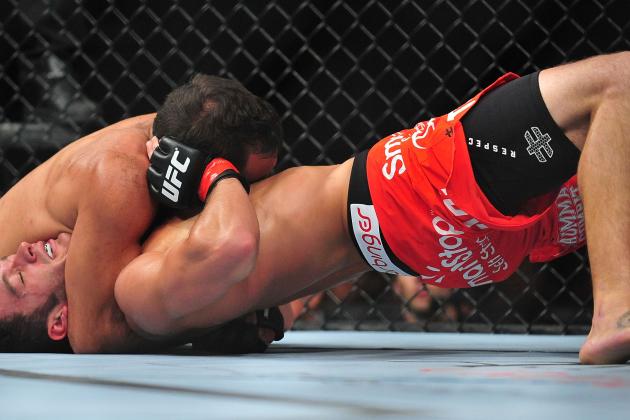 Gary A. Vasquez-USA TODAY Sports

This one was just sad. Josh Grispi could've been a contender. But the once-hot prospect looked tepid in notching his fourth consecutive defeat following three rounds against unheralded Andy Ogle at UFC on Fuel TV 7, and received his walking papers as a result.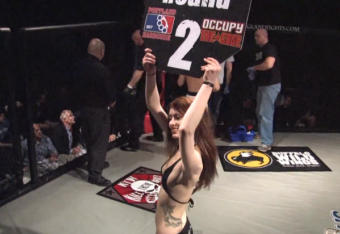 Photo credit: The Big Lead/New England Fights
Bad news, Kristina. The fight was over when you carried that card through. Kind of made for an auspiciously inauspicious MMA debut.
And then when you were interviewed later and you didn't know who Arianny Celeste and Brittney Palmer were? That did not help matters.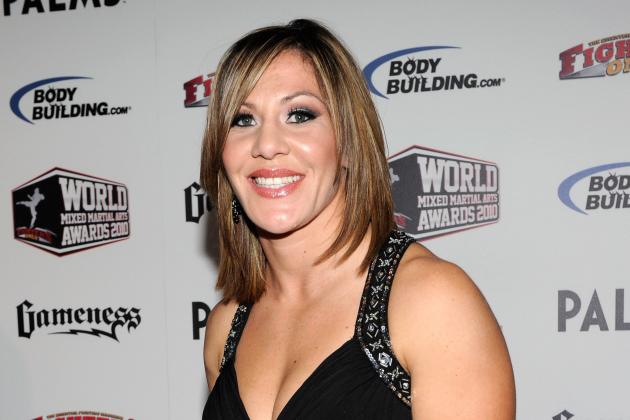 Ethan Miller/Getty Images

With an assist to Tito Ortiz.
Santos and Ortiz had to watch together behind the guardrails as history walked right on past them. Their appearance on the fan side of UFC 157 capped a series of baffling moves that saw Santos asking for her release from the UFC to sign with all-female promotion Invicta. It's a long story. Look it up if you don't know it...my vein is starting to twitch again, so as for me, I'm just going to move on now.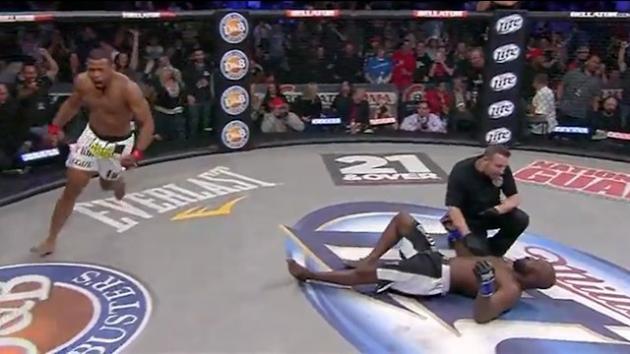 Photo credit: Bellator/Fightday.com
"King Mo" might have been the most high-profile signing in Bellator history. He was the presumptive favorite—in his own mind and those of many others—to win the promotion's latest light-heavyweight tournament. At Bellator 90, Emanuel Newtown was a possum on the King Mo Championship Highway.
That is, until Newton landed a half-baked spinning backfist perfectly on Lawal's jaw and felled the king in his tracks. So much for the best-laid plans.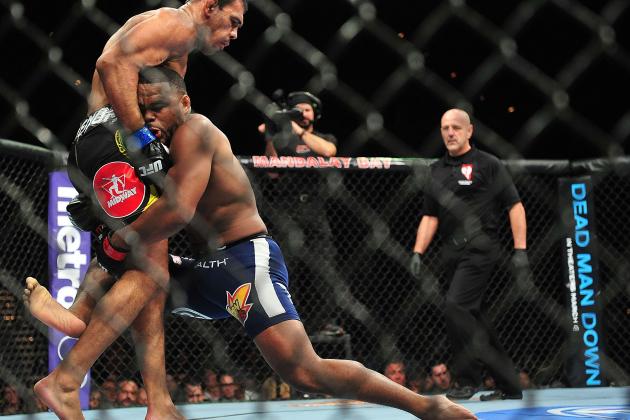 Gary A. Vasquez-USA TODAY Sports

First, Blackzilians team founder Rashad Evans gave maybe his worst performance in memory in losing to Antonio Rogerio Nogueira.
Then in the very next fight, Blackzilians teammate Alistair Overeem got knocked out by heavy underdog Antonio Silva.
Teammates Ryan Jimmo and Jorge Santiago added their own contributions to the losing as well.
Never mind that yet another teammate, Siyar Bahadurzada, lost Saturday night at UFC on Fuel TV 8. That happened in March, so it doesn't count.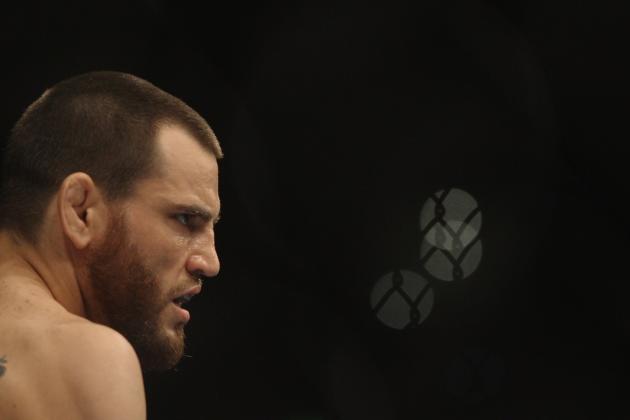 Mark Kolbe/Getty Images

Jon Fitch was the most famous—and most accomplished—of the February 16 who got cut. His boring style didn't make him the most popular guy. But he was an elite welterweight just the same.
It should be noted for the record, of course, that his appearance here is not really of his own making. The good news is he appears close to signing with another promotion.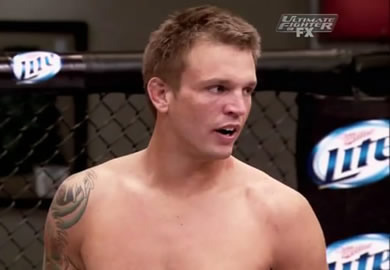 Photo credit: BJPenn.com
Just shut down the Knockout of the Year contest now. Because Uriah Hall, a contestant on this season of The Ultimate Fighter, won it. And that came thanks to Adam Cella.
The spectacular spinning heel kick put Cella on the mat and in the hospital. Luckily he's OK, but man. "Brutal" is the right term here.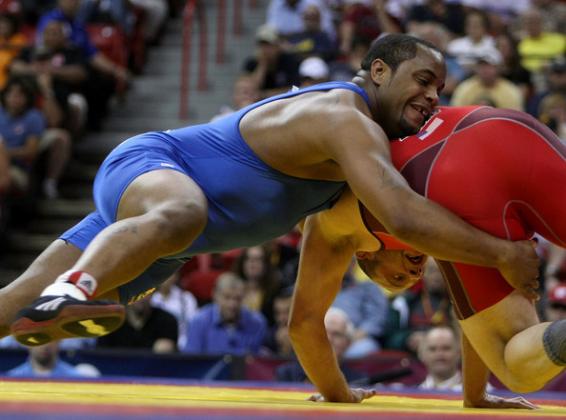 Photo credit: Zimbio
It was a sad day when the International Olympic Committee announced it was planning to discontinue wrestling as an Olympic sport. The arguments for why that is sad (and troubling) are well documented by smarter people than I. Suffice it to say that wrestling, and the MMA community and Olympics fans by extension, lost in a big way this month.

Follow Scott Harris on Twitter.