Auburn Football: Auburn Fans' 3 Biggest Worries Headed into Spring Practice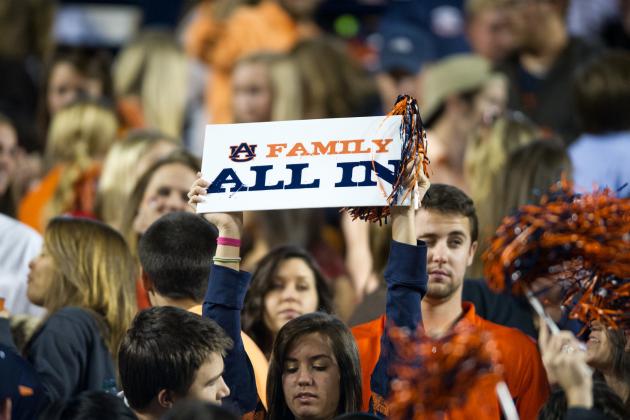 Michael Chang/Getty Images

Auburn head coach Gus Malzahn and his staff are taking over a team that last year produced one of the worst seasons in school history. In 2012, the Tigers won zero conference games and finished with an overall record of 3-9. Malzahn, of course, does not care what happened last year. He is worried about 2013.
Perhaps worried is not the right term. Coaches can prepare. They do all the things that make coaching a year-round, round-the-clock job to try to give their team the best chance to win. Fans, on the other hand, have a limited role, especially in the offseason. One thing we can do—albeit unproductive—is worry.
Here are Auburn fans' three biggest worries as spring practice draws near.
Begin Slideshow

»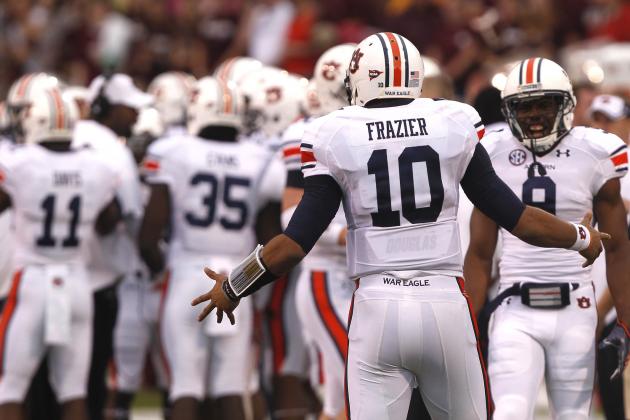 Butch Dill/Getty Images

In 2010, Kiehl Frazier was one of the highest-rated recruits in the country. Last October, he was benched after throwing eight interceptions to only two touchdowns in his first five games as Auburn's starting quarterback.
Frazier's lack of success in 2012 may easily be attributed to playing in a new system. His skill set simply did not fit in Scott Leoffler's pro-style offense, and the sophomore quarterback's discomfort was plainly visible.
Now that Malzahn (who recruited Frazier to Auburn in 2010) and his spread offense are back, hopefully Frazier can deliver on his potential.
But what if he cannot? What if the experience of 2012 has somehow damaged Frazier beyond recovery? Whether that is so cannot be known until Frazier faces a good defense in 2013, assuming he is able to win the starter's job this spring.
Until then, Frazier's ability to come back is a source of worry for Auburn fans.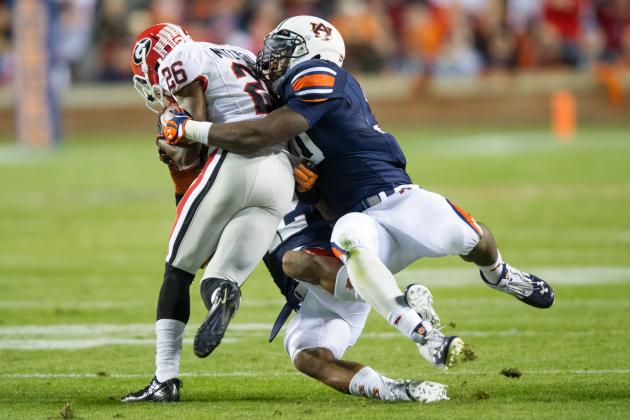 Michael Chang/Getty Images

The 2012 Auburn defense was disturbingly bad. The Tigers rewrote the record books, but not in a good way. The 671 yards they gave up against Texas A&M was the most in school history, and the 63 points was the highest total surrendered by Auburn since 1917. The record setting was not limited to the Texas A&M game. In 2012, the Auburn defense gave up 420.5 yards per game, also a school record.
Now Auburn fans are hoping new coordinator Ellis Johnson can transform the defense into a field-worthy unit. Of course, last year we placed the same hope in first-year coordinator Brian VanGorder.
What if Johnson, like VanGorder, is unable to bring about change for the better? Even a modestly decent defense would strongly improve the Tigers' chances for a bounce-back season. What if, however, the job of rebuilding the defense takes more than one year?
Until we see the Auburn defense making good tackles and getting off the field without giving up a score, all we can do is worry.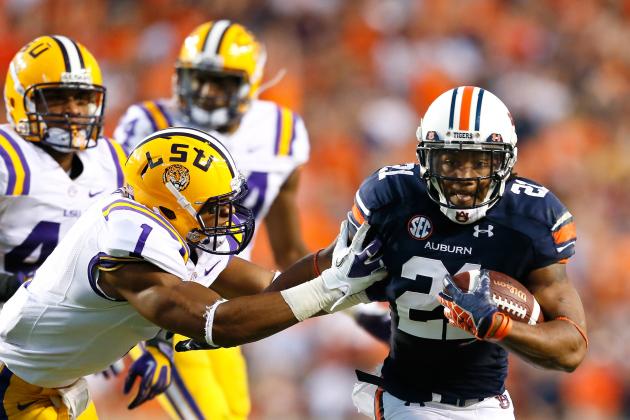 Kevin C. Cox/Getty Images

Tre Mason was Auburn's leading rusher in 2012 with 1,002 yards. Behind him was Onterio McCalebb, who is now pursuing an NFL career. Next on the list was Mike Blakely, who left the team in January. The only other Tiger tailback to carry the ball in 2012 was Corey Grant, who ran only nine times for 29 yards.
Hopefully, Grant will be able to contribute in a more meaningful way in 2013. Also, junior-college transfer Cameron Artis-Payne brings high expectations after rushing for 2,048 yards and 25 touchdowns in 2012 at Allan Hancock Community College in Santa Maria, Calif.
Nonetheless, Mason is the only proven SEC running back currently on Auburn's roster. Losing him for any reason—and the high number of carries he is expected to receive makes injury a concern—would be a serious blow to the Auburn offense.
Conclusion
To be a fan is to worry. The team's needs regarding Kiehl Frazier, the defense and Tre Mason are all reasons for concern. Spring practice is just around the corner. Then we will have more information by which to talk about the prospects for the 2013 season in a more productive, optimistic way.