WWE/TNA/ROH: My Top Moments of the Week, Feb. 25-Mar. 1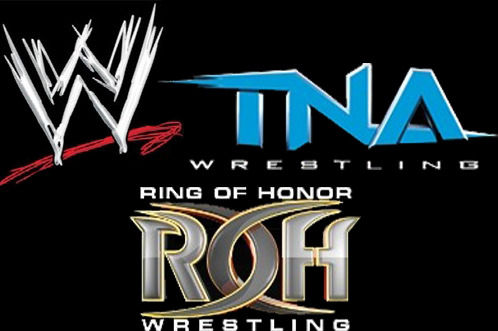 wwe.com, impactwrestling.com, rohwrestling.com
Another week of professional wrestling has come to an end, and it was an overall good week.
WWE Raw was a solid show. It featured some good matches, a great main event and some nice build for the top matches for WrestleMania.
TNA Impact Wrestling was a good show. There were a few good matches, a new champion was crowned and the build for Lockdown was quite solid.
WWE SmackDown was also a good show with some enjoyable matches. Much like Raw, the top matches for WrestleMania got some good build.
The Feb. 23 episode of ROH Wrestling finished my week of wrestling on a high note. It only featured two matches, with the main event being the best, but build for their 11th anniversary show was very good.
As for any other wrestling show, I was unable to watch WWE NXT, Superstars, Main Event or TNA Xplosion. My work schedule kept me incredibly busy and thus kept me from watching any other show. WWE Saturday Morning Slam continues to be replaced by a religious show where I live, so they will continue to be missing as well.
Which show, or shows, was the best of the week? Click here to cast your vote on what you thought was the best!
Begin Slideshow

»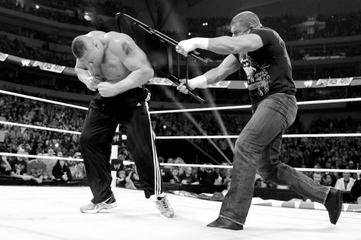 wwe.com
When Brock Lesnar delivered the F-5 to Vince McMahon the night after the Royal Rumble, it was only a matter of time before Triple H made his return. This past Monday on Raw was that time.
Before Lesnar could attack Mr. McMahon again, the Game made his return and it was an all-out brawl. Lesnar got in a few shots, but this was mostly controlled by Triple H, and rightfully so.
The last time the WWE Universe saw Triple H inside a WWE ring was in August at SummerSlam when he lost to Lesnar. He not only needed to get revenge for himself, but also for his father-in-law, Mr. McMahon.
Seeing Lesnar get beaten down was a breath of fresh air. Since his return, Lesnar has just beaten people up. With the exception of his loss to John Cena at Extreme Rules last year, Lesnar has been a wrecking machine. It was about time he was the one to back away.
That ring post shot was nasty looking, as it seemed like Lesnar was busted open the hard way. The blood really flowed, and it made me miss seeing the crimson mask during fights like this, and also in cage matches.
Triple H's return was very well done, and I can't wait to see what happens next.
With guests Alberto Del Rio, Ricardo Rodriguez, Jack Swagger and Zeb Colter, Miz TV continues to deliver entertaining television. Talking mainly of immigration and the American dream, as well as a shot at Glenn Beck, this segment got the feud for the World Heavyweight Championship over in a big way.
Colter was without a doubt the star of the segment with his work on the microphone. The man formally known as Dutch Mantell is truly a master on the mic. He knows how to use his words to get a response from the crowd, and it also helps that he speaks on the controversial issue of immigration.
Del Rio delivered a good promo as well. Speaking of how the United States belongs to the people, he defended his side quite well.
I found it interesting that Colter isn't actually against Del Rio being in the country. Instead, he's against Del Rio succeeding at the American dream, which gets others to believe that they can succeed as well. In turn, that brings more to the United States and gets more to stay even if they fail.
The character of Colter could be considered wrong, but it's just a character. That's why I like Colter, because he's a character. He's also getting Swagger over for the first time in years, so that's great as well.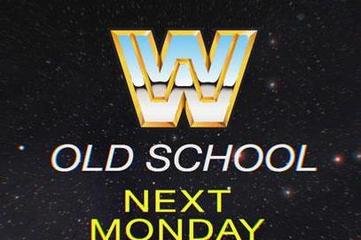 wwe.com
In November 2010, WWE presented the first Old School Raw. Featuring multiple legends, the old WWF logo and some Attitude Era wrestlers using old gimmicks and entrance music, the first-ever show was a success.
It was very fun to watch, and it was also a nice trip down memory lane. For me, the highlight of the entire night was a Piper's Pit with John Cena.
Roddy Piper is one of the best mic workers the business has ever seen. As far as I'm concerned, he is the best. He continues to be the best after all these years, and the segment with Cena was one of the greatest of the year.
This past Monday on Raw, WWE announced that it would be presenting another Old School Raw the following week. My level of excitement was raised quite high since I really enjoyed the last one.
I can't wait to see who WWE brings in for the show, and I really hope Piper's Pit makes its return. As far as current storylines go, WWE would be crazy not to put Zeb Colter in the Pit with the Hot Rod.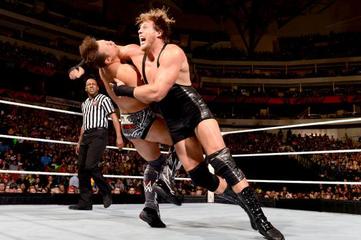 wwe.com
The Miz and Jack Swagger had a solid match here, and in the third hour of the show, it was the first good match of the night. While the action was a bit one-sided with Swagger controlling most of the contest, it was some good overall action.
The Miz sold for the No. 1 contender very well and made him look like a force to be reckoned with. If Swagger can take a former WWE champion like The Miz to the limit, it makes him look strong and very much ready for a shot at the World Heavyweight Championship at WrestleMania.
Miz made Swagger look like a star. With Zeb Colter doing his talking for him, all he has to do is get the job done in the ring. Swagger does just that, and his opponents are helping him along as well.
It's a shame to see The Miz with no direction, though. It seemed like he could be feuding with The Big Show last week, but the situation was never followed up on. Hopefully, WWE gets The Miz's WrestleMania spot secured soon.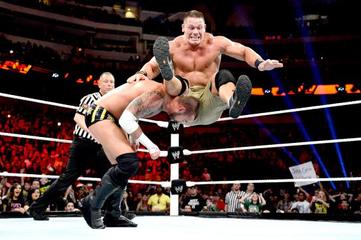 wwe.com
What can I say about this match that hasn't already been said? CM Punk and John Cena had a great match in the main event of Raw. With solid back-and-forth action, constant reversals and a few surprises, Punk and Cena delivered once again in their long-standing feud.
The biggest surprises came from two maneuvers executed by both Superstars.
Punk would give fans a rare glimpse of a move that hasn't been seen in WWE in quite some time, the piledriver. A regular piledriver is something younger fans can only see online nowadays, so seeing the move was certainly a treat.
Something even rarer occurred during that match, and that was Cena pulling a Hurricanrana out of nowhere. It wasn't perfect, but it happened.
As good of a match this was, I hope this is the last time in a while I have to see Punk and Cena go one-on-one. While it hasn't reached John Cena vs. Randy Orton proportions, it's just time to see them face other people.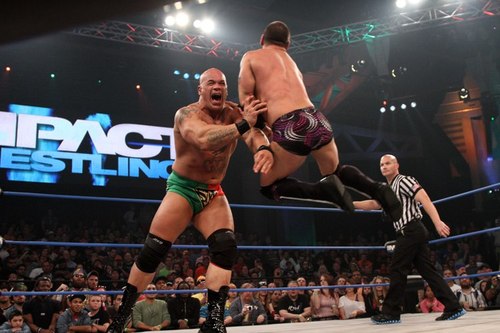 facebook.com/ImpactWrestling
Austin Aries and Hernandez had what I thought was a solid match. It wasn't anything too special, but it got the job done. The action was pretty good as both wrestlers impressed in the ring.
That's nothing new from Aries, as the man always impresses in the ring no matter who his opponent is. He has the ability to adapt to his opponent's size, strength and style. He performs great as a result, and he makes his opponent look good, too.
I've always been a fan of Hernandez. I do feel, though, that he's a better tag team wrestler than he is a singles competitor. Hernandez can have a solid one-on-one match, but that usually depends on his opponent. This match is an example of that.
Aries knows how to work with different styles, so he can bring Hernandez to a solid match. I would like to see Hernandez go solo, which he has been done before. His last solo run wasn't very successful, though, so I'd like to see him get the chance to actually shine a bit.
Perhaps make him into a monster for the midcard, and a major threat to the Television Championship. For now, though, he works well as a tag team wrestler.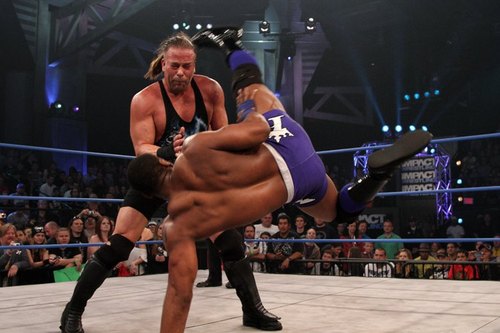 facebook.com/ImpactWrestling
TNA has finally taken the title off of Rob Van Dam! I was originally fine with Van Dam winning the X-Division Championship, but then he kept on retaining the belt. I was hoping he was just going to be a transitional champion, though that wasn't the case.
Even though the division is the smallest it has ever been, TNA still has many talented X-Division wrestlers. There are a number of guys who could really help the division, but for some reason TNA can only concentrate on one or two at a time.
This past Thursday, they finally put the spotlight on one of those guys. The spotlight has actually been on Kenny King since December when he got his first shot at the title, but it's now directly over him.
He is the best choice to have the title right now, too. He's got a pretty good heel character going, and he can get the job done in the ring. As long as Van Dam doesn't get the title back, the X-Division very well could get back on track with King as champion.
At Lockdown later this month, the traditional Lethal Lockdown will return and feature the Aces & Eights vs. Team TNA. Team Aces & Eights was predictable with Devon, Mr. Anderson, D.O.C., Knox and Garrett Bischoff on the team. Team TNA provided some surprises, though.
Led by Sting, the Icon chose Samoa Joe, James Storm, Magnus and Eric Young as his partners. Samoa Joe and Magnus were a given since Joe has been fighting the Aces & Eights for a while now, and Magnus was taken out a few months ago by the group. The surprises come in the forms of Storm and Young.
Storm hasn't done much fighting with the Aces & Eights. He was backing TNA up here and there, but he was mostly involved with his own storylines. It's good to see Storm involved in a high-profile match at Lockdown.
It's even better to see Young back. While he was attacked and taken out by the gang a few months ago, I didn't expect him back anytime soon due to his show on Animal Planet. Not only was it a surprise to see him return, it was great to see him acting serious and not taking off his pants.
Team TNA is an impressive team, and the five wrestlers involved have really gotten me excited for the match.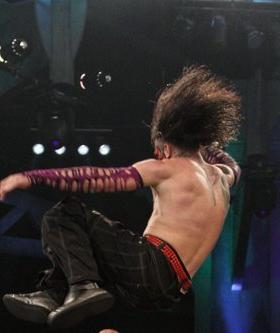 facebook.com/ImpactWrestling
The main event of Impact Wrestling saw the TNA World champion team with his Lockdown opponent to take on the former TNA World Tag Team champions. Jeff Hardy, Bully Ray and Bad Influence really delivered in the final match of the show. With solid back-and-forth action throughout the match, all four wrestlers impressed.
The time off Hardy received during TNA's tour of the United Kingdom seemed to do wonders for him. He was moving around a lot better than he was before the tour and he seemed back to his old self. Since he has to defend his title inside of a steel cage at Lockdown, it's good to see him healed up a bit.
Bully Ray has never been better. He's in the best shape he's been in years, and he's showing that he deserves this main-event push. I would prefer that he got it as a heel, but Bully Ray in the main event is good either way.
Outside of holding the Hardcore Championship 10 times, he never really got much of a chance to make it as a singles star in WWE. I don't think it ever saw him as more than just a tag team wrestler. TNA is giving him that chance, and Bully is really running with it.
Christopher Daniels and Kazarian continue to be one of the best overall teams in wrestling today. Adding the great entertainment that they provide when they're in the ring, and Bad Influence are one of the best things going in TNA Wrestling.
I'm very happy to see them getting a shot at Austin Aries and Bobby Roode for the World Tag Team Championship at Lockdown, but I just wish Chavo Guerrero and Hernandez weren't involved. Aries and Roode vs. Bad Influence is a Match of the Year candidate on paper, so hopefully that'll happen sooner rather than later.
There are two members left in the Aces & Eights yet to be unmasked. Those two men are the vice president of the gang and the "higher power."
Thursday's Impact Wrestling closed with Kurt Angle breaking into the Aces & Eights clubhouse and taking out both Mr. Anderson and Devon on his way to the vice president. Angle would take out the masked man and ripped off the mask.
The camera didn't catch his face, but with Angle's response of "Holy [expletive]! How could you, man, how could you?" it's safe to say that Angle knows who he is.
Before he could reveal the identity, though, the rest of the gang finally showed up and attacked him. One of the two top guys in the group has finally been unmasked, but who is he? Looking at TNA's roster page, none of the wrestlers on it fit the build of the guy. Could a former TNA talent be returning? It'll be interesting to see what happens from here.
No matter how bad the attack turns out to be, Angle has a match at Lockdown next Sunday. So will he reveal the identity on Thursday, or will we have to wait until Lockdown?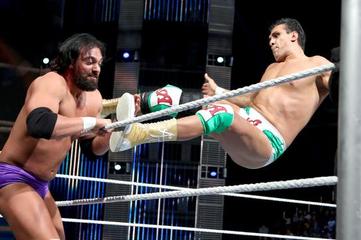 wwe.com
The opening contest of Friday's SmackDown saw Alberto Del Rio and Damien Sandow deliver a really good match. They gave the WWE Universe solid back-and-forth action throughout the contest, which is great for Sandow.
Fans already know that Del Rio can get it done in WWE's main-event scene. He's the current World Heavyweight champion and is a two-time WWE champion, though his reigns with Raw's main belt were largely forgettable. Forgettable reigns as WWE champion put aside, Del Rio is an established main-event star.
Sandow is a main-event-level talent, but he's yet to be established as such. While he has suffered quite a few losses over the past few weeks, Sandow has been having very good matches. Some of those matches have been with WWE's main-event wrestlers, which I think is getting him ready for a top spot.
He has proven that he can perform with the top stars, and adding in his solid heel character, Sandow has the makings of a top heel. I can't see anything happening until at least the summer, but Sandow's rise to the top is certainly coming.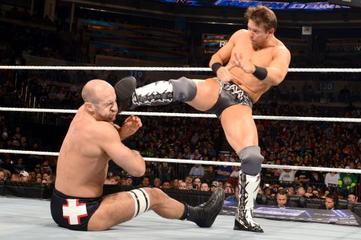 wwe.com
In this Two-Out-of-Three Falls match for the WWE United States Championship, Antonio Cesaro and The Miz gave fans a good match. I didn't really like how the second fall took place during the commercial break, but as a whole, the match was quite good.
Between each fall, the action was solid. Cesaro and Miz went back and forth throughout the time they were given, which showed that they have some great chemistry with one another.
Since The Miz defeated Cesaro the night after the Elimination Chamber pay-per-view, I was wondering if they were going to have one final match at WrestleMania, or on one of the television shows. This match is most likely the end of their feud, and it was a good ending. Cesaro looked good by being able to defeat The Miz again, and The Miz looked good with his strong performance.
With the storyline finished, it'll be interesting to see what WrestleMania has in store for both of them.
Zeb Colter continues to be the most interesting character in WWE with this segment. Featuring Jim Ross trying to talk to Jack Swagger about his title match at WrestleMania and how much he has changed, Colter shined here as he answered for Swagger and continued his quest to eliminate Alberto Del Rio.
He even compared Del Rio to a rotting bowl of fruit on the kitchen table, which was a bit messed up. Then I remember that Colter is just a character, so I ultimately saw the humor in it.
This segment was just so well done overall. Whether it was J.R. telling Swagger he was brainwashed or Colter saying that he just told him the truth, this segment delivered for both the WrestleMania storyline and for Swagger's character.
Ross was great here, and his work in this segment made me miss him on commentary even more. WWE better have him at the announce booth at Monday's Raw for the "old school" theme. He's still the very best at what he does.
Alberto Del Rio was also involved toward the end of the segment, but this was all about Colter, Swagger and Ross.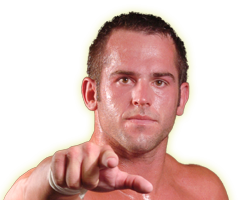 Roderick Strong (rohwrestling.com)
The main event of the Feb. 23 episode of ROH Wrestling saw Roderick Strong, Kyle O'Reilly and Bobby Fish defeat Michael Elgin, Davey Richards and Eddie Edwards is a very good match. With a lot of great action between the six of them, this contest was just so much fun to watch.
All six wrestlers really impressed in this match, and they kept a trend going of solid main events on Ring of Honor's show.
The team of O'Reilly and Fish is quite good. I liked O'Reilly as a singles competitor, but I didn't really know much about Fish when I first saw him in ROH. They have similar styles and work very well as a team.
Richards and Edwards, better known as the American Wolves, are a great team. They are former ROH World Tag Team champions, and it's great to see them back together. It's like they never stopped teaming as they picked up right where they left off.
Strong is one of the best ROH has to offer. His repertoire of back breakers is quite impressive.
Speaking of impressive, Elgin is an impressive wrestler. His strength allows him to pull off some great moves, especially in this match. ROH should really take advantage of his abilities and put a title on him.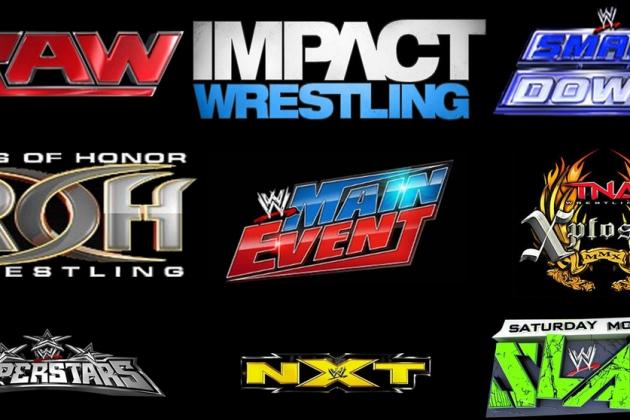 Logos copyright to their respective companies (WWE, TNA Wrestling, Ring of Honor)
Here are the poll results of what you thought was the best show last week!
WWE Elimination Chamber: 42.5%

TNA Impact Wrestling: 17.3%

WWE Raw: 15%

WWE SmackDown: 13.4%

WWE NXT: 5.5%

ROH Wrestling and WWE Main Event: 2.4% each

WWE Superstars and Saturday Slam: 0.8% each

TNA Xplosion: zero votes
Thanks for reading! Don't forget to vote on what you thought was the best show, or shows, this week and I'll see you all next Sunday!
Thanks for reading, and don't forget to hit me up on Twitter, where I always follow back fellow wrestling fans and usually tweet during the shows! If your bio doesn't say you're a wrestling fan, please tweet me so I know.