Barcelona Fall to Madrid Again: 5 Reactions to the Latest Clasico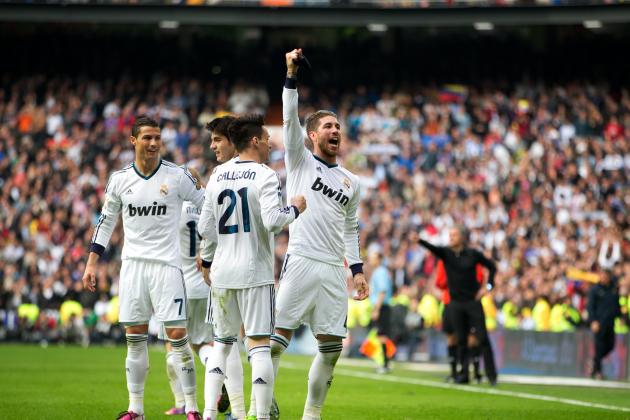 Jasper Juinen/Getty Images

Barcelona were handed their second defeat in as many games against Madrid Saturday afternoon at the Bernabeu.
The Blaugrana looked an improved outfit from the one that faced los Blancos Tuesday night in the first half, but again failed to generate many scoring chances from their overwhelming domination of possession.
The game turned midway through the second half with the introduction of Ronaldo and Sami Khedira for the hosts, as Madrid put a lid on Barcelona's attack and slowly tightened their grip on the match.
Their pressure paid off in the 81st minute when Sergio Ramos towered above Gerard Pique to head in yet another corner-kick goal for Madrid.
The game ended in controversy as Barcelona were denied a clear penalty in stoppage time.
Let's have a look at some major reactions to the match.
Begin Slideshow

»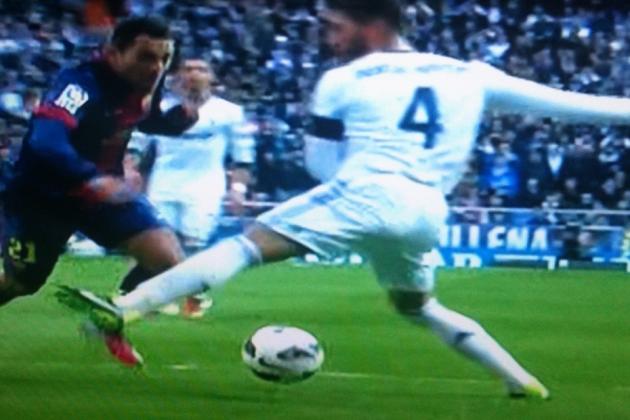 Ramos' reaches out a leg and trips Adriano in the penalty area
Barcelona fans will feel aggrieved at the result, as Sergio Ramos fouled Adriano inside the penalty area deep into stoppage time.
Ramos' challenge wasn't just a penalty; it was one of the clearest fouls you'll ever see.
In a game ridden with gamesmanship and overreactions, it's astonishing that both the referee and his near-side assistant missed such a clear trip.
Adriano received a lovely sole-of-the-foot pass from Alexis Sanchez as he strode past him into the penalty area. After Adriano touched the ball past Ramos, the Madrid center-half reached his foot across the Brazilian and caught him all the way up on the knee.
Compare Ramos' challenge to the one that got Pique booked in the 61st minute. In that instance, Pique pulled out of the tackle. There may have been some minimal contact as Pique attempted to bring his foot away, and Ronaldo characteristically made a meal of it. Was it a foul? Probably. A booking? Certainly not.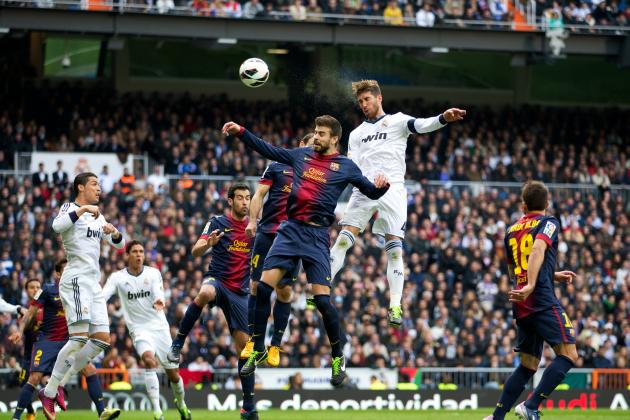 Jasper Juinen/Getty Images

A corner-kick goal again proves to be Barcelona's undoing.
On this occasion, the delivery was picture perfect and Ramos' leap was equal to it.
Pique, who had an otherwise admirable game, breaking up dangerous attacks left and right, will shoulder some of the blame for Madrid's winner. But no player should be able to get such a great run-up and leap to the ball in a crowded penalty area, as Barcelona failed to put a body on, and hassle, one of Madrid's most dangerous headers of the ball.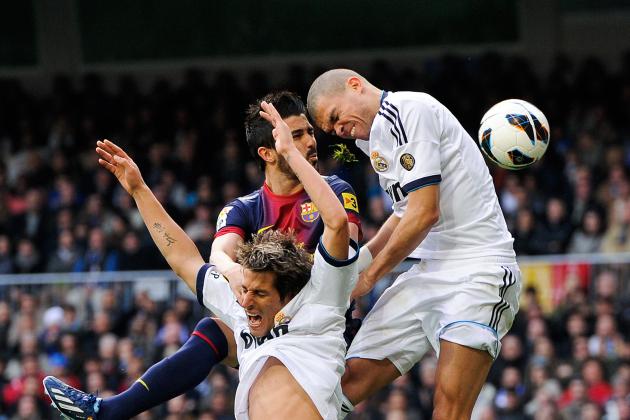 David Ramos/Getty Images

For all the disappointment of the second half, the improvement in the first has to come down in part to the inclusion of David Villa at the expense of Cesc Fabregas.
Although Villa couldn't find a goal and was generally not at his sharpest, he was a much more dangerous option than the wandering Fabregas, getting in behind the Madrid defense on more than one occasion.
In the first half he was played through by Iniesta only to waste his cross on one occasion. On another, he found Messi square across the middle only for the Argentine to settle for a weak right-footed shot.
In the second half, Villa nearly found himself in on goal from Messi's pass but for the timely intervention of Varane.
I was disappointed to see el Guaje—rather than the ineffective Pedro—replaced by Alexis Sanchez instead, but he should find his way into the starting lineup again next weekend, and hopefully against Milan as well.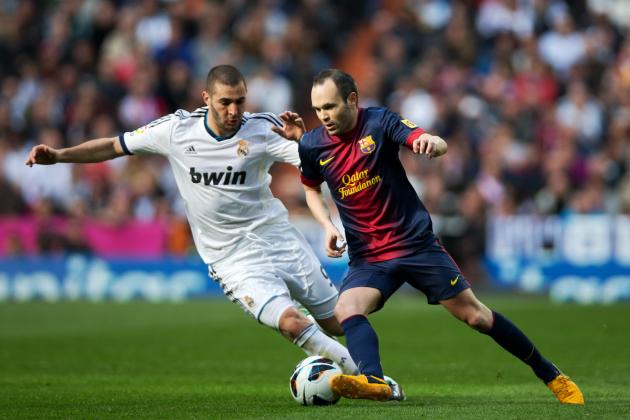 Jasper Juinen/Getty Images

Through all of Barcelona's ups and downs, one player has consistently steadied their ship: Andres Iniesta. He carried them through an impressive first half, combining well in midfield and making some fabulous deceptive passes.
But in the latter part of the second half, he was unable to stamp his authority on the game, largely drifting out of the action as Ronaldo stole the limelight.
He didn't play poorly, misplace many passes or lose possession (unlike his midfield companion Thiago), but you would expect the World Cup hero to step up in difficult situations like these, get on the ball and make his presence felt.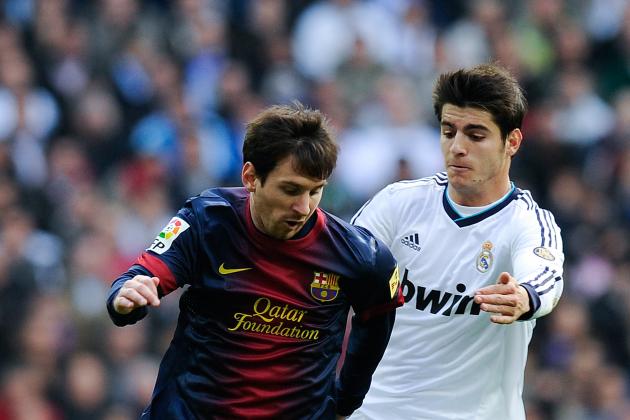 David Ramos/Getty Images

Once again, Messi was not himself, especially when the game started to drift out of Barca's control.
Like Iniesta, he had a strong first half, finishing off a half chance following Dani Alves' through pass, and generally troubling the Madrid back line more than he did Tuesday night.
He started the second half well, finding David Villa in space after evading two defenders for one of Barca's best chances.
After that, though, he was a relatively anonymous figure, and certainly not the Leo Messi we know and love.
A few misplaced passes are beside the point; Messi just didn't seem to have the desire and the will to get Barcelona back in the game when they started to struggle.
Credit Mourinho and the Madrid defense for keeping him quiet, but one would expect better from the four-time defending player of the year.
Can he find his best in time for Barcelona's crucial Champions League clash against Milan? If not, Barcelona's promising start to the season could turn into a major disappointment.