Toronto Maple Leafs: Where Do Frattin and Lupul Fit in the Lineup?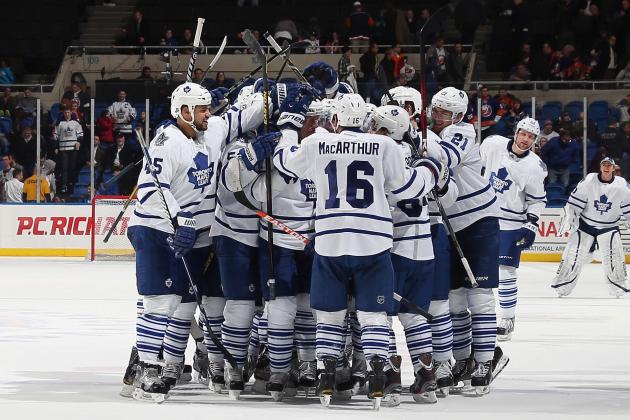 Bruce Bennett/Getty Images

The Toronto Maple Leafs are currently on a three-day break from the grueling, shortened NHL schedule, and it gives them a chance to reboot, recharge and get some much-needed rest before they start fresh on Monday against New Jersey.
The break also gives all their nicks and dings a chance to heal up. And as each day passes, two key offensive contributors are inching closer and closer to a return to the lineup.
Young winger Matt Frattin is the closest to returning and could be back in the lineup as early as next week. Frattin was on fire before pain and discomfort in his surgically repaired knee forced him on the shelf.
Veteran leader and first-line All-Star Joffrey Lupul's return is on the horizon as well, and the Leafs are going to be faced with some tough choices up front when both men are healthy to return.
Every Leaf forward in the current lineup has contributed to the team's success so far this season, from the grit and speed of Leo Komarov, to the toughness and intimidation of Frazer McLaren. It is going to be tough for Randy Carlyle to take some of these guys out of a fairly hot lineup, but he will have to make room somewhere on the lines for these two skilled contributors.
What should the Leafs do when Frattin and Lupul are healthy and ready to go?
Begin Slideshow

»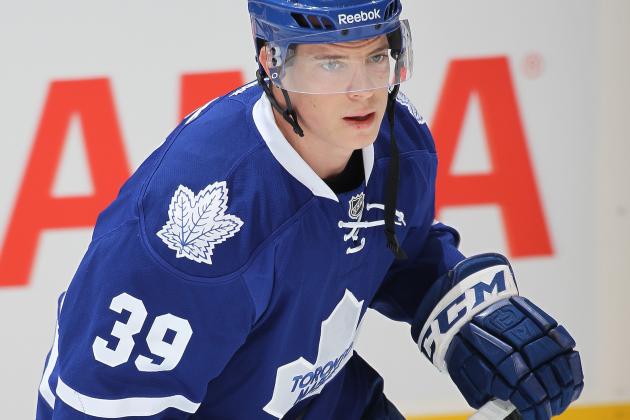 Claus Andersen/Getty Images

What to do with Matt Frattin should be a pretty easy decision for Carlyle, considering his constant search for two-man chemistry throughout his forward lines.
Frattin showed incredible chemistry with Nazem Kadri, and the two were the Leafs' most consistently, dangerous tandem until Frattin went down a few weeks ago.
Clarke MacArthur slid in to Frattin's spot and has been very good with Kadri, alongside Leo Komarov most of the time and Colton Orr here and there. MacArthur should remain on the line with Kadri and Frattin going forward to see if they can be an even better third unit than they already have.
Carlyle is adamant at limiting Kadri's ice time, and this is perfect for Frattin as he can come right in and play his way back to form with a reasonable 12 to 15 minutes a night.
Komarov will have to move to the fourth line but keep his place as a key penalty killer.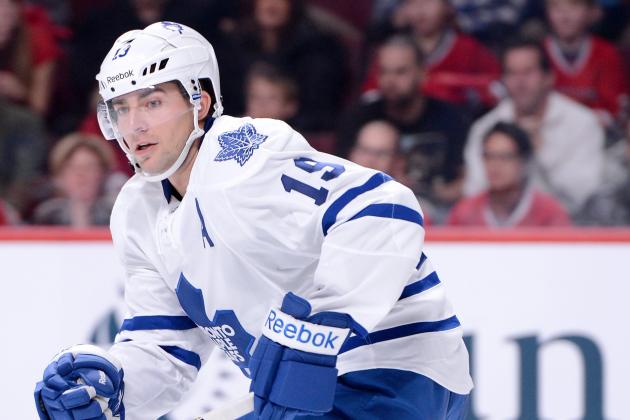 Richard Wolowicz/Getty Images

The return of Lupul is a tougher puzzle for the coach and management to solve, as he has been out longer and may not be ready to jump right in to the spot and minutes that he will eventually be ready for.
The Leafs may have to keep him off the top line until he gets his game legs and timing back up to the level of his first-line mates.
The Leafs can't afford to struggle while he gets back up to speed.
The easy solution is to drop Lupul back in to his old spot with Phil Kessel and Tyler Bozak and move James van Riemsdyk to another line, but I'm not sure that would serve the Leafs' best interests, as van Riemsdyk has blossomed in a first-line role.
The Leafs have long been dreaming of a big, offensive, first-line center, and van Riemsdyk has all the potential to fit that bill.
If Lupul can get back up to speed right away, it may be time to move van Riemsdyk to the middle and see what he can do between the Leafs' two All-Stars, Kessel and Lupul.
Obviously, this would leave Bozak as the odd man out. A tough fate for a solid soldier, but he may be best suited as the Leafs' checking center. That role is currently being held by Mikhail Grabovski.
If van Riemsdyk doesn't work in the middle, Bozak can go right back in.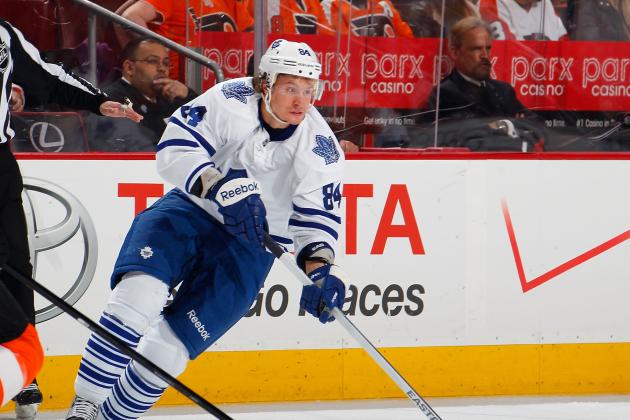 Paul Bereswill/Getty Images

The ripple effect from the return of Lupul and Frattin is not going to sit very well with some players that have played good hockey for the Maple Leafs while they were out.
David Steckel has been a healthy scratch the most this season and the least effective in any role, and his lack of foot speed make it tough for him to get in on the forecheck.
Steckel could be a constant scratch or sent to the minors when these two get back, but that would mean clearing waivers first. I think the Leafs can afford to lose him.
Mike Brown is a Carlyle favorite and gets an edge over Steckel due to his ability to get in on the forecheck and his willingness to drop the gloves for his teammates once in a while. The problem with Brown is he is very small for the game he plays and can never seem to stay in the lineup.
You can't count on him night after night. He could be moved because of it.
McLaren has done a great job since being brought in earlier in the season to fill in for an injured Brown. He skates and forechecks well, can drop the gloves with the toughest guys in the league and he has also chipped in a couple goals in his limited role.
In my opinion, he has made Brown a little bit expendable with is performance, but he may still be in the press box more going forward.
Bozak has been a valuable player for the Leafs this year, but the return of these two players may leave him as the biggest loser in this scenario.
He seems slightly miscast as the Leafs' top pivot, and if they decide to move van Riemsdyk there, it leaves nowhere for Bozak to go except down in the lineup. If he can shift to wing on the checking line with Grabovski and Nikolai Kulemin, and take the faceoffs as well, he may be a fit to improve that unit.
If the Leafs do move van Riemsdyk to the middle and want Bozak to become the checking center, Grabovski could find himself on the trading block very soon.
It is going to come down to Bozak or Grabovski, and right now, I am not sure which one management likes better. Bozak seems a better fit as a checking center than Grabovski, and that may make him the biggest loser out of them all.
In my opinion, here are the potential best Leafs forward lines when both Frattin and Lupul return to the lineup:
Lupul—JVR—Kessel
Bozak—Grabovski—Kulemin
MacArthur—Kadri—Frattin
Komarov—McClement—Orr
Scratches most nights: Brown, McLaren, Steckel
Candidates to be dealt: Bozak, Steckel, Brown, Grabovski
Dwight Wakabayashi is a contributor to Bleacher Report NHL Toronto Maple Leafs and a Featured Columnist with Bleacher Report UFC.
Follow him on Twitter at wakafightermma.