15 Surefire Hall of Famers in the Game of Baseball Today
Mariano Rivera plans to retire in 2013. As baseball's all-time saves leader, he'll make it to the Hall of Fame. AP Photo/Matt Slocum
MLB icons can't evaluate their baseball careers objectively until after retirement, but we sure can. Barring debilitating injuries, scandals or abrupt deterioration of skill, these accomplished individuals will eventually call themselves Hall of Famers.
First-ballot inductees are a very rare breed. Future members of that fraternity were identified as such.
And keep in mind that this sport wouldn't survive without innovative coaches, umpires and executives. Many were considered for inclusion and, as you'll read, several are undoubtedly Cooperstown-bound.
This is intended to be an exhaustive list of awesome figures who are actively involved in Major League Baseball or another professional circuit. To satisfy eligibility requirements, players must have totaled at least 10 seasons in the big leagues.
Please comment below if it appears that anybody meeting this criteria was snubbed.
Begin Slideshow

»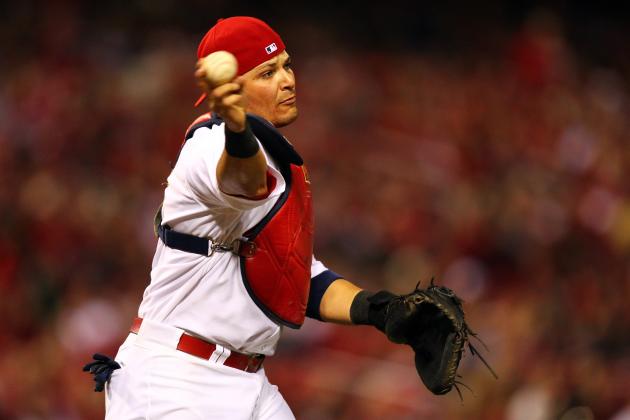 Dilip Vishwanat/Getty Images
Yadier Molina.
It's way too soon to tell whether or not young phenoms like Giancarlo Stanton and Mike Trout can sustain their torrid production for the next decade.
There comes a point, of course, when players need to be taken seriously as their generation's best.
Five years of major league service time will be our arbitrary cut-off. The following veterans can achieve enshrinement by maintaining excellence through their late-thirties:
Ryan Braun (Milwaukee Brewers), Robinson Cano (New York Yankees), Prince Fielder (Detroit Tigers), Cole Hamels (Philadelphia Phillies), Felix Hernandez (Seattle Mariners), Joe Mauer (Minnesota Twins), Yadier Molina (St. Louis Cardinals), Jonathan Papelbon (Philadelphia Phillies), Justin Verlander (Detroit Tigers), Joey Votto (Cincinnati Reds) and Jered Weaver (Los Angeles Angels).
*Clayton Kershaw and Evan Longoria were among those who just barely missed the five-year minimum.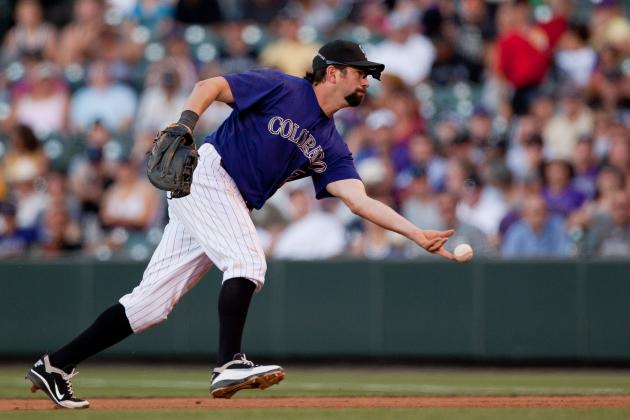 Justin Edmonds/Getty Images
Todd Helton.
First-ballot induction? No.
Even during years where performance-enhancing drugs were ubiquitous, hardly anybody matched Todd Helton's production.
The first baseman has batted .320 or better in nine of his MLB campaigns. He holds every imaginable Colorado Rockies individual and lifetime record (with the exception of stolen bases). Plus, it's very rare to find a middle-of-the-order threat with more career walks (1,295) than strikeouts (1,088).
However, he shouldn't expect immediate induction. Voters from the Baseball Writers Association of America understand that the high altitude of Coors Field aided his power numbers. Plus, he has spent the second half of his career as a lesser player, averaging only 13 home runs per season since 2005.
With that said, Helton will get at least 50 percent of the writer vote when eligible and steadily climb.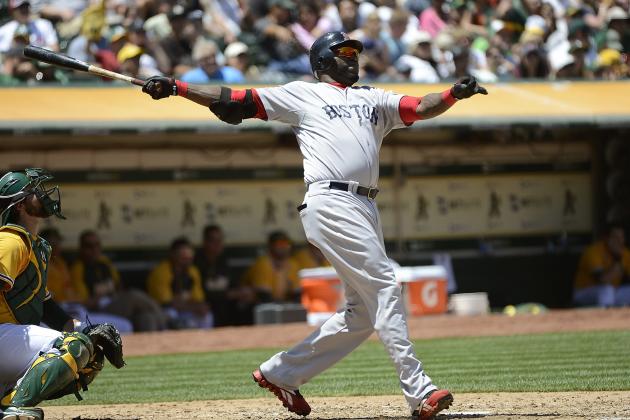 Thearon W. Henderson/Getty Images
David Ortiz.
First-ballot induction? No.
"Big Papi" is baseball's all-time leader in home runs and runs batted in as a designated hitter. By the end of April, he'll pass Edgar Martinez for most hits by anyone in that role as well.
Being a tremendous postseason player also helps David Ortiz's case. He propelled the Boston Red Sox to the 2004 World Series and has been a .283/.388/.520 hitter in 66 October games overall.
But years of inadequacy in the field is going to delay his victory speech. Lacking the athleticism to handle first base regularly, he hogs the DH spot, denying teammates who could use a half-day off.
Fortunately for Ortiz, Cooperstown doesn't mind recognizing outstanding individuals with incomplete skill sets.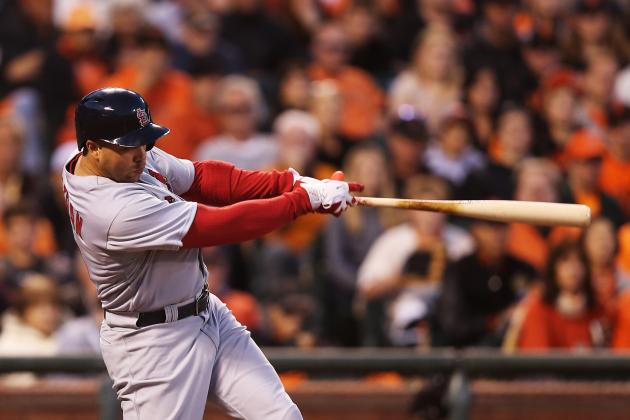 Ezra Shaw/Getty Images
Carlos Beltran.
First-ballot induction? No.
Carlos Beltran's postseason performance is beyond superlatives.
Under the brightest lights, he's a career .363/.470/.782 hitter with 14 long balls in just 34 games. Tragically, those playoff runs with the Houston Astros, New York Mets and St. Louis Cardinals all came to an end in Game 7 of the National League Championship Series.
As his 36th birthday approaches, Beltran remains one of few true five-tool players. His 334 home runs, 306 stolen bases and three Gold Gloves put him in the exclusive company of Barry Bonds and Willie Mays.
Puerto Rico is underrepresented in the Hall of Fame, but Beltran will eventually join countrymen Roberto Alomar, Roberto Clemente and Orlando Cepeda.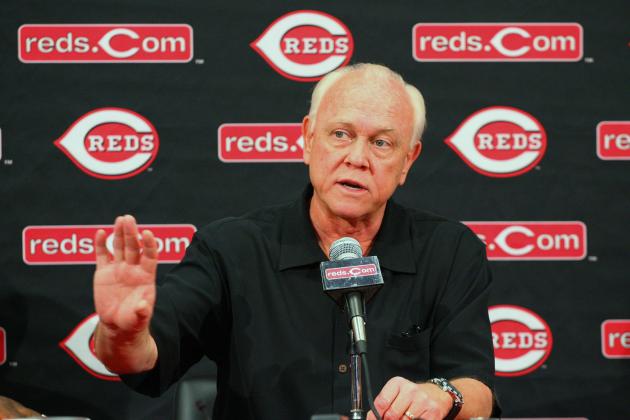 Hunter Martin/Getty Images
Walt Jocketty.
Walt Jocketty got his start in Major League Baseball back in 1980 when the Oakland Athletics hired him as Director of Minor League Scouting and Operations. It's no coincidence that the farm system produced three American League Rookie of the Year winners with him in charge.
The Minneapolis native is just as successful as a general manager.
Jocketty led the St. Louis Cardinals front office for 13 seasons and currently serves as GM of the Cincinnati Reds. His teams have captured half of all NL Central division titles since 1995. Over those years, he has been named MLB Executive of the Year three times, not to mention a World Series champion in 2006.
This 62-year-old was the mastermind behind trades for Mark McGwire (1997) and Jim Edmonds (2000), and he completed a $225 million extension to lock up Joey Votto prior to Opening Day 2012.
If the 2013 Reds play up to their immense potential, Jocketty could earn another ring and seal his Hall of Fame fate.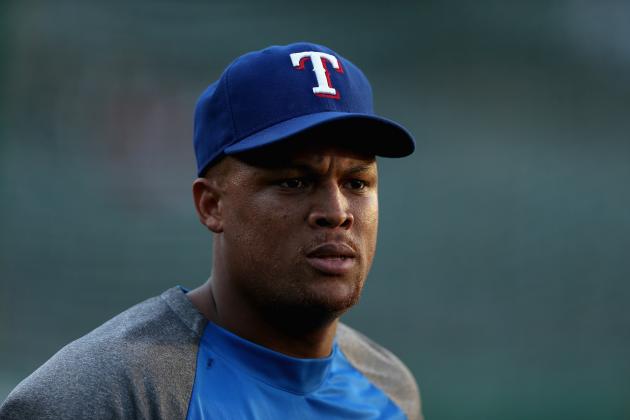 Ezra Shaw/Getty Images
Adrian Beltre.
First-ballot induction? No.
If Andre Dawson is a Hall of Famer, then Adrian Beltre will be too.
Their career batting lines—.279/.323/.482 for Dawson, .280/.331/.476 for Beltre—are basically identical. With three guaranteed years remaining on his contract, the latter will certainly eclipse 400 home runs, 500 doubles and 2,500 games played.
The stark contrast between Beltre's output with the Seattle Mariners versus what he did for other teams testifies to the pitcher-friendly conditions at Safeco Field.
Defensive brilliance at the hot corner puts this Dominican over the top. His mantle is lined with four AL Gold Gloves, and video highlights and sabermetrics agree that he deserves them.
Uneven extra-base hit totals from year to year and a general lack of plate discipline will cause some voters to shy away from him on the first ballot, but he'll get in shortly after.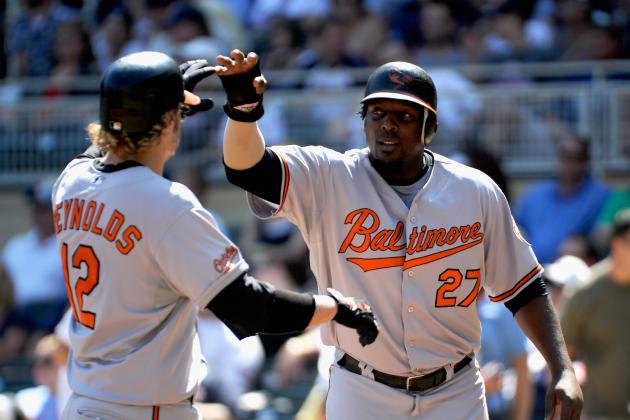 Hannah Foslien/Getty Images
Vladimir Guerrero.
First-ballot induction? No.
The question isn't whether or not Vladimir Guerrero will be inducted, but which team's cap will be etched on his plaque.
The Montreal Expos discovered him as an amateur free agent in 1993, and he quickly rose to stardom. Guerrero was durable and dominant, an elite power hitter with one of baseball's strongest outfield arms. Opposing pitchers wanted nothing to do with him, and in 2000, he drew more intentional walks than Barry Bonds!
Joining the Anaheim Angels as a free agent in 2004 surrounded him with a better supporting cast. In a larger baseball market, Guerrero received well-deserved exposure. An excellent debut season with the Halos (first in runs scored and total bases) earned him the AL MVP award.
It's a tough call, because he was a four-time All-Star with both franchises.
According to this private video from California Sports Management (password: csm1), Vladdy still wants to pad his resume by reaching 500 career home runs.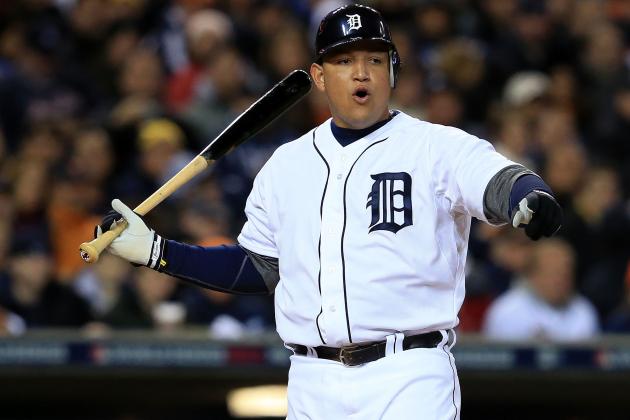 Doug Pensinger/Getty Images
Miguel Cabrera.
First-ballot induction? Yes.
None of the aforementioned locks for Cooperstown, nor any of the men coming up, would be worth discussing if they weren't consistent.
Miguel Cabrera epitomizes that with nine straight seasons above 100 runs batted in. This past summer, he became the first Triple Crown winner in generations.
Among all position players to debut in the majors this millennium, only Albert Pujols—don't worry, he's coming up—accomplished more before turning 30.
Hanging up the cleats today might prevent Cabrera from getting in on the first ballot. Just playing through the end of his current contract, however, would suffice.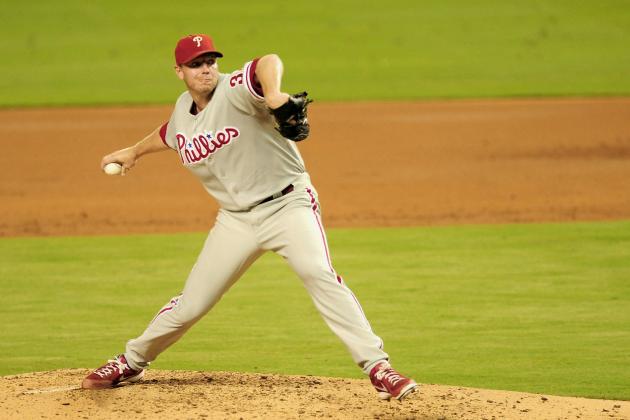 Jason Arnold/Getty Images
Roy Halladay.
First-ballot induction? Yes.
Roy Halladay's next regular-season victory will be the 200th of his MLB career. Reaching that milestone should satisfy any traditionalists who aren't entirely impressed with his lifetime achievements.
He was undeniably the most dominant starting pitcher in the sport from 2008-2011. Check out his complete games and strikeout-to-walk ratios during that stretch (via Baseball-Reference.com).
No other active pitcher has Cy Young Awards from both leagues.
His 2010 campaign was unforgettable. Doc tossed a midsummer perfect game, then a no-hitter in his playoff debut.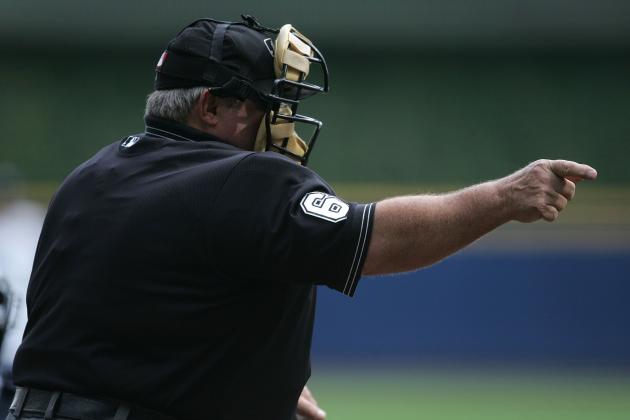 Jonathan Daniel/Getty Images
Bruce Froemming.
First-ballot induction? No (became eligible in 2010).
Bruce Froemming holds numerous professional umpiring records: youngest umpire, oldest umpire, longest-tenured umpire, etc.
He officiated for the final time in 2007, but continues to impact the sport as the MLB Special Assistant to the Vice President on Umpiring. Primarily, the 73-year-old is helping his colleagues acclimate to instant replay.
Excellence during the regular season earned Froemming opportunities to work five World Series and 24 playoff series overall.
Though we can't be sure when exactly the Veterans Committee will select him, prepare for a slimmer version of Froemming at the podium in Cooperstown.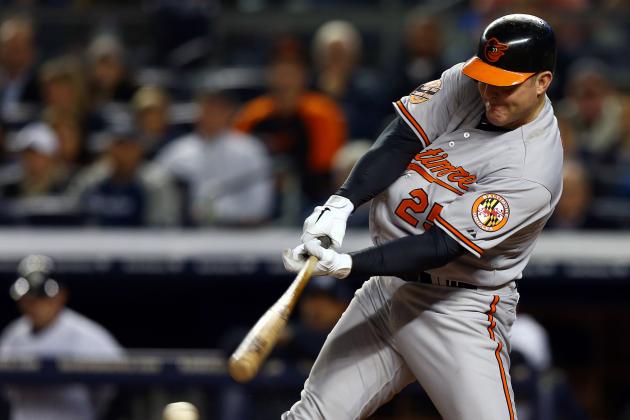 Elsa/Getty Images
Jim Thome.
First-ballot induction? Yes.
Despite his hulking frame, Jim Thome has never had the faintest connection to performance-enhancing drugs.
The "guilty before proven innocent" sentiment that has kept Jeff Bagwell and Mike Piazza out of the Hall won't affect him.
Sticking around long past his prime has caused Thome's career numbers to dip. Still, through more than 10,000 major league plate appearances, his on-base percentage is above .400.
Oh yeah, and 612 home runs put him seventh on the all-time home run list.
Thome is unemployed at the moment, but "ready to go" should a needy team call.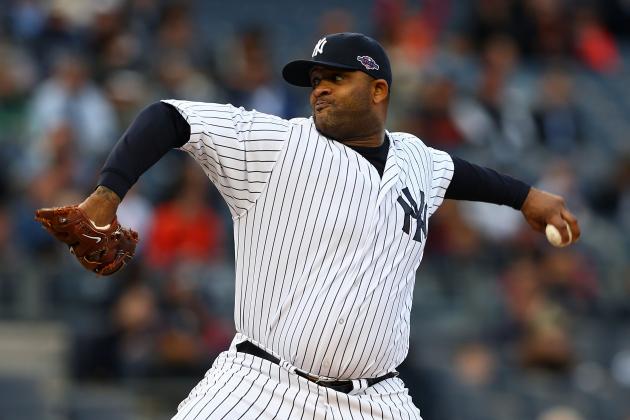 Elsa/Getty Images
CC Sabathia.
First-ballot induction? Yes.
Meet baseball's quintessential workhorse, CC Sabathia. His career is the sweet culmination of durability and quality.
In each of his 12 seasons, the towering southpaw has exceeded 180 innings pitched while posting a winning record. He perennially maintains a sub-4.00 earned run average and contends for the Cy Young Award.
Perhaps the most impressive stat about Sabathia comes from Baseball-Reference.com. He is the only active pitcher to contribute 20 WAR to two different organizations (the Yankees and Cleveland Indians).
Barring devastating injury, he'll reach 3,000 strikeouts later this decade.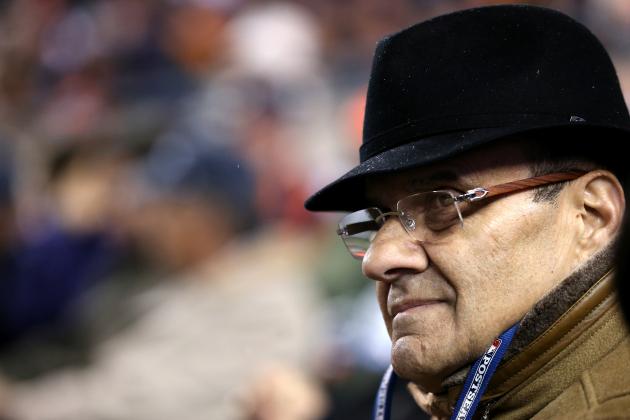 Ezra Shaw/Getty Images
Joe Torre.
First-ballot induction? Yes.
Joe Torre began managerial work during the final season of his outstanding playing career...in 1977. And nearly 36 years later, he's back in the dugout as skipper of Team USA in the World Baseball Classic.
The former MLB catcher and National League MVP ranks fifth on the wins list with 2,326. That total doesn't even include his postseason success in the Bronx.
Torre was at the helm of the sport's most recent dynasty. His über-talented New York Yankees clinched four World Series titles—in 1996, 1998, 1999 and 2000—and competed into October during each of his 12 seasons. He amassed three more division titles through 17 seasons as a manager in the Senior Circuit.
Once the WBC wraps up, the 72-year-old will return to his post in the Commissioner's Office as the executive vice president for baseball operations.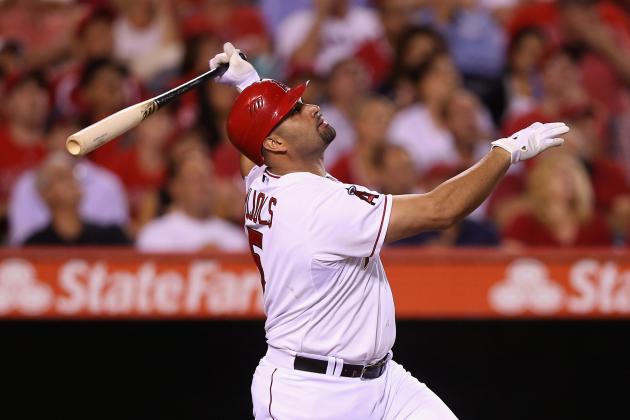 Jeff Gross/Getty Images
Albert Pujols.
First-ballot induction? Yes.
The 2012 season was clearly the least productive of Albert Pujols' epic career, yet he collected several top-10 votes in AL MVP balloting.
That says it all.
He could saunter into the Hall of Fame on natural-born talent alone. However, a thorough understanding of the game leads him to unimaginable feats.
A testament to his plate discipline, Pujols has more extra-base hits than strikeouts, and it's not even close (995 to 780). Though a painfully slow baserunner, the dominant Dominican boasts one of the league's highest base-stealing percentages since 2005 (min. 100 attempts).
A third Barry Bonds reference is warranted. The reigning all-time home run king is the only batter in the past 50 years with a better lifetime OPS.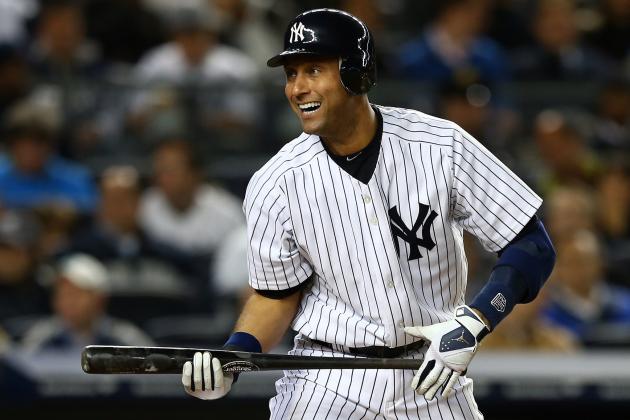 Elsa/Getty Images
Derek Jeter.
First-ballot induction? Yes.
Say what you will about Derek Jeter's defense, but no middle infielder since Honus Wagner has been as exceptional at the plate for so many years without switching positions.
We could spend days listing his Cooperstown credentials.
For the sake of brevity, here are just a few notable numbers: 3,304 career hits (11th in MLB history), 1,868 runs scored (13th on all-time list) and a .308/.374/.465 batting line in the playoffs (158 games).
Those don't even tell the whole story. BBWAA voters will have to consider making Jeter a unanimous selection for serving as such a great baseball ambassador off the field.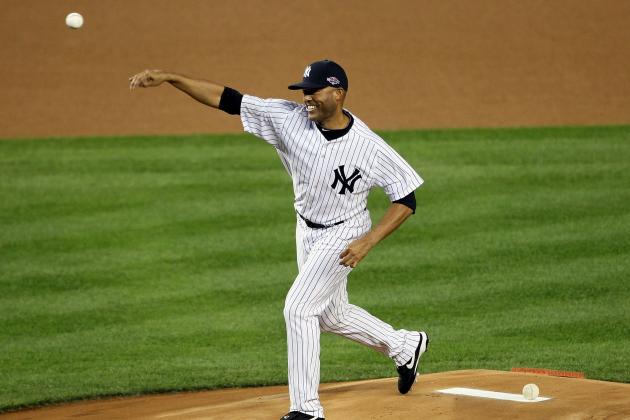 Alex Trautwig/Getty Images
Mariano Rivera.
First-ballot induction? Yes (2019).
Clear your calendars for the final weekend of July 2019.
That's when the Baseball Hall of Fame will officially immortalize Mariano Rivera.
The game's greatest relief pitcher and career saves leader has announced that the 2013 season is his last. On the strength of his 206 ERA+—which adjusts for a player's ballpark—and playoff ridiculousness, he'll be the first Panamian-born individual ever inducted.
Rivera popularized the cut-fastball and has used it to baffle batters of either handedness. Even when everyone in the ballpark knows what he's going to throw, locating the pitch properly makes it impossible to beat.
The Sandman puts his opposition to sleep, but keeps fans riveted by closing out tight victories for the New York Yankees.
Follow Ely for a potpourri of sports, culinary and college knowledge.