15 Early Lessons from MLB Spring Training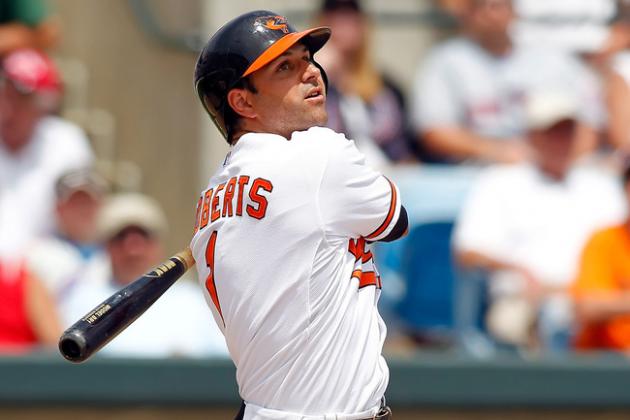 Baltimore Orioles second baseman Brian Roberts is looking healthy and productive.
Spring training is an educational experience. Though its results don't guarantee much about the upcoming MLB season, baseball fans can come away with valuable lessons about the state of the sport.
For instance, we can make generalizations about veterans still unsigned on the free-agent market or those rehabilitating the same injury. We can also be on the lookout for common philosophies regarding player usage across teams. Likewise, we can witness how phenoms like Mike Trout and Aroldis Chapman are single-handedly changing the game.
After only a few weeks, spring training has revealed plenty.
Begin Slideshow

»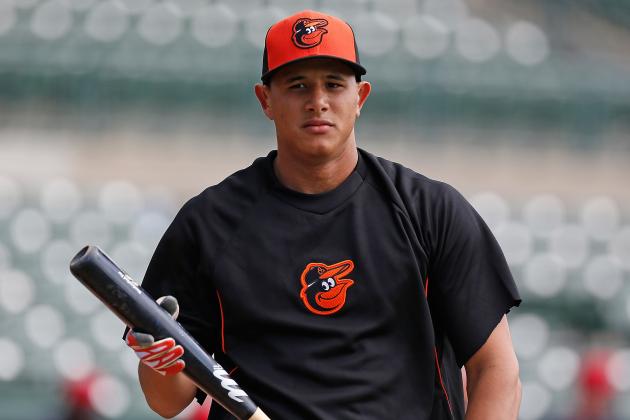 J. Meric/Getty Images
Baltimore Orioles third baseman Manny Machado is red hot.
What do the Baltimore Orioles, Houston Astros, Kansas City Royals and Seattle Mariners have in common?
Superb preseason winning percentages and relatively young rosters. Entering March 4, they are a combined 30-6.
Meanwhile, several veteran clubs with championship aspirations have been crushed so far.
Significant injuries prevented the Los Angeles Angels (1-7) and New York Yankees (3-7) from using all their regulars during the opening weeks of spring training. Their weak records reflect that.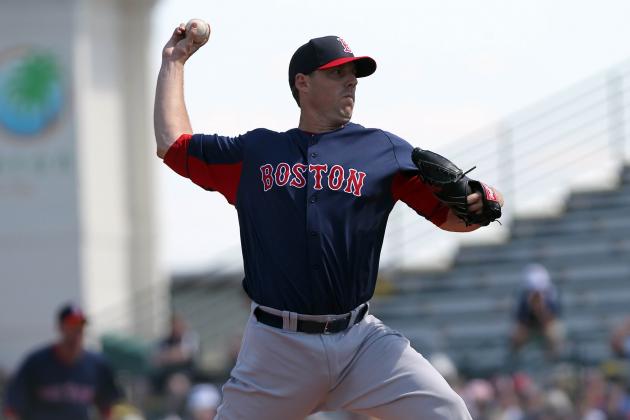 Kim Klement-USA TODAY Sports
John Lackey: Thinner in the mirror, but the same in the box score.
When players first reported to major league camp, the media got a bit over-excited about the dozen of guys who spent the winter bulking up or slimming down.
But what use is an impressive physique if it doesn't help on the field?
Boston Red Sox starter John Lackey looked lean and limber during the early stages of spring training, only to revert to his 2011 mediocrity once the exhibition games began.
Through two appearances, Lackey boasts a 12.00 ERA with a .364 batting average against. Control has also been an issue for the 34-year-old, who plunked batters in each outing.
Significant weight loss is not making life easier for Lance Lynn of the St. Louis Cardinals, either.
However, there have been positive correlations between fitness and production for Carlos Gomez (.500/.643/.800), Josh Hamilton (.429/.429/.857) and Hanley Ramirez (.333/.389/.333 with 3 SB).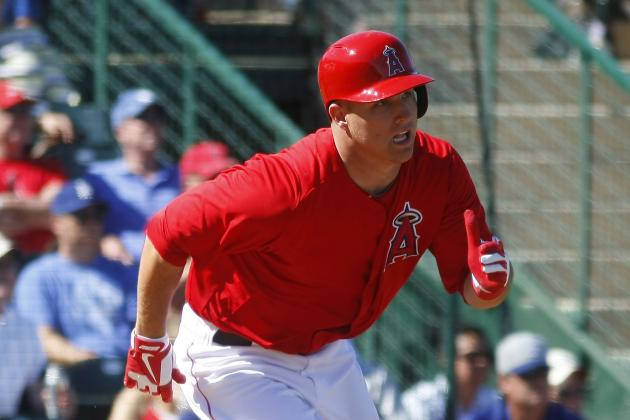 Rick Scuteri-USA TODAY Sports
Mike Trout should be fine despite some extra baggage.
American League MVP runner-up Mike Trout made headlines for tipping the scales at 241 pounds when spring training got underway.
The initial reaction was widespread disappointment. The 21-year-old emerged as the sport's most electrifying player in 2012, so fans didn't want him to lose athleticism due to laziness or poor dieting.
Then, we got Trout's rationale. He tends to lose girth during spring training and decided to bulk up so as to avoid opening the 2013 regular season underweight.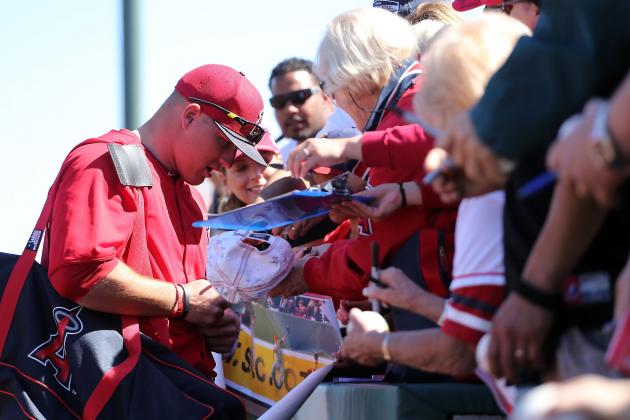 Christian Petersen/Getty Images
Anything pertaining to Mike Trout is huge news.
It's a classic case of agenda-setting.
First, sensationalist writers used Mike Trout's weight gain to sparked debates. The focus quickly shifted to his modest and irrelevant two-game preseason hitting streak.
The media even got people talking about contracts for pre-arbitration-eligible players.
While all other youngsters with limited major league experience quietly accept near-league-minimum salaries, Trout's agent voiced displeasure about the agreement.
Though nobody can force us to care about these non-stories, we've certainly been made aware.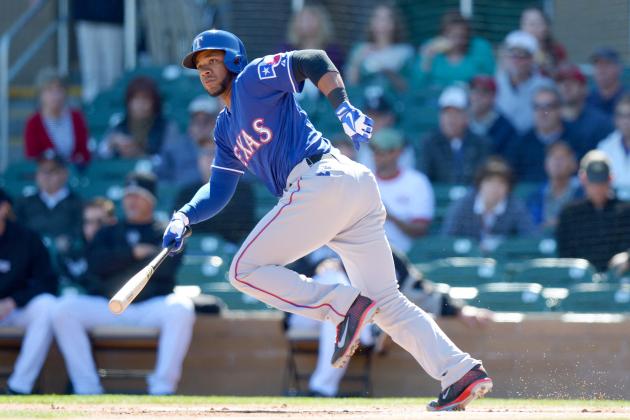 Jake Roth-USA TODAY Sports
Elvis Andrus' excuse to sit out a game was laughable.
Generally speaking, players will exhibition games due to injuries or physical soreness. But the list of possible excuses is truly infinite, as Tampa Bay Rays reliever Joel Peralta reminded us in February.
Tampa Bay Times writer Marc Topkin tweets that Peralta suffered a neck injury while getting out of the car to buy sandwiches. As a result, Peralta wasn't able to join the Dominican Republic for the World Baseball Classic.
Meanwhile, Texas Rangers shortstop Elvis Andrus had a more visual issue: this tattoo of his late father.
Boom👻👻👻 twitter.com/ElvisandrusSS1…

— Elvis andrus (@ElvisandrusSS1) February 28, 2013
The fresh ink caused "sensitivity" in his arm and forced him out of the lineup for an afternoon.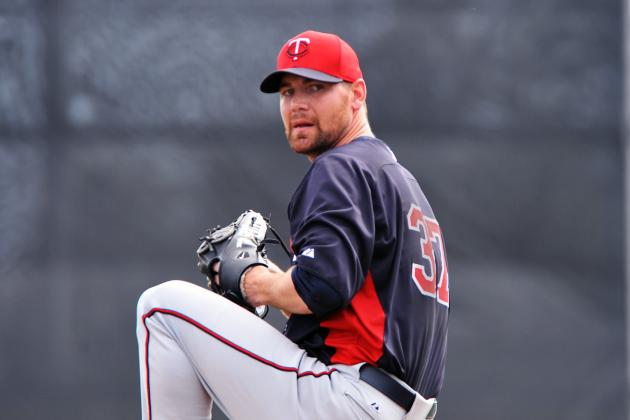 Al Messerschmidt/Getty Images
Mike Pelfrey is returning quickly from Tommy John surgery.
Albert Pujols (knee surgery), Derek Jeter (broken ankle) and other prominent injured players insist they will be ready for Opening Day.
Several fanbases will be disappointed when these timetables inevitably get pushed back. Fortunately, there is some truth in this world.
Mike Pelfrey of the Minnesota Twins, for example, claimed to be ahead of schedule in rehabbing from Tommy John surgery when he signed as a free agent. Already, the right-hander has started twice in spring training.
Barring any setbacks, he will be pitching in the regular season just 11 months after going under the knife.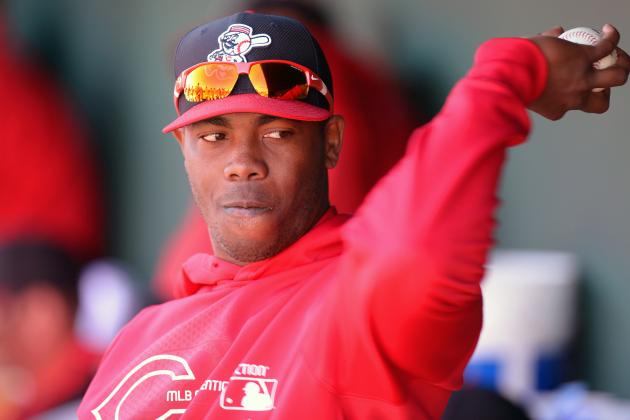 Jake Roth-USA TODAY Sports
Aroldis Chapman's dominance should continue as a starter.
As of Opening Day 2012, Cuba was the sixth-largest producer of major league talent, with 11 players on active rosters. That total should increase this year, with several of the veterans serving in larger roles.
After three seasons in the Cincinnati Reds bullpen, Aroldis Chapman is transitioning into the starting rotation. His first outing went smoothly with two scoreless innings. Chapman's potential is virtually unlimited thanks to triple-digit heat and filthy offspeed options.
Down in Los Angeles, 22-year-old Yasiel Puig is taking advantage of an opportunity to replace Carl Crawford down in Los Angeles. The oft-injured speedster has been shut down temporarily due to "minor nerve irritation," and Puig's .421/.400/.737 batting line this spring makes him a strong candidate to start in left field.
Countryman Dayan Viciedo has produced, too. He's batting 385/.429/.615 with one home run for the Chicago White Sox.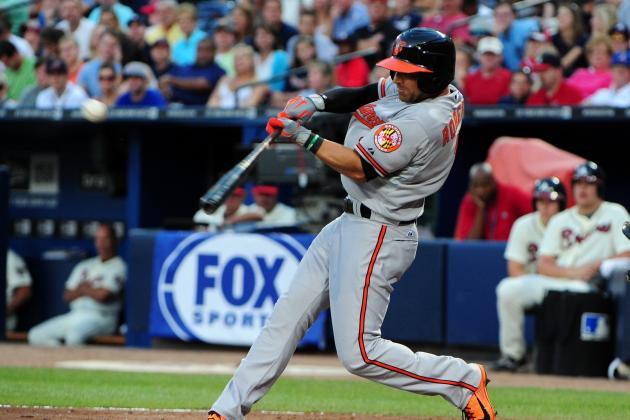 Scott Cunningham/Getty Images
Brian Roberts is coming off three straight injury-plagued seasons.
Numerous former All-Stars appear poised for very productive seasons following their disappointing 2012 performances.
Brian Roberts is attempting to stay healthy for the first time since his $40-million contract extension took effect in 2010. So far, so good for the Baltimore Orioles second baseman, who has collected base hits in four straight contests.
Also in the American League, switch-hitting Lance Berkman and future Hall of Famer Mariano Rivera can be serious candidates if their knees cooperate. Even injury-prone outfielder Jason Bay has a couple of home runs for the Seattle Mariners.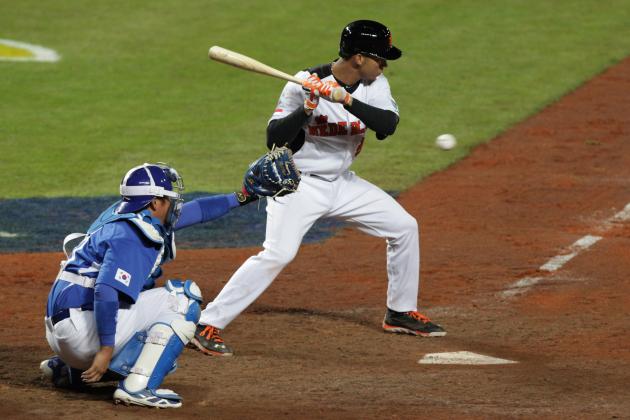 Chung Sung-Jun/Getty Images
Andrelton Simmons representing the Netherlands.
An international baseball competition featuring professional players? Great idea.
Holding it in March? Not so wise.
All-Stars including Felix Hernandez and Justin Verlander were unwilling to tax their arms with the long regular season looming. Moreover, fringe major league guys like Yan Gomes (Brazil) and Jurickson Profar (Netherlands) likely felt the pressure to stay in camp, where they could prove themselves worthy of spots on the active roster.
At either end of the MLB schedule, players will dodge the World Baseball Classic. The truancy rate, however, wouldn't be this high in November.
Changing dates is definitely worth considering for the 2017 edition.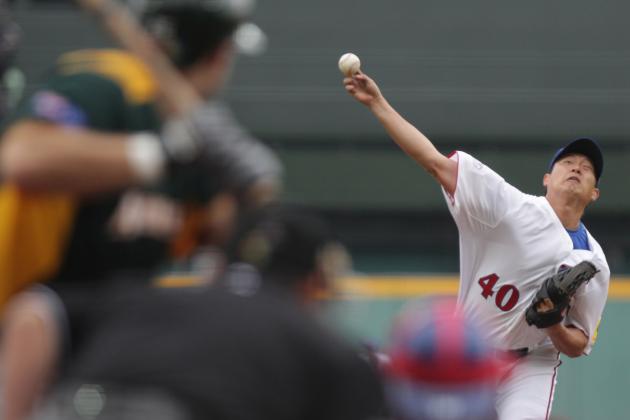 Chung Sung-Jun/Getty Images
Chien-Ming Wang pitching for Chinese Taipei in the WBC.
Most WBC participants won't be in the majors come April 1, though they might be only a matter of months away.
Former major league pitcher Chien-Ming Wang silenced the Australian lineup through six innings during the Pool B opener. Jon Heyman of CBS Sports reports that six teams—including the New York Yankees—have interest in the Taiwanese right-hander.
Other early stars include Japan's Kenta Maeda and Cuba's Jose Abreu. Their arrivals in the majors could come in 2014—Maeda's if the Hiroshima Carp decide to post and Abreu's if he defects.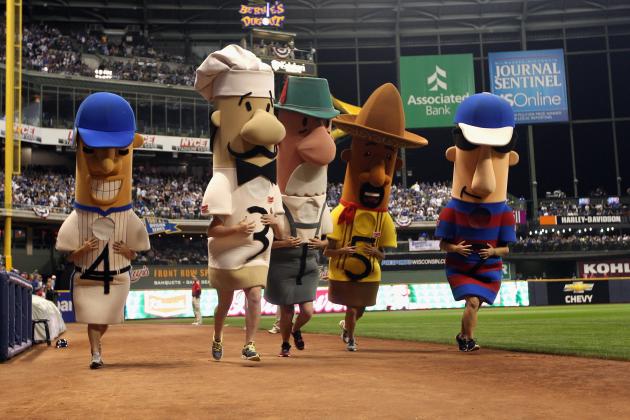 Christian Petersen/Getty Images
Apparently, there's nothing worse than a missing racing sausage.
Because spring training games don't actually count, plenty of attention is paid to off-the-field happenings.
Up north, a costume for one of the Klement's Racing Sausages—used during Milwaukee Brewers home games—was stolen.
Lydia Mulvany of the Milwaukee Journal Sentinel spent 500 words recapping the investigation by local police. The two men who reportedly took "Guido" barhopping could face legal punishment.
Most broadcast networks also picked up on the story.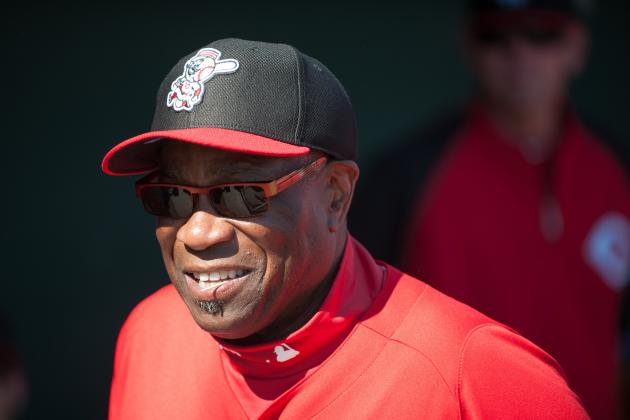 Rob Tringali/Getty Images
Dusty Baker doesn't always know what he's talking about.
If a retired ballplayer can keep peace in the clubhouse and get his men motivated to play, his job as a major league manager should be secure.
That pretty much explains why Dusty Baker is still employed.
Speaking to John Fay of the Cincinnati Enquirer about the competition for bullpen spots, the Cincinnati Reds skipper put emphasis on meaningless details: "You've a guy up there that pitched in the World Series last year and a guy who almost threw a perfect game on as non-roster players."
He was referring to Clay Hensley—who did not pitch in the World Series because the San Fransisco Giants left him off the roster—and Armando Galarraga. The latter has been terrible since hurling a one-hitter in 2010.
Scary to think that Baker will be making big decisions for a serious contender.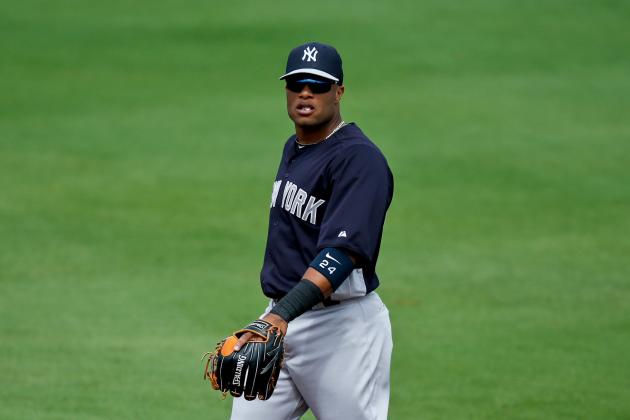 Derick Hingle-USA TODAY Sports
Robinson Cano is being patient in regards to signing an extension.
Otherwise, we would see more contract extensions for players entering their walk year.
Sought-after members of the 2014 free-agent class, like Robinson Cano and Adam Wainwright, have been approached about long-term deals. There's no indication, however, that either is close to signing.
In fact, nobody has agreed to an extension since spring training began.
Kyle Lohse's nightmarish experience with the qualifying offer evidently hasn't intimidated his peers.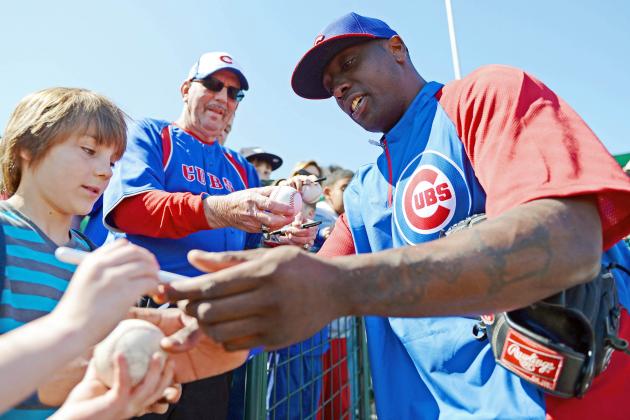 Jake Roth-USA TODAY Sports
Everybody but Dontrelle Willis knows his MLB career is over.
Dontrelle Willis might be only 31 years old, but there's no reason to believe that he can recapture his brilliance from the last decade.
Between arm and anxiety issues, the southpaw pitched 199 painful regular-season innings from 2008 to 2011. He issued more walks than strikeouts and recorded just four victories in 40 starts.
The Chicago Cubs have already demoted Willis to minor league camp.
His story is hardly unique. Nearly every team has given consideration to washed-up, non-roster invitees this spring.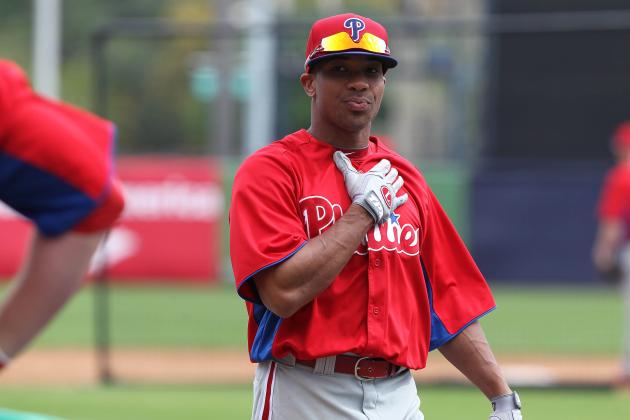 Kim Klement-USA TODAY Sports
The Philadelphia Phillies inexpensively acquired Ben Revere.
Major League Baseball is wealthier than ever, as evidenced by recent splurging from the Los Angeles Dodgers and Toronto Blue Jays. The Detroit Tigers, Los Angeles Angels and San Francisco Giants have all steadily increased payroll in recent years.
Meanwhile, 21st century powerhouses like the New York Yankees and Philadelphia Phillies refrained from completing huge signings this past winter. They face grim outlooks due to the age of their rosters and obvious deficiencies.
And now there's hardly anyone available.
In 2013 and beyond, the most successful teams will be those that spend whatever they can to improve.