Struggling to find a groove and watching as the cut line started to slip out of reach, Rory McIlroy decided to call it quits midway through a miserable second round at the Honda Classic. Although the headlines will probably say otherwise, it's no big deal.
McIlroy, the world's top-ranked golfer and the event's defending champion, was seven-over par when he left the course. The choice to withdraw was later attributed to a sore tooth, according to Bob Harig of ESPN, who also passed along comments from the superstar as he left PGA National.
The world's No. 1-ranked player did not appear to be physically injured, telling reporters briefly in the parking lot that "I'm not in a great place mentally. I can't really say much, guys. I'm just in a bad place mentally."
The Northern Irishman then took to Twitter to express regret for having to pull out of the tournament before finishing Round 2.
Apologies to all at the Honda. A tough day made impossible by severe tooth pain. Was desperate to defend title but couldn't play on. Gutted

— Rory

Mcilroy

(@McIlroyRory) March 1, 2013
It's just the latest setback in a forgettable start to 2013 for the 23-year-old sensation. He missed the cut in Abu Dhabi after posting a pair of 75s and was eliminated by Shane Lowry in the opening round of the match play event last week.
How concerned should McIlroy be about his slow start?
His comment about being in a poor mental state is more important than whether or not people believe his sore tooth excuse––there will always be skeptics––as the main reason for walking off early.
McIlroy has a lot on his plate right now.
He's still adjusting to his new Nike equipment, a task that sounds a lot easier on paper than it is in reality, while also trying to adapt to the constant pressure of being the top player in the world.
It probably doesn't help that friendly rival Tiger Woods flashed his old form en route to a dominant victory at the Farmers Insurance Open. McIlroy understands there's now another gigantic hurdle between him and his third career major title.
He can also blame Woods for the sky-high expectations. Ever since the 14-time major champion was winning big tournaments without breaking a sweat during his peak years, people have been waiting for somebody else to match that level of performance.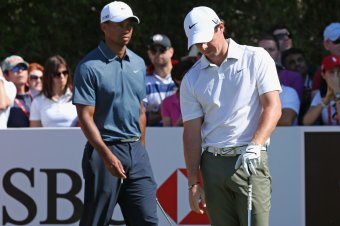 Andrew Redington/Getty Images
So when a talented young player like McIlroy goes through a completely normal rough stretch, it tends to get blown way out of proportion. He's being held to the Woods standard, which is both a blessing and a curse.
It means he's a tremendous player, but now he's expected to win every time out. So when he's forced to leave the course after less than 36 holes, it's going to attract a lot of attention. Add in his poor play since the start of the new year and suddenly it's a major story.
Above all else, it's a serious overreaction.
He needs time to get the feel of his new clubs, at least to the point where he feels confident that when he strikes the ball well it's going to land close to his target.
He needs time to comprehend the weekly pressure of being the world's top player in the era following Woods' reign of dominance.
How many majors will McIlroy win in 2013?
Golf is a tough sport simply due to the small margin for error. For example, the Honda Classic started with 144 players in the field. One player will earn the victory and the other 143 amount to nothing more than also-rans.
It puts a lot of heat on every player, but more so on guys like McIlroy and Woods, who are expected to triumph over a massive group of other players who are, in case it's not obvious, pretty darn good at golf too—and they are expected to do it every time they tee it up.
It's a process for McIlroy. He's dealing with a boatload of different issues right now and attempting to tackle them all at once. He just needs to take it one step at a time, get back to a good mental state and let his terrific natural ability take over again.
One thing's for sure, it's not time to panic.
At least not yet.