Philadelphia Phillies: 10 Standout Stars from First Week of Spring Training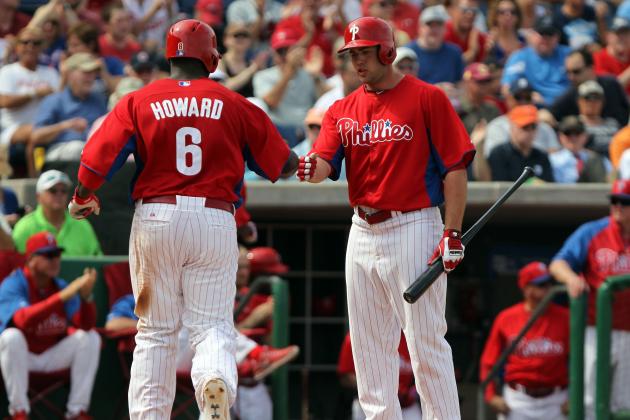 Kim Klement-USA TODAY Sports

For the Philadelphia Phillies, the first week of spring training provided a taste of what fans will see this season, a benchmark for which to judge rookies, realistic expectations for returning players and of course, a chance to see the team take the field for the first time in months.
While many consider spring games to be meaningless, they do enable teams the opportunity to evaluate their current personnel alongside the minor league talent that might soon join them. For the Phillies, this has definitely been a big part of the spring equation as guys like Tommy Joseph, Cody Asche and Ender Inciarte have all gotten their chance to impress this spring.
In addition, position battles are often decided based on spring performances. This off season, the Phillies have two, notably the corner outfield spots and the remaining roles in the bullpen. With a strong start, Domonic Brown has charged ahead in the race for starting right fielder while guys like Rodrigo Lopez have started strong en route to earning a possible bullpen spot.
Then there are the lingering injury questions that only a nine inning baseball game, not baseball activities, can provide. So far so good for Ryan Howard as he has charged ahead as the team's best spring performer. The jury is still out on Chase Utley, who has received minimal playing time as he handles his knee problems.
Overall, it has been a fun first week, with a handful of noted performances that could speak for a positive start to the 2013 season.
Here are the top ten early spring performers as well as one honorable mention after the team's first week of games.
Begin Slideshow

»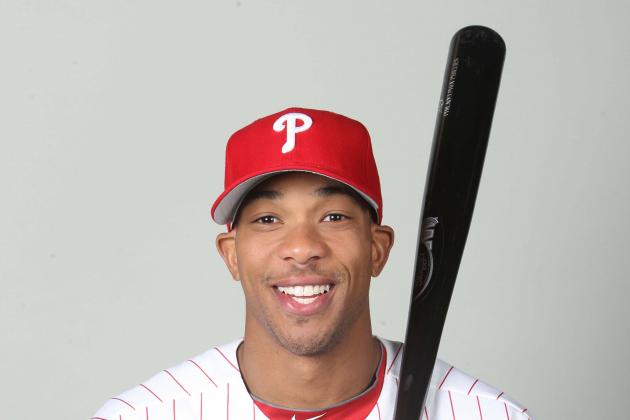 Kim Klement-USA TODAY Sports

Ben Revere didn't waste any time showing Phillies fans just how fast he is. After reaching base six times in 13 spring at-bats, Revere has caused trouble for opposing pitchers, swiping two bags with no danger of being caught.
In the team's first game, Revere led off and did so with a legged out infield single. He then proceeded to steal second and score on a base hit by Chase Utley. Now the entire spring has not gone so well for Revere and the Phillies, but for one shining moment, missing out on BJ Upton didn't seem like such a bad thing.
Revere has played well so far, continuing to pick up steam from his career best season in 2012. He has been on base six times and has scored a run in five of those six.
He has been taking more pitches, perhaps a testament to the fact that he has led off several games so far this spring. While that has not yet translated to a great OBP, it is a start and one that could potentially see Revere be the 2013 lead off hitter.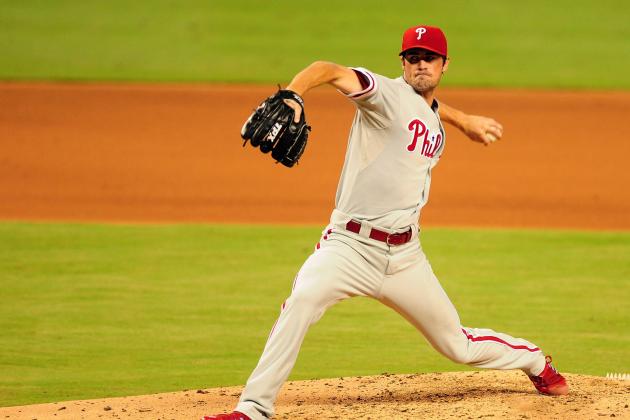 Jason Arnold/Getty Images

Cole Hamels is letting his contract do the talking and in all likelihood, is pitching his way to being the Opening Day starter.
After signing for the big bucks and solidifying himself as the Phillies' ace for years to come, Hamels found himself having to dodge questions about shoulder soreness that he suffered toward the end of last season. The 29-year-old lefty played it off but until the first spring action began, the club and the fans were holding their breath on Hamels' health.
Two spring games and five innings later, any question mark about the ace seems to have vanished. He has yielded just one run, unearned and five hits in five innings. Opponents are hitting just .250 against him and most importantly, his fastball is full of zip even in the early stages of spring. His six strikeouts rank him in the top ten.
Hamels will be one of the most important pieces for the Phillies this year as they will need him to be his best if there is any hope of the team making the playoffs and beyond. So far, his spring numbers have been promising and his pitching has been spot on. All of which, point to good things to come as the ace prepares for the season.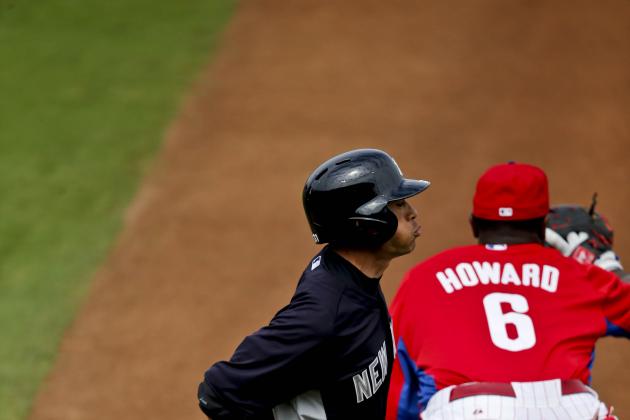 Derick Hingle-USA TODAY Sports
Ryan Howard has been hot all spring, hitting for a team high average of .533
Phillies fans—feel free to breathe a sigh of relief. The Big Piece is back.
After a small sampling of spring games, first baseman Ryan Howard seems to be back in the swing of the things. He is one of three Phillies to have played in all six of the Phillies' preseason match ups and is the team's early spring leader in ABs (15), hits (8), doubles (3) and RBI (5).
Did I mention he is also 4-for-6 against lefties?
Howard has looked good so far this spring and has given team management no real reason for concern. He appears to be fully healthy which is a very positive sign and his mobility at the first base bag has been promising as well. He has played 32 innings in the field without a single error in addition to turning four double plays.
His bat of course is hot right now and despite the Phillies' offensive struggles early on, Howard has led the way with the expected power and pop that Phillies' fans all know he is capable of producing.
In short: If week one and six games means anything, the prognosis is very, very good for Howard.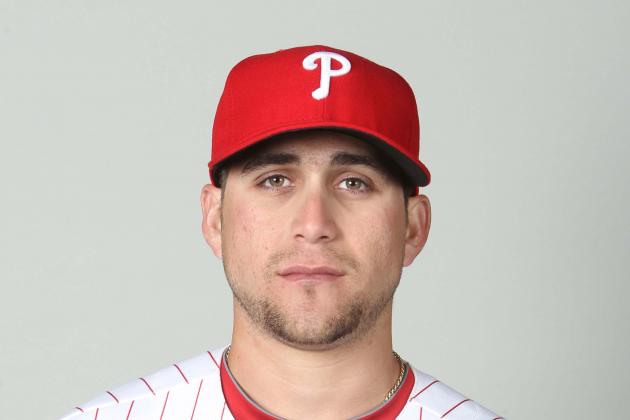 Kim Klement-USA TODAY Sports

Ender Inciarte is a 23-year-old, left handed center fielder who has yet to see a major league game. He was the Phillies' 2013 Rule 5 Draft Pick and is getting a chance to impress over the course of spring training.
It will be a long shot for Inciarte to make the team considering that the outfield competition is already so competitive. That said, Inciarte has been impressive so far, reaching base in all but one of his five plate appearances. This includes a tie for team high with three walks.
Inciarte does only have one hit in two official at-bats but nevertheless, he has gotten on base. His OBP is a team high .800 and he is certainly making the most of his spring tryout.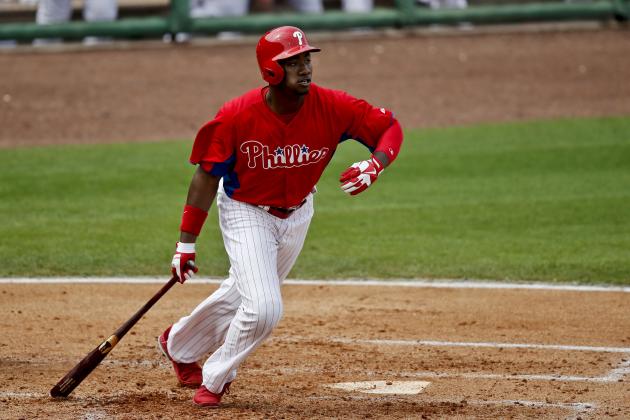 Derick Hingle-USA TODAY Sports
Domonic Brown hits one of his two spring home runs in a game against the Yankees.
With six guys competing for three starting outfield spots, Domonic Brown is certainly doing everything in his power to prove he is deserving of one.
Brown, like Howard, has played in all six of the Phillies' games and has in many ways, been their best offensive player in that time. Building off of a 2012 season that saw him play in just 56 games and collect just five home runs and 21 runs scored, Brown is having a great spring, clearly aware that he is fighting for a job.
The 25-year-old right fielder has connected for five hits in 12 at-bats. He leads all players in the MLB with seven runs scored so far this spring and he is tied for third among all players with his two spring home runs.
Perhaps the most promising number for Brown is this: 3:1—his walk to strikeout ratio. Unlike in the past, Brown has shown great plate discipline which along with his stats, show a positive sign of his off season adjustments.
With primary competitors John Mayberry and Darin Ruf struggling this spring, Brown could be in place to be the starting right fielder in 2013.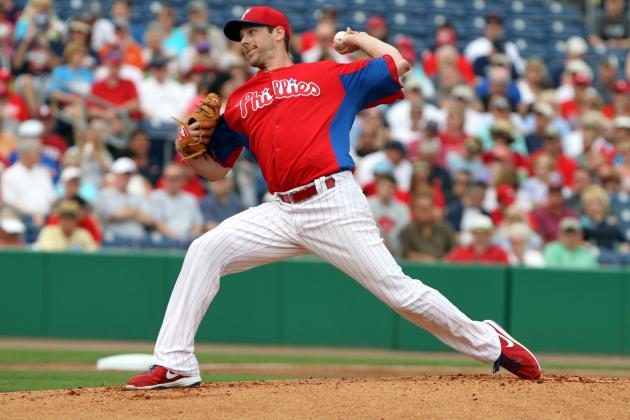 Kim Klement-USA TODAY Sports

So far so good for Cliff Lee and his campaign for a bounce back 2013 season.
Despite pitching well in spurts, Lee was never fully his best last season. As a result, both he and the team suffered as the 34-year-old managed just six wins, his worst total since 2007. He did have 207 strikeouts but also gave up 207 hits.
Lee was the victim of terrible run support but overall, he could have and likely should have pitched better.
After just one spring start though, Lee is doing just that. He has only thrown two innings but in those innings he has struck out two, walked one and gave up no hits. Obviously, this is a small sample, but if it continues along these lines, the Phillies and Lee should be optimistic about the 2013 season.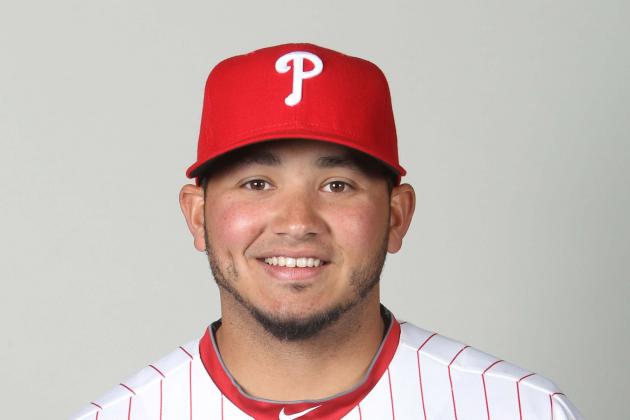 Kim Klement-USA TODAY Sports

Hopeful to earn a spot backing up Jimmy Rollins and/or Chase Utley, young defensive phenom Freddy Galvis is showing that he can be capable with the bat.
From the minors to the majors, no scout, critic or team official has questioned Galvis' ability to win a Gold Glove at either shortstop or second base. In his short time with the Phillies last year, he flashed his defensive prowess with ease. It was his offense that still fell a little bit short, ultimately sending him back to the minors.
Galvis was blocked last year, not only by Utley but by Michael Martinez. Both guys, along with Kevin Frandsen, are competing for a potential spot as the utility infielder. Galvis easily could be that guy and his offense so far this spring could be why.
In 12 at-bats, Galvis has four hits, two of which are doubles. He has collected two RBI but negatively, he has a team-high four strikeouts. Compared to his competitors, Galvis is outplaying Martinez both in playing time and stats, perhaps a sign of what is to come this season.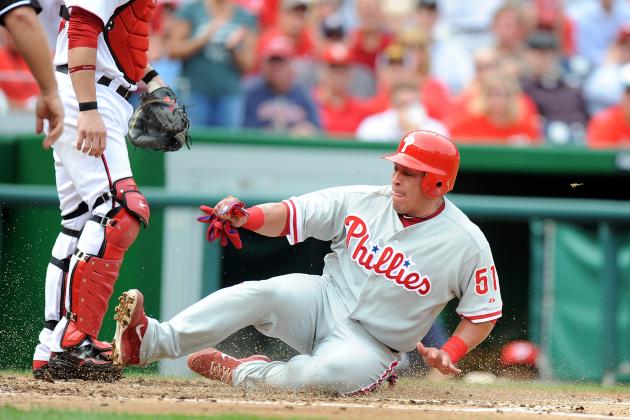 Greg Fiume/Getty Images

After a career best season that saw him post a .325 BA, 16 home runs and 68 RBI, Carlos Ruiz began the spring picking up exactly where he left off at the end of 2012.
The offensive production that marked Ruiz's career year came under fire when it was announced that he used a banned substance. Yes, the drug was Adderol, something prescribed for ADHD, but ultimately in this day and age, no drug usage flies under the radar.
So far in seven spring at-bats, Ruiz has played very well. He has three hits, one run, one walk and four RBI in his three games played.
Considering that the substance ban carries a 25-game suspension, the hope is that Ruiz can use his spring at-bats to prepare for the layoff as the Phillies look for who will be the backup catcher while Erik Kratz takes over the primary job.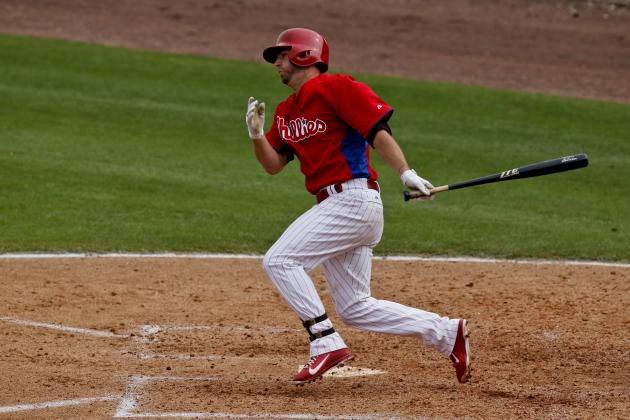 Derick Hingle-USA TODAY Sports

Kevin Frandsen was a pleasant surprise last season as he took over the third base duties from Placido Polanco. This year, the third base job is not really available but that doesn't mean Frandsen doesn't stand to make the team in a pinch hitting role, an area where he could really excel.
So far Frandsen has been one of the team's best spring performers. He has played in all but one game, collecting 13 at-bats in the process. He has five hits, two RBI and one of the team's seven home runs.
Continued play like this and Frandsen will end up being a lock to make this team and a guy the Phils could find themselves counting on later in the season.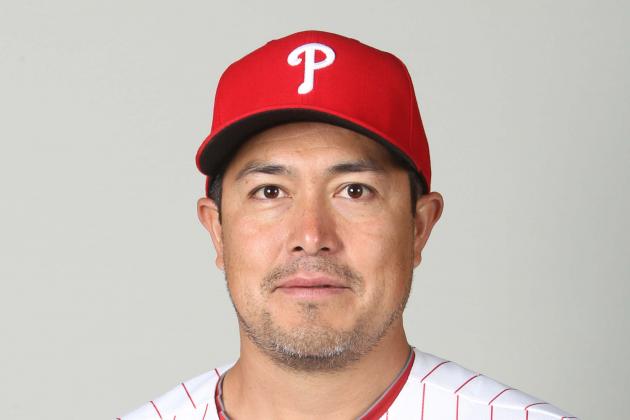 Kim Klement-USA TODAY Sports

Rodrigo Lopez is a guy that could figure into the Phillies' bullpen very prominently come April.
Just like the outfield, the pen is an area in desperate need of assistance. Lopez, a guy acquired from Chicago, is with the team on a minor league deal. He was given a spring training invite and so far, he is proving himself worthy of getting one of the open bullpen jobs.
In three innings, Lopez has struck out three, walked none and has given up just one hit. Opponents are hitting just .100 against him and his WHIP is just a mere 0.33.
Now in the past, Lopez has performed well in the spring just to flounder when the regular season rolls around. Not saying this will happen this year, but it is something the team should be mindful of. Other than that, he is off to a really great start.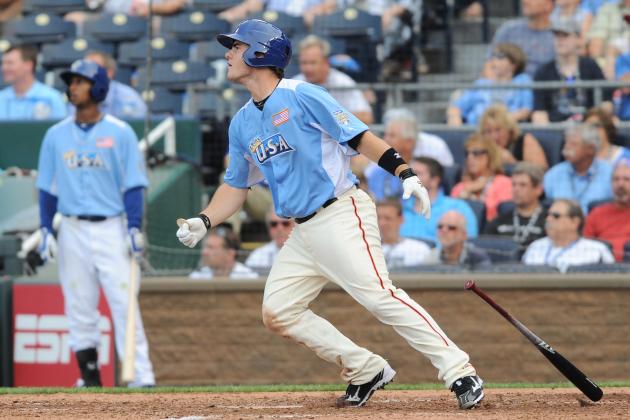 Denny Medley-USA TODAY Sports
Before being traded to Philadelphia, Tommy Joseph participated in the XM All Star Futures Game.
Tommy Joseph has just one hit in four spring at-bats: a two-run home run.
It was long, it was loud and it was a beauty. The reason why I list Joseph as honorable mention is because he hasn't really been a standout star...yet.
I have all of the faith in Joseph that he will continue to have a productive spring, showing the Phillies' why he is their best catching prospect. That said, the Phils need a backup catcher to start the season. It might mean fast tracking the 21-year-old, but ultimately, this could be a great chance for him to get major league experience.